Al-Attiyah confirms 4th Kuwait Rally victory
2014 Kuwait International Rally, March 20-22, 2014 FIA Middle East Rally Championship, round two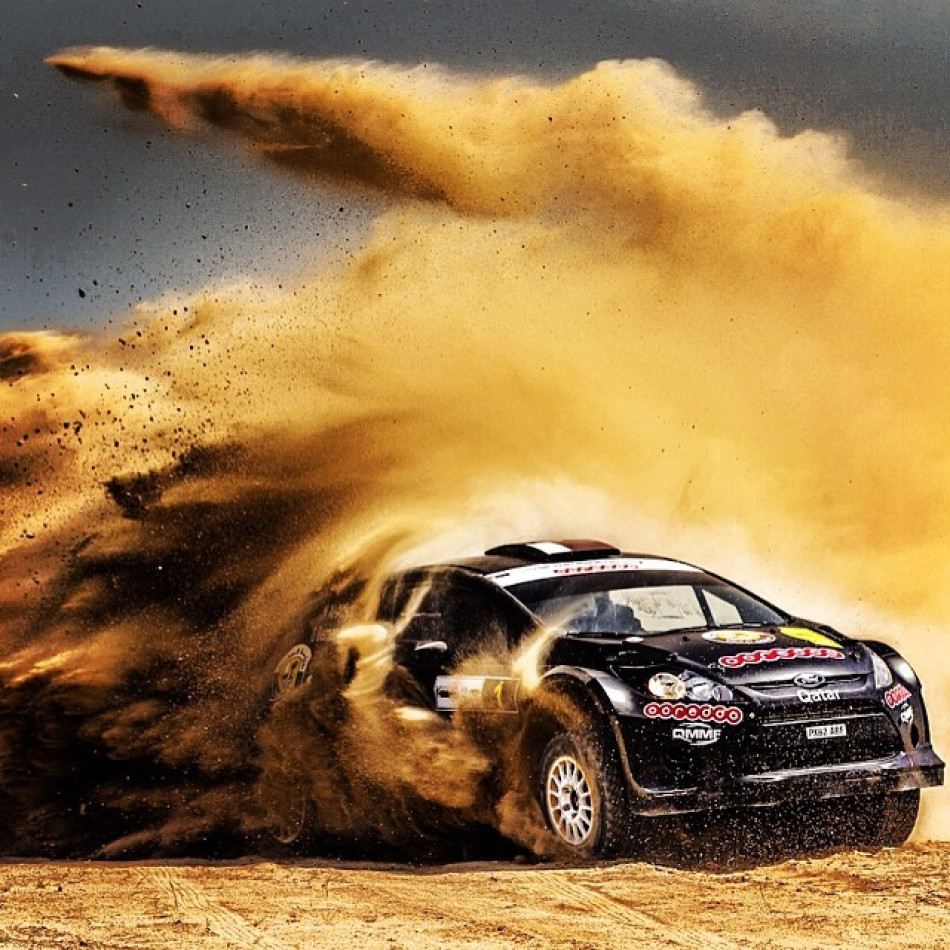 FINTAS (Kuwait): Abu Dhabi Racing's Sheikh Khalid Al-Qassimi and Chris Patterson stayed in contention throughout, but it was Qatar's Nasser Saleh Al-Attiyah and Italian co-driver Giovanni Bernacchini who snatched victory in the 22nd Kuwait International Rally, round two of the 2014 FIA Middle East Rally Championship (MERC), which finished in Fintas last Saturday.
Al-Attiyah began the day with a lead of 12.5sec and won four of the second leg's six stages to reach the finish with a winning margin of 27.5 seconds. It was the Qatari's 52nd MERC win and his co-driver's 23rd. The Ford Fiesta RRC crew now lead their respective championship categories by 17 points after two rounds.
"I was looking forward to the stages on the second day," said Al-Attiyah, who equalled Mohammed Ben Sulayem's record of four wins in Kuwait. "They were not as fast and straight, more technical and twistier and more enjoyable to drive. Like last year, I felt that they would suit my car better. I was confident that I could extend my lead and win today."
Driving a Citroën DS3 RRC, Al-Qassimi was the class of the rest of the field, but he did not quite have the pace to match Al-Attiyah. Nevertheless, the Abu Dhabi driver finished 1min 44.8sec in front of the third-placed Saudi Yazeed Al-Rajhi, who was joint quickest with Al-Attiyah on one stage.
Abdullah Al-Qassimi came under severe pressure from the charging Kuwaiti Salah bin Eidan over the final day. A lead of 47.3sec was reduced to 29.5sec after SS10, 24.5sec after SS11 and 16.0sec with one stage to go, but the Sharjah driver held on to confirm fourth position on his first MERC event with French female co-driver Catherine Derousseaux.
After losing substantial time with boost issues last Friday, there was no way back for Abdulaziz Al-Kuwari and the Qatari finished in sixth place, despite a bent suspension arm. His uncle Abdullah Al-Kuwari recovered from a four-minute time penalty for losing his way on the second stage to reach Fintas in seventh. Eighth-placed Khalifa Al-Attiyah – the brother of event winner Nasser - comfortably won the Group N category in his QMMF-backed Mitsubishi Lancer Evolution X.
The talented young Emirati Mohamed Al-Mutawee dominated the Abu Dhabi Racing-Citroën Middle East Trophy and finished the event in ninth overall, 2min 05.6sec in front of Mohamed Al-Sahlawi to claim his second successive 2WD Junior class win.
Germany's Edith Weiss and Qatar's Nada Zeidan battled hard at the rear of the field and it was Weiss who reached Fintas as the leading female driver in 15th overall.
Day 2 – as it happened
Nineteen of the original 22 starters began the final day's action over twistier and more technical stages, south of Kuwait City. Elie Chachati returned to the fray after early day one rear axle issues but there was no way back for Juma Al-Falaisi, Michel Saleh and Essam Al-Nejadi. Championship Group N leading-Kuwaiti Meshari Al-Thafiri also returned after engine-related problems.
Standing water had been prevalent in the opening 13.76km Safir stage, but Al-Attiyah felt that the second day's stages were better suited to the Ford and he posted a target time of 8min 36.4sec. Al-Qassimi was not able to match the Qatari and he ceded another 4.7sec to the defending champion, as the top-six held station en route to the morning's second 17.36km special at Bneider. Dawood Al-Gharabally failed to start the stage.
Al-Attiyah was again quicker than Al-Qassimi through Bneider to increase his lead to 20sec, but the Emirati was going nowhere fast and a spin or a simple mistake would be all it took to open the door again for the Citroën driver. Bin Eidan was on a charge for the host nation and a useful time trimmed 10sec off Sheikh Abdullah Al-Qassimi's grip on fourth position.
The first of two runs through the Julai'a stage preceded a nearby regroup and service and Al-Qassimi managed to beat the Qatari by a tenth of a second to reduce the gap to 19.9sec. Bin Eidan's charge continued and he trimmed Abdullah Al-Qassimi hold on fourth to 29.5sec.
Eighteen cars reached service, with Edith Weiss heading Nada Zeidan in the female battle and Al-Mutawee staying well clear of Al-Sahlawi in the 2WD Junior category.
Al-Attiyah was eight seconds slower the second time through Safir, but the stage surface was beginning to deteriorate and he gained another 5.5sec on Al-Qassimi to extend his advantage to 25.4sec.
But the contest was all but settled in the penultimate Bneider stage when Al-Attiyah was again quickest and his lead grew to 32.7sec. Al-Rajhi matched the Qatari and Bin Eidan closed to within 16sec of Abdullah Al-Qassimi with the fourth quickest time to set up a grandstand finish for fourth place through the remaining 12.81km of the Julai'a stage.
But there were no last minute dramas and the top-five held station, with Bin Eidan failing in his late bid to topple Abdullah Al-Qassimi for fourth place.
The FIA Middle East Rally Championship resumes along the sinuous and dusty desert trails of the Jordan Rally on May 1-3.
2014 Kuwait International Rally – positions after SS13 (@15.00hrs):
1. Nasser Saleh Al-Attiyah (QAT)/Giovanni Bernacchini (ITA) Ford Fiesta RRC            2hr 09min 38.4sec
2. Khalid Al-Qassimi (ARE)/Chris Patterson (GBR) Citroën DS3 RRC                              2hr 10min 05.9sec
3. Yazeed Al-Rajhi (SAU)/Michael Orr (GBR) Ford Fiesta RRC                                      2hr 11min 50.7sec
4. Abdullah Al-Qassimi (ARE)/Catherine Derousseaux (FRA) Ford Fiesta RRC             2hr 14min 05.9sec
5. Salah Bin Eidan (KWT)//Nasser Al-Kuwari (QAT) Ford Fiesta R5                               2hr 14min 26.3sec
6. Abdulaziz Al-Kuwari (QAT)/Killian Duffy (IRL) Ford Fiesta RRC                                 2hr 16min 11.1sec
7. Abdullah Al-Kuwari (QAT)/Nicola Arena (ITA) Ford Fiesta R5                                    2hr 21min 53.8sec
8. Khalifa Al-Attiyah (QAT)/Adel Hussein (QAT) Mitsubishi Lancer Evo X                     2hr 24min 03.6sec
9. Mohamed Al-Mutawaa (ARE)/Stephen McAuley (GBR) Citroën DS3 R3                    2hr 30min 57.7sec
10. Mohamed Al-Sahlawi (ARE)/Craig Parry (GBR) Citroën DS3 R3                              2hr 33min 03.3sec
11. Ali Saleh (KWT)/Fares Al-Thafiri (KWT) Mitsubishi Lancer Evo VIII                          2hr 40min 15.4sec
12. Meshari Al-Thefiri (KWT)/Mubarak Al-Thefiri (KWT) Mitsubishi Lancer Evo X          2hr 40min 40.1sec
13. Mansoor Belhelai (ARE)/Khalid Al-Kendi (ARE) Citroën DS3 R3                               2hr 43min 14.5sec
14. Saeed Bintowq (ARE)/Allan Harryman (GBR) Citroën DS3 R3                                 2hr 48min 07.5sec
15. Edith Weiss (DEU)/Vicky Psarali (GRC) Mitsubishi Lancer Evo IX                             2hr 53min 31.7sec
FIA Middle East Rally Championship – positions after round 2 (unofficial):
Drivers
1. Nasser Saleh Al-Attiyah (QAT)                         50pts
2. Khalid Al-Qassimi (ARE)                                    33pts
3. Yazeed Al-Rajhi (SAU)                                      27pts
4. Abdulaziz Al-Kuwari (QAT)                               26pts
5. Abdullah Al-Kuwari (QAT)                                 14pts
6. Abdullah Al-Qassimi (ARE)                                 12pts
7. Salah bin Eidan (KWT)                                        10pts
7. Mohamed Al-Mutawaa (ARE)                              10pts
9. Mohammed Al-Sahlawi (ARE)                              7pts
10. Khalifa Al-Attiyah (QAT)                                    4pts
10. Ala'a Rasheed (JOR)                                         4pts
12. Meshari Al-Thafiri (KWT)                                   2pts
13. Mansoor Bel Helai (ARE)                                   1pt
Co-drivers
1. Giovanni Bernacchini (ITA)                                50pts
2. Chris Patterson(GBR)                                         33pts
3. Michael Orr (GBR)                                              27pts
4. Killian Duffy (IRL)                                               26pts
5. Nicola Arena (ITA)                                            16pts
6. Catherine Derousseaux (FRA)                          12pts
7. Nasser Al-Kuwari (QAT)                                   10pts
7. Stephen McAuley (GBR)                                    10pts
9. Craig Parry (GBR)                                               7pts
10. Joseph Matar (LBN)                                          4pts
10. Adel Hussein (QAT)                                          4pts
12. Fahad Al-Mutairi (KWT)                                     2pts
13. Khalid Al-Kendi (ARE)                                        1pt