This page contains archived information and may not display perfectly
Al-Attiyah and Feghali go head-to-head in Lebanese finale
Following the cancellation of the Cyprus Rally at the end of September, the Rally of Lebanon will bring this year's FIA Middle East Rally Championship (MERC) to a premature conclusion.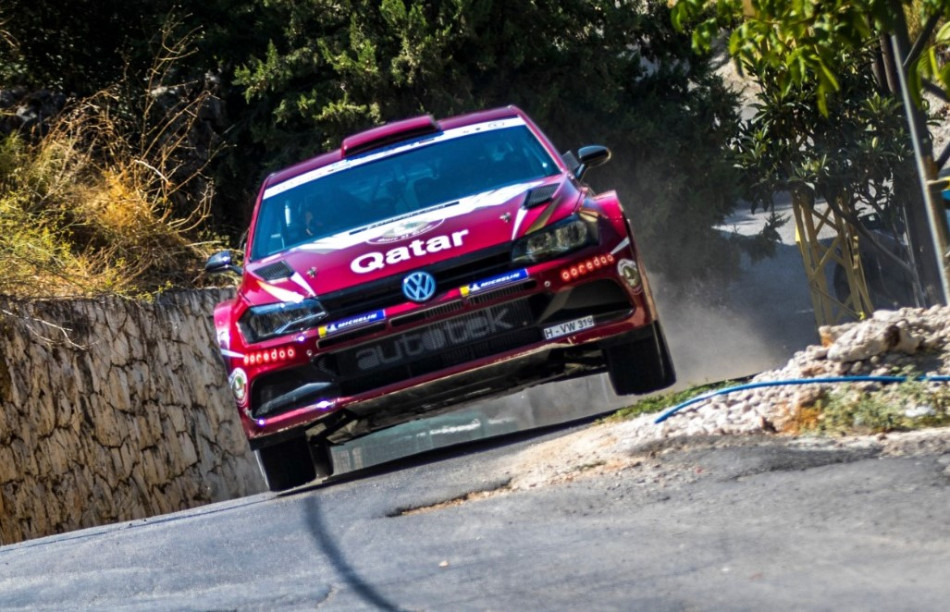 Nasser Saleh Al-Attiyah has already made sure that he has enough points in the bag to confirm a record-breaking 18th regional title, but the Qatari will be eyeing his second victory on the only asphalt round of the series, as he resumes his annual duel with local sensation and 15-time event winner Roger Feghali.
Feghali reached the top step of the Lebanese podium for the first time in 2000 with Ziad Chehab in a Lancia Delta HF Integrale and was undefeated on his home event between 2003 and 2013. Seven of his wins have come with current co-driver Joseph Matar and the pair arrive at the start as defending champions in a new Motortune Volkswagen Polo R5.
Al-Attiyah and Baumel guided their Autotek Motorsport-run Volkswagen to a memorable first win in 2019 and would like to end their regional campaign in winning style. The Qatari has already won in Oman, Qatar and Jordan this season and second place in Kuwait sees him with an unassailable lead in the series. He tested a couple of weeks ago with the Autotek team and is confident that he has a set-up to beat Feghali over the bumpy and slippery asphalt surfaces that make Lebanon such a difficult and unique challenge.
Baumel missed the opening round of the MERC in Oman through illness but a single point should be sufficient for the Andorra-based Frenchman to officially clinch the Co-drivers' Championship.
Rally2 competition for the leading VWs comes from the talented Abdullah Al-Rawahi in his Škoda Fabia R5. The Omani will also be chasing the runner-up spot in the Drivers' Championship alongside his Jordanian co-driver Ata Al-Hmoud.
Al-Attiyah's cousin Nasser Khalifa Al-Atya wheels out his trusty Ford Fiesta R5 with Italian navigator Giovanni Bernacchini and there are two additional Škoda Fabia R5s on the entry list for local drivers, Tamer Ghandour and Bassel Abu Hamden. Ghandour was a surprise winner of the Rally of Lebanon six years ago with co-driver Salim Jleilaty in a Mitsubishi Lancer Evolution X.
A dozen Mitsubishi Lancers are entered in Group NR4 and four drivers will be chasing points in the still-to-be-decided FIA MERC2 Championship. The leading title protagonists are all present in the tourist town of Jounieh on the Eastern Mediterranean.
Jordanian driver Issa Abu Jamous currently holds a 13-point advantage in the showroom championship category over fellow countryman Ihad Al-Shorafa. Both face fierce competition from a strong line up of local drivers that includes the talented young Alex Feghali, son of the event's multiple winner, who finished second overall at the Jordan Rally in May.
Rodrigue El Rahi, Rabih Ayoub and Ahmad Khaled should also feature strongly in their Mitsubishis.
Alex Feghali cannot win the outright MERC2 title on this occasion, but victory for the Lebanese and his co-driver Marc Haddad would deprive both Meshari Al-Thefiri and Mohammed Al-Zafiri of much needed points, as the two Kuwaitis make a late push to overhaul their Jordanian rivals.
Organised by The Automobile and Touring Club of Lebanon (ATCL), this year's event will be fought out over 10 tarmac special stages, totalling 192.30km, in a total route of 478.83km over winding asphalt mountain roads to the north and east of Beirut.
Action gets underway with a super special stage close to the ATCL in Jounieh on Friday evening, before 34 crews tackle two runs through the demanding Ain Aaya and Sourat specials on Saturday.
Competition draws to a conclusion on Sunday after two runs through the Nahr Ibrahim stage and three passes of the Hboub stage.
For more information, please visit the event website and FIA MERC page.
| | |
| --- | --- |
| Rally of Lebanon – leading entries: |   |
| 1. Nasser Saleh Al-Attiyah (QAT)/Mathieu Baumel (AND) | Volkswagen Polo GTI R5 |
| 2. Abdullah Al-Rawahi (OMN)/Ata Al-Hmoud (JOR) | Škoda Fabia R5 |
| 3. Nasser Khalifa Al-Atya (QAT)/Giovanni Bernacchini (ITA) | Ford Fiesta R5 |
| 4. Meshari Al-Thefiri (KWT)/Nasser Al-Kuwari (QAT) | Mitsubishi Lancer Evo X |
| 5. Henry Kahy (LBN)/Carlos Hanna (LBN) | Citroën DS3 |
| 6. Roger Feghali (LBN)/Joseph Matar (LBN) | Volkswagen Polo GTI R5 |
| 7. Rodrigue El-Rahi (LBN)/Georges Chahwan (LBN) | Mitsubishi Lancer Evo X |
| 8. Alex Feghali (LBN)/Marc Haddad (LBN) | Mitsubishi Lancer Evo X |
| 9. Tamer Ghandour (LBN)/Salim Jleilaty (LBN) | Škoda Fabia R5 |
| 10. Bassel Abu Hamdan (LBN)/Fras Elias (LBN) | Škoda Fabia R5 |
| 17. Mohammed Al-Zafari (KWT)/Elie Moussallem (LBN) | Mitsubishi Lancer Evo X |
| 23. Ihab Al-Shorafa (JOR)/Yousef Juma (JOR) | Mitsubishi Lancer Evo X |
| 27. Issa Abu Jamous (JOR)/Emad Juma (JOR) | Mitsubishi Lancer Evo IX |
| (34 entries) |   |
|   |   |
| 2022 FIA Middle East Rally Championship – current positions: |   |
| Drivers |   |
| 1. Nasser Saleh Al-Attiyah (QAT) | 149pts |
| 2. Abdullah Al-Rawahi (OMN) | 71pts |
| 3. Issa Abu Jamous (JOR) | 59pts |
| 4. Meshari Al-Thefiri (KWT) | 57pts |
| 5. Nasser Khalifa Al-Atya (QAT) | 49pts |
| 6. Ihab Al-Shorafa (JOR) | 48pts |
| 7. Khalid Al-Suwaidi (QAT) | 38pts |
| 8. Mohammed Al-Zafiri (KWT) | 36pts |
| 9. Alex Feghali (LBN) | 30pts |
| 10. Zakariya Al-Aamri (OMN) | 24pts, etc. |
|   |   |
| Co-drivers |   |
| 1. Mathieu Baumel (FRA) | 110pts |
| 2. Ata Al-Hmoud (JOR) | 71pts |
| 3. Emad Juma (JOR) | 59pts |
| 4. Nasser Al-Kuwari (QAT) | 57pts |
| 5. Giovanni Bernacchini (ITA) | 49pts |
| 6. Yousef Juma (JOR) | 48pts |
| 7. Alba Sánchez González (ESP) | 39pts |
| 8. Hugo Magalhães (PRT) | 38pts |
| 9. Joseph Matar (LBN) | 30pts |
| 10. Mubarak Al-Dhafiri (KWT) | 25pts |
|   |   |
| MERC2 |   |
| 1. Issa Abu Jamous (JOR) | 89pts |
| 2. Ihab Al-Shorafa (JOR) | 76pts |
| 3. Meshari Al-Thefiri (KWT) | 73pts |
| 4. Mohammed Al-Zafiri (KWT) | 55pts |
| 5. Alex Feghali (LBN) | 39pts |
| 6. Zakariya Al-Aamri (OMN) | 37pts |
| 7. Khaled Juma (JOR) | 25pts, etc |
|   |   |
| Timetable of events |   |
|   |   |
| Friday, September 2  |   |
| Scrutineering checks, ATCL, Jounieh | 08.30-14.30hrs |
| SS1 – Kaslik/Jounieh (2.52km) | 20.50hrs  |
|   |   |
| Saturday, September 3 |   |
| SS2 – Ain Aaya 1 (21.40km) | 09.03hrs  |
| SS3 – Sourat 1 (26.12km) | 09.56hrs |
| SS4 – Ain Aaya 2 (21.40km) | 12.42hrs  |
| SS5 – Sourat 2 (26.12km) | 13.35hrs |
|   |   |
| Sunday, September 4 |   |
| SS6 – Nahr Ibhrahim 1 (15.42km) | 07.43hrs  |
| SS7 – Hboub 1 (21.30km) | 08.41hrs |
| SS8 – Nahr Ibhrahim 1 (15.42km) | 10.49hrs  |
| SS9 – Hboub 2 (21.30km) | 11.47hrs |
| SS10 – Hboub 3 (21.30km) | 13.50hrs |
| Podium ceremony, ATCL, Jounieh | 15.30hrs |
| Post-event press conference, Media Centre, ATCL, Jounieh | 17.30hrs |