This page contains archived information and may not display perfectly
ADVANTAGE VANDOORNE AS PRETENDERS TO THE THRONE AIM TO EXCEL IN BRITISH CAPITAL
Streets of London set to stage penultimate act in thrilling ABB FIA Formula E World Championship title fight.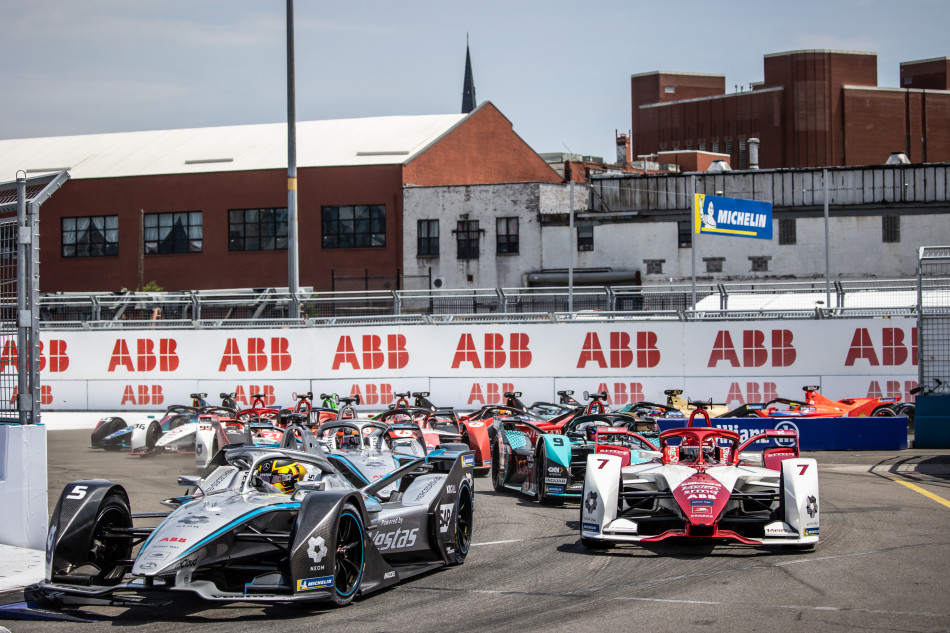 The British capital beckons this weekend (30/31 July) for the penultimate instalment in the ABB FIA Formula E World Championship's captivating 2021/22 campaign, with a brace of high-speed, high-stakes encounters in prospect in the heart of London's historic Docklands district.

After featuring on the calendar during the first two seasons of the all-electric single-seater series with a race around Battersea Park, London returned to the schedule last year, hosting a dramatic double-header on the ExCeL circuit.

A unique indoor/outdoor track – a first in top-level international motorsport, made possible by the emissions-free nature of Formula E's Gen2 cars – the 22-turn, 2.141km lap runs through a section of the ExCeL London exhibition centre before skirting the Thames waterfront and the iconic Royal Docks.

In addition to the changes in lighting, elevation and surface – from the silky-smooth indoor asphalt to the circuit's highly abrasive nature out in the open air – drivers will need to get to grips with a slightly revised layout this weekend, following the introduction of a new chicane complex between Turns 10 and 13.

Having finished outside of the top five just once in the past nine races, Stoffel Vandoorne holds the advantage arriving in London, with second place in New York propelling the Mercedes-EQ ace into an 11-point championship lead. Vandoorne secured pole position in the British capital last season, only to find his bid for victory scuppered by contact – so he will be looking for redemption 12 months on.

The driver the Belgian supplanted at the summit of the standings in New York – ROKiT Venturi Racing's Edoardo Mortara – endured a difficult weekend in the 'Big Apple', but three triumphs to-date in 2021/22 are testament to the Swiss star's raw pace, and a fightback is very much on his mind.

Mitch Evans climbed to third in the classification courtesy of his sixth rostrum appearance of the campaign in the North American metropolis, and the Jaguar TCS Racing man was a top three finisher in London last year so knows what it takes to tame the challenging ExCeL circuit.

DS TECHEETAH's Jean-Éric Vergne, meanwhile, has work to do after a double non-score in New York saw him slip to 27 points adrift of the championship lead. The Frenchman twice reached the podium in the early editions of the London E-Prix, and he will need a similar result this weekend to sustain his chances of clinching a third career crown into the Seoul season finale.

A characteristically gritty performance in Brooklyn kept Envision Racing's Robin Frijns just about in touch with the front-running quartet, and the Dutchman posted the fastest race lap to-date around the ExCeL circuit on his way to a fourth-place finish last year, barely half-a-second shy of the rostrum.

After belatedly returning to winning ways with a dominant drive in New York, DS TECHEETAH's António Félix da Costa is aiming to mount a late bid for a second Formula E title as his campaign continues to gain momentum, while fellow former champion Lucas Di Grassi has been a consistent podium threat in recent races for ROKiT Venturi Racing – meaning a record-equalling 13th career victory could be on the cards.

The man who currently holds that record – Nissan e.dams' Sébastien Buemi – enjoyed his strongest weekend to-date in 2021/22 in New York, rolling back the years as he ran confidently up at the sharp end of the order. The Swiss ace won the inaugural London E-Prix in Battersea from pole position back in 2015, and while a repeat result may be a tall order this time around, he can certainly be expected to be in the mix for a strong points finish.

Nyck de Vries' hopes of a successful championship defence might now be all-but over, but the Mercedes-EQ star will nonetheless return to London with happy memories, after a brace of second-place finishes there last season enabled him to put one hand on the coveted crown.

Nick Cassidy will be bidding to build upon a breakthrough weekend in New York – where the Envision Racing ace tallied his maiden Formula E triumph – and at least three of the field's six British drivers have good reason to feel confident approaching their home event. 

Jake Dennis (Avalanche Andretti) went down in history as the first winner at the ExCeL circuit last year, while compatriot Sam Bird (Jaguar TCS Racing) lapped up the plaudits after emerging victorious in race two in 2015 in Battersea. 

Alexander Sims, finally, produced a giant-killing performance to take the chequered flag within a whisker of the podium in New York – and with only four E-Prixs remaining before he departs for pastures new, the Mahindra Racing man will be eager to sign off his Formula E career with a flourish.

Round 13 of the 2021/22 campaign will get underway at 15:00 local time (16:00 CET) on Saturday, 30 July, followed by round 14 at the same time on Sunday, 31 July.

WHAT'S NEW FOR 2022

- Introduction of a new qualifying format featuring Groups and head-to-head Duels.

- Formula E's all-electric Gen2 cars will be able to use 220kW of power, an increase from 200kW in Season 7, during races. Power during ATTACK MODE will also increase to 250kW from 235kW in Season 7.

- Races can now have extra time of up to a maximum of 10 minutes added when incidents result in a Safety Car or Full Course Yellow neutralisations during the standard 45-minute plus one lap race.

Please find here the 2021 - 2022 Sporting Regulations.

THE 2022 TRACK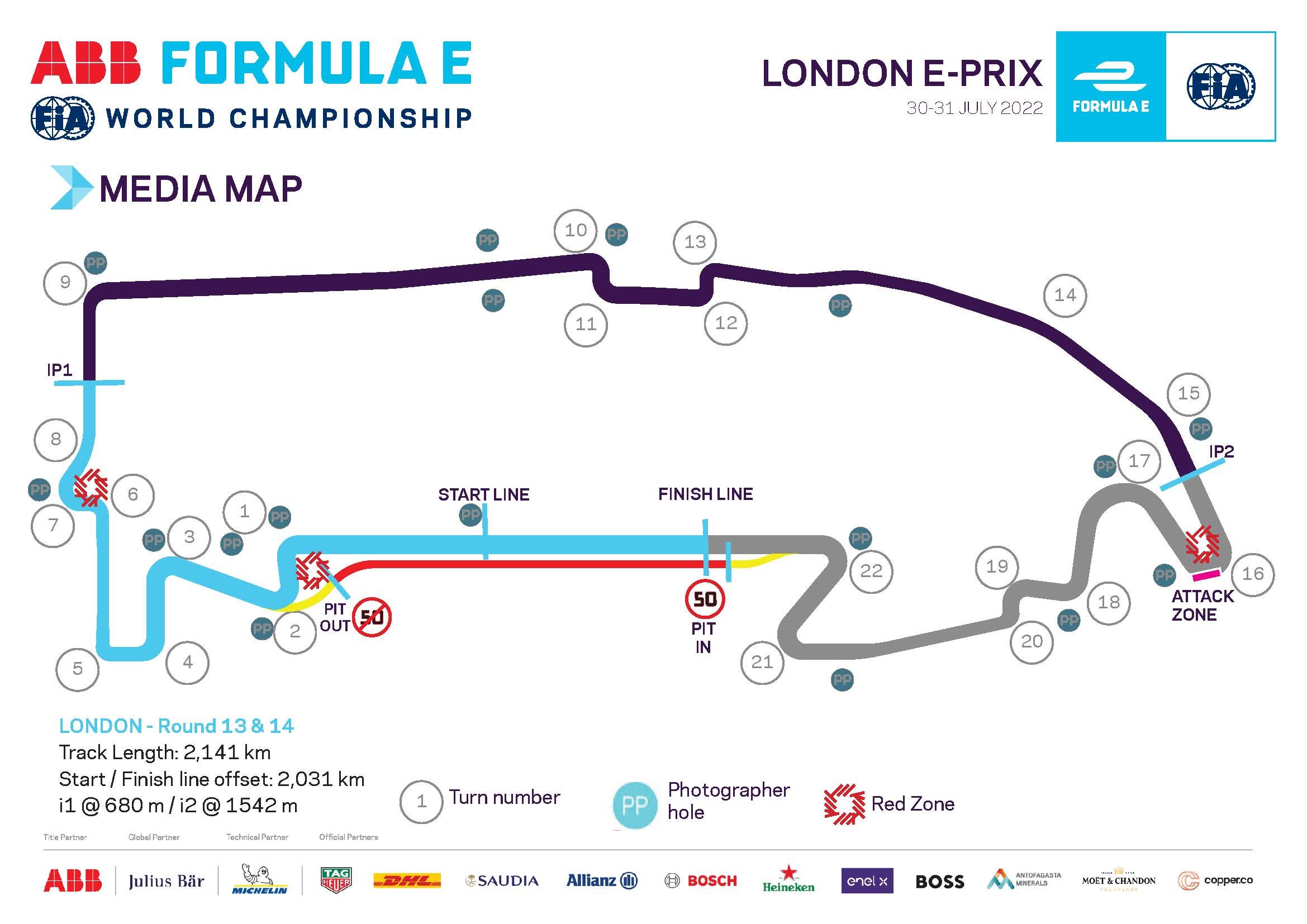 MEDIA CENTRE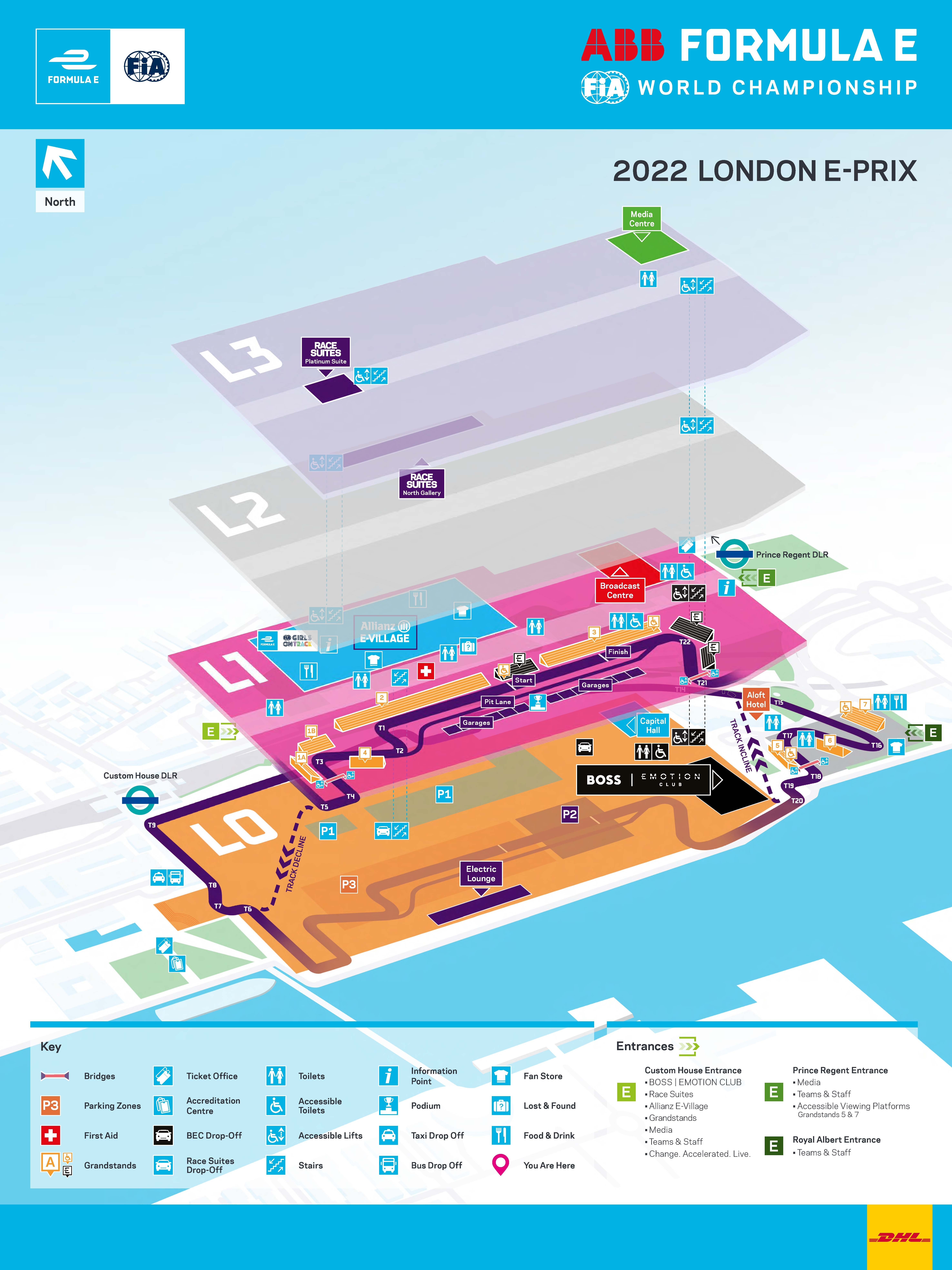 Opening Hours of the Media Center

- Thursday 28 July 08:00 - 20:00
- Friday 29 July 08:00 - 20:00
- Saturday 30 July 06:00 - 20:00
- Sunday 31 July 07:30 - 20:00

2022 ABB FIA FORMULA E LONDON E-PRIX TIMETABLE
 
Friday 29 July
Starts
Ends
Lenght
Activity
17:15
17:45
00:30
FREE PRACTICE 1
 
 
 
 
Saturday 30 July
Starts
Ends
Lenght
Activity
09:00
09:30
00:30
FREE PRACTICE 2
10:40
10:52
00:12
QUALIFYING Group A
10:57
11:09
00:12
QUALIFYING Group B
11:17
11:32
00:15
QUARTER FINAL
11:36
11:46
00:10
SEMI FINAL
11:50
11:55
00:05
FINAL
≈15:04
 
 
RACE (45' + 1 lap)
 
 
 
 
Sunday 31 July
Starts
Ends
Lenght
Activity
08:30
09:00
00:30
FREE PRACTICE 3
10:40
10:52
00:12
QUALIFYING Group A
10:57
11:09
00:12
QUALIFYING Group B
11:17
11:32
00:15
QUARTER FINAL
11:36
11:46
00:10
SEMI FINAL
11:50
11:55
00:05
FINAL
≈15:04
 
 
RACE (45' + 1 lap)


MEDIA OPPORTUNITIES
 
| | |
| --- | --- |
| Friday 29 July |   |
| 13:45 - 14:00 | Team Representatives FIA Press Conference |
|   | James Barclay - JAGUAR TCS Racing |
|   | Thomas Chevaucher - DS TECHEETAH |
|   | Sylvain FilippI - Envision Racing |
|   |   |
| 14:00 - 14:15 | Drivers FIA Press Conference |
|   | Mitch Evans - JAGUAR TCS Racing |
|   | Stoffel Vandoorne - Mercedes-EQ Formula E Team |
|   | Pascal Wehrlein - TAG Heuer Formula E Team |
|   |   |
| 14:15 - 14:30 | Media Pen |
|   | Avalanche Andretti Formula E |
|   | DRAGON / PENSKE AUTOSPORT |
|   | DS TECHEETAH |
|   | Envision Racing |
|   | Jaguar TCS Racing |
|   |   |
| 14:30 - 14:45 | Media Pen |
|   | MAHINDRA RACING |
|   | Mercedes-EQ Formula E Team |
|   | NIO 333 Formula E Team |
|   | Nissan e.dams |
|   | ROKiT Venturi Racing |
|   | TAG Heuer Porsche Formula E Team |
|   |   |
| Saturday 30 July |   |
| 16:30 - 16:45 | FIA Press Conference top 3 drivers |
| 16:45 - 17:00 | Media Pen |
|   | Avalanche Andretti Formula E |
|   | DRAGON / PENSKE AUTOSPORT |
|   | DS TECHEETAH |
|   | Envision Racing |
|   | Jaguar TCS Racing |
|   |   |
| 17:00 - 17:15 | Media Pen |
|   | MAHINDRA RACING |
|   | Mercedes-EQ Formula E Team |
|   | NIO333 Formula E Team |
|   | Nissan e.dams |
|   | ROKiT Venturi Racing |
|   | TAG Heuer Porsche Formula E Team |
|   |   |
| Sunday 31 July |   |
| 16:30 - 16:45 | FIA Press Conference top 3 drivers |
| 16:45 - 17:00 | Media Pen |
|   | Avalanche Andretti Formula E |
|   | DRAGON / PENSKE AUTOSPORT |
|   | DS TECHEETAH |
|   | Envision Racing |
|   | Jaguar TCS Racing |
|   |   |
| 17:00 - 17:15 | Media Pen |
|   | MAHINDRA RACING |
|   | Mercedes-EQ Formula E Team |
|   | NIO333 Formula E Team |
|   | Nissan e.dams |
|   | ROKiT Venturi Racing |
|   | TAG Heuer Porsche Formula E Team |

2022 ABB FIA FORMULA E LONDON E-PRIX ENTRIES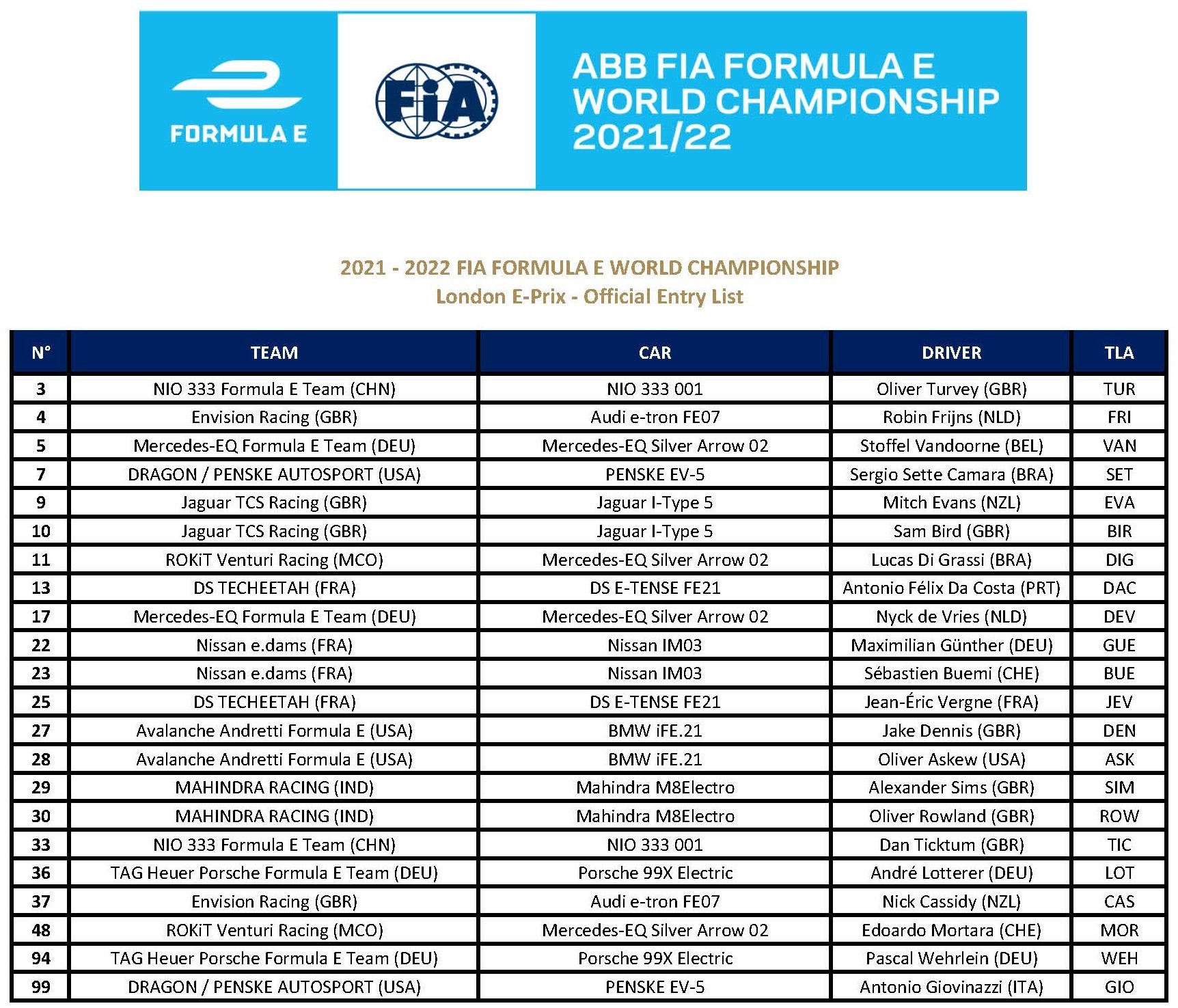 2022 ABB FIA FORMULA E WORLD CHAMPIONSHIP CLASSIFICATIONS 
The classification of the 2022 ABB FIA Formula E World Championship is available on the following link.

2021 ABB FIA FORMULA E LONDON E PRIX RESULTS
 
Race 1
 
 
 
Pole Sitter
Alex Lynn
Mahindra Racing
 
 
 
Race result
 
 
1
Jake Dennis
BMW i Andretti Motorsport
2
Nyck de Vries
Mercedes-EQ Formula E Team
3
Lucas di Grassi
Audi Sport ABT Schaeffler
 
 
 
Race 2
 
 
 
Pole Sitter
Stoffel Vandoorne
Mercedes-EQ Formula E Team
 
 
 
Race result
 
 
1
Alex Lynn
Mahindra Racing
2
Nyck de Vries
Mercedes-EQ Formula E Team
3
Mitch Evans
Jaguar Racing