THE #3500LIVES CAMPAIGN PROMOTED AT 24 HOURS OF LE MANS
On Saturday 17 June, FIA President Jean Todt along with Chase Carey, new CEO of Formula One Group, Pierre Fillon, President of the Automobile Club de l'Ouest (ACO) and former professional driver Mark Webber promoted the #3500LIVES Road Safety campaign at the 24 Hours of Le Mans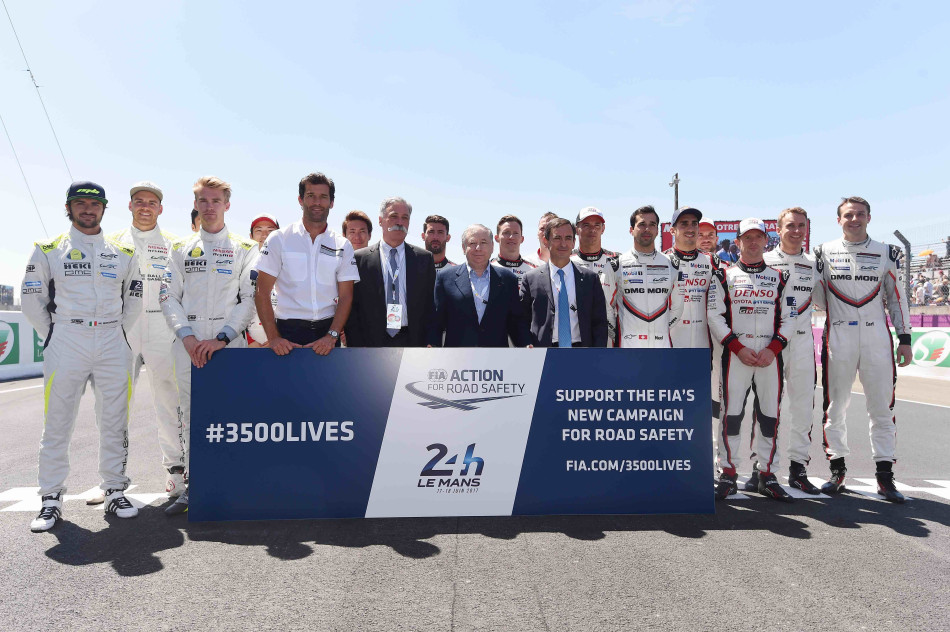 Together with the LMP1 drivers, they all took part in a group photo on the track before the opening of the grid walk to promote the importance of road safety to fans attending the FIA World Endurance Championship event.
The #3500LIVES Road Safety campaign was also showcased throughout the week at a stand located in the heart of the village, hosted jointly by the FIA, the Automobile Club de l'Ouest (ACO) and the local Préfecture de la Sarthe. Featuring 13 ambassadors from the sport, music and film industries, the #3500LIVES campaign aims to raise awareness on the 3500 people who die on the world's roads every day and promotes universal rules to save lives on the road.
On the stand, fans were warned of the dangers of fatigue at the wheel through pedagogical activities organized by volunteers of the Préfecture and invited to sign the FIA's Manifesto for Global Road Safety. They also had the opportunity to test their driving skills on a driving simulator.
FIA President Jean Todt, who also serves as UN Secretary General's Special Envoy for Road Safety, said: " Every day, 3,500 people are killed on the roads. Young people are particularly affected as road traffic crashes are the main cause of death of 15 to 29 year olds. This is an alarming trend, a plague that needs to be stopped. An event like Le Mans provides a perfect occasion to reach the general public and spread the road safety message through the #3500LIVES campaign."