2014 Wales Rally GB - Press Conference
Transcript of the post event FIA Press Conference organised by the FIA for the 2014 Wales Rally GB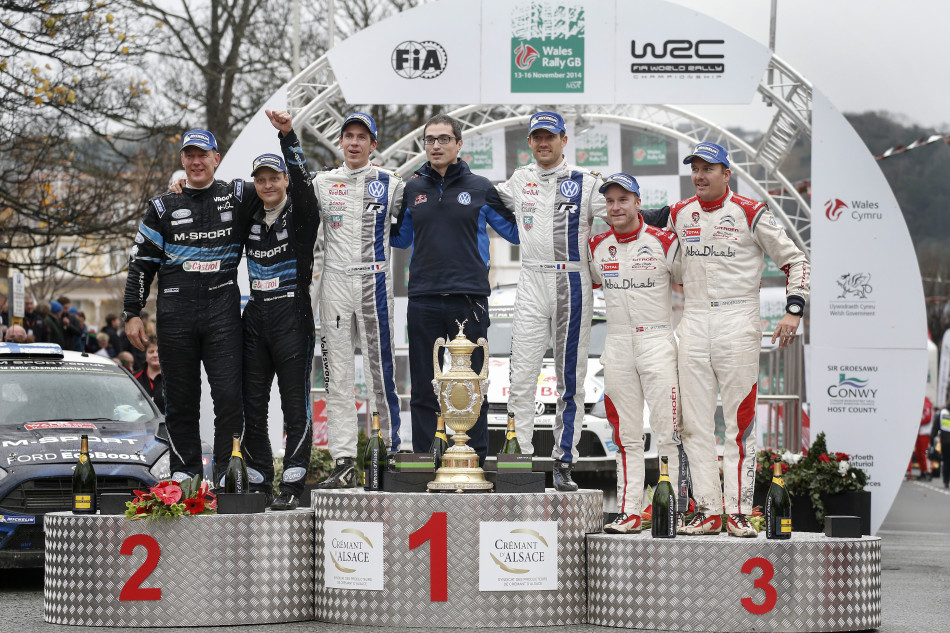 Present:
1st - Sébastien Ogier, Volkswagen Motorsport
1st - Julien Ingrassia, Volkswagen Motorsport
2nd - Mikko Hirvonen, M-Sport World Rally Team
2nd - Jarmo Lehtinen, M-Sport World Rally Team
3rd - Mads Østberg, Citroën Total Abu Dhabi World Rally Team
3rd - Jonas Andersson, Citroën Total Abu Dhabi World Rally Team
Jost Capito, Team Principal, Volkswagen Motorsport
Q: 
Sebastien, the final win of the season is yours! How are you feeling after a challenging event? 
SO:
It was a proper Rally GB with difficult conditions for three days. There was no room for relaxing this weekend, even when I got this situation on Saturday morning with a good lead, I kept repeating at any interview that it was still difficult, it was really not easy – you still have to drive and avoid every tricky place. We saw this when Andreas [Mikkelsen] made a mistake, everybody was pushing and whoever was first on the road I am sure they would go off here. I am very pleased with this victory, it's a great way to end the season.
Q:
How tough were conditions out there this weekend? Especially the second pass?
SO:
It's not the worst I have done – in my first one in 2008 there was ice and snow, that was very, very difficult and we had only the hard tyres or something, it was really bad. This one was also a challenge. It's always good to stay out of trouble for three days like this. We were pushing hard with Jari. In these conditions you push hard, but it's maybe more difficult to try to drive safe - it's so hard to find the right balance. You need to be not too slow, you don't want to lose the feeling, that's when the set-up feels wrong and nothing is working any more. It was a difficult fight against yourself to find the right balance.
Q:
Are you learning to love Wales Rally GB now?
SO:
Already last year I started to really love this one. Before the start, I said the stages are really beautiful and this is a great event. But, at the same time, it's a huge challenge. But now we have two wins and a good relationship – it's a kind of love!
MH:
I think he has been looking for some houses on the road section already…!
Q:
It's been a fantastic season for you in 2014, but it's only 65 days to Monte Carlo. Are you looking forward to it?
SO:
I'm quite tired. I think all of us invest a lot of energy in a season like that – it's Mikko and Jarmo who are on holiday now! I have one month testing and celebration before it's time for my holiday. I will enjoy these times, but I am impassioned to be on holiday and to charge my batteries. I want to enjoy and appreciate this moment. I am not impassioned yet to start the new season – we don't have so much time off.
Q:
Julien, congratulations on the final win of the season. How does that feel?
JI:
Like Seb said, we spent a lot of energy and concentration and now we deserve the time with the family and friends we have not had time for during the season. The main feeling is satisfaction, it's great to get the second title and to confirm we can win on all surfaces and we know next season will come very soon. We will enjoy the next few days.
Q:
Do you feel the love for Wales?
JI:
Well, between French there is the rosbif… 
Q:
That's next door – this is Wales!
JI:
That's true. I always say when I speak with Seb in the car that I would like to come in the month of May or June to spend a big weekend here and enjoy the landscape and enjoy a word of Welsh… I still don't know one word. It's a great country.
Q:
You received the Michael 'Beef' Park Trophy this weekend….
JI:
I didn't have time to say anything about it, the race started immediately – it gave me a surprise. I wasn't aware, I wasn't thinking about this. It is an honour and we always have to think about Michael Park and his family, we think to those people who knew him, although I didn't know him. And, of course, this is recognition of what I did during the last year and I am very proud of that. Thank you. 
Q:
Mikko, your final WRC event is complete and you have had a great battle throughout the weekend to finally walk away with second position overall. A good way to end your career as part of the WRC?
MH:
I feel really good. Like you said, there couldn't be a better end than to have a fight like that. That's the best thing in rallying, taking the difficult conditions and fighting with the other guys. It's really amazing. OK, we were not able to take the fight to Volkswagen and Seb, it is really amazing what speed they are doing in the rallies and how they manage themselves. Andreas and Jari-Matti made small mistakes this year, but they are so difficult to beat. Good luck Mads…! Anyway I am really happy how my weekend went.
Q:
When you pulled those overalls on the final time this morning, were you ready to fight?
MH:
No! I didn't know what to do. I wanted to fight for second, but I really wanted the podium position. It was tricky in the morning, especially after service. When we went to service for the last time we said goodbye to everybody. We couldn't find the best rhythm, but finally it went OK.
Q:
Did the emotion start to creep in?
MH:
Maybe a bit in service, when we left. It was a bit strange. I didn't feel so emotional, but I was not concentrating. I couldn't get my head around what I had to do.
Q:
You gave the Fiesta a full workout during the weekend, on your limit?
MH:
We pushed pretty hard and in these conditions everybody is making small mistakes – I had my share as well. We really tried. We wanted a good finish and it all paid off. I'm really happy with this.
Q:
You have gifted Jarmo third position in the co-drivers championship. Happy for that?
MH:
Really happy! I can stay home and start my holiday now.
JL: 
He is paying my flight and the hotel…!
Q:
This is it though, Mikko – no more WRC rounds. Still sure it was the right decision?
MH:
I'm happy. I really can't wait for next year. I will miss rallying and the people, but I just can't wait for the things I can do and the time to spend with the boys – this was definitely the right thing to do.
Q:
Did you do anything different in the final stage?
MH:
Nothing different, but for the first time, Jarmo read the split to me and said: "Plus five to Mads – yeah, it's going well!" I thought: "Er, I don't think so!" But it was going to be enough!
Q:
Jarmo, congratulations on the result. How does it feel to achieve a podium on the final event?
JL:
It was a great battle and exactly what we came for – it feels amazing. 
Q:
You were clapped into service this morning, how did that feel?
JL:
It was a weird thing knowing that this was the last morning service, but also it felt good because it also meant it was the last early morning call! Going to the last morning I felt really, really nervous and that's not the normal feeling. It felt OK once we got going. The fight was so tight that there wasn't time to think about it until Kris had problems. In the last stage it was difficult to find… Mikko wasn't sure about the braking points and I wasn't sure about the notes. I didn't mean to congratulate him on being five seconds behind Mads!
Q:
What did you say when you crossed the line?
JL:
I can't really remember, I thanked Mikko. There was one thing between us and the gravel crew, but it might be too difficult to translate. We say something in Finland about the line in the end of the long corner and this time the gravel crew translated that last right corner into being our last corner.
Q:
Have you guys taken any mementos of your time in the sport?
MH:
During these years I have taken everything I can!
JL:
I have completed my career, I did 167 world rallies and now I did my first doping test! So, I can frame the paperwork. 
MH:
Are you sure it was the FIA, are you sure it wasn't some really keen fan taking something for themselves…
Q:
Great result Mads – we have seen fantastic pace from you here…
MO:
It's been a good weekend. We are quite pleased with what we have achieved. OK Kris had a problem and we gained a position, but yesterday we had a problem and we dropped from second. Somehow I don't feel bad about this, I feel this is well deserved. We've had good pace and I am happy to have achieved this at the end of the year. I think it is quite important for the future.
Q:
On Friday morning you got into the conditions quickly, how did you do that?
JA:
We love Wales! You don't have to answer…
Q:
How much were you on the limit in the fight with Kris?
MO:
Basically, it's not easy to come to Wales without being on the limit. You will end up in some ditch for a second or two, whether you pushed maximum or take it safe. We were quite safe all weekend. We had a strict order from the start and we tried to stick to that. We pushed, but you can't guarantee nothing will happen, but I think we did the whole rally without a problem, I think we were too slow!
Q:
Have you done enough to guarantee a seat next year?
MO:
Yes.
Q:
You are a man of few words…
MO:
Yes. Actually, before you shut me down I want to thank Mikko for his time in the sport. Mikko was probably the first big guy that actually talked to me when I came to the sport and we became quite good friends. I have really appreciated this time and it's a shame we will not have fun with him now. I have really enjoyed the time and I wish him good luck for the future.
Q:
Mads, did you say more than yes to him?
MO:
Probably not, but he kept asking the questions!
Q:
Are you feeling confident about next year?
MO:
Yes.
Q:
What are you doing in the next few weeks, do you have some testing plans?
MO:
Testing probably, yes. Actually I do have plans with my wife next Saturday…
MH:
That would be a good thing to remember. 
MO:
It's a surprise!
Q: 
Jonas, tell me how do you think you performed?
JA:
It was a good weekend and a good result. I really enjoyed it. The conditions were really tricky, but that's how Wales should be. If I would be happy to give second to anybody it would be Mikko and Jarmo. 
Q:
Are you confident about next year?
JA:
Yes.
Q:
Seriously, do you feel you've done enough to stay at Citroën?
JA:
Yes… I don't have a clue – there's no point asking me!
Q:
Do you feel you have shown enough pace?
JA:
Yeah, we have shown a lot of good pace. There have been some difficult rallies with some technical issues and we have made some mistakes, but for sure we've had a good first season and I'm sure it will turn out well for next year.
Q:
What a great season for VW. How do you feel Jost?
JC:
First of all I want to thank Mikko and Jarmo. I was at Ford in 2006 and 2007 when we won the world title and those were great seasons. I was also there when Mikko won his first event in Australia, that was really emotional and it's something I will never forget – I hope it's the same for those guys as well. I learned a lot from them and I hope they learned something from me too. It was a great time of my life, and I wish them all the best for the future. I'm sure we're going to see them again.
For Volkswagen, this year can hardly be better when we won 12 from 13 rallies. It's a shame Germany was the one we missed! We have room for improvement!  We had a fantastic season: one, two, three in the drivers and one, two, four in the co-drivers – we pushed hard. But the competition will be getting harder. Next season we have the same line up, no changes and we are looking forward to next season ¬– but we all need a couple of days break.
Q:
There has been a lot of competition this year, will it be more difficult next year?
JC:
It's never easy to win a world championship, no matter what sport you are in. There are a lot of young drivers coming through with a lot of pace and I am sure there will be some more fierce competition next year. I'm sure they will come up strongly. 
SO:
The final word for me, I would also take the chance to say one goodbye to Mikko and Jarmo and to wish them to enjoy the rest of their lives as much as they have enjoyed the last 13 years – I am sure we see you again soon!
JC:
Also I would like to thank the media, all of you. Without all of you taking the pictures and writing the words, what we do would be nothing – we need you to take our sport to the world. A really big thank you to you and we look forward to seeing you next year.
FIA WRC 2 CHAMPIONSHIP (event winner)
Present:
1st - Jari Ketomaa
1st - Kaj Lindstrom 
Q:
Before the start, you said you were bored of being second – you must be glad you won!
JK:
It feels great, it definitely feels very good to get the win on Wales GB. It's the event I have wanted to win, I so much enjoy this event, especially so much up here in the north. We had a good fight with Elfyn [Evans] last year, but we had problems with the car and so I decided this year: I really want to win and we did it. Everything was great with the tyres and Kaj.
Q:
You built up a lead early on, were you on the limit?
JK: 
I started to pull back on the second loop on Saturday, the second stage – I can't remember what it was called – was quite rough. I knew I needed to calm down, there was no point to try to do any more. There was no point to risk anything. I had the plan in my mind, there were a few stages where we planned to push and it all went exactly to plan and we had no trouble. The only small trouble we had was with steering rack, but this was over very quickly and the guys at M-Sport did great work and it never happened again. We stuck to the plan. It looked easy, but it went OK.
Q:
You had the chance to win the title, Nasser had to be lower than seventh. Was your mind on that?
JK:
I tried to avoid it all the time, but I have to admit I did think a little. Kaj and I decided to concentrate on the driving. But it came to my mind on some road sections, but I managed to settle down and stop thinking quite quickly.
Q:
What about next year, can you tell us more?
JK:
I wish I could. It has been great to work with DMACK, growing up together developing the tyres – let's see what happens after that.
Q:
Kaj congratulations, so many second places – you have finally got the win…
KL:
It's nice to end the season with a win. This is not the easiest rally. The whole season has been good. We had some issues and, like you said it got a little bit boring being second. We didn't get the championship, but I'm very happy Jari got the win
Q:
Will you be back for more?
JK:
It seems I'm dumb enough not to say no. Maybe I will be back.
Q:
How much of a challenge is it for a co-driver in Wales?
KL:
It makes it more difficult with mud and water, there was forecast, standing water on the road on Friday. Timing is more important on this rally. 
Q:
With all your experience, surely it's easy…
KL:
I wouldn't say so, but we are here, so luckily it's OK!
FIA WRC 2 CHAMPIONSHIP (Championship winner*)
Present:
1st - Nasser Al-Attiyah
1st - Giovanni Bernacchini
Q:
Congratulations! You needed seventh or above to win the championship*, how do you feel Nasser?
NA-A:
It's a great feeling to win the championship. It's a great year and we win four races. At the start of this year, it was not easy: we retired in Sardinia with the accident. To win WRC 2 is really fantastic for us. I am really quite happy. Thanks to Giovanni, he was really helping a lot during this season to win and to show we are able to win the championship.
Q:
How was the weekend?
NA-A:
It was difficult. Never before in my life have I asked Giovanni to repeat the pace notes, but here I ask him all the time: "Are we sure this corner…" It's unbelievable, but only in the head. But the road condition here is very difficult. This was the first time in most of the stages for me. But the rally is fantastic. We find everything in the good place: the marshal, the spectator, this is a great rally. We see a lot of spectator in the night time. The night stages were really incredible. For me, next year I wish we have not only two night stages – we have to have more night stages. It really makes everything different.
Q:
You weren't looking forward to them…
NA-A:
I never drive here in the night, but when we start and have a nice road and everything is precise. You see only one road, it was not easy, but it was incredible.
Q:
What's next for you?
NA-A:
Dubai Rally. Last round of the MERC and we are leading by six points and I want to win, that will be 10 times. That's my dream to win the championship, it's my region. And next year we start with Dakar.
Q:
WRC 2 again next year?
NA-A:
I wish to come back, but we need to talk to the people in Qatar, the sponsors. For me I would do my best to come back.
Q:
How do you feel, it seems to have been fun this season?
GB:
Thank you, first of all. I do not realise we are champions, it's amazing. We made a brilliant job. Nasser was great for the season. We agreed at the beginning [to compete together], but we didn't plan to do this championship, it was the last-minute decision, but now we are here and we are champions. We won four times and now we are champions. It was just here that we were not fighting to win the rally for many reasons – it was important to finish, but it was not easy. Doing the rally not to fight, every corner I was: "Less one, less two, less three…" It was tough, but we are here and we won – it's amazing
Q:
Were you more nervous?
GB:
Definitely, yes. The stages were very short today and normally you take these without thinking about them. Five minutes finished, but they took probably 20 minutes per stage! Every single corner, we were thinking about the finish. In the condition, especially in the last stage we find some fog. You can make a stupid mistake and lose everything. Nasser asked me to repeat the notes, but for me as well, I was saying: "Hairpin, hairpin, hairpin is coming!" It's not easy. 
QUESTIONS FROM THE FLOOR
Marco Giordo
Autosprint, Italy
Q:
Question for Giovanni Bernacchini; after 21 years one Italian won a title. Are you proud to be the man who gave Italy this title?
GB:
Yes! Very proud, 21 years is a long time. Actually, 12 years ago I was very close. Me and [Andrea] Dallavilla were close to winning the Juniors, we finished sixth and lost the championship. Dani Sordo won. After more years, I am here with a different driver, but very proud that a title comes back to Italy.
FIA JUNIOR WRC CHAMPIONSHP / FIA WRC 3 CHAMPIONSHIP
Present:
1st - Alastair Fisher
1st - Gordon Noble
Q:
How does it feel to win Alastair?
AF:
Very good. It was a very difficult event, but we're very pleased with the way it went. We set out to finish second in the championship on this event and we've done that.
Q:
How tough were the conditions?
AF:
Extremely tough. On Friday, the stages were flowing, but it was polished and you could get caught out easily – especially in the front-wheel drive car and the two [forest] stages today; they were really difficult, you had to listen to the notes and not run in too deep to get caught out.
Q:
Were you happy with the speed?
AF:
We had a good run through Hafren – that was a stage we picked out for a push. We built up a good lead. We had a couple of issues on Saturday but didn't let that affect us. We kept it until the finish.
Q:
Were you quite cautious this morning?
AF:
I was, but you had to commit in places or you could easily get caught out. You have to be committed to the notes and get to the finish.
Q:
Great end to the season – how does it feel?
GN:
Fantastic. When we set out six months ago, we felt we had a fairly good chance to be in the fight and winning here has cemented that. It's shown that Alastair is fast enough and go anywhere and actually win.
Q:
We've seen a lot of support in the stages – does that boost the confidence?
GN:
It's fantastic to see the home flag flying, it gives you a real boost – you're almost tempted to wave… you don't though! Everybody knows you and speaks to you. You don't feel alienated at all, you actually feel, sort of semi-relaxed. But equally, you have to deliver the kind of performance that the local people think you have in you. 
Q:
Can we tempt you back next year?
GN:
I'm always tempted – especially with a driver like this, whose notes are always good and somebody who's committed. There's no reason not to, I'd love to be in the seat next to him.
* Subject to the official publication of the results by the FIA