2014 Rally de Portugal - Post Event Press Conference
Transcript of the post event press conference organised by the FIA for the 2014 Rally de Portugal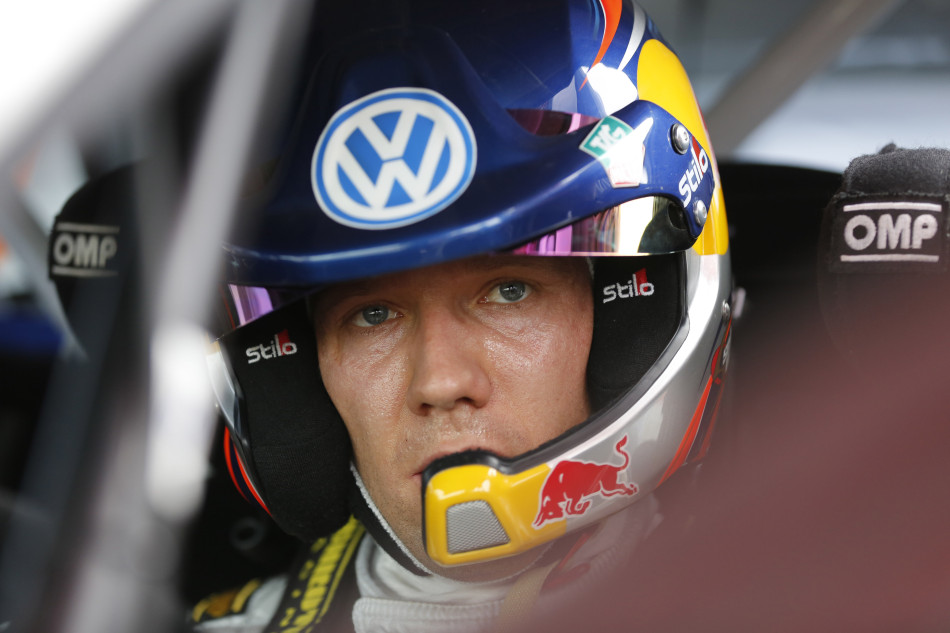 2014 FIA WORLD RALLY CHAMPIONSHIP
VODAFONE RALLY DE PORTUGAL
Post event Press Conference
Sunday 6 April 
Present:
1st - Sébastien Ogier, Volkswagen Motorsport
1st - Julien Ingrassia, Volkswagen Motorsport
2nd - Mikko Hirvonen, M-Sport World Rally Team
2nd - Jarmo Lehtinen, M-Sport World Rally Team
3rd - Mads Østberg, Citroën Total Abu Dhabi World Rally Team
3rd - Jonas Andersson, Citroën Total Abu Dhabi World Rally Team 
Jost Capito, Volkswagen Motorsport Director
Q:
Sébastien, congratulations on your fourth win at Rally de Portugal and your 19th win overall! You now equal Markku Alén on rally wins. A good feeling at the end of this one?
SO:
Very good, thank you for this resume of what's hopefully the early part of my career! I am very pleased with this. I have only five starts in Portugal with the World Rally Car and this is the fourth win – I'm very happy with that. Again this was not an easy one – the boys on my right (Hirvonen) were putting pressure on me especially on the first day. It made a big difference with what is one of my main strengths that I was able to manage the tyres and then we were able to relax a little bit today before a big push on the Power Stage. This gives us a break in the Championship and it's important to have one joker and I am very happy to get it.
Q:
You were running third on Friday… what was going on?
SO:
Later on in the season we may see more of this and maybe worse. When you open the road on day one you are at the disadvantage. I was a little bit lucky with the weather – we had some rain before the race and that made my position not as bad as it might be. We suffered more because we were not so clever with the tyres, but this was not so bad, because we had them to use later in the rally. I was really surprised to see that we use the soft tyre for the whole rally. When it is like this normally I am quite good and able to save them to my advantage. 
Q:
What was the strategy, to push hard all the time?
SO:
Not to push so hard. We see here that there are a lot of drivers making mistakes – especially my main rival for the Championship (Latvala), so I knew that I had the good chance to make a difference and yesterday I was not pushing so hard. Maybe this was the best strategy. Yesterday most of the stages were dry, but still the soft tyre was the best one. I heard the comment from our video guy who was saying that in the stage I was not looking so aggressive, just very clean and that was what I tried to do in the car.
Q:
Maximum points in the Power Stage also, were you conserving tyres through the day for that?
SO:
In the two first stages this morning I was more than cruising. In the second one there were still some tricky sections with mud. Me, Mikko and Mads had nothing to play for in those stages so we were cruising. And then we tried in the Power Stage. I felt really good and the feeling from the car was perfect, as always. I saw from the first split it was all good and so I thought: "OK, we go for it." 
Q:
Julien, this is a good rally for you, how do you feel?
JI:
I feel very good also. When we cross the finish line in the last stage I tell Seb: "Maybe we could ask for the Portuguese passport now…" We have four wins here, we like this country and it seems to like us. It's great to take a big gap on Jari-Matti and Miika and for the Manufacturers' [championship], even though we are only at the start of the season. But now there are three runs on more sandy events, especially in Poland where we did not go since 2009. 
Q:
We saw a really tough start to this event with a very wet recce – how was it coming from a wet recce to a dry rally?
JI:
Finally, it was almost fun to see this much rain falling down. It was really impressive, maybe you saw the pictures of us at lunch when we were having to hide under the boot of the car because the conditions were so bad. We know we can get these conditions and we rally in every type of conditions… so I like it.
Q:
Mikko, congratulations on your first podium of the season. Happy with the result this weekend?
MH:
We are happy with what we got. Of course, we always want to challenge for the win and to be up there. At the start, it was working, but there is still a bit more to do before we can do it on three days. He (Ogier) is right that he is always good at managing the tyres. But I am too old now to be learning new tricks like that; I think the FIA should think about this and give me some more tyres!
Q:
Was it just the tyres or were there other factors?
MH:
You can always improve in all areas. But I am really happy, the car worked really well. That's about it – there are no more comments from me. Thank you.
Q:
You were leading on Friday, were you happy with the pace that you set and how much were pushing on that opening day?
MH:
The tyres were the biggest problem. We had used the softs on Friday. At the press conference that night, Seb told me I did the clever choice, but I'm not so sure in the end. That's how it is. I did all I could with the tyres. I had done really well – second after a tough start to the season. This gives more energy to the team for the rest of the season.
Q:
Does this give you a confidence boost as well?
MH:
I didn't lose my confidence. I was happy in Mexico and I feel more happy the more kilometres I am doing with the car. When all works I know I can do the results.
Q:
So, do you go to Argentina fighting for the win?
MH:
Definitely that's the aim, let's see how it goes…
Q:
You are very cool and calm, maybe you are getting old…
MH:
That's the story now.
Q:
Turning to your younger co-driver Jarmo… that was a great result after a great fight. Is it what you wanted?
JL:
It's really been a fantastic time in the car. It was a difficult season last year and not so fantastic start to this year, so it's nice to be back in the fight. It's hard to describe, but it's been a while since I have seen him (Hirvonen) smiling in sixth gear – and that's what I mean! 
Q:
How do you work on this tyre management issue?
JL:
He told the secret, we need those extra tyres! The next three rallies are more sandy, so I am not so worried.
Q:
Can you win?
JL:
If not, I stay at home.
Q:
Mads, congratulations on third position overall. Are you happy with the result?
MO:
I think so. When the rally is over we see we have done what we came to do. When you come to do a rally, you always have a plan before, but it can get boring to follow the plan. It's always frustrating when you want to do something, but then you have  the boring plan and you have to follow the boring plan. But, it paid off quite well, but I was slower than the other two guys. We did our clever strategy to save tyres, we lost some time [on Saturday] and saved them for today. We had good tyres, but it didn't work and we didn't win the Power Stage, but we did finish the rally with the best tyres.
Q:
The plan can't have been too bad – you took a point on the Power Stage…
MO:
Yes, true.
MH:
He wasn't flat in the first corner [of the Power Stage]…
MO:
We discussed this at the start and I claimed the first corner to be flat; everybody said it wasn't. I didn't take it flat, I was trying to trick you!
Q:
What about Argentina, can you win?
MO:
Maybe, I don't know if we have a different plan for Argentina. I did a mistake in Mexico and if we didn't do the mistake in Mexico then we would have had a good plan here. We needed points, we needed to be careful to get to the podium and that's not so easy in the WRC. I hope, after this result, we can change and try to push for some more. 
Q:
Was there more pressure when your team-mate retired?
MO:
Not immediately, but when I started to think about it and discussed it in the team it became even more important that I get to the end and take the podium. It was maybe a bit harder, but we did the job very well in the car – we stayed relaxed and focused; I'm happy with that.
Q:
Jonas, that was a good weekend?
JA:
Like Mads said, we enjoyed it. Maybe we were not making the cleverest tyre choice, but the pace was very good and we did the best we could with those tyres. I'm happy enough.
Q:
Tell us about the tyre choice – is it between you and Mads?
MO:
No! It's just Jonas.
JA:
Actually, it's just Mads – but I told him we needed softs! Of course, it's the whole team, but Mads has the final say. Everybody agreed with the choice we took.
Q:
Mads wanted to win the Power Stage, how hard did you push?
JA:
Not to the maximum. We pushed a bit, but no risks. We did a good pace and had a clean stage with good rhythm. I think it was three or four seconds to pick up and that would have been tough. It was a good pace, no big risks
Q:
Jost, the Volkswagen stats just keep getting better – 88 per cent of the podiums. How do you feel about the success?
JC:
What Citroën has done in 10-plus years is really impressive together with Sébastien Loeb and we could never think we could come close in a long time, so to equal the number of consecutive wins in just our second season and after only 17 rallies is something I never imagined could happen. The team is outstanding. Every win is something very special – this is what drives the team. We are having fun when we are winning and when we are not winning then we push harder, but team spirit is what drives this team on.
Q:
Andreas Mikkelsen wanted to rebuild his confidence and he did that with fourth position. Are you pleased with his result?
JC:
Yes, he has done a fantastic job. He was conservative on Friday, but he had crashed two times in Mexico, but this time there were no mistakes. On Saturday he improved with more confidence and pace. He had a slight technical problem, but then he was top five and then fourth. These points are good for him and he will be strong through the season.
Q:
How do you assess Jari-Matti's rally?
JC:
It was a slight mistake with a big effect. The mechanics did an outstanding job – this was the biggest job they have ever done. We had two forklift trucks pulling the car apart to get it right. We had to prepare it this way and that he could make best stage time yesterday is fantastic and the job of the mechanics was amazing. This team never gives up, it is always working hard. It was a fantastic job of the team that he could take some Power Stage points, these will be very valuable.
Q:
And a final word for the winners…
JC:
There are no words left. On Friday they stayed calm and did the best they could do. Unfortunately a stupid tyre choice became good across the whole rally – they can't do better than that.
FIA WRC 2 CHAMPIONSHIP
Present:
1st - Nasser Al-Attiyah
1st - Giovanni Bernacchini
Q:
Congratulations Nasser, that was a great battle with Jari Ketomaa. How do you feel?
NA-A:
I am really so happy to finish this race without any drama or problems. Okay, we have a really good weekend and we work for this race – this is the first WRC 2 race for us. Our target was to be top three and collect points, but we find ourselves in good pace and we try to keep going like this. Today was a good day for us, we were leading by 10 seconds before the last stage and suddenly we receive an SMS to say we were just 0.8 from Jari – we decide to push and we win by 11 seconds. This was difficult for us, it's easy to make mistakes when you are pushing to the maximum, but we are doing a good race. Giovanni [Bernacchini, co-driver] did a good job and the team and the Michelin tyres. We were really happy.
Q:
How are you adapting to this car after the World Rally Car?
NA-A:
I use a similar car in the Middle East for the last two or three years, but there the road is completely different to here, it is more open desert. Here you need to be precise and more focused. We are quite happy.
Q:
How much were you pushing during the weekend?
NA-A:
We push, but we don't say: "Hey, we are not pushing…" but we don't take any risks to damage our car. Okay, today the final stage, yes, I say we push because the gap was really zero. I am really happy to win the first race for me and now I'm looking forward to Argentina.
Q:
There's a lot of strong competition in WRC 2 are you confident for the title?
NA-A:
I agree with you. This rally is really a hard rally and you need good experience for this kind of stage – it's the same in Argentina, it won't be easy. There are a lot of good drivers and the chance is open for everybody to fight for this Championship. We decide to compete in WRC 2 and our target is to win the class.
Q:
Giovanni, this is a special win for you…
GB:
I am very happy for me and Nasser and the team. Yes, for me it's a special win because I won here in Portugal – okay not overall – but the class; exactly 40 years ago my father (Arnaldo Bernacchini) won the rally here [with Raffaele Pinto] so for me and my father I am so happy. This is a special moment for me. My aim is to win one rally like my father. It's nice to win WRC 2 here, exactly 40 years after is a brilliant moment.
Q:
How was the weekend for you?
GB:
It was a great weekend, as Nasser said. We arrived to fight for the podium against many young drivers, but from Friday our pace and our condition and feeling was perfect. We improved stage-by-stage and we think we can do the perfect job here. This was a great fight with Jari Ketomaa. The last stage was a drama, we lead by 10 seconds before the stage and suddenly it's 0.8. I don't say this was not fair, but me and Nasser we tighten the belt and push like hell.
FIA JUNIOR WRC CHAMPIONSHIP
Present:
1st - Stephane Lefebvre
1st - Thomas Dubois
Q:
Stephane, congratulations this a great result how does it feel?
SL:
My feeling is good. This is my first WRC 3/Junior WRC event with the DS3 R3 and it was perfect. I make no mistakes, fantastic week.
Q:
How tough was the event?
SL:
It was very difficult. This was my first time in this so I learn all the race. This was ok for me.
Q:
How was the feeling in the car?
SL:
The feeling was very good. I make a good choice of tyre and we finished – the win is perfect for us.
Q:
There are lots of great drivers in the Junior WRC Championship this year, what do you think of your title chances? 
SL:
I make all the chance to win this Championship, I am fast and there is lot of competition. I am learning and I wait for this.
Q:
Did you have any moments?
SL:
No, no moments for us.
Q:
Thomas, how are you feeling?
TD:
It's a good feeling for the rally. The Rally Portugal is a very difficult event and the road is very specific. In France we have no roads like this.
Q:
This must be good for your confidence?
TD:
It's a good result for us and it's very important for the Championship.