2014 Neste Oil Rally Finland - Press Conference
Transcript of the post event press conference organised by the FIA for the 2014 Neste Oil Rally Finland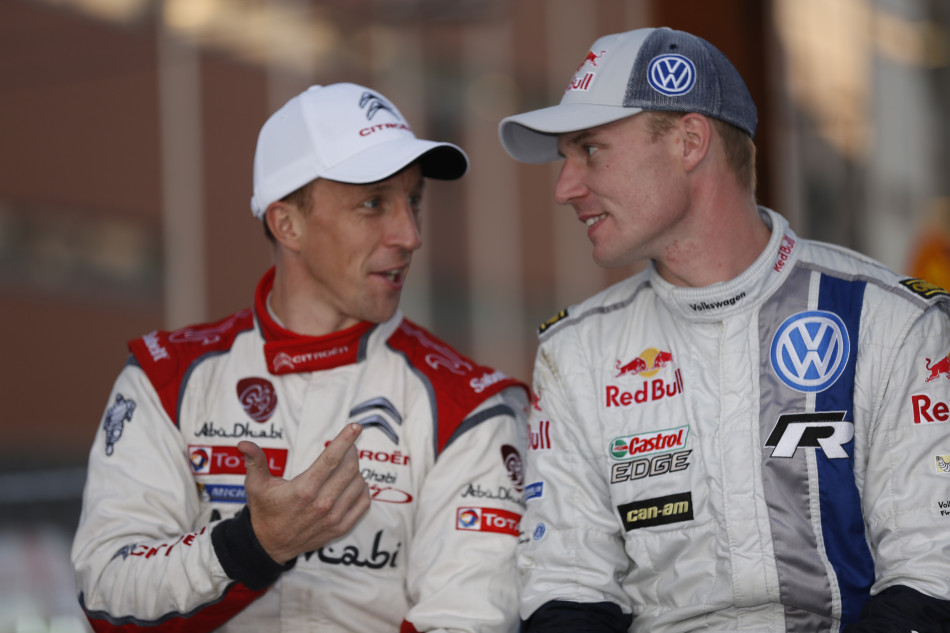 Post-event Press Conference
Sunday 3 August
Present:
1st - Jari-Matti Latvala, Volkswagen Motorsport 
1st - Miikka Anttila, Volkswagen Motorsport 
2nd - Sébastien Ogier, Volkswagen Motorsport
2nd - Julien Ingrassia, Volkswagen Motorsport
3rd - Kris Meeke, Citroën Total Abu Dhabi World Rally Team
3rd - Paul Nagle, Citroën Total Abu Dhabi World Rally Team 
Jost Capito, Team Principal, Volkswagen Motorsport
Q:
Jari-Matti, it's win number two here in Finland. You were inspired here! How does it feel?
J-ML:
Thank you. I am really happy. I'm delighted and a bit shaky still – it's been such big pressure on me. It's been a great start, you know from the test we had the fantastic feeling. I said then that I never ever had such a good feeling and then I had exactly the same feeling at shakedown. And in the rally, it got better and better until we hit the problem. I got so frustrated, I thought I would lose all what we had created. I managed to hold myself together and fight with the problems. I was still in the lead and then I could keep the head cool today and drive with control. I never worked so hard for one victory as I have done now.
Q:
You held it together in serious style. You said you didn't come here to lose the rally… where did that defiance come from?
J-ML:
It came when I started to get the problems. I lost in Sardinia when I was in the lead, I lost that rally to Seb [Ogier] and also I had the same last year in Catalunya when we had problems I lost the lead. I thought: "This can't happen for the third time." Before the event started I said to a lot of people that this was a rally which the Finns were not doing so well on anymore. The French drivers had won for the last three years and shown that they are very fast drivers and how good they are. I was willing to do this for the Finnish people to keep the event in the high profile and keep the people coming to the rally.
Q:
This win means so much doesn't it? You said last night that it was more important than the championship…
J-ML:
It meant a lot to me. It was all about the victory. But think about me, I'm 44 points behind in the championship – only the victory can help me. If I had not won the rally here then I would be finishing second in the championship, but now I can fight to keep it alive – it was all or nothing.
Q:
We like all or nothing and you do still have chance in the championship.
J-ML:
It's not an easy one. We are still 44 points behind – but in the situation that nothing is decided yet. You never know what happens, we keep on fighting.
Q:
You had a lot of family out there, how important is that?
J-ML:
My father is passionate for the rally and my whole family and my whole village was watching the rally. My sister and her daughter, my girlfriend and friend – they wanted me to do well. I didn't want to let them down, it's so emotional… the moment when you see all your close people crying; you almost cry yourself.
Q:
Miikka what a result, how do you feel?
MA:
I feel very pleased and very happy. I am not surprised. When we finished the test a bit more than one week ago I said: "It'll be interesting to see who will be second in the rally!"
Q:
That's confidence for you…
MA:
That was the confidence I saw when we did 600 kilometres of testing for this rally. Even in the test we did not do any changes, everything was correct. It was easy to do 600 kilometres then come over here and collect the result of all of that good work.
Q:
What was the mood like in the car when the front-right caliper broke?
MA:
It was a bit of an exciting time. We called to service and also, luckily, Jari-Matti spoke to Christoph Treier, his mental trainer. Christoph calmed him down, told him what to think and that helped a lot. With the three brakes, it's much easier than with just two brakes. If we want more spectacular rally cars, let's go for three brakes!
Q:
Sébastien, how feel about second?
SO:
I still feel good. Jari and Miikka have been in great form and there was not so much room to beat them after day one when I lost all my chance. I came back after their problem yesterday, but even when the gap was just three seconds it was almost impossible. The speed they had… there was just two-tenths difference between us today, I never managed to put myself in the same spirit as Jari. For sure I was much more thinking about the championship. In the end I was struggling with the confidence, making some small mistakes with the driving. And, when that happened, I am still happy to be second. It was a lot of suspense for the rally and it's good for Jari and Miikka, they deserve this victory.
Q:
What was the feeling like going into this morning?
SO: 
It's like I told you, I never switched my mind completely. I said I continue on the plan, but never go for the extra risk. Yesterday afternoon we changed the set-up a little and I felt more comfortable, but I was never able catch them – only in a few places. Myhinpää was very impressive. Maybe there was two seconds more in Myhinpää, but I lost more in the first one. It could have been closer, but they would still win. Congrats to them, this is a good one for the team. I hope we do the same result in Germany, but I will do my best to reverse the order. 
Q:
What do you think of the championship positions situation?
SO:
It's really good to be honest. To come out of Finland with 21 more points is good and to be beaten by a Finn here, it's no shame at all. Forty-four points still looks good for us, but I repeat: nothing is done. Everything can happen and that's why I stay focused on my target which is to be champion. If this situation comes again, we have to be clever and take the points. Now we go to Germany which is the home event for Volkswagen; we have the opportunity and hopefully we can take it there.
Q:
Julien how was it for you?
JI:
I am happy. We had a nice drive. We had a nice fight with Jari and Miikka. This is the rally where everybody wants to come and finish. It's a good pace. But now, I have a question to all of you, something to share with you, Mr. Latvala…you are selling this kind of coffee for many years and you never offer us one coffee! I propose you give a coffee to everybody next rally or you lose this victory!
SO:
Ah, so that's the secret!
J-ML:
I've been a little bit busy and I forgot about this coffee, but I just recovered this situation!
Q: 
Kris, a fantastic result for you. How do you feel?
KM:
For me, I'm delighted to be on the podium on one of the biggest events in the championship. I was on the podium in Monte Carlo and in Argentina, but this one feels more special – it feels like I've earned it. I wasn't gifted this, we got it with good speed. Jari, when he's on form… we all know his speed. To be close to him, with my experience, I'm very, very happy. Yesterday we were ahead of Seb after two days. We held on in the [Saturday] morning, but when we dinked the front-right and got a big vibration, we lost three or four seconds to Seb and then he got back in front in Himos where we had a big moment and I lost another five seconds. At that point, to think about catching another 10 seconds would have been a bit much for me. I came here wanting a strong, consistent weekend and we have done that – that's the most important.
Q:
You didn't want to get drawn into the fight. You needed consistency?
KM:
It's where I'm at in my career – I only have a one-year contract and I need to finish to get the contract next year. In that position you never open yourself 100 per cent to the road, but I felt really free in the car and it was happening quite simply. I was chatting to Jari on the road section and he said if you try hard on these stages, the time disappears; you have to rely on the feeling and letting that feeling come to you. Even today we were able to let it come to us, even though we were defending third place. This gives us good confidence going into the second half of the season.
Q:
Jari-Matti talked about his confidence coming from the test – was it the same for you?
KM:
Like Jari, our test was just the weekend before the rally and it felt really good. I was able to get dialed in a little bit and immediately the confidence was there. In Finland the confidence is so important. We really concentrated on Lankamaa and the first 500 metres, getting it absolutely correct. If you hesitate on the first corner of this rally then it's really difficult. We made that at our normal speed and then we could carry on for the rest of the weekend.
Q:
Paul, you must be very happy with the result. Does this feel more special to you?
PN:
In Monte Carlo, it was a difficult rally. We weren't flat out and we needed to be clever and drive on our own pace. In Argentina we were in a good position after day one and after that we had to drive very slowly for the next two days. Here, from the first corner, we were on the pace and then we were second or third fastest – I think it was only two times that we were out of the top three. And we were able to continue all weekend. It's a great satisfaction to get close to these boys. It's building. Okay, there was a blip in Portugal, but this has been coming even since Mexico, Sardinia and Poland. It takes time, it's not going to happen overnight – this is a big step forward this weekend.
Q:
Jost, we have witnessed a great battle – how do you feel?
JC:
It's been a fantastic weekend, the complete week actually. It started last Saturday in Helsinki with the Helsinki Battle which was a fantastic event and can be seen as a role model going forward. And then the successful result, a one-two in Finland with Andreas [Mikkelsen] fourth is absolutely fantastic and on one of the most important and hardest rallies in the championship. Fantastic.
Q:
There's another important event coming next in Germany - your home event - where you can seal the manufacturers' championship…
JC:
Yes, theoretically it's possible but everything can happen. Germany did not go well for us last year, we did not get on the podium. The pressure is really high and we expect a better result and that's what we are working for this year. We are working hard, with all of our energy focused. The approach will be the same as all rallies this season: we've got to do our best and to deliver to our bosses the right result on that rally.
Q:
And what a fantastic performance from Jari-Matti and Miikka?
JC:
It was fantastic. He was fastest from the start and he deserves to win this rally. We see him get stronger and stronger. Last year he was lacking some testing and he was still getting used to the Polo and getting used to it on different rallies. We expected him to get stronger. He is where we believed and where we thought he would be. I am sure we will see lot of great rallies and fights to the end of the season – what we have seen here is the best rallying has to offer.
FIA WRC 2 CHAMPIONSHIP
Present:
1st - Karl Kruuda
1st - Martin Jarveoja
Q:
This is your second win of the season and more importantly, it's a Rally Finland win. How does that feel?
KK:
It's fantastic. It's really an amazing feeling. When we came here we were hoping for a podium, but this is better.
Q:
What did you think of your performance?
KK:
Personally, I wasn't completely happy with my speed. On Friday it was more or less okay. Then on Saturday, we were given first place on a silver platter. After that we had to hold on – we couldn't keep building the speed. I had to take it carefully. I'm not completely happy because I couldn't drive 100 per cent, but the result is more than expected. I'm happy for that.
Q:
How tough was it to hold on to that win?
KK:
It was tough because this was the first time in my life that I had to keep the comfortable lead like this and driving to the start of the stage in this position is not easy. I knew I had the lead and I knew I had to keep the car on the road.
Q:
Did you have any moments?
KK:
Yes I think on the second pass of Päijälä, we jumped wide and on the next corner the steering wheel threw me off to the left and I went into some barrier. Then I broke the radiator and we had some drama for that, then we had a big hit on Lankamaa and broke the air intake, and a sensor failed – we kept it slow. I couldn't imagine if we were pushing what might have happened – the stages were very rough second time through.
Q:
Martin, this is good for the championship…
MJ:
Sure it is. Now I think we are in third place. We have still two rallies where we can collect points. Our position right now is okay.
Q:
Did you enjoy today?
MJ:
Today was not so enjoyable. You know you can go faster, but somebody stops you – it's not easy, but we are satisfied.
Q:
A relief to be at the finish?
MJ:
For sure!
Q:
Karl how do you feel about the championship now?
KK:
I feel positive. It has shown, even if you are not the fastest driver, that you can be intelligent and know how to drive – and if you keep the car on the road, everything is possible. 
FIA WRC 3 CHAMPIONSHIP
Present:
1st - Teemu Suninen
1st - Juha-Pekka Jauhiainen
Q:
Teemu, you were looking forward to this… how was it this weekend?
TS: 
It was the hardest ever, I feel! On Thursday I drove for the first time in wet conditions, but I managed to set good times. Then on Friday I had a puncture when I drove over the stones – a little bit my mistake, but still I made good times.
Q:
And yesterday we saw your car looing a bit battered…
TS:
In Himos I roll the car. But, we did great work after that and the team did great work repairing the car. Without the good team we wouldn't be here.
Q:
How was the car? 
TS:
At the start it was quite hard, the stages are really high speed and in that car I have to brake a lot. But it was good.
Q:
What was it like to win at your home event?
TS:
It's awesome. Before the race I said I would be really happy if I could be on the podium and this is even bigger. After all, I can win!
Q:
When will we see you next?
TS:
That's really hard to say now. I hope we can manage to do some other races. The Finnish Championship is next for me.
Q:
Juha, how do you feel?
J-PJ: 
It's an unbelievable feeling. It's great. After the roll, to come back it's incredible.
Q:
What was it like in these final three stages today?
J-PJ: 
We did our homework well and these were really nice stages. We enjoyed today very much.
FIA JUNIOR WRC CHAMPIONSHIP
Present:
1st - Martin Koci
1st - Lukas Kostka
Q:
Martin a win, it must feel incredible?
MK: 
It's a great, great feeling. We were leading the rally from the first stage to the finish and we enjoyed it very much. Everything has been just great. 
Q:
Did you feel confident?
MK:
I felt very good with the notes and that's the most important here in Finland. Also I really enjoy the fast places and here, all the time, it's fast. This is a beautiful rally for us.
Q:
But we did see some problems coming into service last night. Tell us about those.
MK:
We had some moments on the road also! But yesterday in the evening service the car just didn't start, so we had to push it – it was a good workout! In service they had to repair it and we got out [of service] 18 minutes late, which meant three minutes of penalty. But we stayed ahead and we had a big gap.
Q:
Were there any nerves this morning?
MK:
There was a big gap in the second half of the rally, there was no need to push. This was very special for us – we take no risk.
Q:
Martin how do you feel about the championship?
MK:
We are feeling very good. We are second by just four points. It's getting to the point where we want to be – I am looking forward to the tarmac rallies.
Q:
Is that where your strength is?
MK:
It's 50:50...
Q:
Lukas, congratulations. How do you feel?
LK:
It's a very good feeling, this is my first time in Finland. It's like a dream!
Q:
Everything went well from the co-driver's perspective?
LK:
It was very good. The stages are really beautiful, we enjoyed it all the time.