2014 Neste Oil Rally Finland - Press Conference
Transcript of the pre-event press conference organised by the FIA for the 2014 Neste Oil Rally Finland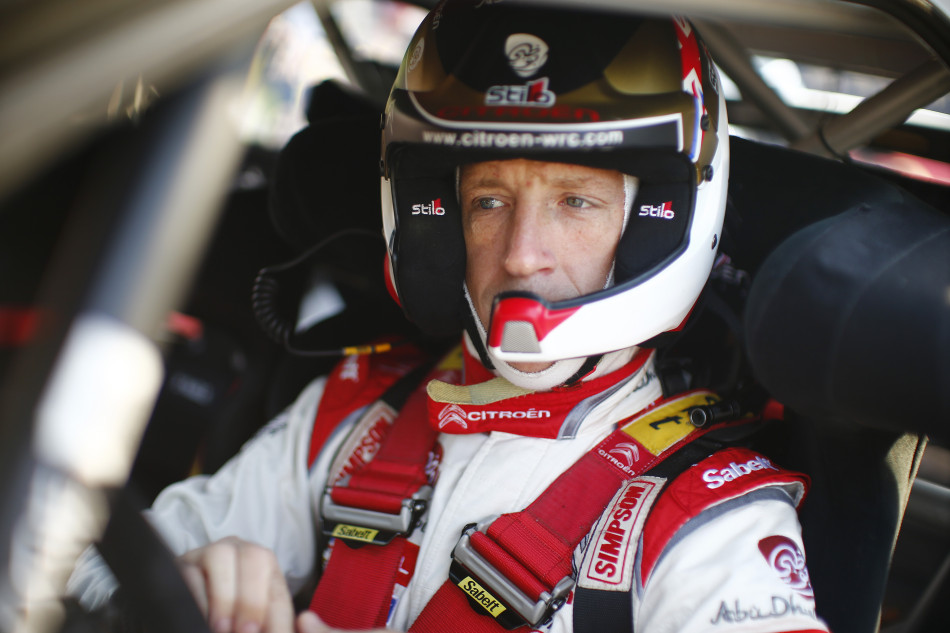 Present:
Mads Østberg, Citroën Total Abu Dhabi World Rally Team
Sébastien Ogier, Volkswagen Motorsport
Thierry Neuville, Hyundai Motorsport
Mikko Hirvonen, M-Sport World Rally Team
Q:
Mads, you have already had success in Finland this week, winning the Helsinki Battle on Saturday. What was it like to compete against the Finnish legends of the sport?
MO:
To be honest, it was a good show. It was a show. Everyone was there to enjoy and to make something good for Helsinki and the rally environment in Finland. I think everybody enjoyed it. It was a good thing to win and it gives a good feeling before this weekend, even though there's not a lot to bring from that stage to this one.
Q:
I heard when you stepped out of the car, you said to Marcus Grönholm: "Beat that, old man!"
MO:
No, I said: "Good luck, old man!"
Q:
Given that it's Mikko's birthday to day, maybe you would say the same to him?
MO:
Yeah, I hear he's getting quite old. Maybe I would say: "Good luck, Grandpa!"
Q:
Seb, what did you think of Helsinki?
SO:
Like Mads said, it was a great event, great promotion from Neste Oil. To have this kind of promotion before every rally would be good to promote our sport. There were a lot of fans, it was a great show and we were all there after the test, so there was no time lost. Great day!
Q:
Thierry, you had Marcus Grönholm in your team – did he pass on any advice?
TN:
Not really. We were there to enjoy. I tried not to be boring with stupid questions! Everybody seemed to enjoy the event but I guess I was… not afraid, but a little bit nervous to beat his time. I did not want see him go quicker in my car! In the end, it was okay. For the championship it's important; at the moment we struggle a little and need to get more fans and get closer to the people. That's what we have done in Helsinki. It was one and a half days where we have less free time, but we have to do more like this.
Q:
Mikko, did you enjoy it?
MH:
It was really nice event, especially mixing in Tommi [Mäkinen], Marcus [Grönholm] Markku [Alén] and Juha [Kankkunen],that really boosted the whole weekend. Like everybody said, we had a good time and I hope we have more events like that.
Q:
Confidence is one of the keys to this event - how are you feeling? Was testing successful?
MO:
We had a really good test before the Helsinki Show. I had a really good feeling in the car for the one and a half days of testing. In fact, after half a day I was really happy with the car. I was able to confirm some ideas in the car and to take a little bit more, we have found quite a few small details that can help for me to be faster. I hope my driving will help as well. We are prepared to take the challenge and fight for the win.
Q:
You hesitated then, I wondered if you were going to say: "… fight for the podium."
MO:
To be honest, I was wondering the same, but I thought… why not say the win!
Q:
There have been some reports in the media that [Citroën team principal] Yves Matton will make a decision on his driver line-up for next season after the next three rallies. Does this add pressure for you?
MO:
He hasn't told me this, maybe it's a secret.
Q:
Does it give more pressure?
MO:
To be honest it's just a focus on the event – that's the most important thing. I am not able to change anything or do anything better, I can only focus on doing the events as well as possible and hope for some good options next year.
Q:
Your pace has been improving, do you feel ready to challenge for the win now?
MO:
Yes. I am more and more confident in the car for every rally and now it's more normal. Before on the test it felt a bit strange, but now when I arrive to the car and start driving it feels normal. I need it to be like this in the car, ready for the fight: you can't spend a day getting comfortable.
Q:
Sébastien, you know what it takes to win here in Finland after sealing your first win last year, what is the secret? 
SO:
Last year was nice – it's nice to win and this is really a special one. A special one that I wanted in my career, so I am really happy for last year. But I don't need to tell you that I am really hungry again. But they are all hungry, especially the Finns. I hope to be able make a good fight, we hope to be there from the start.
Q:
Running first on the road, do you expect there to be much loose gravel around?
SO:
With the rain last night it was quite damp on the shakedown this morning and there is some more rain this afternoon, and if it's damp it's usually better to be first. At the moment it looks not bad for me.
Q:
You have a 50-point lead in the championship over team-mate Jari-Matti Latvala, is it possible to feel 'comfortable' with that gap or is it too early to say that?
SO:
You cannot really say that. Of course it is a little bit more comfortable, but it's still six races to go and a lot of points to come. I am in the best situation, but I have to keep this in my mind and not go crazy. I start the rally with the mind to win. But we will see, if I have to take the big risk – like in Argentina – then maybe I can accept a bit less.
Q:
Your other team-mate was particularly strong in Poland, is Andreas Mikkelsen now at the level to fight it out at the top on every event?
SO:
I think only him can give the answer, but definitely he has passed some steps and he is really close. In Poland he did a really good job and I had to push. Jari was not really there in Poland, we expected him to be there on this [fast] profile of event. But we see from the shakedown time this morning, he is back on this event. If I want to win here I will really have to push.
Q:
How was the car in the test? You finished the test a bit earlier than expected…
TN:
The test was going very well and that's why we decide to finish a bit early! No, I was pushing very hard on a beautiful road and I push too hard. I found my limits and went over, it was a big, big crash – the biggest of my career so far. But the cars are really safe now and there was no issue for me and Nicolas [Gilsoul, co-driver]. We were both fine and we already forgot that when we did our Germany test straight after. The speed was still there. Let's see what we can do here.
Q:
What do you think of the new stages here?
TN:
This is only my third time on this rally, so I discover some new beautiful stages and this looks like the best yet. And from the conditions – after the rain we expect this afternoon – the conditions can be beautiful and we can really enjoy them.
Q:
You were second here last year on only your second time at the event, which was hugely impressive. What is your aim this time?
TN:
Last year was an incredible rally. We had a nice fight with these three guys around me. This year my focus is still more on the car to try and move the car [forward]. But I am ambitious and I would like to succeed on what we did last year. Every rally is new [for the team] and like we saw in Poland everything is possible. We have some small modifications on the car, let's see where we are – I hope to do the job as good as last year. I hope for the good position.
Q:
Mikko, this will be your 13th participation at Rally Finland. How are you feeling ahead of the event?
MH:
I feel good. Let's see how far it's going to get us. Even me, I'm following these youngsters watching the on-boards in preparation. You know, I put these big glasses on to see the screen! After the recce it feels really good, I hope we able to challenge them.
Q:
Everyone will always look to the Finnish drivers at their home event, do you feel that pressure or can you just enjoy it?
MH:
I enjoy it. The media always expects Finns to go really fast and of course that's what we want to do, but it's not so strong for us any more.
Q:
Why?
MH:
Everybody gets more experience and I suppose the [on-board] videos will help and then there's the recce: we are doing the recce all the time all around the world, so even after two passages they get their notes right and this helps a lot.
Q:
Some new stages and some classics return, Harju today seems to have got a lot of people excited, why is it so special?
MH:
For me it's just the fact I watched the rally many times myself. It was where we used to start the rally, from the centre. Actually, I say 'we' I didn't start the rally from there - I'm not that old! The stage is a kind of classic, but as a stage itself there are a couple of tricky places, but we will be driving in front of thousands of people. 
FIA WRC 2 CHAMPIONSHIP
Present:
Ott Tänak
Eyvind Brynildsen
Q:
Ott, a great win for you at Rally Poland a few weeks ago. The championship is looking very interesting! Is the plan for a repeat performance here? 
OT:
It's difficult to say. There will definitely be one really fast local here [team-mate Jari Ketomaa] who knows the roads quite well! We don't know these new stages quite so well. These are hard roads, but we have good notes and if we can find a good rhythm then it should be okay.
Q:
You had a good battle with Jari Ketomaa in Poland. He's the local here, is he not telling you his secrets?
OT:
At the moment it's still quite relaxed, but it will definitely get a bit more… I don't know… tricky. It's really hard to win here, he will keep his pace. Let's see: if we keep to his pace it will be interesting.
Q:
You took a win at home just two weeks ago at Rally Estonia. High speeds roads there also - did it help with preparation for this event?
OT:
It was really good preparation. The roads were a bit faster and not so technical as here, but it was really good to get used to the high speed.
Q:
You last competed here in 2012 and there are some new stages this time around. What do you think of them?
OT:
They are really nice stages. If you get a good rhythm then they are enjoyable, especially the ones close to Ouninpohja – they are similar to Ouninpohja. But the first time there is really high speed and you need to be really confident. If you have good notes and good rhythm then you can enjoy it.
Q:
Are you feeling any pressure with regard to the championship to set a good result?
OT:
We don't have to think about that. We had a difficult start to the season and we're not in a really good position. But now we had two good events, we just do our best and see how it ends.
Q:
Eyvind, welcome back to the championship! It has been a while since we have seen you compete. How prepared are you for Rally Finland?
EB:
We did a good test, we've had a good shakedown. It's always good to be in WRC – Wales [Rally GB, November] was out last event, but this will be a great weekend.
Q:
Is it difficult to get the confidence when you're not competing regularly?
EB:
Normally I am quite confident, but it's a long time since I did a rally. I have competed for 60 kilometres on a small Norwegian rally since Wales. Just to make the notes after eight months is quite tough. I will do the first stages tonight and hope we are not too far behind.
Q:
How was the recce?
EB:
I knew some of the stages from last year. I have watched some of the videos, I try to do everything I can do. We will try to push, but if you don't have confidence then you can lose a lot of time. The car is insured!
Q:
When will we see you next time?
EB:
Well, I will be in work on Monday morning and then we will have to see if we can do a few more rallies over the next months. At the moment it's just this one.
Q:
How important is it for you to be back?
EB:
Really important, I love this sport. The atmosphere is really good in the team. I will try to take care of Ott [Tanak] and Jari [Ketomaa] and make sure there is no fighting in the team! And I will try to show some good speed.
FIA WRC 3 CHAMPIONSHIP
Present:
Teemu Suninen
Q:
Teemu, you have a great opportunity here in Finland, representing AKK Sports Team Finland, the ASN; you have won your place here. How much are you looking forward to the challenge of Finland?
TS:
Of course this is really big chance for me. I try to learn new things for me and drive without the pressure.
Q:
What are your thoughts so far on the Citroën DS3 R3T?
TS:
I think the suspension is much easier to drive, it's much more stable. And the engine is much more funny to drive – there's a lot more torque.
Q:
Jari Ketomaa was one of the panel that selected you for this drive and I believe he is mentoring you. How much advice is he giving you?
TS:
Maybe the biggest thing is not to drive all the time flat-out. I have to finish the rally and drive without the pressure and trying to make the best that I can. I have to focus on myself.
Q:
Who will you compare yourself to?
TS:
For me, the important thing is not to win the race, but to get the good experience and drive some fast stage times. 
FIA JUNIOR WRC CHAMPIONSHIP
Present:
Quentin Giordano
Kornèl Lukàcs
Q:
We saw some good pace from you in Poland, where you took third overall in the category, can you deliver more here?
QG:
Poland was good preparation and we also did Rally Estonia in the ERC two weeks ago to prepare for this rally. I never have driven on really high-speed stages like Estonia. Here there are more and more turns, jumping and jumping. We have good preparation.
Q:
It was a good test then?
QG:
We did the good test on Rally Estonia, so I think it's okay for the set-up; we know how to do the big jump on the crest. This is the big event of the season. I never drive in the WRC before, this is my first season, so I am learning all the rallies. But I need to be at the end of every rally. I need the experience.
Q:
And what do you think of these stages?
QG:
They are amazing. We know this rally with the big drivers and the big cars, that's amazing. But it's difficult for us with the pace notes – you cannot imagine how the car will jump, so it's tough for the recce. This is why we have to see the end of the rally.
Q:
Kornèl, are you ready for Rally Finland? What have you been doing to prepare for the event?
KL:
I hope so. I hope for some fast stages and fast corners. It is really difficult when I don't see the corner. I was in Finland for the test last year, test not rally, and I hope I can drive like I know.
Q:
How are you finding the Citroën DS3 R3? Do you feel you have fully adapted to it?
KL:
It is my first year in Junior WRC and first year with DS3 – it is a very good championship. It's good to work with Citroën, like in a family. The Juniors come with good engineers and I really like this championship.
Q:
What do you think of your own performance?
KL:
I have a lot of experience to get this year. I want to learn the car and the rallies. The rallies are very long and we have to make no mistakes. For next year or third year, I want to be faster and faster.