2013 Rallye de France Alsace - Pre Event Press Conference
Transcript of the pre-event press conference organised by the FIA.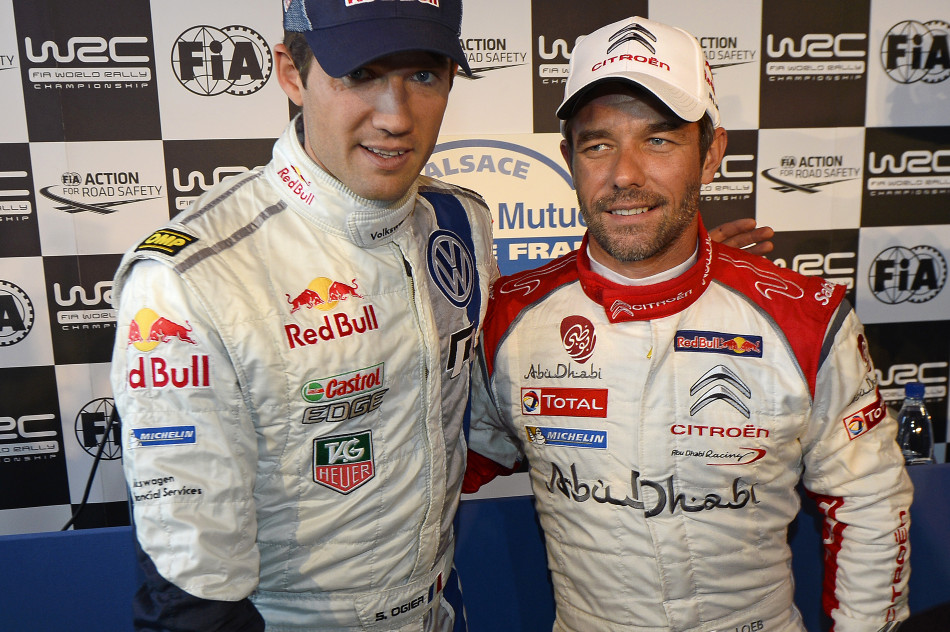 2013 FIA WORLD RALLY CHAMPIONSHIP
RALLYE DE FRANCE ALSACE
Pre-event Press Conference
Thursday 3 October 
Present:
Sébastien Ogier, Volkswagen Motorsport
Sébastien Loeb, Citroën Total Abu Dhabi World Rally Team
Thierry Neuville, Qatar World Rally Team
Jari-Matti Latvala, Volkswagen Motorsport
Q:
Sébastien, your Championship victory could happen this weekend, almost certainly. How do you feel about it?
Sébastien Ogier:
Like you mention, our chances are bigger than ever. This weekend, it should happen but it's still a chance that not. So we still have to do a good job. Of course, I'm very pleased with this season, the first one with Volkswagen. We are very happy with what we have achieved. The car was very performant and reliable straight away from the beginning. It's almost a perfect season so far. I made a mistake in Germany so, now, I just want to enjoy the season. I feel quite relaxed. I don't feel so much pressure about the Championship. I just want to get pleasure in the car.  That means be fast and fight for the win, otherwise I cannot get pleasure.
Q:
If Thierry Neuville doesn't score maximum points in the opening Power Stage, then the title will be yours. Do you feel nervous going into that Power Stage? 
SO:
Not really, I think I have a lot of pressure on the media side but, to be honest, I want to start well the race. I don't need absolutely to win this stage. It depends on this man (Thierry Neuville). If he can accept not to be first, then it's okay. I don't have extra pressure about it especially as it's a stage in the city where it's easy to make a stupid mistake. I will try to start with a good pace but, of course, it's not necessarily flat out to win it.
Q:
Sébastien Loeb returns this weekend, but Sordo was victorious on the last Tarmac event and Thierry was also was impressive - will it be a tough fight for the win this weekend?
SO: 
I'm happy you mention that because I'm sure those two guys will be there as well. I'm sure that the fight can be very exciting. Seb has missed few races but I'm sure he will come back immediately with a strong performance like he always did. 
Q:
Welcome back to the WRC, Sébastien (Loeb). After many seasons in the Championship and nine World titles, one rally left for you in the WRC and it's your home event. How do you feel ahead of it?
Sébastien Loeb: 
I feel okay. For sure, it's a nice story to finish my career here. That's why we decided with Citroën to finish here. Now, we are here. The feeling is okay. For sure, it's always a great atmosphere on this rally and it will be some emotion to be here for the last time but, on the other side, it's a long time I think that, one day, I will have to stop rallying. For me, I turned the page last year. This year, I just drive rallies like this to have fun and because we planned it with Citroën. The feeling is not bad. The recce was okay. I had a good feeling in the test with the car also so I just hope that we will find the rhythm quite quickly and that I will be in the fight. 
Q:
How do your objectives differ for this final event to the normal Sébastien Loeb we are used to seeing?
SL: 
For sure, if I'm in a situation that I can win, I always try. That's the same story here. On another side, I'm not fighting for the Championship. Seb (Ogier) will be the champion this year. I don't need points. I'm just here for fun and to do my last race at home. If I'm not able to fight, it's not terrible, you know. I just take it like it is.
Q:
You won nine Championships but it looks, this weekend, the Championship will go to Sébastien Ogier. What have you thought about Ogier's performance this year?
SL:
He did a great season. For sure, he deserves his title. He was the fastest all the time. He had a good team. They put everything together this year to be competitive and on the top immediately so there is nothing to say. He deserves to have his title this weekend.
Q:
And for you, new challenges awaits with the FIA World Touring Car Championship next year. How is the development of the car going? 
SL: 
I tried this year to focus a little bit on racing, to do some races with McLaren, Porsche and some cars like this. Now, the real challenge is to improve the new WTCC Citroën car. It's exciting for me. I discover some new things, a new way of working. I will discover some new places and still have the same life, I would say, with competition, testing, racing, and still with Citroën. For me, it's a great opportunity to have a new challenge in the future. For sure, it can be difficult. It's very different to the rally. I will have some other world champions in front. I'm not able to say today if I will be able to fight for the first position in this Championship but that makes it exciting. I have to do my best and that's what I will try to do. 
Q:
It's a brand new challenge. Does it make you feel young again?
SL: 
Here, I feel like the old driver who is just retiring. There, I feel like the young new driver who is arriving, so it's another feeling, yes. I feel a bit younger. I still look very young, no?
Q:
Thierry, great result in Germany a few weeks ago. We were all thrilled with the battle with Dani Sordo. How do you feel coming to France? Do you think, you will fight again at the top?
TN: 
I think everything is possible. We have seen the car is very competitive on the tarmac. I feel comfortable. We did some very good tests so I will do my own race, keep focused again on Jari-Matti that he stays nicely behind me. Then, I will try to get the maximum points. 
Q:
Your second position in the Championship overall has been very impressive this season. From Greece onwards, you have been on the podium at every single event. Did you imagine a year ago you would do so well this year?
TN: 
Definitely not. We have seen last year, we struggle a little bit but I got a new team, a new car and, with all the experience I got last year with Sébastien in the same team, I learned a lot. I took it to my advantage this season. I learned from it. Nicolas and me have gone step by step forward, so far in the good direction. 
Q:
In terms of strategy how will you play yourself into the rally?
TN: 
Everybody knows Seb (Ogier) will be World Champion this year. It is for me no question. I don't want to leave our piece on a plate, so I will definitely try to get maximum points tonight. Even if Seb is asking, I will not slow down! I think about my Championship as well. Of course, I think he deserves the title. He has done very well. It shouldn't be too easy [for him]; it's easy but it shouldn't be too easy!
Q:
Let's talk about next year. Because you have had such a strong year, a lot of teams are talking to you about next year. Is that correct?
TN: 
That's correct. Of course, I'm in a better position than I was last year. Last year, the winter was just horrible. Until the end of December I didn't know where I was going to drive or if I even continue in the World Championship. Now, a lot of things changed and it's looking much better for next year.
Q:
When will we have a decision from you? And what are you looking for in a team?
TN: 
We still have some time. There are still two rallies to go. I want to see a bit clearer. Many things are not clear for me now. We have to wait a little bit. I know what I want for myself for the future. I will definitely not tell you today.
Q:
Jari-Matti, you did very well here last year. Will you use a different strategy looking at the Manufacturers' Championship?
J-ML:
Yes, you're right. I like driving on tarmac and the Polo WRC is very good on tarmac. It's a bit different strategy this year compared to last year. Last year, I was here to try to challenge Loeb. It was a good rally. We finished second. This year, I need to consider the manufacturer points. It's so important for the team to win the manufacturers' title. If I can finish between P3 and P5, it will be okay. That would give us good points. That's the way it is now. Maybe, one day, I will fight again for the victory but not on this rally. But I want to be in a team that wins the Manufacturers' Championship. I never won it yet.
Q:
It has been your first year with Volkswagen Motorsport, looking back across the season what would be your assessment?
J-ML: 
Okay, there has been a victory but it was not what I expected. I was expecting at the beginning of the year for it to be difficult. Then, I had a very good springtime but unfortunately the second part of the season stared to be also difficult. It was not what I was planning. So, I will fight to be at the top again. 
Q:
What is the biggest challenge in France ? It seems that the rain is coming in…
J-ML: 
Normally, the stages are very nice. There are quite a lot of corners for us not to cut. The grip is good on the ground. The characteristics are nice with a very good flow on the stages. I think the main challenge is the rain and the amount of rain on Saturday can be very heavy. That can make it tough. Rain is the hardest job in this rally.
Q:
It is Sébastien Loeb's final WRC event. We have seen many battles with you and Séb, of course. How do you feel saying farewell to him?
J-ML: 
It's great to see him back, fighting in this event. I think it's a rally where he comes to enjoy. He won already nine championships. The best is to finish with a good feeling. That's the way it is to be. For sure, we had great battles with him in the past. Sometimes when I think back I should have done things a different way but I also learned a lot from him. 
Q:
Back to Sébastien Ogier. We have seen you battling with Loeb as well. How do you feel about saying goodbye to the Champion Sébastien Loeb?
SO:
It's difficult to say it in a few words. There is a lot to say. It will be anyway a lot of good memories even if everyone tries to remember always the fights and the difficult times we had. It was also something nice in the sport. We were excited with that. Whatever happens now, I will have always a lot of respect for him.
QUESTIONS FROM THE FLOOR
Q:
Sébastien, can you comment on the first victory of Dani Sordo in Germany?
SL: 
I was happy for Dani, for sure. It was his first victory. He tried in the World Championship for so long time. He was always competitive on tarmac, never had the opportunity to win. For him, for his confidence, for his career, it's nice to see him taking his first victory. I was very happy for Dani. Hopefully, he didn't take too much confidence because, here, it's the same kind of roads! We'll see; it can be a good fight.
Q:
Are you happy also because, once, he had to slow down in Spain to allow you to score more points for the World Championship?
SL: 
I think you're not completely right. He didn't have to slow down. He accepted because he knew that it will not be possible. You can ask him. He deserved a victory on tarmac and it was a very tight fight. He deserved it and now he has it, so I was very happy for him.
Q:
Will this rally be your very last event or will you do some more events, like Carlos Sainz did?
SL: 
The plan is not to come back. I think, especially in this sport, the rhythm and the experience are very important. If you go off the rhythm, for sure, you lose something. In Argentina, I felt it at the start. Here, I don't know how it will be. If I retire for six months or one year and come back, for sure, it will be impossible. The plan is not to do this. The plan was more to find another challenge, what we have done now with Citroën. I hope I will not come back.
Q:
Sebastien Ogier, you will be champion today or on Sunday, or maybe in Spain. Do you regret it was not against the other Séb?
SO: 
I think I cannot regret it. It's not depending on me. We just have to accept we have 10 years difference. He has done a long time in this sport and he wanted to get a new challenge. I'm sure that it would have been very interesting for the sport. I'm sure the fight would have been very tough but we will never know. Definitely, I have no regret about it. It's just something I don't control. Last year, I had to take another direction and start a new story with Volkswagen. That costs me one year without racing at the top. This year, we come back with a good car and a strong team. Séb is not here anymore: what can we do? It was interesting to fight with him for the few races he did. That's it.
Q:
What do you wish him for this last rally? Did you prepare a gift for him?!
SO: 
Let's say, I cannot wish him to beat me, for sure. As we saw during the recce, he will have a great support from many spectators. I think he really deserves it. It must be difficult to leave but, in the same time, it must be great to see all these people came here for him. 
FIA WRC 2 CHAMPIONSHIP
Present:
Robert Kubica
Elfyn Evans
Q:
Robert, on the previous Tarmac round at Rallye Deutschland we saw you score maximum points. What can we expect to see from you this weekend? What are the main challenges here?
RK:
As you say there are some different characteristics here even if some stages are quite similar to some stages in Germany. I think the biggest challenge will be if it is raining and we have muddy conditions. There are many corners where you could cut and I believe this will be a new experience for me. I have driven some rallies on tarmac but these stages are very different. I believe it will be a nice rally, a nice challenge. If the weather forecast is right with massive rains, I have never driven with those tyres and I can imagine it's going to be a very very big challenge. 
Q:
So, what is going to be your strategy this weekend?
RK:
Well, very similar to other rallies, we are going to do our best. This rally is new to me so we will have to check our pace notes and hopefully they will be working fine and we have to keep in mind that there might be a lot of mud on the road and a lot of different conditions that we saw during the recce so we will have to keep quite a lot of margin. 
Q:
Looking back across the season, you mention that it has been a learning curve this year, are you pleased with your development and how far have you come in terms of what you have learnt?
RK:
I have learnt a lot, all rallies are different from each other. When you come relatively new to this sport and you do 10 rallies during the year you learn quite a lot. With very few experience, you learn every day on every single stage. How far I have gone, I don't know. For sure I am better than at the beginning of the year both on gravel and tarmac. Every other week I have to discover new rallies, new stages and new pace notes. If you want to improve you need good pace notes so everything has to be done.
Q:
How are we going to see this knowledge used next year? Are you closer to a decision with regard to next year? Will we see you continue within WRC?
RK:
I don't know yet. First of all I have to see if there are good opportunities for me. For sure there will be some talks in the coming weeks to see what the options are and what is possible to do but I haven't made up my mind yet. As I say if I don't have good opportunities I might go back to the circuits, I don't know. So if I don't know nobody knows!
Q:
What do you call a good opportunity?
RK:
Well I come from a very high professional profile championship which is F1 and it is very difficult to reach such a level so for myself if I want to continue rallying I have to make sure I have a good programme with a lot of testing in order to improve, in order to develop and do a good job. I think I have proved I could do a good job in WRC but there is a long way to go and if I want to make a step forward I need to have everything planned and under control. It's not easy nowadays with limited seats and limited opportunities. 
Q:
Elfyn, last year at this event you secured the FIA WRC Academy title. Does it bring back good memories being here?
EE:
Rallies bring back good memories, winning the title here last year was fantastic and I enjoyed the rally very much. The challenge is a bit different this year but I am certainly looking to it. 
Q:
Do you feel you are getting to really know the R5 now? What are your feelings on the car?
EE:
The car has great promise but to be honest we haven't had much time in the car since Germany, there has not been a major test so I don't know if it will take a lot of time to get back in but we will certainly try our best from the start.
Q:
Considering the front drivers, how do you feel about going for a win here?
EE:
I think it's important to do a good job generally. It will be our focus without taking too many risks and see how we are after the first few stages. Since Germany we have the pace to make it but as the guys say we don't know what will be the conditions. 
Q:
Next year beckons, are there any plans you can tell us about? We have seen you in a WRC car in Italy. Are you looking to step up into a WRC car?
EE:
My idea for next year it to do all the rallies. As Robert mentioned doing all the rallies is a big learning curve. I have never been to Monte Carlo or Sweden so doing all the rallies is a big opportunity to learn whether in a WRC car or not. The most important is to have a competitive car and learning opportunities. 
Q:
Anything you can tell us, anybody you are talking to?
EE:
No not for the moment, right now we have to do a good job and hopefully we will come up with something for next year.
QUESTIONS FROM THE FLOOR
Marco Giordo
Autosprint, Italy
Q
Robert; I cannot imagine a Rally Poland without you. Give us some hopes for next year to see you back in WRC!
RK:
It's a difficult question. From what I saw there is a great potential in Poland even if it was not the greatest edition this year from what I heard off the record. I tested there and it was quite similar to Finland. With nice stages it could be a very nice rally with a lot of potential on fast and narrow roads. If I am not driving the rally I will not attend the rally as a spectator. It depends on my career. 
Martin Holmes
Martin Holmes Rallying, UK
Q:
What do you think about Rally Poland going to Lithuania? Is it a good idea?
RK:
I don't think I am the best person to ask. I know the roads can be so so in Poland and it can be long to reach Lithuania so it could get very long but I assume they propose this kind of format and the FIA agreed. There are no better people to have ideas and I assume they have checked everything and they know it will work. The road sections to the border can become very tough and very long. 
Eric Briquet
Auto Hebdo, France
Q:
Regarding security, do you think the FIA should change the rules concerning the opening crews, because you are driving a car nearly as fast as a WRC but without information about the condition of the road.
RK:
For sure it would help. It's also good for young drivers to learn with those crews especially if they are to drive a WRC afterwards. It's always good to learn new things and it's a good idea to learn from gravel crews. I don't think it would increase very much the costs. I am sure some of my friends from the rally would be happy to do it for free. From a driver's point of view it sounds like a great opportunity. The organisers' point of view might be different. In Sardinia, for example, I didn't understand why we would leave every minute and I believe it's easy to improve little things as security is crucial. If the FIA is interested in our point of view they know how to reach us. I am sure the dialogue between the FIA and drivers can improve things and I know they are doing it with some top drivers. 
FIA WRC 3 CHAMPIONSHIP
Present:
Sébastien Chardonnet
Keith Cronin
Q:
Sébastien, home event for you and as we head towards the end of the season every point is crucial! You are leading and the battle really is with Keith Cronin. How are you feeling ahead of this event?
SC:
We feel quite confident, the recce went well and the stages are quite similar to last year. The target is to score the maximum of points and to keep our lead. We will focus on Keith and it might be a long three days if it is raining. As Robert was saying it could be really difficult with mud if it is raining so we will keep an eye on the weather and see how the rally starts.
Q:
Your main rival in the Championship is Keith Cronin and the battle between you is fantastic to watch, you are both very close. How much would you risk for a win? 
SC:
That's the question and I don't have the answer. At the beginning of the race we will focus on us and not take risks. There are a lot of good competitors here; the main target is to get some points and keep the lead. 
Q:
Are you happy with the car, did you have a good Shakedown?
SC:
Yes and we also did a rally in the Vosges two weeks ago which was good training. The car is good, we have a very good feeling on it so I think we will have a good time. 
Q:
Keith, your first time here at Rallye de France - a tough event and your major rival has home advantage! What is the plan from you this weekend? How are you feeling? 
KC:
I am a bit nervous but I am always before all events. Every event this year has been new for me so we have to concentrate on the recce. The stages are very very fast and I like that so I hope it will suit me. There are very good French drivers here so I have to score the maximum points I can. 
Q:
You have a lot of Tarmac experience under your belt, from what you have seen on the recce how does this compare to events you have done in the past?
KC:
Some of the narrow stages are similar to some stages that you can find in Ireland but not some of the wider roads. Germany was very different so here I need to find my own pace. I hope to be fast enough and I hope for the points. 
Q:
In terms of preparation what have you been able to do before the event to get you ready? 
KC:
We were not able to test before this rally, we did just a little test in Ireland. If it rains it might be a good thing for us.
Q:
You mentioned being a little nervous before the rally. Is it about the event or about the battle?
KC:
I think it's normal to be a bit nervous before an event and here it's not different from any other rally. 
FIA JUNIOR WRC CHAMPIONSHIP
Present:
Pontus Tidemand
Michael Burri
Q:
Pontus, you lead the Junior WRC Championship and it is possible that you could win the title at this event. How are you feeling about that possibility?
PT:
The feeling is good. You know, if you win one stage, you win one point so if you should win almost all the stages… We do as we have prepared and try not to think about it. 
Q:
In terms of strategy, have you tested ahead of this event? 
PT: 
Yes we were in Belgium last weekend and we won a rally so it felt really good. It was completely dry there but the preparation was good. 
Q:
How confident are you feeling? Especially on those stages that can be really tricky in the rain. 
PT:
I don't have so much experience on rainy events but I think we have seen the worst places during the recce. There will be a lot of mud and a lot of changes of grip on the tarmac so we need to take it as it is coming.
Q:
Are you feeling any nerves at all as you are such a cool, calm, collected customer? You could be taking the title and it would be your first, any nerves at all or not?
PT:
Not more than normally. I know Suarez will do his best as we do have the same focus. I know it will not be easy. 
Q:
Michael, we saw a great result for you in Germany, second in the Junior WRC Championship. What is your hope for this event? Do you think you could equal that result or go for a win?
MB:
Well we went in Les Vosges last weekend which was a good test for me. I feel I have a good experience for this rally. 
Q:
How challenging are the stages of Rallye de France? Are you feeling confident?
MB:
There are a lot of very good drivers in the Championship but I have a good feeling with the car and with the tyres. 
Q:
Looking back at your previous rallies, how do you feel on tarmac and gravel? 
MB:
I don't feel very good on gravel as I don't have experience. Actually the car is very good on tarmac.