2013 Rallye de France Alsace - Post Event Press Conference
Transcript of the post-race press conference organised by the FIA.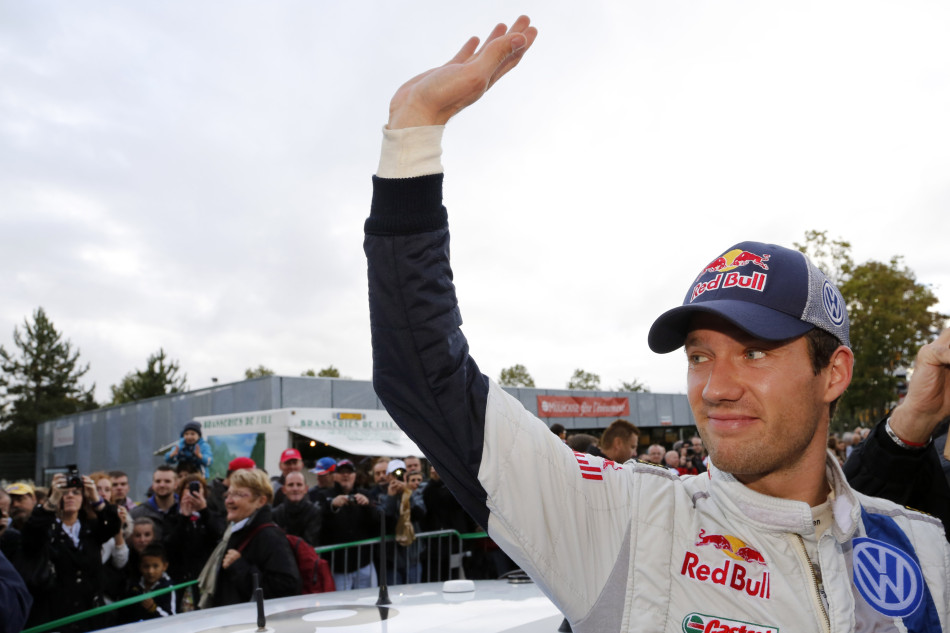 Post-event FIA Press Conference
Sunday 6 October 
Present:
1st - Sébastien Ogier, Volkswagen Motorsport
1st - Julien Ingrassia, Volkswagen Motorsport
2nd - Dani Sordo, Citroën Total Abu Dhabi World Rally Team
2nd - Carlos Del Barrio, Citroën Total Abu Dhabi World Rally Team
3rd - Jari-Matti Latvala, Volkswagen Motorsport
3rd - Miikka Anttila, Volkswagen Motorsport
Jost Capito, Volkswagen Motorsport Director
Q:
The title on Thursday, the win on Sunday, could you expect more this weekend?
SO:
I don't think so! To be honest, it was a dreaming day for me. The title was almost done when I came here. We made the job before with a lot of nice results. I was just missing one point before starting the rally here. With the Power Stage on Day One we secured the title on Thursday. Then, it makes my life very good but, in the same time, difficult because I just wanted to have time to enjoy. I was flying a little bit and I was not at my best for the beginning of the rally. But finally I managed to react. I pushed so hard to come back. I didn't expect that it was possible because the pace was incredible and the level of the four other guys in front was so strong. Then, I came back to the lead. Finally, we did it. It's just an amazing result! I think Jari-Matti and Dani and their co-drivers deserve also a big applause. They were just on a very high level this weekend.
Q:
Yesterday, you started to come back but this morning you were really flying in horrible conditions in the stages. How did you manage to gain the time this morning?
SO: 
I don't know. Just by pushing, I think. Yesterday, I also pushed but the conditions were even more tricky this morning and then, when you manage to find the confidence, you make the difference. That's what happened this morning. I didn't have big moments. Let's say it was almost a moment all the time. It was just so slippy and the car was just moving in every direction all the time. I was so nervous. At the end, we made a big difference. After that, it was a little bit more easy. Not easy at all because it was so tricky. I just had to finish the day. We had to be so concentrate. I have to congratulate my gravel crew. They gave me the perfect information to be fast in these conditions. I managed to avoid all the tricky places. It was just an amazing weekend. I'm so happy, so proud of my team. We are so close to the manufacturers' title as well. They deserve it so much. If we got all those good results, it's thanks to them. They always gave us the perfect car to do it. I'm so happy.
Q: How special is it to win in France?
SO: 
It's always a special event for French drivers, with so many people coming. Of course, many of them came here to see Séb Loeb because he's born here, but still, we got so much support as well. Winning in this condition is just a great feeling. I was a little bit disappointed in Australia but finally it was good to get it here. The atmosphere is just fantastic.
Q:
Julien, congratulations for the title and the win this weekend. Did you prepare something special to celebrate? A song, maybe?
JI: 
I have no more voice because I already sang a lot in the service park! No, I just want to say that I'm happy for this season. I'm really happy… You're kidding! I'm the fastest in the right seat in the world!!! Yeeah!!!
SO: 
You had a funny guy with Daniel Elena during 10 years but now you have also a special one here!
Q:
Tell us about your weekend. After a short celebration on Thursday evening, you had to start the rally itself…
JI: 
I didn't sleep much. It was not the best idea to win the title on Thursday. We will know it for the future if it must happen again. And… and… and we don't care! Come everybody to our party tonight to celebrate! Tonight I will sing, I promise!
Q:
Dani, you were part of this fantastic battle for the win. How was it today?
DS:
To be honest, Sébastien drove very well. I think our best performance was yesterday. Today, Sébastien did a very good drive in the first stage and beat us. After that, it was difficult. We tried a little bit in the next stage but the conditions were also pretty slippery. We decide to keep the second place.
Q:
You look very confident. Is that confidence all down to your win in Germany?
DS: 
The confidence is higher than before. To have this kind of battle is really nice. It's better if you win. To see four drivers within five seconds is very good for everybody and for me and for my confidence. It's good to fight with two World Champions.
Q:
We move to your home event next. How do you feel about competing for the win there?
DS: 
The feeling is great. I think it will be a rally a little bit like this. I will push like hell. Latvala now has very good performances on tarmac too. Neuville is also very fast. The last day is on gravel but I'm confident for this last day, too.
Q:
Carlos, how was this battle from your point of view?
CDB: 
For me, all this weekend was an unforgettable achievement. For many reasons, it was a unique rally. I'm proud to have been part of this show because, somehow, it will maybe not be repeated in the future. We were five top crews fighting for the lead. You saw all the atmosphere out there... It has been amazing. For sure, we are looking forward Catalunya. Both Dani and myself are very confident after this difficult summer. The target for the second place in the Championship is going to be difficult. It depends on Thierry Neuville and Jari-Matti Latvala. 
Q:
How much does confidence help in getting results?
CDB: 
It helps a lot. Dani is the kind of driver that feels happy inside car if he can go flat out. I think we can get many points in the couple of events that are coming, hopefully.
Q:
Jari-Matti Latvala, how do you feel about what you achieved this weekend?
J-ML:
It has been the most consistent rally for me since Rally GB last year. It's a long time ago. One year ago… I'm very happy with the fact that I was able to push and with good speed on the wet and changing conditions on tarmac. Okay, this morning, on the muddy conditions I had no chance against Sébastien. He had incredible speed. He was flying. When I saw Loeb out of the road, I also backed off because I starting to think more about the points and try to be clever and not to do mistakes I did in the past.
Q:
Did you make any mistakes at all during this event?
J-ML: 
Funny enough, we didn't have any moments. And it's the first rally being in the podium without any moments!
SO: 
Be careful, because all the rally was on TV live!
Q:
That's what you were aspiring to for a long time…
J-ML: 
Overall, if you think about the World Rally Championship, nowadays, if you want to win the Championship, you need to be so consistent. You see how many rallies Séb has won… He did only one mistake in Germany. You have to be consistent even if you're not having a great day or have the best speed or fight for the victory. Now, the Manufacturers' Championship is looking good so I hope that in Catalunya I will be able to concentrate on the Drivers' Championship and be more relaxed.
Q:
Miikka, how was the job for you?
MA: 
It has been a good rally for us. From the beginning it has been a very consistent rally for us. It was a big stress before the rally from the Championship point of view but also for the weather. We expected very bad conditions on Saturday and sunny on Sunday. At the end of the day, it was a very enjoyable event.
Q:
Was it the worst conditions to be seen at this event?
MA: 
Last year, the Sunday was also difficult. The stages were quite in the same condition, very slippery, especially the long one of this year.
Q:
Did you feel this weekend was a special one?
MA: 
I guess the spectators enjoyed it. In Finland, we have a lot of spectators but it's the best time of the summer. But to get so many people here in this area at this time of the year with boring rain shows that people here are very enthusiastic. It's nice to be here. 
Q:
Jost, the title, the win and two cars on the podium… how do you feel?
JC:
I had a lot to say but I forgot it all… I have to re-find the words. This year, the whole team went through a dream. It started in Monte-Carlo and we got many events where it couldn't get any better. This weekend really topped it. I want to say thank you to all of you [the media]. You make this dream a life. Rallying is such a fantastic sport as we have seen this weekend and all of you have put it all over the world and told all the world the fantastic sport we have. The passion, I am so passionate about motorsport, and that we make so many people happy to follow the sport. Many people have problems in their life and when they follow the rally they forget about their problems. Thank you to all of you.
Q:
Jost, great words, emotional words…This is a sport that brings up many emotions in all of us. We talked about Sébastien's Championship all through the weekend. Let's talk about the Manufacturers' Championship. It's looking better and better, now. How is the team feeling?
JC: 
We can't feel any better. What the boys have done this week was absolutely outstanding. Nobody can imagine how proud I am of those six boys. The whole team did a fantastic job this weekend as they have done all season. Now, we are pretty close and all three guys will go for it for the last two rallies. They can fight for the win and I we want to see great sport. They can do whatever they want and show what they are capable of. I love to see the competition!
Q:
Jari-Matti, what do you think of that?
J-ML: 
I think it sounds good! It's a kind of relief. Thank you, Jost!
FIA WRC 2 CHAMPIONSHIP (event winner)
Present:
1st - Robert Kubica
1st - Maciek Baran
Q:
Robert, win number four this year in WRC 2. We talked about the differences between Germany a couple of weeks ago and here in France. How have you found it out there this weekend?
RK:
Well it was tricky here mainly because of the weather and the tarmac conditions and changes. We go from half wet to half dry to completely wet to half muddy to full wet, everything that you can find! It gave me a lot of experience on tarmac especially today, which was short but intense. The conditions were difficult and although we didn't have service we made some changes on the set-up between two stages. It was my first tarmac rally in these conditions. It was a very productive rally. I gained points and experience which is for me the most important. 
Q:
You mentioned some changes in the set-up. What did you change?
RK:
You can't change much; you can only play with the tools in the car. Today I had a clear gap but it was a test day for me and you must keep a good pace. It's not only to bring the car back. The conditions were difficult but we did good times and we were close to the WRC [cars]; it was a nice day. 
Q:
Saying that you were not in a battle and you had no pressure, were you pushing yourself a little extra just to see what you could do in terms of pace or were you backing off a little bit, what was the balance?
RK:
You know when you get a comfortable lead after one or two stages and you still have 250 kilometres to go, if you back off it gets really boring. I know I sound crazy to push but I have to gain experience and we can do this only if we push and not if we back off. It's the only way. It's the best opportunity to learn and I can't just cruise for 250 kilometres just to bring the car back. I did back off on tricky conditions but I am here to gain experience not to cruise. We pushed today on the second loop to understand our set-up changes.
Q:
Maciek, have you been happy with your performance this weekend?
MB:
From the co-driver's prospective it was a very good rally, well organised with the spectators and the police. Everything went well this weekend. It was strange for us to see so many cheerful people during the recce. I would like to say thank you to all the spectators. 
Q:
In terms of the rally itself, were there any moments at all?
MB:
Well the weather was really unpredictable so we had dry tarmac then damp then rain and it was always a difficult choice to make with the tyres. As Robert said, the gap on Elfyn [Evans] in the second stage was really big so sometimes it seems like boring.
FIA WRC 3 CHAMPIONSHIP (event winner)
Present:
1st - Quentin Gilbert
1st - Renaud Jamoul
Q:
Congratulations on your first win in the WRC 3, how are you feeling after this tough weekend?
QG:
We had a perfect weekend. It went well on all stages. The car was perfect and I had a very good feeling all the time. It also went very well with my new co driver Renaud. 
Q:
Quentin it's your home event. Is it special to win here in France?
QG:
Yes of course it's good to win here. I was impressed by all the spectators and it's a wonderful support. It's great to win here not only for the spectators but also for our friends, our fans, our partners, and our team of course.
Q:
Renaud, a great result in very difficult conditions. How are you feeling?
RJ:
Well it's great especially as it is only our second rally together. We drove through difficult conditions with mud and rain, it was not easy. We finished with a good advantage we are very happy. 
Q:
Given the fact that this is only your second rally together, the relationship must be working well between the two of you?
RJ:
Well yes because we just did a regional rally before this one and we won. So it's a good cooperation.
Q:
Quentin said everything went well during the weekend. No moments out there, no scares on the stages?
RJ:
Not really. But when it's so muddy everything can happen. You never know what is outside the corner. But we stayed on the road and didn't have real scary moments. 
Q:
It must be a strange feeling to cross the finish line with so many spectators, especially in Haguenau. What was it like to cross the finish line knowing you were taking the victory?
RJ:
It was strange because we crossed the line just behind Sébastien Ogier so there were all his fans. 
FIA WRC 3 CHAMPIONSHIP (Championship winner*)
Present:
1st - Sébastien Chardonnet
1st - Thibault de la Haye
Q:
Congratulations on taking the Championship title here in France! A great result and at your home event! What are your thoughts?
SC:
It's the good news of the weekend. It was a long year, we learned a lot of things, it was also a very competitive year within the Championship with Quentin [Gilbert] and all the other drivers. We are very happy and it will last for a few days. After this, we have to concentrate again for the Citroën Top Driver because it's also an important championship.
Q:
Let's go back to the weekend itself and its dreadful conditions. Are you frustrated you couldn't take the win here?
SC:
Well it was difficult and Quentin was very fast. Also because the way we get points we were not obliged to win here to win the Championship and a second place was enough so it was a good operation for us. We hoped for a victory but we finish second and we are happy tonight. 
Q:
In terms of percentage, how much were you pushing?
SC:
It really depends on the stages, sometimes we were at 100%. But this morning we were not pushing much as the conditions were awful. It really depends on how much you get confidence in the car and with the pace. 
Q:
Thibault, your title sounds good?
TdlH:
Of course, when you start this job you dream of being World Champion and here it is! But now we have to continue our job and do the same on Rally GB because it is very important for us to win the Citroën Top Driver. The gap between Keith [Cronin] and us is just seven points so as you can imagine the fight will be hard in GB.
Q:
What can you guys do to prepare before GB?
TdlH:
We will have to work a lot, watch the videos from last year as we were there last year and did a good race. We were very fast so I think we can learn from the videos.
Q:
Sébastien, there is lot going on and a lot of pressure before Rally GB. Do you already feel this pressure? 
SC:
We have been thinking about it since the beginning of the year and we knew the fight would be hard. We'll do our best and we hope everything will be okay for us. 
FIA JUNIOR WRC CHAMPIONSHIP (event and Championship winner*)
Present:
1st - Pontus Tidemand
1st - Ola Floene
Q:
Pontus, what a result! We talked before the rally of the possibility of you winning the Championship title and you did it! How are you feeling?
PT:
We feel very good especially as the other drivers in the category are pushing hard. We worked a lot and my co-driver did a fantastic job. We progressed a lot this season and we have a lot of people helping us. To win makes everybody happy and it's good for next season. 
Q:
Let's talk about the rally itself. The conditions were really tough. How did you manage? 
PT:
We had a complete clean run with no problems and no mistakes. Our rivals went off the road or had punctures so we were not very pressured. Suddenly we were in the lead and we didn't need to take any risk. Really, a clean rally for us. 
Q:
Were there a few nerves going into the final stage yesterday?
PT:
It's the problem! When you start to have time to think it's when you start to make mistakes! But we did a good job on the recce and we knew the tricky portions and also we had good confidence in the pace notes and in the car and in the tyres! We just enjoyed the driving.
Q:
We saw you switch from the FIA WRC Academy to the Junior WRC. What have you learned from your time in both the Championships? 
PT:
Well a lot and we did big progress. In our class, to win you don't need to be only the fastest but you must think about the car, the strategy, the points. Every stage is like a Power Stage for us because we get stage points for every stage. We learned how to drive a Championship!
Q:
Ola, you have got a lot of experience under your belt. What does it mean to take this Championship win with Pontus? 
OF:
Well I was supposed to stop rallying last year and then Pontus called me and then we did some practices together and now we have the title. Of course I am very happy to be here. 
Q:
How have you noticed Pontus develop over this year in terms of his performances?
OF:
We started at Christmas last year. Right away it was working very well and I had a system with the pace notes that was very precise. I saw a good opportunity to introduce this system to Pontus. The first time we worked with that system was in a WRC car in Sweden and right away he got it. It made me laugh because I had done tests with Marcus Grönholm and Pontus made me think of him with the same way of using his arms on the steering wheel so I am enjoying what I'm doing now. 
Q:
So you thought about retiring next year. I hope you don't intend to disappear now? 
OF:
Maybe I wonder what I am doing in Junior (laugh) but for sure I feel I have things to do, a lot more to do and especially with Pontus. 
* Subject to the official publication of the results by the FIA