2013 Rally Italia Sardegna - Preview
The seventh round of the FIA World Rally Championship takes the contenders to the Mediterranean island of Sardinia for the fifth consecutive gravel event of the season.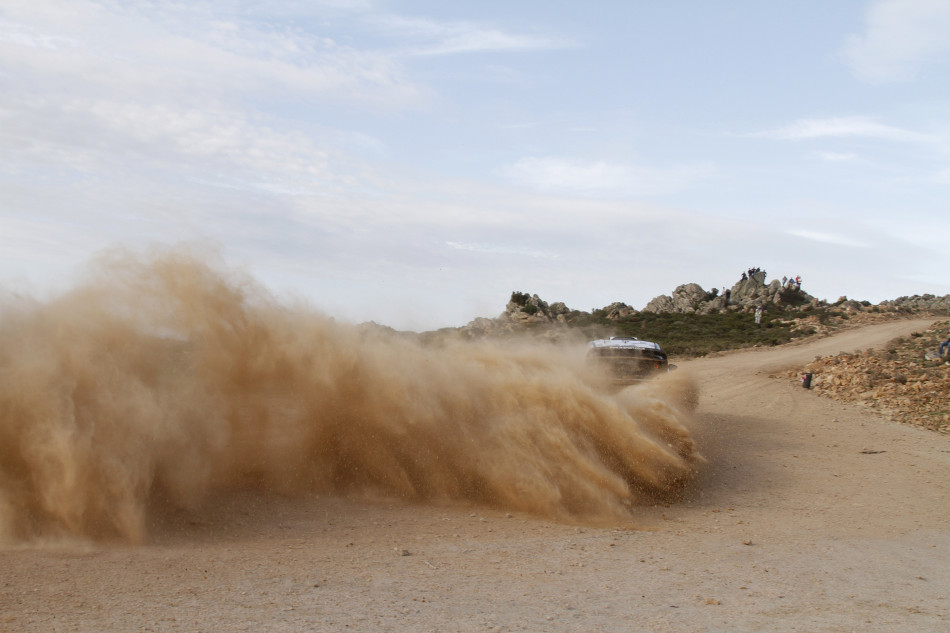 Run in October last year, the event looks set to provide more gruelling action for the crews as high summer temperatures will put yet more strain on man and machinery.
This year the event takes its ceremonial start to the city of Sassari on Thursday, prior to two days of intense action amid superb scenery, providing a spectacular backdrop for Italy's round of the Championship. One night stage run on Friday evening will add a further challenge, rounding off the action on the shorter of this two-day rally.
In addition to the WRC contenders, the FIA WRC 2 and WRC 3 crews will also be vying for honours on the final event before a five-week break for the series.

RALLY ITALIA SARDEGNA – ROUTE GRAPHICS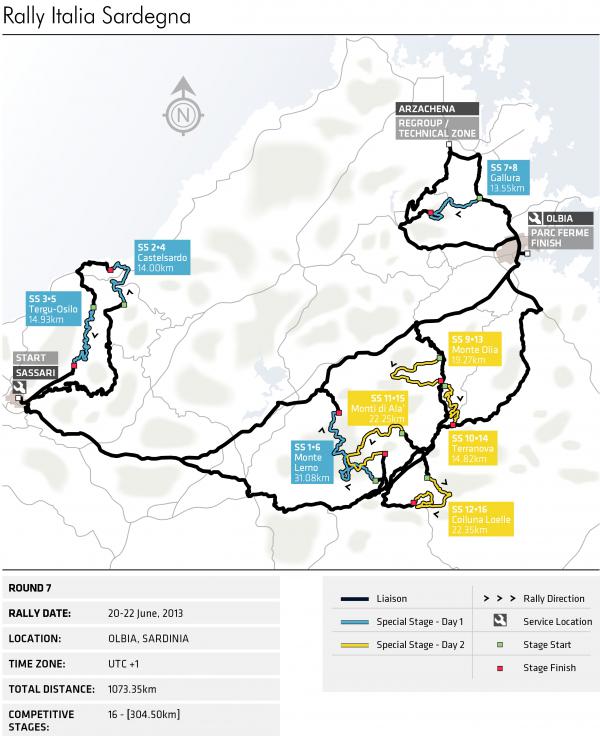 CHANGES TO THE ROUTE SINCE 2012

The route for the 2013 Rally Italia Sardegna will be largely familiar to the crews, with just 27.76 kilometres of completely new roads. The Qualifying Stage is however completely new this year.

RALLY DATA
Total distance:
Stage distance:
Number of stages:
1,073.35 km
304.50 km
16
MEDIA ACCREDITATION

The Media Accreditation Centre is located in the Geovillage Hotel, Olbia. The opening hours are:
Tuesday 18 June
Wednesday 19 June
Thursday 20 June
Friday 21 June
14:00 – 20:00 hrs 
08:00 – 20:00 hrs
07:00 – 20:00 hrs
08:00 - 14:00 hrs
RALLY ITALIA SARDEGNA TIMETABLE AND MEDIA OPPORTUNITIES ORGANISED BY THE FIA
Wednesday 19 June
Mandatory Photo briefing for national and rally by rally
photographers, Photographers' Room, Media Centre, Geovillage Hotel

Thursday 20 June
Free Practice (P1 & P2)
Qualifying (P1 & P2)
Shakedown (P3 and non-priority drivers)
Starting Position Attribution, Press Room, Geovillage Hotel
FIA press conference, Press Room, Geovillage Hotel
Autograph session (P1 drivers), Sassari
Ceremonial Start, Sassari

Friday 21 June
First car arrives for remote service, re-group and Media Zone, Sassari
First car arrives for service and Media Zone, Olbia
Regroup, Arzachena
First car arrives for final service and Media Zone, Olbia

Saturday 22 June
First car arrives for mid-day service, re-group and Media Zone, Olbia
First car arrives for final service and Media Zone, Olbia
Prize-giving and podium ceremony, Town Hall Square, Olbia
FIA press conference, Press Room, Geovillage Hotel

16:30 hrs



08:00-10:00 hrs
11:00 hrs
12:00-13:30 hrs
13:00 hrs
13:30 hrs
19:00 hrs
19:30 hrs


12:14 hrs
18:22 hrs
20:13 hrs
22:30 hrs


12:19 hrs
18:37 hrs
19:15 hrs
20:15 hrs
FIA PRESS CONFERENCE ATTENDANCE
Thursday 20 June








Saturday 22 June
 
Simone Campedelli, FIA WRC 3 Championship
Keith Cronin, FIA WRC 3 Championship
Lorenzo Bertelli, FIA WRC 2 Championship
Sepp Wiegand, FIA WRC 2 Championship
Dani Sordo, Citroën Total Abu Dhabi WRT
Sébastien Ogier, Volkswagen Motorsport
Thierry Neuville, Qatar World Rally Team
Andreas Mikkelsen, Volkswagen Motorsport II

Winning FIA WRC 3 Championship crew
Winning FIA WRC 2 Championship crew
Top three crews in the overall classification
Representative of the winning entrant
ADDITIONAL MEDIA OPPORTUNITIES 

Autograph Signing Session: On Friday selected crews will be available for a 15 minute autograph session. This will take place in the service park during the end of day 45 minute service at the teams' service areas. 

FIA WORLD RALLY CHAMPIONSHIP CLASSIFICATIONS

The provisional classifications for all the WRC Championships can be found on the following link:
http://www.fia.com/championship/world-rally-championship/classifications-0
STAGE CHART
Shortly after the finish of the event on Saturday, a downloadable stage chart showing the progressive positions of the leading crews during the rally will be available. This is copyright free for editorial purposes and available at the following link:
http://www.fia.com/championship/world-rally-championship/2013/rally-ditalia-stage-chart-2013