2013 Rally Italia Sardegna - Press Conference
Transcript of the Pre-Event Press Conference organised by the FIA for the 2013 Rally Italia Sardegna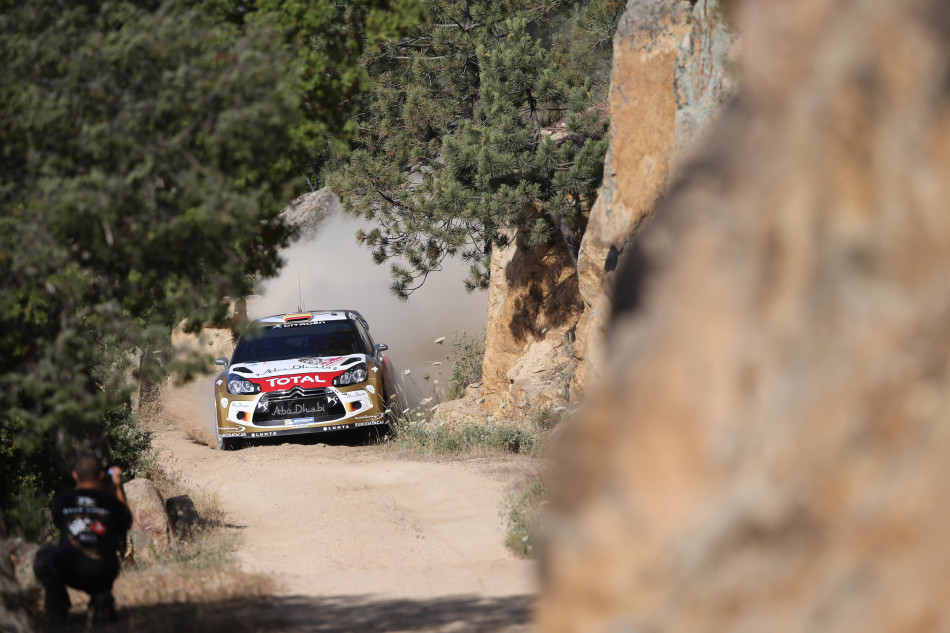 2013 FIA WORLD RALLY CHAMPIONSHIP
RALLY ITALIA SARDEGNA
Pre-event Press Conference
Thursday 20 June
Present:
Andreas Mikkelsen, Volkswagen Motorsport II
Sébastien Ogier, Volkswagen Motorsport
Dani Sordo, Citroën Total Abu Dhabi World Rally Team
Thierry Neuville, Qatar World Rally Team
Q:
Andreas, you began your season with Volkswagen in Portugal but have very quickly made a strong impression. Your back to back stage wins in Greece were incredible, what can we expect here?
AM:
In Greece it was good for us on the last day, keeping in mind that all the best drivers are not going to be risking anything, so it might lessen my chances a little bit. Coming into this rally everybody is going to start from scratch again so we will try to do the best we can and try to develop as a driver for each event, for every stage. We have had a good development since I started off in Portugal so I will keep on doing what I'm doing and getting used to the car and we'll see what we can do on this rally. 
Q:
It is going to be very hot inside the car for this event, but you are a very fit driver, are you up with your physical preparation?
AM:
I don't do any more training than normal and hopefully it should be enough for the event here. Two days ago it was 37 degrees at the end of the stage, so it will be tough. 
Q: 
What is your strategy here in Italy?
AM:
It is a really tricky event and so narrow that you have to keep it on the lines all the time. But if we can have a clean rally with no mistakes, I will be happy with that, and try to have a good feeling for me would be good. 
Q:
Are you targeting any podiums this year?
AM: 
It is not the aim but I would be happy if it happened, maybe a podium before the end of the year would be nice. But I'm not stressing with that. I take my time and so far it has been working very well, and we'll see what we can do at the end of the year. 
Q: 
It will be your birthday on Saturday, you will be 24, very young still. What result would be good for you to celebrate your birthday?
AM: 
If we can get a top five result I will be very happy with that, and not to do any silly mistakes. And if we do manage to get a clean finish, then we can get to the next rally in Finland with high confidence, so that will be nice. 
Q:
Sébastien, as the Championship leader coming into this round in Sardinia, let's talk about qualifying. Did everything happen according to plans this morning at qualifying?
SO: 
I am pretty happy with my qualifying, it is always the same but it's always a bit more difficult to open the road even if we are not the first ones driving there after the practice. Considering we were the first ones on the road we think we did a good job and we have to congratulate Jari-Matti [Latvala] because he was quite fast this morning. 
Q:
It was disappointing not to see you compete for the podium back in Greece. Is the issue you had there now fully resolved by your team?
SO: 
Yes it should be okay, of course it was a bit unexpected and this is the kind of thing you can run into when you are competing with a new, young team. We cannot complain as after six rallies it was the first big problem we had, so I'm pretty sure that now it's sorted. Everything was fine this morning and if I can restart a season with five good results and one bad, I start immediately!
Q:
We are at the half-way point of the season and you have a good lead in the Drivers' Championship over your team-mate, and there is a very close battle in the Manufacturers' Championship, what is the team strategy from here on in?
SO:
It has not changed, it is still exactly the same, in fact we haven't discussed about it to be honest. As long as both drivers have the chance to fight for the Championship it will be open, so nothing changed. Of course, we all want to score good points for the Drivers' Championship and also for the team, so we try to do our best again this weekend. 
Q:
Looking back over the first half of the season, what would be your evaluation of your own personal performance?
SO:
I'm very happy as we are almost halfway through the season. As I said we had five good results and only one bad, and I didn't do any mistakes so I want to continue like that. I want even more victories, and to finish the Championship at the position where we are today. So this weekend I definitely want to fight for the win here. 
Q:
We are going to take a break after this event and you have had a number of rallies now with the Polo WRC. What are your thoughts on the car at this point? In terms of performance, are there any areas for improvement?
SO:
Of course I'm very happy with the car, if you look at the results and the performance we had. It was possible because the car was good and fast. Let's say we can improve the reliability a bit regarding the only problem we had in the last rally. But other than that I think the team did a good job and we continue to push together because it's still very tight between everybody even if it looks good at the moment for me and the Championship. So we still want to improve reliability and also for the performance.  
Q:
Dani, a great result at the last event, picking up second overall in Greece. You had a distinct strategy in Greece to finish the rally without risk, what is the plan here?
DS:
We need to try to push a little bit more. In Greece, in the end it was good, lots of other drivers had problems so it was good for me. Sardinia is going to be difficult for everyone with a lot of stones so we need to try to go as fast as possible and fight for the podium. 
Q: 
You need to fight for the podium of course because in terms of the Manufacturers' Championship it is very very close. How are you feeling about the Drivers' Championship?
DS: 
Regarding the Drivers' Championship it is going to be more difficult, because Sébastien [Ogier] is really strong and he is faster than many people so we need to find some performance. And in the Manufacturers' Championship we will need to fight as much as we can. 
Q:
Greece was incredibly rough and hard on the cars. How does this event compare?
DS:
Greece was cold compared with Italy! The risk was very high for the cars in Greece; here it is really really hot so it is going to be difficult for the drivers and for the cars. 
Q: 
Did the result in Greece give you a bit more confidence?
DS: 
Of course not making any mistakes and taking second place was good for self-confidence so we are going to start this rally with good feelings. 
Q:
Thierry, this season so far you have secured two podiums, taking third in both Mexico and more recently in Greece. What is your strategy for this rally?
TN:
Especially on this one here in Sardinia, the roads are so narrow you can easily make a mistake, if you hit a stone you are out of the rally. In some stages probably we can of course increase our speed but otherwise we'll try to save the car and not make any mistakes.
Q:
In terms of testing before this event, how much have you done?
TN:
Nothing! No test, qualifying was the first time in the car after Greece, but it seems to be a good setup on the car. I worked out something with my engineer before coming here, then this morning we made some changes between the first and second pass. I was not fully happy but it was a good compromise so it seems to work. I was careful in qualifying but we got some good times so I think the car seems to work.
Q: 
We've got two long days here and some long stages. What is the most difficult part of this event?
TN: 
For me everything is difficult, like I said before, it is not the best rally for me. But this year the stages are completely different, so it is going to be better, it is not so rough, it's honestly very smooth so if it stays like this it is going to be good to drive and I will be able to enjoy this weekend. 
Q:
You will compete at home next week at the Ypres Rally with the R5, how much are you looking forward to that?
TN:
Of course! But first I need to finish Sardinia with a good result, and then we will look forward to testing the R5 car for the first time. Malcolm [Wilson] said it is an incredible car, I hope he is right and we will see what happens. There are other R5 cars as well and we are not only there for the pictures, so we hope we are going to be fast there. 
QUESTIONS FROM THE FLOOR
Claudio Pilia 
Rally Emotion, Italy 
Q:
How tough is this event's high temperature going to be for the tyres?
SO:
For me I am not so worried about that, I think the hard compound should be okay, the surface is not so abrasive most of the time, when it's sandy, it's not the most abrasive we know. But as you mentioned, there is going to be some high temperature so we still have to be a little bit careful about that, but I'm usually good at managing the tyres, so it should be okay.
TN:
It is exactly the same; I think the hard compound tyres will work very well this weekend. Of course the high temperatures will be tough but I don't see problems for that. I am also usually quite okay for the tyres and I don't struggle with tyre wear. I think the temperature will be more difficult for the drivers than for the cars. 
FIA WRC 2 CHAMPIONSHIP
Present:
Sepp Wiegand
Lorenzo Bertelli
Q:
Sepp, your season got off to a great start in Monte Carlo with a win, you currently lie fourth in the drivers' standings. What is the objective here in Sardinia?
SW:
Basically I am very happy to be back in a rally car, it was about 10 weeks without rallying and rallying is my life. I am aware this is quite a difficult rally, the toughest bit is the heat, it is very hot and it is my first rally in these conditions. The roads and the stages are also very difficult. There is also a change in rhythm, you have stages that are really fast, some really narrow and dangerous parts, so in three kilometres you could lose your wheel 10 times! So it is really difficult but I am really happy to be here and looking forward to the rally. 
Q:
Have you been doing anything different to prepare yourself for the rally?
SW: 
I knew that this rally was going to be really hot so I had more training before coming here to get good points for the championship, so I am ready to tackle this rally.
Q: 
What are the objectives for the rest of the season?
SW:
In the WRC 2 there are really good drivers and the Championship is open, you cannot say who is going to win because we still have a lot of rallies and nobody knows because everybody can choose different rallies. We drove three rallies, some [drivers] have already done four, so it's open until the end. I try my best and we hope to score good points and hopefully to be on the podium in the end.   
Q:
Lorenzo, we have seen a change of car for you during the season. You started the year in a Subaru but have switched to Ford Fiesta S2000. Why the change and how are you finding the car?
LB:
We changed the car because we did five events and in Monte Carlo we did a mistake, and we made another mistake in Portugal. We had a rally with a technical problem with the engine. For the next season we plan to change the car to R5 but with a group N car we know we can have a good pace and be in the first position. We want to switch to a proper WRC car. In Greece, we were stuck behind a Group N car in the dust, and the second day we had the pace to be in the top position, but we broke the cross member so my second day was finished. We pushed the third day to show some good times but we got caught in the dust. Now we are here in Sardinia and we have new pace notes, and although I know the stages it's just like a new rally.  
Q:
Have you tested the new Fiesta before this event? 
LB:
I just ran five or six stages in Greece and then nothing before the Shakedown this morning, so we will learn about the car in future rallies and we'll have to try to find the best setup and we will do it for Finland to get more confidence with the car and hopefully test properly for the next season. 
Q:
Regarding your progression, you haven't been rallying that long in comparison to the other drivers, how do you feel your performance is improving?
LB:
In Group N, this year, when the car was okay, we had the pace to stay in the first or second place but we obviously had problems with the car. If people just judge with the result of the stage it may not be so nice but if you see the split times they will see that there is potential. I know that and I just want to show it and I have to push to show it in Sardinia. 
FIA WRC 3 CHAMPIONSHIP
Present:
Keith Cronin
Simone Campedelli
Q:
You had a strong start in Portugal and were leading for a time but it didn't go quite your way; how comfortable were you feeling with the car?
KC:
I was very happy with the car in Portugal because it was a new rally for me, new pace notes, new stages but it worked for me in Portugal. With Simone and local drivers being strong, I think he will be the target for all the drivers this weekend. 
Q:
In terms of your preparation, have you tested before the event?
KC: 
We got a test on Monday which worked quite well and we'll find out tomorrow about how that will transfer on to the stages. It will be a demanding rally so I try to keep fit and I do a lot of sport for that purpose. 
Q: 
It is your first time here. What are your impressions of the stages and how difficult it is going to be for you?
KC:
Every rally is the same, I just try to build my own pace notes and do the best I can, and just judge the road. It is looking quite tricky and there is quite a lot of loose gravel and on the line. 
Q:
What are the objectives for the whole season?
KC:
Like everyone in the Citroën Top Driver programme, the objective is to win to get a WRC drive next year and hopefully we can do that. We know we have the pace to do it after what we have shown in Portugal, but we still take it rally by rally and we will try but it may be difficult to win them all, so we are just going to have to take the maximum points possible and hopefully we can show our pace here. 
Q:
Simone, you're competing in the WRC 3 and of course the Citroën Top Driver; as an Italian this event must be very special for you. Do you have high hopes for the weekend?
SC: 
It's a big event for me because it is my home rally and for sure I would like to make the best result as possible. I know the rally and the stages quite well, apart from the stages that are new to everybody. I have to push, we have quite a good experience here in Sardinia. I know the other competitors are quite strong, but we have to try to win. 
Q: 
Do you think you have some good advantage over the others?
SC: 
For sure if you are here for the first time you have to check the pace notes. We are quite confident about our pace notes and how it is in Sardinia, and of course we know the setting of the car. 
Q: 
Last year we were here in October, and this year we are a bit earlier in the season, what are the stages looking like in June?
SC: 
The stages are more or less looking the same, especially the Monte Lerno and Coiluna stages, this year it's really flat. And this year all the stages have improved a lot from the past, because in the first year the stages were really rough and really narrow, and now it's better - we'll see.   
Q:
In terms of the season ahead, what do you hope you can achieve this year?
SC:
For sure I would like to do WRC events because it's the dream of every driver and we have the possibility if we win to get a good opportunity with Citroën so this is the objective for all of us. All the competitors are really fast drivers but we have to try to do our best. Of course from here we have to start to score as many points as possible.