2013 Rally Italia Sardegna - Day Two
Transcript of the Post Race Press Conference organised by the FIA for the 2013 Rally Italia Sardegna.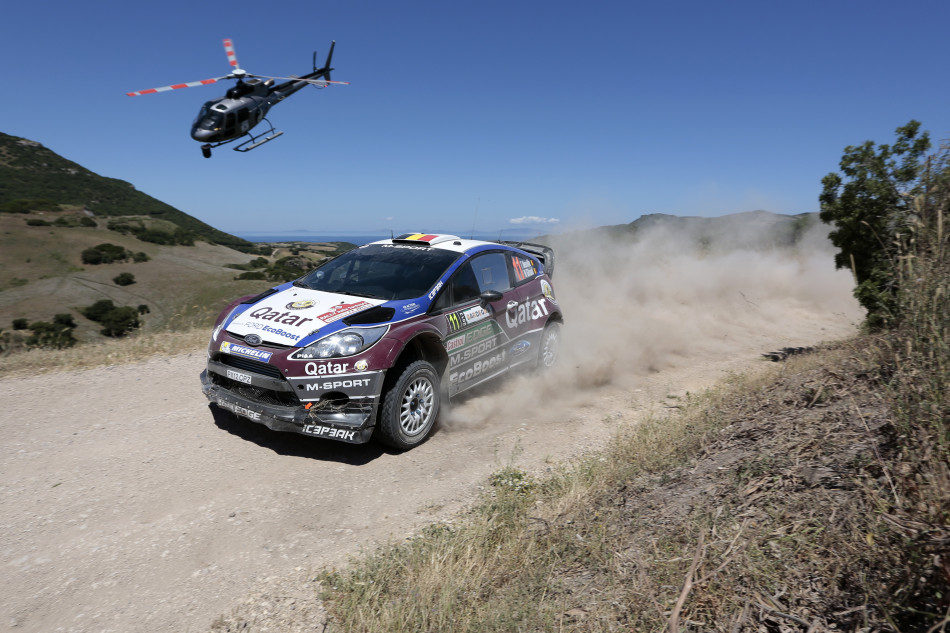 2013 FIA WORLD RALLY CHAMPIONSHIP
RALLY ITALIA SARDEGNA
Post-event Press Conference
Saturday 22 June
Present:
1st - Sébastien Ogier, Volkswagen Motorsport
1st - Julien Ingrassia, Volkswagen Motorsport 
2nd - Thierry Neuville, Qatar World Rally Team
2nd - Nicolas Gilsoul, Qatar World Rally Team
3rd - Jari-Matti Latvala, Volkswagen Motorsport
3rd - Miikka Anttila, Volkswagen Motorsport
Jost Capito, Volkswagen Motorsport Director
Q:
Sébastien, congratulations on win number four this season and your 11th overall victory. After disappointment in Greece is it good to be back to winning ways? Does it feel good to be back on the top step of the podium?
SO:
Of course, it feels very good. After the recce I said immediately I wanted to win, as it was two months without winning so I was missing the feeling so I think we did everything to do it. First I want to congratulate the team, they gave me a perfect car this weekend and of course we had a problem in Greece, but one in several rallies is not bad at all so I really want to congratulate them and we are very happy to get a victory and now we can enjoy our holiday in the summer. 
Q:
You led from the start and built up a comfortable lead early on. It seemed like there wasn't a real challenge to your lead from any of the drivers. Did you see it like that?
SO:
I think we had a very good management of the race. We pushed when we needed to and then we were a bit more cautious when it was a bit more rough for the tyres. But constantly we always increased the gap and that was the most important and at the end we also got the points of the Power Stage, so I couldn't expect better. 
Q:
You seem to be the Power Stage King this year, racking up the additional points. Not that you need them at the moment as things are looking good for you for the Drivers' Championship…
SO:
For sure for the moment things are looking very good and we are many points ahead of the second driver and we have six rallies to go, so it will not be enough to be Champions. I have to score more victories if I want to succeed. 
Q:
Competing on these stages is not easy, but you made it look that way! Were there any problems at all during the weekend? There was a possible incident earlier?
SO:
No there were not really any moments, it was a great race. Yes this morning on one of the fastest stages of the rally a cow wanted to cross the road but finally didn't, so that was a good idea! Other than that it was a very good rally. There were a few rocks at the end of the Power Stage and one of the drivers in the front, I don't know who - maybe my team-mate! - cut a bit too much some corners and I hit a stone and thought I got a puncture but I didn't in the end.  
Q:
Julien, a win in Italy and it looked like a perfect performance! 
JI:
It has been a rally that took a long time for us to win and we had a lot of experience, first year we had a mechanical problem, so we worked a lot this weekend on our pace notes for the stages here in Sardinia, so this win is a big step for us and also for the team. 
Q:
In terms of the format of the event, we had long days so how was it as a co-driver?
JI:
I had to open my eyes with some tape this morning! I am not sure I am quite happy about this format because for us or the media we do not have the time to do anything…And we cannot party on Saturday night! 
Q:
What are your hopes going into Rally Finland? It is of course the home rally of your team-mate, Jari-Matti. 
JI:
Now we are ready to attack as we have enough lead in the Championship and we have been going through the rough gravel events and now we start into more smooth rallies like Rally Finland, it will be another type of rallies. Our Polo WRC is so competitive so this will be a good challenge for this year. 
Q:
Thierry, after two third places this season you now deliver the best result of your career to date by sealing second position overall. A great result for you and Nicolas. How have you felt about your performance this weekend?
TN:
Of course I am very very happy, I couldn't imagine to become second coming here because it's probably the rally I hate the most, but this week I enjoyed the stages very much. The conditions were very different this weekend and the stages were more smooth; I really enjoyed driving the Fiesta on these stages and when everything comes together and things are working well both Nicolas and me were able to push sometimes and I managed to control all the time what we are doing. 
Q:
It was after the remote service yesterday where you really started to show what pace you could achieve by setting two fastest stage times. Did you change something at that service to make you more confident?
TN:
We started the rally like Argentina and Greece, to finish this one, and on the first stage I had no rhythm and I struggled with my driving and I didn't take any risks so I already lost 20 seconds. It got better and better afterwards but the mechanics did a great job at the remote service in Sassari and after the set-up changes I just felt comfortable and I drove on a good rhythm without taking any risks, and I was setting fastest times so that surprised even Nicolas and me.
Q:
You said in Greece that you were 'clever' and didn't take risks. So in a way, it was kind of similar?
TN:
This weekend we had moments of course, I managed the situation and the car was so easy to drive and we had moments, but it was quite easy to come out without problems.
Q:
Two third places, one second, there is only one place you haven't achieved on the podium now. Could we see you there this year?
TN:
I don't know, we'll see. I think for the moment definitely not, as this year we finish one minute behind the first driver. We made big progress as everybody can see, my strategy is to improve step by step, so we showed how we can manage our situation and this is something important for a professional rally driver and this is what I am showing now and the next step will be to fight for the victory. But in Finland, the Finnish drivers will definitely be quicker, and Sébastien as well, and in Germany probably I will try to push a bit more. 
Q:
Nicolas, I believe you have been making brand new pace notes for each event this year. Have you noticed a big difference in comparison to the way they were?
NG:
Yes of course, this is also why we decided to change because it is more precise but for each rally it is the same story, we have to wait one lap to be sure, to check the notes, as some are too fast and some are too slow. Then after changing them we can push harder and this is exactly what we did.
Q:
Thierry mentioned a few moments this weekend, what happened on the final stage?
NG:
We crossed a cow in a fast section and it was very funny because Thierry told me like a kid: 'oh, what do I have to do?' I said 'slow down Thierry, choose left or right'. We decided to pass the cow on the right and we lost four or five seconds. But we finished second and that is what matters.  
Q:
Jari-Matti, a podium position after losing almost two minutes on the opening stage is quite an achievement! Did you think it was possible yesterday morning?
J-ML:
It has been a good event, when you look at the results. It was a very disappointing start, it was a left hander with very sharp rocks inside, and I did not pay attention in the recce and I didn't feel I hit anything and just three kilometres later the tyre was getting slowly down. We had more than 20 kilometres to go so we had discussions in the car with Miikka what we should do, should we stop or not and we decided to carry on and drive very slowly, but lost two minutes because the tyre delaminated and only the wheel was left, so basically we drove five kilometres with only the wheel. I got a bit depressed and I thought I lost the chances for the podium. I was thinking maybe top seven or top six would be possible. Then suddenly I wanted to do good stage times and I started to go better and better. Then we got into the top five, then finally at the end of the rally I am top three so I can be very satisfied for what we have achieved during the weekend. 
Q:
Your pace has been incredible this weekend, are you carrying confidence from the previous win in Greece?
J-ML:
Like yesterday the set-up of the car was really good in the evening. The Gallura stage was really good but unfortunately I had gearbox issues so I had to change it, and the set-up on the front differential was not exactly the same, it was not anymore as easy to drive. Today was alright but I didn't have the same relaxed feeling as I had yesterday, but I made no mistakes so that is the most important. 
Q:
Rally Finland, your home event is next. Last year you went there off the back off a bad result in New Zealand, this year we have different circumstances. How do rate your chances? And will Sébastien Ogier be your major rival there?
J-ML:
It's going to be exciting! I have really a good feeling for Rally Finland because the car feels very good and I'm having a good confidence. In Estonia I am going to drive an Audi Quattro and for sure Ogier is the man of the pace at the moment. He is strong in every condition. We need to have a perfect rally if we want to win. 
Q:
So you are not going to share any secrets with your team-mate about Rally Finland?
J-ML:
I guess not!
SO:
I can tell you Jari-Matti that I go to Finland with only one goal!
Q:
Miikka, after the puncture yesterday how focused were you both on charging back up the leaderboard?
MA:
We knew we lost a lot of time but we knew it was possible to get to the top five. After our puncture the pressure was gone, so basically it is a different situation where you are fighting or not and all the time the pressure is on. But then it was like a relaxed situation. 
Q:
Heading to the home event do you both put pressure on yourselves to achieve a good result?
MA:
No I don't think it is different from any other rally. Of course it is important to do well in your own country, but if you heard Sébastien [Ogier] they are eager to win over there so we will fight for our position at Rally Finland. 
Q:
Jost, already, both your drivers are keen to fight in Finland. You are going to have your hands full there!
JC:
Maybe we say that if the two fight, the third gets lucky [Mikkelsen]! It is great to have won this rally, but we lost two race drivers today, for the sport that we all love, so I would like all of us to get up and offer a minute of silence [minute of silence].
Q:
Sébastien Ogier did not get any battles this weekend, for Jari-Matti he really did have some focus and it was to get back as close as possible to the podium. What are your thoughts for this weekend?
JC:
It is not easy to lead the rally from the front and to extend the lead because everybody wants to fight, and for Jari-Matti to push and to keep the spirit and not to give it up, I think it was great sportsmanship and they believed they could come back, and the team supported them as well. First and third on the podium is a performance that is not easy to have. 
Q:
Andreas Mikkelsen was in a great battle today for fourth, sadly it ended this afternoon. What happened and were you happy for him to push for that position?
JC:
The only way to improve our position in the Manufacturers' Championship was that he gets ahead of Dani [Sordo] and his performance was good enough to do that today. So we said you can try it and you can push to the limit as we have nothing to lose; either we achieve it or not and in the experience with the Polo, if he goes over the limit, this experience will make him stronger in the future. 
Q:
We now have the mid-season break; at this point as you look across the season what are the improvements to be made as we go into the second part?
JC:
We are a very competitive team and everybody thinks about improvement all the time. If you don't improve you fall behind and that is not what we intend to do. 
QUESTIONS FROM THE FLOOR
Ilenia Giagnoni
Unione Sarda, Italy
Q:
Do you think this race is the last one in Sardinia, as there is this possibility?
SO:
It would be a shame, the first edition was not very successful as there were not many spectators and what we need in rallying are the public. But it looked like it is getting better and this year the stages were getting better as well. We had a lot of fun in the stages so I would like to come back here, but I am not the one to decide. 
J-ML
I agree with Ogier. We saw more spectators than before and very nice ceremonies. 
Cezary Gutowski
Przeglad Sportowy, Poland
Q: 
Sébastien, is there any development on your racing career? F1 testing?
SO:
Everybody knows that I love to get different opportunities to drive different cars, and I had a lot of fun in Monaco to drive the Porsche Super Cup, and I would like to do it again if possible. I wanted to do it next week in Silverstone but it was not possible to do, so why not in the future. But you can also be sure that my main target and main job will stay with rallying. 
FIA WRC 2 CHAMPIONSHIP 
Present:
1st - Robert Kubica
1st - Maciek Baran
Q:
Robert, congratulations on your second win in WRC 2, which makes it two in a row! You made it look easy…
RK:
It has been definitely a difficult rally, first of all difficult stages, very narrow, very fast, and there were also rocks, it wasn't easy. There is one thing which we have to speak about and even if I won I believe we have to highlight it. I think it is too dangerous to let drivers drive with one-minute gaps in gravel rallies, especially that the visibility after 10 kilometres was bad in SS1 which is 30 kilometres long. I was 20 kilometres in the dust and it's just dangerous and there is no point to do it. I was very upset, okay the conditions are the same for everybody, but the starting order is not the same for everybody and if you are behind you are losing time. And it's very dangerous. The FIA normally does a great job for safety and what I have seen here was disappointing because it looks like nobody cares about drivers. And it's not only about drivers but it's also about the stages; we were 20 seconds behind Wiegand and we had people in the middle of the road because they were not expecting our car coming so close, and they could not see anything because they were in the dust. We have to do something, as unfortunately sooner or later something can happen and it is better to act before anything happens. And I want to highlight it because I think rallying is already a dangerous sport and if people are making it even more dangerous, then there is something wrong. I am honest; I decided that after yesterday if they were still using one-minute gaps I will not drive, I just don't come here. There is no point to risk yourself, the car and spectators. The price for winning is not the same for your life. It is very simple. 
Q:
Do you feel your pace has improved even since the last event in Greece a couple of weeks ago?
RK:
It's still a long way to go. I came to Portugal for the first WRC rally in my life, for the first time in gravel after doing two days of test for 300 kilometres. And in Portugal we were a bit unlucky, we made a small mistake, but we had good pace, and definitely every day I am learning new things, maybe not quicker but safer and I have more control of the car and understand better the conditions. But for me, every rally is new so first I am discovering roads on the recce, and secondly I have to prepare good pace notes, which is not easy. And third of all I have to learn to drive consistently and learn many new things on gravel. Rallying is a complex sport and when you come for the first time, Portugal was in April, and it was my first ever WRC rally on gravel, and then we had Greece and here. Of course it looks nice but I know that from my point of view there is a long way to go and in order to achieve things I want to improve my pace. I realise that in rallying one needs to promote experience and I don't have any experience, so I have to drive as many rallies as I can in order to improve. 
Q:
How do you feel your pace note development is coming along? Are you making many changes for the repeated stages?
RK:
Not really because first of all on gravel I find it very difficult, especially when the road is wide; when I do recce I prepare my pace notes and I have a vision of where I want to be and where to place my car, and what I discover is that all my visions are completely wrong, and all the other drivers have taken completely different lines.  Often, especially on long corners, my pace notes are not perfect, especially on entry I have different visions but I have been all my life 100 percent a Tarmac driver and there are different rules on Tarmac. We are trying to do a good job of course but it is not easy, all of the WRC events are demanding for different reasons; Greece was demanding because it was very rough, Portugal was also demanding because it was almost always on the crests, and of course Finland will be the worst. Here in Sardinia the roads are very sandy and very slippery and very narrow so we have to drive fast but there is no room for mistake. 
Q:
You said in Greece that you were not thinking about the Championship, in terms of the title. With two wins now under your belt is your feeling the same?
RK:
I spend the last two years recovering after the big injury. And sometimes I notice because of what I experienced, I see the things a bit differently, because I am not 100 percent fit and still a long way from where I would like to be. Already my decision of choosing the rally and not DTM might look a bit strange. First priority of this year was what will be the best for me to help me to recover as quickly as possible, and the best way I can do it. This is the reason I choose rallying. Second of all, what I can learn and what will give me the best option to improve as a driver. In order to become a complete driver I believe that rallying will give me extra bits, because of gravel, because of different characteristics. To be a rally driver you need different characteristics than circuit drivers and you cannot become a circuit driver in one day, and you cannot become a rally driver in one day, so it's a long and complex procedure and to be honest my approach was just to learn and it will always be like that this year. Whatever the result would be, how much I have learned, how much I improve my ability of driving and the ability of my arms behind the wheel, it is the most important for me. 
Q:
Maciek, what were the difficulties this weekend from a co-driver perspective?
MB:
The most difficult thing was we spent many hours in the car after a five-hour sleep and today we have been 12 hours in the car. This rally is very compact and it is very tough for the crew to be all the time concentrated. And also for the co-driver, being in the dust can be very difficult. 
Q:
You picked up one win a couple of weeks ago in Greece. How does this one compare?
MB:
Every rally is different. Of course when you win you can say you love this rally because it is a nice experience. I've never done this rally so it's new, but I think we did a good job and I am really happy because it is the first time we get points in the WRC, as we were in the ninth place [overall].
QUESTIONS FROM THE FLOOR
Frédéric Billet
Echappement, France
Q:
Robert, you said that gaining experience on gravel rallies takes time and at the same time rallying costs money. Are you confident that you will find some resources, or that you will be getting an official drive soon that will pay for that?
RK:
I think it's very difficult to get paid in rallies. If I would like to have some salary, I would have stayed in circuit racing as I am still quite a good name and I have a lot of experience and I think it will not be difficult for me to get well paid in circuit. But my situation is a bit more difficult and a bit more complex than it looks and I felt I needed a new challenge, because I was racing in the highest motorsport category in the world which is F1, which is not by a small margin, but F1 is well above all motorsport in the world by far away, so I needed to change something in order to have the same kind of challenge and this is why I chose rally. About the future, to be honest I don't know, but I would like to thank my big sponsors, without LOTOS it would not be possible, and Citroën is also helping me, my pocket is also helping me to invest from my side, and we will see what the future will bring. We will have to keep working and trying to find some good possibilities in case I decide to do rallying in the future. It is still a long way to go and to be honest I am not thinking about it. 
Claudio Pilia
Rally Emotion, Italy
Q:
You ran just a few WRC rallies. What does the second victory in a row mean to you?
RK:
It doesn't mean a lot to be honest. What I have learned means a lot, only very big knowledge. I did only three events, but when you have zero experience those three events bring you, percentage-wise, a lot of experience. I think as a driver you can learn new things all your career. And definitely at the beginning you learn most of it. That's why my approach is to take every single day and every single rally. From experience comes lessons and knowledge; of course when you drive slow, you try to finish the rally you don't learn so much because you have to be close to the limit to see if the pace notes are right, in order to see how the car behaves, how the surface grip is changing, so you have to find the balance and this weekend we have done a good job. All the upcoming rallies will be new for me and again it will be very difficult and I will have to keep very calm, especially in Finland. 
FIA WRC 3 CHAMPIONSHIP
Present:
1st - Christian Riedemann
1st - Lara Vanneste
Q:
Christian, congratulations on your first win in the FIA WRC 3 Championship, and for securing the win in the Citroën Top driver programme. It has been a tough weekend but a good one?
CR:
I'm very happy, of course, because it was a very long and tough rally and with only a two-wheel drive car it is not easy; we cannot finish without any problem and it's easy to get punctures with so many big stones on the road. We had the right choice here this weekend because we had the right strategy.
Q:
Talk to me about Friday morning; you have been in plenty of battles this weekend, what was your strategy yesterday?
CR:
I was also here for the first time two years ago and I remember on the first day eight or nine cars retired so my tactic was not to go flat-out from the first stage but go 80 percent and to see where we were standing. And I think it was a good tactic. 
Q:
You said today was better than yesterday. What problems did you experience yesterday?
CR:
Yesterday evening we had a slow car in front on the last stage, we lost more than a minute and I was not so happy yesterday evening, but today was also a long day and we were still going 80 percent this morning and a lot of drivers had problems today. 
Q:
Going into that final stage it was Stéphane Consani who was in the lead, but of course he had issues at the end of the rally. Were you aware of that at the time?
CR:
Yes, problems can happen all the time when we are pushing and I am sorry for him as we had a nice fight until the last stage. I felt I was going slow, but the time was still okay. 
Q:
The objective for you of course is to win in WRC 3 because as part of the Citroën Top Driver programme it would enable you to have a drive next year. Which rallies do you feel are going to be your strongest this year? 
CR:
I am really looking forward to Germany and France of course, as they are Tarmac events, but my speed on gravel also improved as I learned a lot in the last years in the WRC and also in the German Championship. And with Lara, my co-driver, we are a very nice team I think. We are working very well together and Lara is doing a very good job and I am very happy.
Q:
Lara, congratulations on the first win! How has it been for you as a co-driver?
LV:
During recce I already noticed that every mistake you make will count a lot and there are so many rocks, so Christian said we go 80 percent. We were leading all day so the others had to attack and we just had to drive to our rhythm. Yesterday evening on the last stage we were unlucky and this morning we had a good set-up and we were really doing good stage times and there was good battle with Stéphane Consani. But we knew he was pushing because on the penultimate stage he damaged the car a little bit and he was on the limit. And he had some trouble on the last stage so we try to go until the end and it was a good strategy. 
Q:
You said you were 80 percent. Were there any moments or risks?
LV:
Not really, I think Christian was fast from Portugal. This is not the race where you have to be the fastest to win, and that is also a good lesson.