2013 Rally Italia Sardegna - Day Two
FIA News Bulletin from day two of the 2013 Rally Italia Sardegna.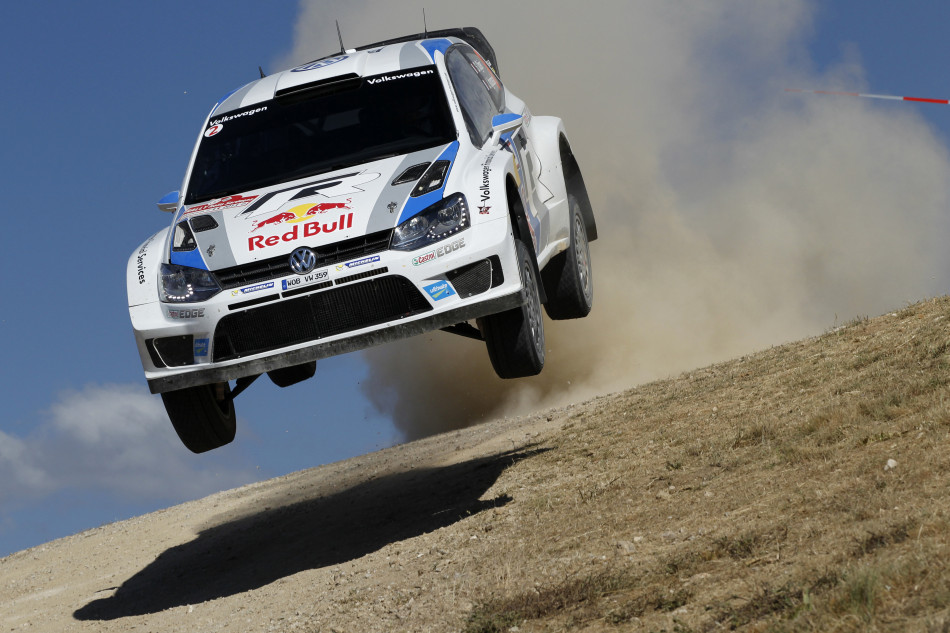 RALLY ITALIA SARDEGNA
(20-22 JUNE 2013)
RALLY NEWS
Sébastien Ogier and Julien Ingrassia today claimed their fourth victory of the season for Volkswagen Motorsport at Rally Italia Sardegna. The French duo led from the start to finish one minute 16.8 seconds ahead of Thierry Neuville and Nicolas Gilsoul, the Belgian pair notching up their best result in the FIA World Rally Championship. The final podium position was taken by Jari-Matti Latvala and Miikka Anttila, the Finns recovering from 12th position after losing so much time in the first stage of the rally.
The second and final day of competition was another long and tough day and took in a further eight stages and 157.38 competitive kilometres. The penultimate stage - Monti di Ala - ran as the Power Stage where the fastest three drivers collected an additional three, two and one point respectively in this single stage. Here, Ogier, Neuville and Latvala scooped the extra points.
In the FIA World Rally Championship, Ogier once again extends his advantage and now has 64 points in hand to team-mate Latvala. Neuville has moved into third position, ahead of reigning World Champion Sébastien Loeb. In the Manufacturers' Championship, Volkswagen Motorsport has a 46 point lead over the Citroën Total Abu Dhabi World Rally Team.
Ogier started the day with nearly 50 seconds in hand to Mikko Hirvonen, who set the fastest time in the opening stage this morning. However, in the following stage, the Finn ran wide in a hairpin and got stuck in a ditch. While the car was not damaged, it was simply not possible to recover it and continue. So, Ogier's lead to an elevated Neuville extended and the Frenchman was able to drive to the finish without risks, collecting a total of four stage victories en route. Behind Neville, Latvala will doubtless be delighted to have recovered to a podium position, after a puncture in stage one lost him so much time. He was fastest in three of the day's stages.
Dani Sordo had an uneventful drive to fourth but finished with a big advantage over fifth-placed Martin Prokop. Elfyn Evans, in his debut drive in a World Rally Car, claimed a fine sixth overall, overhauling Michal Kosciuszko this afternoon to finish nine-tenths of a second ahead. Mads Østberg finished eighth after his roll yesterday and Robert Kubica took ninth and first overall in the FIA WRC 2 Championship. Khalid Al Qassimi rounded off the top 10.
The FIA World Rally Championship contenders now take a five-week break before the next round of the season in Finland (31 July-3 August).
Rally Italia Sardegna – Final Unofficial Classification (subject to scrutineering)
1.   Sébastien Ogier/Julien Ingrassia

2.   Thierry Neuville/Nicolas Gilsoul

3.   Jari-Matti Latvala/Miikka Anttila

4.   Dani Sordo/Carlos Del Barrio

5.   Martin Prokop/Michal Ernst

6.   Elfyn Evans/Giovanni Bernacchini

7.   Michal Kosciuszko/Maciej Szczepaniak

8.   Mads Østberg/Jonas Andersson

9.   Robert Kubica/Maciek Baran

Citroën

10. Khalid Al Qassimi/Scott Martin

Volkswagen Polo R WRC

Ford Fiesta RS WRC

Volkswagen Polo R WRC

Citroën DS3 WRC

Ford Fiesta RS WRC

Ford Fiesta RS WRC

Ford Fiesta RS WRC

Ford Fiesta RS WRC

Citroën DS3 RRC

Citroën DS3 WRC

3 hr 22 min 57.9sec

3 hr 24 min 14.7sec

3 hr 24 min 45.9sec

3 hr 26 min 17.1sec

3 hr 31 min 32.0sec

3 hr 34 min 49.7sec

3 hr 34 min 50.6sec

3 hr 36 min 19.4sec

3 hr 39 min 45.5sec

3 hr 40 min 17.8sec
FIA World Rally Championship for Drivers (after 7 of 13 rounds)
Sébastien Ogier (FRA)

Jari-Matti Latvala (FIN)

Thierry Neuville (BEL)

Sébastien Loeb (FRA)

Mikko Hirvonen (FIN)

Dani Sordo (ESP)

Mads Østberg (NOR)

Martin Prokop (CZE)

Evgeny Novikov (RUS)

Nasser Al-Attiyah (QAT)

Andreas Mikkelsen (NOR)

Bryan Bouffier (FRA)

Elfyn Evans (GBR)

Juho Hanninen (FIN)

Chris Atkinson (AUS)

Ken Block (USA)

Sepp Weigand (DEU)

Henning Solberg (NOR)

Benito Guerra (MEX)

Khalid Al Qassimi (ARE)

Robert Kubica (POL)

Olivier Burri (CHE)

Yazeed Al Rajhi (SAU)

Esapekka Lappi (FIN)

154 points

90 points

70 points

68 points

61 points

59 points

50 points

37 points

31 points

30 points

25 points

10 points

8 points

8 points

8 points

6 points

4 points

4 points

4 points

3 points

2 points

2 points

1 point

1 point

 
FIA World Rally Championship for Manufacturers (after 7 of 13 rounds)
Volkswagen Motorsport

Citroën Total Abu Dhabi World Rally Team

Qatar World Rally Team

Qatar M-Sport World Rally

Jipocar Czech National Team

Abu Dhabi Citroën Total World Rally Team

Lotos WRC Team

220 points

174 points

89 points

89 points

39 points

33 points

20 points