2013 Rally Guanajuato Mexico - Pre-Event Press Conference
Pre-Event Press Conference organised by the FIA for the 2013 Rally Guanajuato Mexico.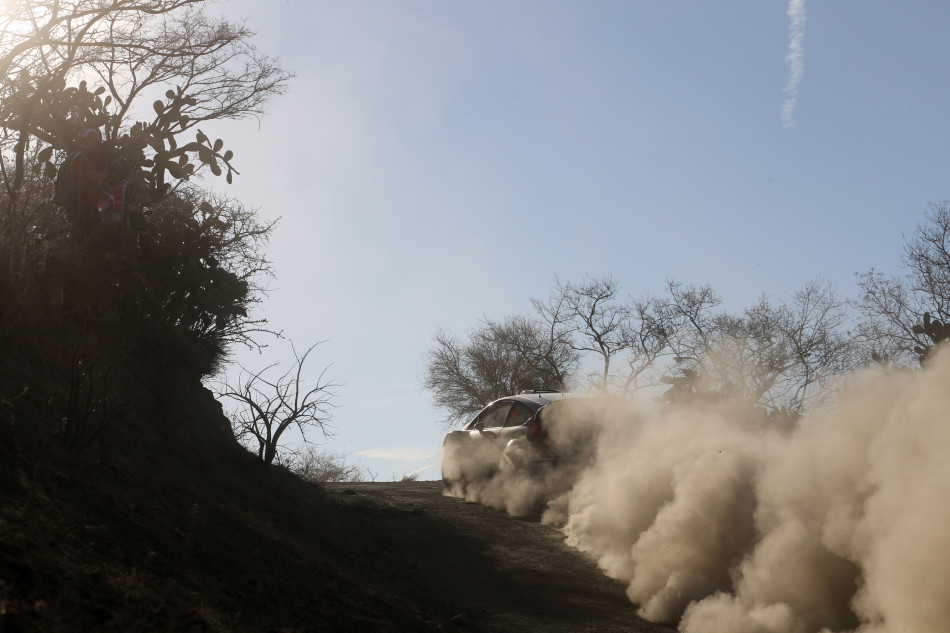 2013 FIA WORLD RALLY CHAMPIONSHIP
RALLY GUANAJUATO MEXICO
Pre-event Press Conference
Thursday 7 March 
Present:
Sébastien Ogier, Volkswagen Motorsport
Chris Atkinson, Abu Dhabi Citroën Total World Rally Team
Thierry Neuville, Qatar World Rally Team
Benito Guerra
Q:
Sébastien, at the last event in Sweden it was a win for you, are you still on a high from that and can you make it two in a row here?
SO:
Of course, we came back to earth because this rally is starting. We are pleased with the start of the season and the results in Sweden and Monte Carlo. Now we look to see what we can do on gravel. This morning was not so bad.
Q:
You were fifth in Qualifying today, what happened?
SO:
We had a different strategy to everyone else and we wanted to save the hard tyres for the rally. We did not test them and do not know if they are stronger. We wanted a safe strategy. Also, I was first on the road and it was a disadvantage – now I finished fifth and I am ninth on the road for tomorrow. 
Q:
You said that this rally and its start ceremony gives you goose bumps. What did you mean? 
SO:
I prefer to be in the stages for sure, but this rally has the best ceremonial start of the season. It is amazing to see so many spectators and it is not easy to drive in the city on the narrow roads. It is easy to do a stupid mistake [on the street stage]. I like the rally overall and many of the stages. The long one is beautiful. I like it. 
Q:
Many are now saying you are the 'new' Loeb and will dominate the series. What do you think of that?
SO:
I can tell you, I'm not the new Loeb, I am Ogier. I heard so many times this comparison – we do not need to do it any more. We have 10 years difference between us and are from a different generation. If I was 10 years older then we might have a big fight between us. Now I do my best and continue to drive fast. To compete against him was a great experience for me to push to my limit. It is still tough now and the other drivers keep me focused all the time as well. I hope we have a big fight. It is a long rally, but the Polo looks good on gravel – we also have to see about reliability – the first two rallies were quite easy on the cars and this one is more difficult, with the risk of punctures on the rocks on the road. I will not be 100% aggressive. Many times on a rally it is better to be 99% not 110%.
Q:
Chris, great to see you back on the Championship. Last year we saw you compete with three different manufacturers, now you return with Citroën. How did it come about?
CA:
This is a great opportunity for me. When the phone call came I was pretty excited. It is difficult to turn up and be competitive when everyone has done a lot more races and are more familiar with the cars. But I have been racing a lot of years. I am happy with today and with the conditions and we are not many miles away. We will get quicker. 
Q:
How much testing have you done with the car? Was it easy to slip straight back into WRC mode?
CA:
We did 150 kilometres in Portugal a couple of weeks ago, but it was in the rain. Now we have gone from full mud to this – but any time in the car is great although we could do with some fine-tuning. I am not trying to change too much. I will just drive the stages and results will come. This is a really challenging rally. It is made more difficult by the nature of the roads. The new El Chocolate stage is quite difficult and you need to stay very focused after going from a 54 kilometre stage to a 40 kilometre one with all the corners.
Q:
Will we see you on more events, and your thoughts on this event?
CA:
I am not sure whether there will be any other events at the moment. My focus is on this one. Khalid [Al-Qassimi] is not here and it is thanks to him that I have this chance. Maybe there is the potential for more. We will see where it leads. The ceremonial start is amazing. It is the best in the world and shows the potential available to all the rallies. The stages are fast and flowing and we have some incredible bits of road here. The first stage of Saturday [Ibarilla] is also a nice stage – many changes and fast and flowing.
Q:
Thierry, first year with the Qatar M-Sport WRT, how have you found the team and how are you adapting to the Fiesta RS WRC?
TN:
I think adapting to the team was not difficult. I am pleased with that. The most important thing is to get a good feeling, understand and get faster and faster. 
Q:
We saw some good pace from you last year, what did you learn from this event that will help you in 2013?
TN:
So far everything is quite good. We had some great testing in Spain last week and I learn a lot. The car is completely different. We have been working on it. This morning was a good one for us and we try and miss the stones. Many things can happen during the race.
Q:
What will be your approach here and what is the aim?
TN:
I want to continue like we did in Sweden. We did a clever race there to finish fifth. Here we should do the same and go a bit faster. Last year we had good pace here and things went very well. I need to adapt to the car. We know Seb [Ogier] is fast on tarmac. I can be a bit stronger on tarmac than gravel and need to get a good result here to give me confidence. There is a great atmosphere here in Mexico. You feel like a film star at the start. There are so many good stages. I think the most beautiful is on Saturday morning – the first one – 30 kilometres flowing and fast and you need good pace notes to go quick. 
Q:
Benito, you are our reigning FIA Production Car World Rally Champion and we now see you compete for the first time at WRC level with Citroën. A huge opportunity! How much are you looking forward to it?
BG:
It is a great chance to drive WRC in my home event. I'm really happy to be here and to be a part of WRC for the first time. Last year I won PWRC - the last one – and now we have WRC 2. I would like to drive the Citroën on many more races, but the best race to choose for my debut is my home event. It is difficult for me because people are waiting for a good result and it will not be easy to be on the pace. I have no experience in WRC cars but I will try to push to my limit and be aggressive. I want to be at the end on Sunday. 
Q:
And Qualifying today?
BG:
Qualifying was okay for me – I beat Kosciuszko and Prokop and starting third is a better position than starting first. At the end they [all the drivers] are my target. I know I don't have experience but some day I have to be in the fight. The best thing to do is to be on their times. I must have a good focus and adapt to the new class and new car. Then, in a few rallies, my pace will be better and I will be able to fight in a few years. I will start increasing my pace in a progressive way but it is not easy with these crazy guys!
Q:
Your home event; thoughts?
BG:
I like this rally. They are my favourite stages, but it is easy to race and get a mistake. I don't like the Guanajuato [street stage]; it is easy to hit a wall and make a mistake. [El] Chocolate is a nice stage but very slippery and so it is a very good stage to know the difference between drivers. 
FIA WRC 2 CHAMPIONSHIP 
Present:
Nicolás Fuchs
Ricardo Triviño
Q:
Nicolás, we saw you pick up your first win in the PWRC category last year in Italy. Now you compete in WRC 2 for 2013. There are many strong competitors in the field, what is your goal for this year?
NF:
Last year was my first full year in rally and the best year for me. The goal is to learn and push a bit this time. It is my third time here in this rally. The first time I was third and then second and now….? 
Q:
We saw you compete in Sweden a few weeks ago, a surface which is not so familiar to you. Are you glad to get back to gravel?
NF:
The stages are very tough and it is impossible to go fast. I will need to keep the car in one piece and not take risks. Ricardo [Triviño] is here and he knows the roads. The first day is very long and hard for the car and the new stage is very twisty.
Q:
How did the pre-event test go for you? Do you feel you have the right set-up?
NF:
I try to test today. But it is impossible to test in the shakedown. I will try to test the suspension on the first day. It is a nice rally and I have a good car and a good team. 
Q:
Ricardo, home event for you and the third event this season, as we saw you in Monte Carlo and Sweden. How do you feel it has gone so far?
RT:
In Monte Carlo it was very different but we had a very good position in the points. Sweden was a fantastic rally and very different driving conditions. For here, it is a rally I like very much – many times I race here. I will attack at the maximum. 
Q:
This will be the 10th year of Rally Mexico in the WRC; it's an impressive event that has developed a lot over the years. It must be one you are pleased to compete in?
RT:
I am very happy to start this rally at home and it is nice to come back with the production cars. Years ago I was in production and then I was in WRC and now in production again. I think it is a very good rally for me and I have good experience. I will try and attack but the other pilots are very fast – Nicolas [Fuchs], [Armin] Kremer and the others. All the time I attack, but I want to stay on the road. 
Q:
How are you finding the Mitsubishi Lancer EVO X?
RT:
The car is prepared in Spain and my team – we made the set-up years ago...
Q:
Do you feel the main battle will be between you and Nicolás for the win?
RT:
My opinion is to go for the win!