2013 Rally Guanajuato Mexico - Day 2
FIA News Bulletin from Day 2 of the 2013 Rally Guanajuato Mexico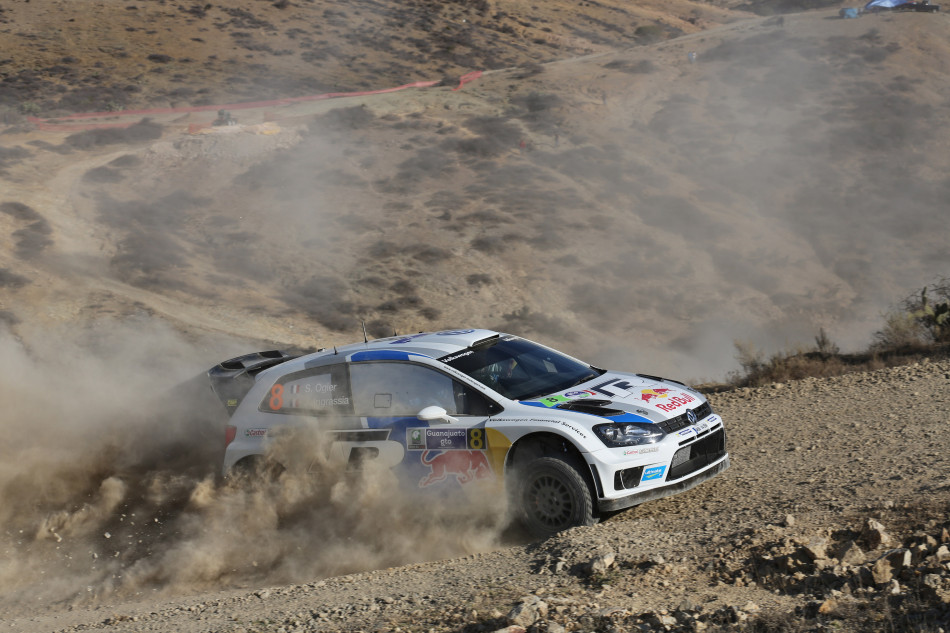 RALLY GUANAJUATO MEXICO
(07-10 MARCH 2013)
RALLY NEWS
The Volkswagen Polo R WRC, in the hands of Sébastien Ogier, continues to dominate Rally Guanajuato Mexico and the Frenchman now has nearly three minutes in hand to second-placed Mikko Hirvonen. Behind the Finn, Thierry Neuville has climbed into the final podium position.
Today's 150 competitive kilometre route took in four long mountain stages - two repeated - but also included three short stages in Leon. Ogier once again took the advantage in the first 30 kilometre stage as others ran into problems around him. Another victory in the following 42 kilometre test gave him a minute's lead over Hirvonen as the crews headed back to the city for a short street stage. This afternoon the Frenchman once again took control of the field and only dropped time in the final re-run of the 42 kilometre stage when he unexpectedly came across a closed gate. Even so, he overnights with a comfortable lead with 80.41 kilometres of gruelling competition to complete on Sunday.
Hirvonen started the day in third but inherited second position when Mads Østberg was forced to retire on the road section heading to the second stage. After clutch problems in the first stage, the Norwegian was ultimately forced out with a broken alternator. Hirvonen claimed victory in the Leon Street Stage and his only problem throughout the day was a puncture in the final mountain stage. Neuville suffered with damaged steering early this morning and the Belgian was lucky to escape unscathed when it locked up in stage 15 resulting in a high speed spin. He also suffered with engine overheating but looks set for a thrilling battle with Hirvonen on Sunday, the rivals split by just 7.5 seconds this evening. Dani Sordo, fourth, had a puncture this morning and fifth-placed Nasser Al-Attiyah dropped time with a spin. On his return to the WRC, American Ken Block rounds off the top six.
Tomorrow's final day of competition takes in just three stages but kicks off with the massive 54.85 kilometre Guanajuatito stage which is then followed by the 21 kilometre Power Stage. On their way back to Leon for the finish, the crews round off the competition at the closing super special stage.
Rally Guanajuato Mexico – Unofficial Results after Day 2
1.   Sébastien Ogier/Julien Ingrassia

2.   Mikko Hirvonen/Jarmo Lehtinen

3.   Thierry Neuville/Nicolas Gilsoul

4.   Dani Sordo/Carlos Del Barrio

5.   Nasser Al-Attiyah/Giovanni Bernacchini

6.   Ken Block/Alex Gelsomino

7.   Chris Atkinson/Stephane Prévot

8.   Benito Guerra/Borja Rozada

9.   Martin Prokop/Michal Ernst

10. Evgeny Novikov/Ilka Minor

Volkswagen Polo R WRC

Citroën DS3 WRC

Ford Fiesta RS WRC

Citroën DS3 WRC

Ford Fiesta RS WRC

Ford Fiesta RS WRC

Citroën DS3 WRC

Citroën DS3 WRC

Ford Fiesta RS WRC

Ford Fiesta RS WRC

3 hr 38 min 42.2sec

3 hr 41 min 34.6sec

3 hr 41 min 42.1sec

3 hr 43 min 27.4sec

3 hr 44 min 16.1sec

3 hr 47 min 39.3sec

3 hr 48 min 06.0sec

3 hr 48 min 43.1sec

3 hr 50 min 04.5sec

3 hr 54 min 24.1sec