2013 Rally de Portugal - Post Event Press Conference
Post Event Press Conference organised by the FIA for the 2013 Rally de Portugal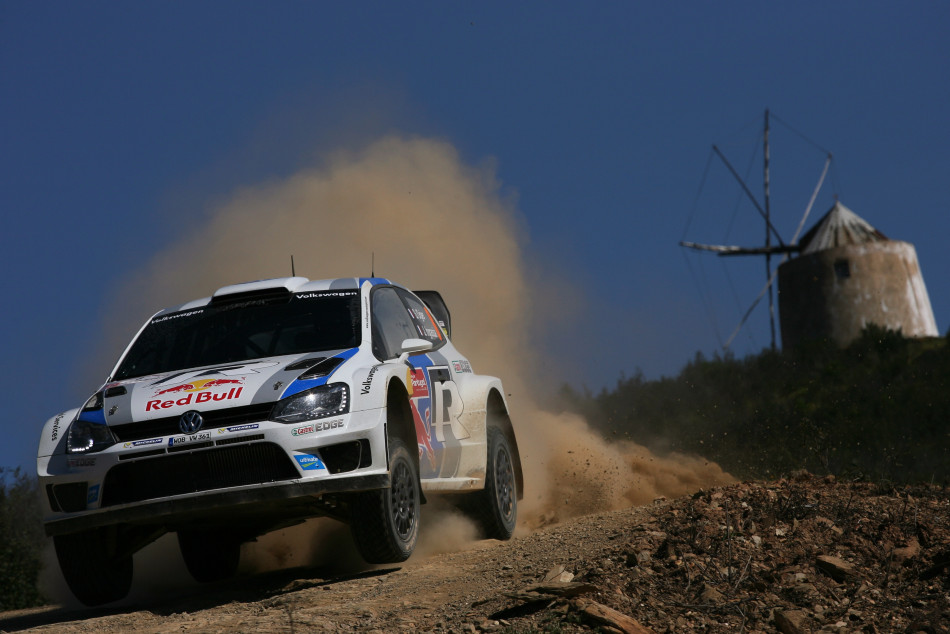 Post-event Press Conference
Sunday 14 April 
Present:
1st - Sébastien Ogier, Volkswagen Motorsport
1st - Julien Ingrassia, Volkswagen Motorsport 
2nd - Mikko Hirvonen, Citroën Total Abu Dhabi World Rally Team
2nd - Jarmo Lehtinen, Citroën Total Abu Dhabi World Rally Team
3rd - Jari-Matti Latvala, Volkswagen Motorsport
3rd - Miikka Anttila, Volkswagen Motorsport
Jost Capito, Volkswagen Motorsport Director
Q:
Sébastien, a hat-trick of wins for Volkswagen Motorsport, congratulations! How tough has this weekend been?
SO:
It's been an amazing week – it was quite crazy on Monday, when I was in such a bad physical condition and really not sure I could do the rally. But when there was no treatment anybody could offer, I decided to come and try. Then, on the recce, I feel a bit better. On the rally I did not have the maximum form, but it was enough. The rally was long – three really long days. This was the roughest Portugal I ever drove for the car; we had quite a lot of problems on the car, but the team managed to fix them all. We have another victory and one which the team can be very proud of. At every service they have so much to do, but they always did it on time – big congrats to them all.
Q:
What were the problems through the rally?
SO:
There were a few problems, but they didn't cost any seconds. This morning was when we had the big alarm. At the start of the first stage the clutch started to spin, and really I was thinking that it was over for me. After 10 kilometres it came back to normal, but I was surprised about this. Then I came back on normal speed and stayed in the lead – but it was a big moment!
Q:
Did you really think the lead was lost?
SO:
Yeah, I thought the rally was lost. I thought it was the clutch, but it was the rear diff. I was driving only in front-wheel drive and I was sure it would not be possible to finish like this. At that moment I was sure it was over.
Q:
You said you weren't going to push in the Power Stage, what happened…!
SO:
Really, it was not my plan [to push] and it really was not the game! I wanted to finish the rally. On the last loop we changed the suspension and it was a better feeling again, so without pushing too much I was on the pace – I decide to carry on like this. When you can get the points, it's better to do it because you never know what's coming in the future.
Q:
You now have a very good lead in the Drivers' standings, 54 points over Mikko Hirvonen - what are your thoughts on the Championship?
SO:
Looking at the Championship, maybe it looks easy for me, but Mads [Ostberg] and Dani [Sordo] were very, very fast before the mistakes. It will be a big fight to keep this kind of result all the year, but now we have the good advantage. Now we don't need to win the rallies, but this is not my plan: I am a competitor and I like the taste of victory. But I know I have to be clever for the rest of season.
Q:
Julien, did you believe it could be all over this morning?
JI:
For sure! When something like this happens on the start line or one minute before the stage – we had the problem. It's so hard to believe in the car and we just drove to reach the end of the first stage. We made no more mistakes around that. Then the rear diff came back and we had the chance to do the stage in normal rhythm.
Q:
It must have been a big relief…
JI:
Yeah, but then we had the 52 kilometre stage and we didn't have full confidence. We didn't know what was the problem, we just tried to do what we know and not make the mistake.
Q:
This is your third win in succession; did you expect the season to go so well? 
JI:
We say Portugal was an event where we prove we can fight and I would forbid anybody to say it's been easy! It hasn't at all. We proved the team is working well. I will let Jost [Capito] answer the question about the future and the Championship… For me now, I have my little song. This is for me driver… 'hard as a rock'!
Q:
Mikko, congratulations on second position. It now puts you into second position in the Drivers' Championship. How do you feel the weekend went?
MH:
It was a tough weekend for us. We wanted to fight harder, but we didn't. I tried to push hard, maybe we were overdriving – maybe the rhythm wasn't the best. With Jari-Matti's problem we got second, but that's not what we came here for, but it is what we got.
Q:
Do you feel you've made a step since Mexico?
MH:
Yeah, we have made a step with some areas of the car, but we have never changed the car so much [during one event] – in places like suspension.
Q:
What work has been done since Mexico?
MH:
Roll bars, springs, dampers, I can't say I found the solution; in some places the car is really, really good, but in the fast we are losing more time – we need to improve there.
Q:
You inherited second when Jari-Matti hit trouble this morning, did you think you could possibly challenge for the win when you heard Ogier was suffering to?
MH:
I didn't believe the splits were correct when I got Seb's [split], he was 20 or something behind and then Jari was 30 or something behind. I thought something funny was going on. I didn't know what happened. Jari was unlucky, but we had no problems – it was a good rally from that side.
Q:
With the weight of the team points resting on your shoulders did you feel under too much pressure to push too much?
MH:
There was not the pressure from the team, I was really pushing hard and not thinking of taking points for the team. Even on the last stage, I pushed like hell, but still lost eight seconds or something. We need to find more solutions and I need to try to be better.
Q:
Jarmo, do you see the improvement from Mexico?
JL:
I have the same feeling [as Hirvonen], in some sectors we improve. When it is technical, slow and twisty, sometimes we are equal, sometimes even a bit quicker, but as soon as the road opens we are beginning to lose. It's overdriving and when this happens, you lose. You make one mistake, run a little bit wide, lose the speed and it's hard to get it back on the high-speed road.
Q:
Can you come back and challenge again?
JL:
I believe so, yes. We did quite a big step between Mexico and here. The surface is also changing a little bit, we will have a sandy event coming and then something different in Greece. We will be closer in Argentina, I'm not sure if we fight for victory.
Q:
Jari-Matti, congratulations on your first podium for Volkswagen Motorsport! It has been a good weekend for you here in Portugal, how do you feel?
J-ML:
When I was walking to this building I was thinking to myself what a relief – I have not felt this good for a long, long time! 
Q:
After two stages you said you still weren't feeling confident - but then everything started to click into place - what changed?
J-ML:
I decided I had to drive myself, I explain that I need experience, but one day I have to deliver the result. I was pushing myself, forcing myself to drive fast and it started to help. I have been letting myself think I can take the experience and the speed will just come, but it doesn't work that way – you have to work for it. My confidence is coming in the car. In Argentina I will have a different set-up which will suit me better, but still I am really, really happy with this result. The start of the season has been tough – learning, but also disappointing. Now I see my year opening. Finally, my Championship can start!
Q:
Did you turn on the aggression?
J-ML:
Yeah, a little bit. I haven't been feeling so well during the winter time. I was expecting more from myself and I couldn't get it. The car has been quick, but I have been somewhere on another planet…
Q:
You're back now though… we're in Portugal, by the way! 
J-ML:
Thanks! It's good to be back!
Q:
You experienced some problems this morning, what happened?
J-ML:
We headed to the first stage this morning, but five kilometres before the start, the car pulled to the right when I accelerated. We checked the wheel nuts, I thought it was a wheel loose. Then we went to the stage and did three corners and then we lost drive to the front. I nearly had a spin and almost went off the road. It was a driveshaft and inner CV joint which had broken. But then this began to overheat the front diff – so we only had drive from the rear. For 70 kilometres I had only rear-wheel drive. I drive a historic Escort which is rear-wheel drive and I have to say the Escort is easier to drive like this! 
Q:
Now that you have your first podium are we ready to see you back challenging for wins?
J-ML:
Well, the man on my right [Ogier] is strong – he's in a strong mood. The French revolution continues after Sébastien Loeb retires, it's hard to make the Finnish revolution, even though there are two [Finnish crews] here – it's not easy! I hope to challenge at some point: Argentina onwards would be nice, but it's one step at a time.
Q:
Miikka, did you ever feel it could be all over?
MA:
Yes, it was an amazing feeling to think it couldn't happen again! We were one-two for Volkswagen. When we heard Seb is having the problem, we thought it could be the same and then we knew we would lose more in the next stage as well. Luckily we only lost one place in the result. We are third and we have to be happy. The diff problems could have stopped us, so in a way we are happy.
Q:
Did you think there is any possibility of pushing Sébastien?
MA:
Let's say that option was not discussed – such a subject doesn't need to be discussed in our team. It's not the point to start to fight together.
Q:
Jost, both drivers are on the podium. It could have been a 1-2 but this morning the drivers both experienced problems at the same time on the same stage! What was the feeling in service this morning?
JC:
This morning it was obvious when we had drama, but it was not so obvious when we had the drama at other times during the weekend. I am very proud of the four boys here, but not only them – I am very proud of the whole team and we should dedicate this win to the mechanics. The team made a new car at every service. We used all of our luck here, but we discovered something important – we found out our car is as fast in front-wheel drive as it is in four-wheel drive. It's true, look at the splits.
Q:
Jari-Matti has shown more confidence here than at any event so far this year, what have you thought of his performance?
JC:
His performance was perfect all weekend. In Mexico, he was unlucky. We had the test between the events and I believe it will be even better in the future. As you know, I believe in Jari for the eight or nine years I know him. He is a brilliant member of the team and this fantastic team atmosphere is the basis of the results we have now. You mentioned team orders: we don't have a number one or two in this team. We discussed yesterday and I say that we don't care who wins, but which guy who goes off will not be very prominent…
Q:
The Championship is looking good now…
JC:
We couldn't be in a better position now, nobody could have expected this. We always said Portugal would be the first critical rally. This is rough and very hard – and by the way one of the most beautiful rallies. We had a lot of teething problems here. When the other cars have been at the same speed they have been very competitive, we had our luck – but we have found we were competitive with the drivers, the team, the mechanics, the team management and the engineers. We have all been competitive in a hard job through the weekend. Don't forget we had three cars and we kept them working – I am extremely proud. And Andreas [Mikkelsen] did a brilliant job. But this was a very hard and very lucky weekend for us with a very good end.
QUESTIONS FROM THE FLOOR
Markus Stier
Sport Auto, Germany
Q:
Sébastien, you said you wouldn't risk it all on the Power Stage…
JC:
He told us the same!
SO:
What can I say? When I am in the car, I say why not – when you have the feeling in the car, it's the best way to stay concentrated.
Q:
So, you are trying to say, when others are so slow, it's not your fault?
SO:
Not really! It was a long stage and we'd had problems with the car, I thought I had to bring it back to service and we did that. Today was less rough and the feeling was good so I enjoyed the last 52 kilometres.
Gabriela Melo
A Bola, Portugal
Q:
I would like to ask the drivers and team manager what they think of the possible move to the north and away from the Algarve?
SO:
For me, I have a good feeling in the Algarve. I won the three last times I was in a World Rally Car – I would like to come back here. I don't know the north, in the past it looks like a nice rally. I like coming to Portugal, so it doesn't matter if it's north or here.
MH:
The rally here is really nice. It's nice with challenging stages, but I'm sure there are some really nice roads in the north as well. We see in Fafe, there are millions of spectators. There are a lot here, but sure, it will be crazy when we get up there.
J-ML:
Overall, we have the most passionate spectators in Europe here and we can see when we are in Fafe that they have the same spirit. Here also there are spectators, but I think not the same amount of people. The rally is well organised and there is a good location, but on the other hand we need to bring the rally to the people – at the end I think it can be a good thing to go in the north, even though it is almost perfect here.
JC:
I don't know the north, but when I talk to Carlos Sainz, he says the rally is fantastic. I came here in 2007 and this year and it is also fantastic here. There is nothing wrong with giving the rally to different people at different times. It is brilliant here and up north and the organisers do a great job wherever the rally is.
FIA WRC 2 CHAMPIONSHIP 
Present:
1st - Esapekka Lappi, Skoda Motorsport
1st - Janne Ferm, Skoda Motorsport
Q:
Esapekka, congratulations on your first win in WRC 2 this year! You must be pleased?
EL:
Definitely it wasn't so easy as how it looked. It was a very long rally and my first time here. We had a really good weekend. On Friday morning we pushed, but we struggled with pace notes, after that it was okay. Saturday morning, in the first stage, we push also and after that the gap was so big we could just drive in safety mode to the finish and try to survive. Today we had some small injector problems, but the team fixed it perfectly.
Q:
What kind pace note problems?
EL:
I was having to brake [slow down] the pace notes. We do the recce on Tuesday and this was my first stage ever in Portugal. All the time there is something to write, it was very tricky. The notes were not wrong, but not like I wanted.
Q:
You led from the start and didn't seem to be under any real pressure, especially when the gap behind you extended. Was it easy to manage the gap?
EL:
I thought it would be difficult [to manage the gap], but actually it was not in this rally. Gravel is my favourite surface. It is never so easy, you have to really focus. 
Q:
You had an issue with the car this morning - what was the problem?
EL:
It was the fourth cylinder injection, we lost it. But the guys change it – I don't know why it broke.
Q:
This was in the 52 kilometre stage?
EL:
Yes. It was five kilometres before the end.
Q:
Four rounds into WRC 2, it's looing like an interesting battle – what's the plan now?
EL:
That's a really good question and I don't know. I will know when the entry is in [for the next rally].
Q:
Nothing has been confirmed?
EL:
No, never confirmed. We plan to do the series, but I'm not sure which events.
Q:
This win will help?
EL:
Yes, if I had retired I would not be in such a good situation… 
Q:
Janne, congratulations on your result, how has the weekend been?
JF:
How can I say? Great weekend because we win! Even though I come from Finland, I like the weather over here. Great weekend, we had some slight problems with the notes, but this doesn't concern us too much. In SS6 Elfyn Evans retired then the rest was just avoiding the mistakes, but it has been a good weekend with the car working perfectly and the weather has been lovely!
Q:
You don't want to go home do you?
JF:
You are right!
Q:
This has been a tough event for co-drivers?
JF:
Of course, especially as this is the first time for me. There were lots of things on the pace notes, when you are rushing to try and read them correctly, but anyway this is a learning process for both of us – today it went well.
FIA WRC 3 CHAMPIONSHIP
Present:
1st - Bryan Bouffier
1st - Xavier Panseri
Q:
Bryan, winner in the WRC 3 and the first win in the Citroën Top Driver also, it has been a good weekend – except for a few dramas at the end!
BB:
Hello everybody. We were very lucky – in the last stage two kilometres before the end, we had a broken driveshaft. After the stage we had 50 or 55 kilometres of road section to do, but this car is strong and it brings us to the finish. Otherwise, we had no technical problems, no punctures – it was perfect before this.
Q:
You said before the event that you had a strategy, that you would not push on the opening day - it seemed to work!
BB:
I was kidding! It was not the strategy. After the recce I knew it would be rough and I knew we didn't have to push. It was fun, but we didn't slide so much – maybe we were a bit more lucky than our colleagues. We did a clever race.
Q:
You had a big gap of time behind you - some drivers find they can lose focus when they don't need to drive in a battle - did you feel that or was it okay?
BB:
You know, I was so happy to be here I wanted to focus on fun in the stages. I was not thinking to the position or the gap, so it doesn't change anything to our strategy or target.
Q:
You said you need to find extra funding for the season, will this result help?
BB:
Hopefully, yes. I am much more motivated to be in Sardinia. I have one month to find a solution, but it's not over – I will push like hell as I really want to be on the next event.
Q:
What's the atmosphere been like among the Citroën Top Drivers?
BB:
It has been really friendly. It is great for sure, really friendly and nice – a nice week.
Q:
Xavier, how was it all for you?
XP:
It was wonderful, this is a beautiful rally. Everything is perfect for us, we had a really good week and now we have a really beautiful result. What can we say more?
Q:
And relatively drama free?
XP:
Yes. It was not easy for the two kilometres at the end of the stage, we didn't know if we would reach the service park, but we were lucky. Bryan was clever, he was slow in the uphill hairpins and easy on the gearbox and now we are here.
Q:
How was the 52 kilometre stage for you – lots to read?
XP:
It's a lot of water to drink! It's an unbelievable stage – so long, a lot of work for the co-driver. I enjoy it.
FIA JUNIOR WRC CHAMPIONSHIP
Present:
1st - Pontus Tidemand
1st - Ola Floene
Q:
Congratulations Pontus, tell us about your event.
PT:
It was almost perfect. We did good preparation before this rally and had no big problems.  Ola's done an awesome job so it's no problem; the only thing we can say is we caught two cars on the first stage, but that's all I think.
Q:
You made it look easy, was that the case?
PT:
No, I didn't find it easy at all. You need to use your head in every corner and it's so rough, it's been really hard.
Q:
What was the toughest part of the event?
PT:
The hardest part was maybe thinking about the car, the tyres and also doing the pace notes. I think maybe that is the hardest, to have good pace notes. Yes, I think this is the hardest rally to get good pace notes.
Q:
What other events could you target for a win?
PT:
Actually the Tarmac should be quite interesting, I think. If we could take a win on the Tarmac our points would be worth more to us in a way than here on the gravel. Tarmac is not actually my basic surface. Suarez and Lemes have that surface as a basis so I think if we could win one event on the Tarmac it would make the difference.  
Q:
Congratulations Ola. Who can you see as your toughest competition in the Juniors?
OF:
It's hard to say, people do gravel and people do Tarmac. I'd say the two Spanish guys. For me they were quicker than expected on the gravel so I think they are pushing. They have the same speed as us on the gravel events, so that's going to be quite interesting because Pontus doesn't have so much experience on Tarmac.  So that will be interesting to see.
Q:
So what about the other events, did you think this would be one of your strong events, or is this a nice surprise?  
OF:
That's difficult to answer.  For me everything's new – even the driver's new and I didn't know the speed.  Pontus made big big progress during the wintertime with pace notes and different things. I knew he would be quick, but I didn't know how fast he was. Like in [Rally] Sweden I knew he was quick, but I didn't know how quick he was, but after the shakedown in Sweden he was in the top four and we had the same luck here. The first day here he was fast, but didn't attack just to see what the level is. After the first stage then we find out what he can do and we kept to the same speed from the start. The other guys were quick but did some mistakes and that took some time so that was all gain for Pontus.