2013 Rally Argentina - Preview
Preview of the WRC Rally Argentina (1-4 May 2013).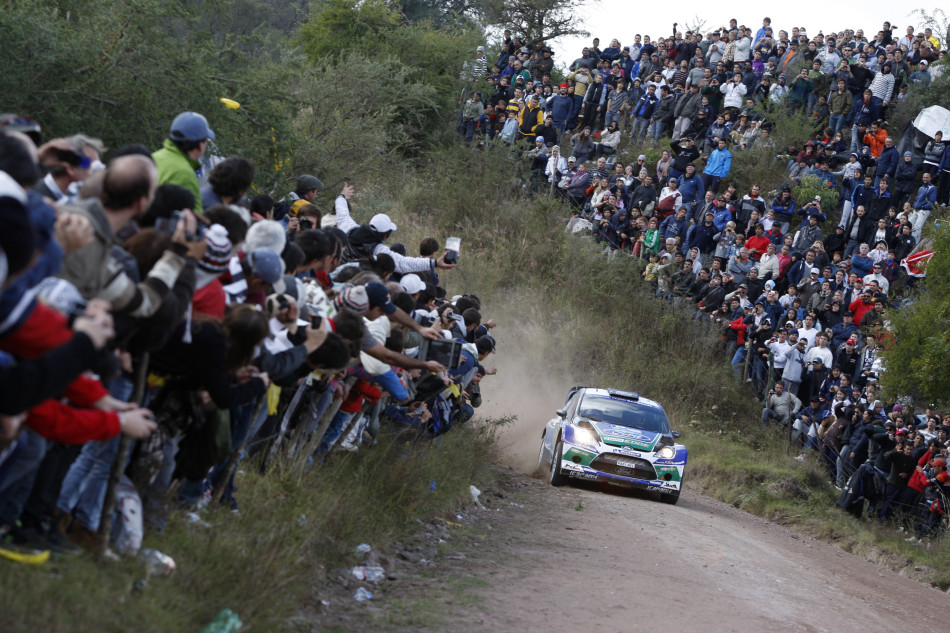 Round five of the FIA World Rally Championship - Philips LED Rally Argentina - is renowned for its amazing landscapes, passionate and enthusiastic fans that enjoy a week-long rally fiesta in the three valleys surrounding the city of Córdoba.
The organiser has also taken advantage of a public holiday on Wednesday 1 May to enable the fans to watch free practice and qualifying, as well as the super special stage later that afternoon, meaning that the event finishes one day earlier, on Saturday 4 May. The competition will however be as tough as ever, with a string of long demanding stages, including two runs through the 51.88 kilometre Ascochinga-Agua de Oro stage.
Citroën's semi-retired Sébastien Loeb will also be making a return to the Championship for Rally Argentina and, with seven consecutive South American victories to his name, the Frenchman is sure to set the stages alight as he fights for a second win this year.
RALLY ARGENTINA – ROUTE GRAPHICS 




CHANGES TO THE ROUTE SINCE 2012
This year's Rally Argentina features just seven special stages, each run twice. Three stages - Ascochinga-Agua de Oro, El Cóndor-Copina and the super special stage - run identically to last year, while Santa Catalina-La Pampa and Mina Clavero-Giulio Césare have length changes. The two remaining stages - Santa Rosa-Villa del Dique and Amboy-Yacanto - are classed as new, the first the result of combining two stages run in 2011 and the second covers 30 kilometres of new road.

RALLY DATA
Total distance:
Stage distance:
Number of stages:
1,576.79 km 
407.64 km
14
MEDIA ACCREDITATION

The Accreditation Centre is located in the Auditorium of Hotel Portal del Lago, Gob. Ortiz y Herrera (corner of Jerónimo Luis de Cabrera), (5152) Villa Carlos Paz, Córdoba. The opening hours are:
Sunday 28 April
Monday 29 April
Tuesday 30 April
Wednesday 1 May
Thursday 2 May
14.00 - 20.00 hrs 
08.00 - 20.00 hrs
08.00 - 20.00 hrs
08.00 - 20.00 hrs
08.00 - 12.00 hrs
RALLY ARGENTINA TIMETABLE AND MEDIA OPPORTUNITIES ORGANISED BY THE FIA
Tuesday 30 April
Mandatory photo briefing for national and rally by rally 
photographers, Photographers' Room, Media Centre 

Wednesdday 1 May
Free Practice (P1 & P2)
Qualifying (P1 & P2)
Shakedown (P3 and non-priority drivers)
Starting Position Attribution, WRC Stage, Service Park
FIA press conference, Press Room
SSS1

Thursday 2 May
First car arrives for mid-day service, re-group and Media Zone
First car arrives for final service and Media Zone
End of day press conference, WRC Stage, Service Park

Friday 3 May
First car arrives for mid-day service, re-group and Media Zone
First car arrives for final service and Media Zone
End of day press conference, WRC Stage, Service Park

Saturday 4 May
First car arrives for final service and Media Zone
Prize-giving and podium ceremony
FIA press conference, Press Room

18:00 hrs



08:00-10:00 hrs
10:58 hrs
10:00-12:00 hrs
13:00 hrs
13:30 hrs
16:00 hrs


12:03 hrs
17:36 hrs
During the 45' service


12:21 hrs
19:25 hrs
During the 45' service


13:57 hrs
14:40 hrs
15:30 hrs
FIA PRESS CONFERENCE ATTENDANCE
Wednesday 1 May






Saturday 4 May
 
Marcos Ligato, FIA WRC 2 Championship
Abdulazis Al-Kuwari, FIA WRC 2 Championship
Sébastien Loeb, Citroën Total Abu Dhabi World Rally Team
Sébastien Ogier, Volkswagen Motorsport
Dani Sordo, Abu Dhabi Citroën Total World Rally Team
Gabriel Pozzo

Winning FIA WRC 2 Championship crew
Top three crews in the overall classification
Representative of the winning entrant
ADDITIONAL MEDIA OPPORTUNITIES 

'Meet the Crews': On Thursday and Friday the top three drivers will attend a 'Meet the Crews' session for media and fans. This will take place on the WRC Stage in the service park at the earliest opportunity during the end of day 45 minute service.

Autograph Signing Session: On Thursday and Friday selected crews will be available for a 15 minute autograph session. This will take place in the service park during the end of day 45 minute service at the teams' service areas. 

FIA WORLD RALLY CHAMPIONSHIP CLASSIFICATIONS

The provisional classifications for all the WRC Championships can be found on the following link:
http://www.fia.com/championship/world-rally-championship/classifications-0
STAGE CHART
Shortly after the finish of the event on Saturday, a downloadable stage chart showing the progressive positions of the leading crews during the rally will be available. This is copyright free for editorial purposes and available at the following link:
http://www.fia.com/championship/world-rally-championship/argentina-stage-chart-2013
 
 
   
RALLYE D'ARGENTINE 2013
  

La cinquième manche du Championnat du Monde des Rallyes de la FIA – le Philips LED Rally Argentina – est réputée pour ses paysages époustouflants et pour ses spectateurs passionnés et enthousiastes qui font la fiesta pendant toute une semaine dans les trois vallées entourant la ville de Córdoba.

L'organisateur a choisi de profiter du mercredi 1er mai, jour férié, pour permettre aux fans d'assister à la fois aux essais libres, aux qualifications et à la super spéciale prévue plus tard dans l'après-midi. Ainsi l'épreuve se terminera un jour plus tôt, le samedi 4 mai. La compétition n'en sera pas moins intense, avec une série de longues spéciales éprouvantes et deux runs sur la spéciale Ascochinga-Agua de Oro de 51,88 kilomètres.

Le Rallye d'Argentine verra également le retour du pilote Citroën semi-retraité Sébastien Loeb. Avec à son actif sept victoires consécutives en Amérique du Sud, nul doute que le Français assurera le spectacle en tentant d'obtenir sa seconde victoire de la saison.

RALLYE D'ARGENTINE – ITINERAIRE



MODIFICATIONS DU PARCOURS DEPUIS 2012

Cette année, le Rallye d'Argentine ne comptera que sept épreuves spéciales, disputée chacune deux fois. Trois spéciales – Ascochinga-Agua de Oro, El Cóndor-Copina et la super spéciale – seront courues conformément à l'an dernier tandis que Santa Catalina-La Pampa et Mina Clavero-Giulio Césare verront leurs kilométrages modifiés. Les deux spéciales restantes – Santa Rosa-Villa del Dique et Amboy-Yacanto – sont nouvelles, la première résultant de la combinaison de deux spéciales courues en 2011 et la seconde couvrant 30 kilomètres inédits.

DONNEES CONCERNANT LE RALLYE

Distance totale:
Kilométrage de spéciales:
Nombre de spéciales:
1.576,79 km 
407,64 km
14

ACCREDITATION MEDIAS

Le Centre d'accréditation est situé à l'Auditorium de l'Hôtel Portal del Lago, Gob. Ortiz y Herrera (angle de Jerónimo Luis de Cabrera), (5152) Villa Carlos Paz, Córdoba. Les heures d'ouverture sont les suivantes :

Dimanche 28 avril
Lundi 29 avril
Mardi 30 avril
Mercredi 1er mai
Jeudi 2 mai
14h00 - 20h00 
08h00 - 20h00
08h00 - 20h00
08h00 - 20h00
08h00 - 12h00

PROGRAMME DU RALLYE D'ARGENTINE ET OPPORTUNITES POUR LES MEDIAS ORGANISEES PAR LA FIA

Mardi 30 avril
Briefing obligatoire pour les photographes nationaux et pour
chaque rallye, Salle des photographes, Centre Médias

Mercredi 1er mai
Essais libres (P1 et P2)
Qualifications (P1 et P2)
Mise au point (P3 et pilotes non-prioritaires)
Attribution des positions de départ, Spéciale WRC, Parc d'assistance
Conférence de presse FIA, Salle de presse
ESS1

Jeudi 2 mai
Arrivée de la première voiture pour l'assistance de la mi-journée,
regroupement et Zone Médias
Arrivée de la première voiture pour l'assistance finale et Zone Médias
Conférence de presse de fin de journée, Spéciale WRC, Parc d'assistance

Vendredi 3 mai
Arrivée de la première voiture pour l'assistance de la mi-journée,
regroupement et Zone Médias
Arrivée de la première voiture pour l'assistance finale et Zone Médias
Conférence de presse de fin de journée, Spéciale WRC, Parc d'assistance

Samedi 4 mai
Arrivée de la première voiture pour l'assistance finale et Zone Médias
Cérémonie de podium et de remise des prix
Conférence de presse FIA, Salle de presse

18h00



08h00-10h00
10h58
10h00-12h00
13h00
13h30
16h00


12h03

17h36
Pendant l'assistance de 45'


12h21

19h25
Pendant l'assistance de 45'


13h57
14h40
15h30

PARTICIPANTS AUX CONFERENCES DE PRESSE DE LA FIA

Mercredi 1er mai






Samedi 4 mai
 
Marcos Ligato, Championnat WRC 2 FIA
Abdulazis Al-Kuwari, Championnat WRC 2 FIA
Sébastien Loeb, Citroën Total Abu Dhabi World Rally Team
Sébastien Ogier, Volkswagen Motorsport
Dani Sordo, Abu Dhabi Citroën Total World Rally Team
Gabriel Pozzo

Equipage vainqueur du Championnat WRC 2 FIA
Trois premiers équipages du classement général
Représentant du concurrent vainqueur

OPPORTUNITES SUPPLEMENTAIRES POUR LES MEDIAS 

"Rencontre avec les équipages" : le jeudi et le vendredi, les trois meilleurs pilotes participeront à une séance "Rencontre avec les équipages" pour les médias et les spectateurs. Celle-ci aura lieu lors de la spéciale WRC dans le parc d'assistance dès que possible durant l'assistance de fin de jour de 45 minutes.

Séance d'autographes : le jeudi et le vendredi, les équipages sélectionnés se rendront disponibles pour une séance d'autographes de 15 minutes. Celle-ci aura lieu dans le parc d'assistance durant l'assistance de fin de jour de 45 minutes dans les zones d'assistance des équipes.

CLASSEMENT DU CHAMPIONNAT DU MONDE DES RALLYES

Les classements provisoires du Championnat WRC sont accessibles en cliquant sur le lien suivant :

http://www.fia.com/championship/world-rally-championship/classifications-0

GRAPHIQUE DES SPECIALES 

Peu après la conclusion du rallye le samedi, un graphique des spéciales téléchargeable montrant les positions progressives des équipages de tête pendant le rallye sera disponible. Celui-ci est libre de droits d'auteur à des fins éditoriales et est accessible en cliquant sur le lien ci-après :

http://www.fia.com/championship/world-rally-championship/argentina-stage-chart-2013