2013 Rally Argentina - Day 2
FIA News Bulletin from Day 2 of the 2013 Rally Argentina.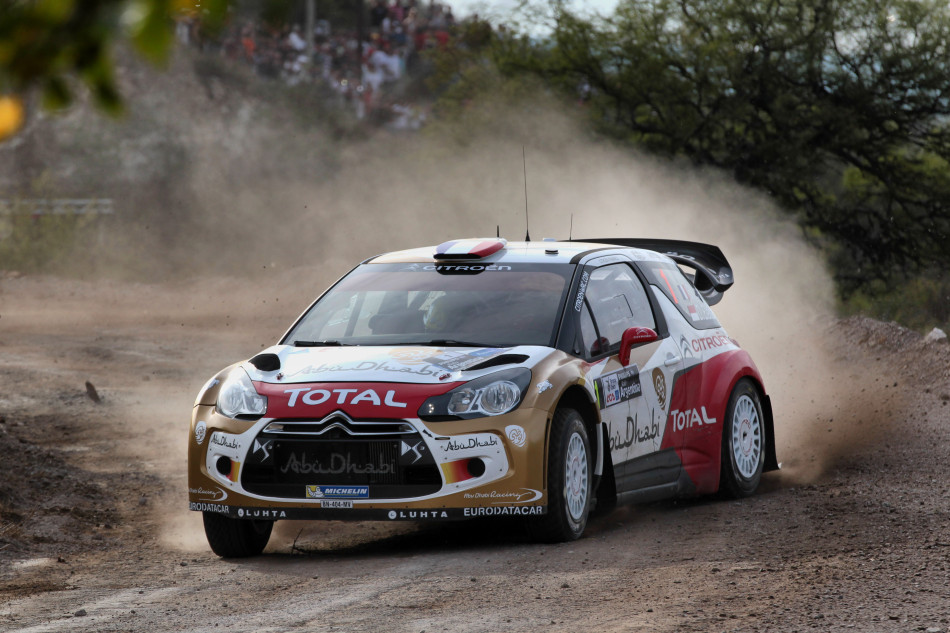 RALLY ARGENTINA
(01-04 MAY 2013)
RALLY NEWS
The Rally Argentina leaderboard has turned on its head today as crews hit problems up in the mountains surrounding Córdoba. Sébastien Loeb has moved into the lead – his customary position in Rally Argentina – and Sébastien Ogier has slipped to second. Third position is now held by Evgeny Novikov, the Russian benefitting as those around him fell into the clutches of the rocky Argentinean stages.
Today's route was the longest of the event and covered two identical loops of two long stages before the crews returned to Villa Carlos Paz for the second and final run around the super special stage. Ogier started the day on top form, the Frenchman winning the opening stage. However, his luck turned on the second stage when he understeered onto slippery mud and, with a broken handbrake, was unable to avoid going off the road. He lost the lead to Loeb and in the following stage then picked up a puncture and cruised through the final long stage, cautious of any further problems and no spare wheel. He now overnights 39.8 seconds adrift of Loeb, who also went off the road in the first stage this morning. Third position is now held by Novikov, the Russian climbing from fifth.
Jari-Matti Latvala is fourth overnight, the Finn not having the best of days. He made a couple of mistakes in the first stage and dropped time in the following stage, not liking the foggy conditions. This afternoon he was pushing but suffered a puncture after landing too hard in the final long stage. Despite changing the wheel in record time, he is now nearly three minutes adrift of the lead. Thierry Neuville has adopted a cautious and strategic approach to this event and holds a comfortable fifth, while Mikko Hirvonen has dropped from third to sixth. The Finn had a couple of 'moments' in the opening stage and was off the road in stage seven. However he then dropped more time in SS8 with a puncture and nearly six minutes in the final mountain stage with an electronic problem that resulted in the engine intermittently cutting out. Andreas Mikkelsen appears ninth in the provisional classification, but the Norwegian was unable to start SS9 after sustaining suspension damage in the previous stage.
Rally Argentina – Unofficial Results after Day 2
1.   Sébastien Loeb/Daniel Elena

2.   Sébastien Ogier/Julien Ingrassia

3.   Evgeny Novikov/Ilka Minor

4.   Jari-Matti Latvala/Miikka Anttila

5.   Thierry Neuville/Nicolas Gilsoul

6.   Mikko Hirvonen/Jarmo Lehtinen

7.   Mads Østberg/Jonas Andersson

8.   Martin Prokop/Michal Ernst

9.   Andreas Mikkelsen/Mikko Markkula

10. Dani Sordo/Carlos Del Barrio

Citroën DS3 WRC

Volkswagen Polo R WRC

Ford Fiesta RS WRC

Volkswagen Polo R WRC

Ford Fiesta RS WRC

Citroën DS3 WRC

Ford Fiesta RS WRC

Ford Fiesta RS WRC

Volkswagen Polo R WRC

Citroën DS3 WRC

3 hr 32 min 15.9sec

3 hr 32 min 55.7sec

3 hr 34 min 59.2sec

3 hr 35 min 07.4sec

3 hr 35 min 48.4sec

3 hr 38 min 59.2sec

3 hr 42 min 56.5sec

3 hr 44 min 29.8sec

3 hr 45 min 00.0sec

3 hr 45 min 20.0sec