2013 Acropolis Rally - Pre-Event Press Conference
Transcript of the Pre-Event Press Conference organised by the FIA for the 2013 Acropolis Rally.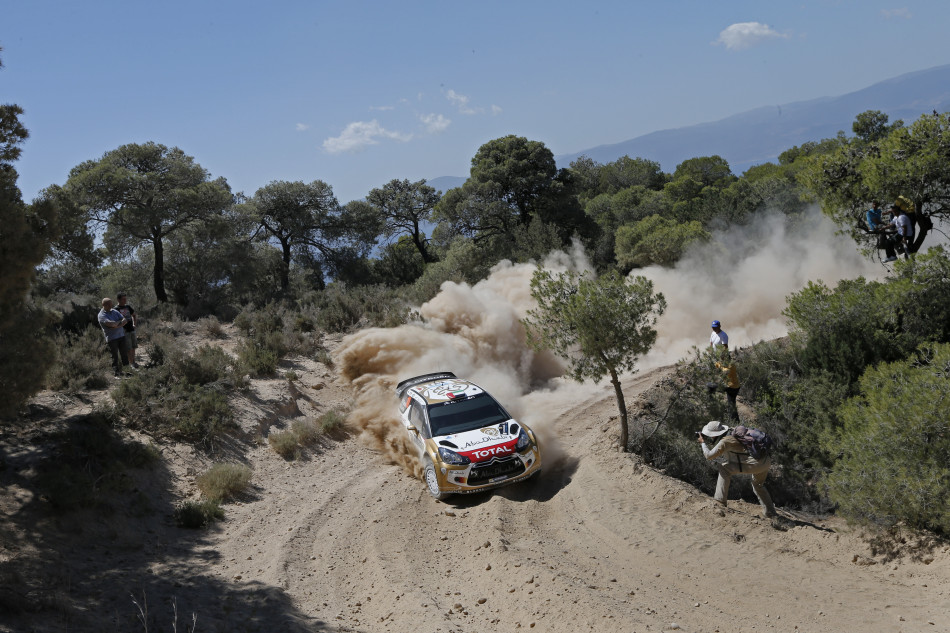 2013 FIA WORLD RALLY CHAMPIONSHIP
ACROPOLIS RALLY
Pre-event Press Conference
Friday 31 May
Present:
Jari-Matti Latvala, Volkswagen Motorsport
Mikko Hirvonen, Citroën Total Abu Dhabi World Rally Team
Khalid Al Qassimi, Abu Dhabi Citroën Total World Rally Team
Evgeny Novikov, Qatar M-Sport World Rally Team
Q:
Let's talk to the Flying Finns first… What happened in qualifying Mikko?
MH:
We played different tactics!
J-ML:
We are having a Finnish Championship! To be honest, I was not happy at all. This was probably the worst qualifying I have ever done. I try to understand and we realise the rear diff wasn't the set-up we should have. I am changing it right now for this afternoon.
Q:
Mikko, what went wrong?
MH:
Many people ask if I am interested in circuit racing and I think today I proved that I am not good at qualifying at all! 
Q:
But what went wrong?
MH:
I don't know. After the stage it felt very good. It was clean, maybe too clean – no excuses the car felt fine. I was just slow.
Q:
You're not changing anything on the car?
MH:
No. It all felt good, I won't change anything.
Q:
How was the test this week?
MH:
It was good. We did half a day, but we got quite a lot done and it felt like a good set-up. I believe this set-up will work perfectly. It's good to have those kilometres under my belt.
Q:
Can you fight for the podium? The top step?
MH:
We will just have to try. The road position for the long stage is not ideal. We haven't started the rally yet, though – everything is possible. We need the perfect rally. I have made silly mistakes this year, I have to shape-up myself and if that happens, anything is possible.
Q:
The pace was good in Argentina?
MH:
The pace was there, but I made a silly mistake. I have to avoid those.
Q:
And what about the Championship battle?
MH:
I am concentrating only on this Finnish Championship with Jari-Matti…
Q:
And now seriously?
MH:
The gap is big with Ogier, so we go rally-by-rally. Hopefully we will start winning and then we see what happens. The main target is the Manufacturers [Championship], but if we win rallies for that, then it brings points for us as well.
Q:
How did the recce go? You seemed to have an issue with the recce car, what was it and did it impede the recce?
J-ML:
We had a power steering problem with the recce car – it was overheating and then it stopped working. It didn't make a difference to the notes, but in the dark all of the crests look different. We had one recce run in the night conditions and it seemed to be okay. In night, you might lose more time than in the daytime if you are not confident with the notes.
Q:
How are the stages looking out there? What do you think the long stage this evening will be like? 
J-ML:
I was adjusting lights for almost one hour last night – they are good now. It's very important to have the lights right. It's unusual to do night stages, but it makes it a bit easier when we do the same stage as stage number one then the same one but a bit shorter. It's exciting, but it's asking a lot from the notes to make sure they are accurate and the dust can influence as well. I don't think we will have a dust issue – it's going to be interesting.
Q:
What are your hopes for this event?
J-ML:
Qualifying wasn't a great start and normally you should have a better position. The rally is long and there are always incidents on this event; it's the toughest event. It's important to drive fast, but also to stay away from the problems. It would be great to fight for the victory, but Seb Ogier seems very strong now and you need a very good run against him. There are also other guys who are pushing hard. It's about balancing the risks in the bad places. Hopefully my tactic will work on this rally. 
Q:
Khalid, welcome back to the WRC, it is great to see you return after a year's absence. How are you adapting to the Citroën DS3 WRC?
KAQ:
Coming back to the WRC, it's quite a [long] time since I was at the high level. It's four years since I last did Acropolis – it's difficult. The car is new and we are with a fantastic team. We have a lot to do and a lot to do to the car to adjust it for my driving style. It's a very sensitive car, you need to be sure about what you are doing, it can catch you. The measure of changing [the car] is quite big, but just a small thing can make it different. We are still setting the car to how I like to drive it.
Q:
And how's it working with Scott Martin, your new co-driver?
KAQ:
It's fantastic, we are developing very well. But don't forget, it's just two or three rallies – it will take more time. I have tried a couple of co-drivers before and all are okay, but the chemistry was there in the previous team with Scott, when we were together for a while.
Q:
What will be the biggest challenge for you this weekend? What is your strategy?
KAQ:
First of all, I am first car tonight – I will have all the surprises in front of me. I will not have any dust, but there will be cleaning with a lot of loose and you can lose a lot of time in places. The only advantage is the dust, let's see how it goes
Q:
It's a tough job…
KAQ:
It will be easy, especially as I have not done this for a long time. It's a lot on my shoulders.
Q:
How do you feel ahead of the event, Evgeny?
EN:
I am feeling well. We will see if the qualifying position is good. The 47 kilometre stage to start is difficult and then the night stage is tough, but we will see.
Q:
This is the event where you secured your first ever stage wins, becoming the youngest driver to win a stage in the WRC. Is that still a good memory for you?
EN:
Yes, in some ways. I have good memories from 2009 and I like this rally and I know this rally quite well. This is my fifth time here, I hope this will help.
Q:
You have been close to securing a podium position on the last two events but it just hasn't happened. What can you do here?
EN:
There is no straight answer, everything is possible, but we just need to drive faster – but for that we need everything to be good. We are trying to do our best and to improve our results.
QUESTIONS FROM THE FLOOR
Martin Holmes
Martin Holmes Rallying, UK
Q:
Jari-Matti, 10 years ago you had an experience here. Tell us about it...
J-ML:
I came here as a young boy, 18 years old. This was only my second world rally and I was in a Ford Focus World Rally Car. Before the rally I had many interviews, I never thought there would be so many. I was surprised there was so much interest. It felt nice and exciting. Then the rally started. I was very, very tired on the road sections, I couldn't get used to the heat – it was so hot. We had short nights and long days. Physically, I was alright, but I could have been better. It was so good memory from 10 years ago, I finished 10th overall and that was my best result in the WRC. On the Sunday, I was once faster than Didier Auriol, he was in a Skoda. I was ninth fastest and that meant a lot to me. We had a moment... but I survived. I could make you a story that lasts all day, but we have to stop now. I had no idea with the set-up and my notes were horrible, but there was a lot of passion.
FIA JUNIOR WRC CHAMPIONSHIP
Present:
Marius Aasen
Andreas Amberg
Q:
How did the recce go for you Marius? What did you think of the stages?
MA:
Some places were rougher, but some places were very good too. In some places you have to take care and use your brain not to damage the car too much – especially with this car, which is not as strong as a WRC car.
Q:
What is your strategy for this event? How will you tackle the long stage tonight?
MA:
It's my second time driving in the dark, so I will try to learn. This is a long rally and we will start slow on the first and longest stage. We want to finish that stage with no problems and then push a bit more on the second one.
Q:
You were talking to Mads Østberg, your fellow Norwegian, did he give you any advice?
MA:
He gave me many good advices. I think we have done something right since Portugal and I hope we can carry on like that.
Q:
As you say, you competed in Portugal, what did you learn from that event?
MA:
I learned a lot. That was my first time in Portugal and now this is my second rally. We will try to push, but some places are very, very rough – I think we have done good pace notes and been able to mark the rough places.
Q:
What do you want to achieve this season?
MA: 
I want to learn, but we want to improve ourselves and try to go on the podium at the end [of the season]. We have to think about each rally. It's tough, we will also think about the whole Championship.
Q:
Andreas, you finished fourth in Portugal a couple of months ago and picked up good points for the Championship. What is the aim for this event and 2013 generally?
AA:
This is quite a tough rally, but we are learning all the time.
Q:
How was the recce for you? What have you been doing to prepare for this event?
AA:
It's very difficult for me, it's only my second rally abroad.
Q:
Have you tested for this event?
AA:
Yes. We looked [tested] this morning. The car felt good and we have new tyres. The new fuel works good, it's really good.
Q:
What will your strategy be?
AA:
I try to push maximum.
Q:
Maximum attack?
AA:
Yes.
Q:
Is that a good way?
AA:
The Fiesta is a good car.
FIA WRC 2 CHAMPIONSHIP
Present:
Subhan Aksa
Q:
Subhan, we welcome you to the WRC 2 and we see you compete in the Fiesta RRC this season. What are your thoughts on the car so far?
SA:
We're feeling pretty good. This is my third time in Greece, but only my second time in the Regional Rally Car. I believe the car will be better in the bumps, it will be better for Greece. We want a good result like last year.
Q:
What is the plan for this event? Have you tested beforehand?
SA:
Unfortunately, no. We did two runs and felt good with the car, hopefully we can carry that into the first two stages.
Q:
Talking about those stages, what do you think about tonight?
SA:
We did the recce at night, which helped. But it will be rough with the car. We will see tonight. We haven't decided on spare tyres yet, but we're pretty confident.
Q:
What are your hopes for WRC 2 this season?
SA:
We've learned quite a lot already. The competition is much tougher this year and we are hoping to learn a lot more. The hope is to get better for the following year.
Q:
Who are you comparing yourself with?
SA:
Abdulaziz [Al-Kuwari] is the [WRC 2 Championship] leader and Robert Kubica will be fast, having seen his times in Portugal.
Q:
What do you think will be the biggest challenge for the Junior drivers?
SA: 
Watch out for the ruts. We are using some of these sections three or even four times and when the World Rally Cars have been through, you have to watch for the ruts. It will be rough.
Q:
And what are your hopes for the season?
SA:
We are hoping to reach the same result from the PWRC last season. Luckily, we have extra rounds after we had a disaster in Portugal, but hopefully we can get back on the podium.