2013 Acropolis Rally - Day 2
FIA News Bulletin from Day 2 of the 2013 Acropolis Rally.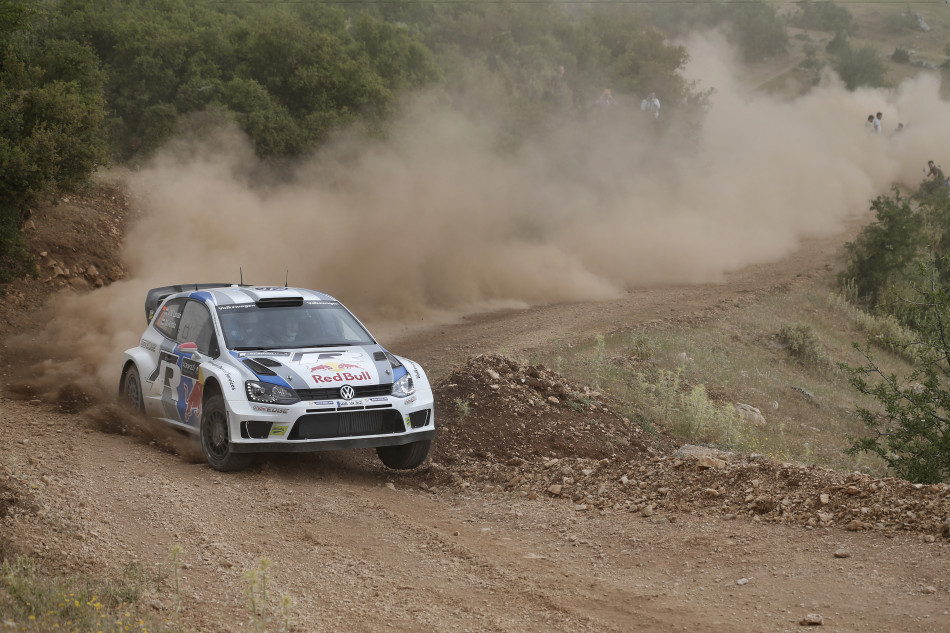 ACROPOLIS RALLY
(31 MAY - 02 JUNE 2013)
RALLY NEWS
Jari-Matti Latvala heads the leaderboard of the Acropolis Rally after 10 of the 14 stages in this, the sixth round of the FIA World Rally Championship. The Finn has stayed out of trouble throughout the day to pull out more than a minute advantage with just Sunday's stages to run. Dani Sordo remains second and Thierry Neuville has climbed one position up the leaderboard to hold the final provisional podium position.
Today's route was the longest of one of the toughest events in the calendar and, like yesterday, the rough rock-strewn stages have taken their toll. In total, the route took in two identical loops of four stages covering 149.56 competitive kilometres. Yesterday's sensation, Evgeny Novikov, maintained his overnight advantage through the opening stage, setting equal fastest time with Latvala. However, in the following stage the Russian hit a stone and broke a wheel, losing him over four minutes as he was forced to stop and change it. As a consequence, he dropped from first to eighth, handing the lead to stage winner Latvala. The Finn then won the following stage, gradually increasing his advantage over Sordo. He and third-placed Neuville have largely run without problems and while each has a reasonable advantage over the other, they remain well ahead of the chasing pack.
Nasser Al-Attiyah has moved from sixth to fourth this evening and has been in the thick of a battle with Andreas Mikkelsen, although the Norwegian has been hampered by brake problems and a puncture in the final stage. Martin Prokop fought hard to maintain position ahead of Mads Østberg, whose bad luck continues. Suspension damage, steering problems and a puncture have all slowed his charge but he has nevertheless moved ahead of Prokop and from ninth to sixth this evening. Mikko Hirvonen has been lucky to escape with just a puncture and broken wheel today and Evgeny Novikov's problems continued during the day; a broken brake disc, damaged suspension and a spin have all conspired to keep him in ninth position this evening. FIA World Rally Championship leader Sébastien Ogier started the day in 23rd position, having been forced onto the side-lines with fuel pressure problems yesterday, and has climbed into 10th overall. Eleventh is held by Formula One star Robert Kubica, the Pole also leading the FIA WRC 2 Championship category by more than two minutes.
Acropolis Rally – Unofficial Results after Day 2
1.   Jari-Matti Latvala/Miikka Anttila

2.   Dani Sordo/Carlos Del Barrio

3.   Thierry Neuville/Nicolas Gilsoul

4.   Nasser Al-Attiyah/Giovanni Bernacchini

5.   Andreas Mikkelsen/Mikko Markkula

6.   Mads Østberg/Jonas Andersson

7.   Martin Prokop/Michal Ernst

8.   Mikko Hirvonen/Jarmo Lehtinen

9.   Evgeny Novikov/Ilka Minor

10. Sébastien Ogier/Julien Ingrassia

Volkswagen Polo R WRC

Citroën DS3 WRC

Ford Fiesta RS WRC

Ford Fiesta RS WRC

Volkswagen Polo R WRC

Ford Fiesta RS WRC

Ford Fiesta RS WRC

Citroën DS3 WRC

Ford Fiesta RS WRC

Volkswagen Polo R WRC

2 hr 32 min 42.8sec

2 hr 33 min 46.9sec

2 hr 34 min 25.9sec

2 hr 36 min 28.9sec

2 hr 36 min 54.6sec

2 hr 38 min 09.1sec

2 hr 38 min 33.1sec

2 hr 40 min 35.0sec

2 hr 40 min 58.9sec

2 hr 43 min 12.3sec