Young drivers support road safety at Wales Rally GB
M-Sport Stobart Ford World Rally Team driver Matthew Wilson heads a crop of young rally drivers leading the way in helping to promote road safety.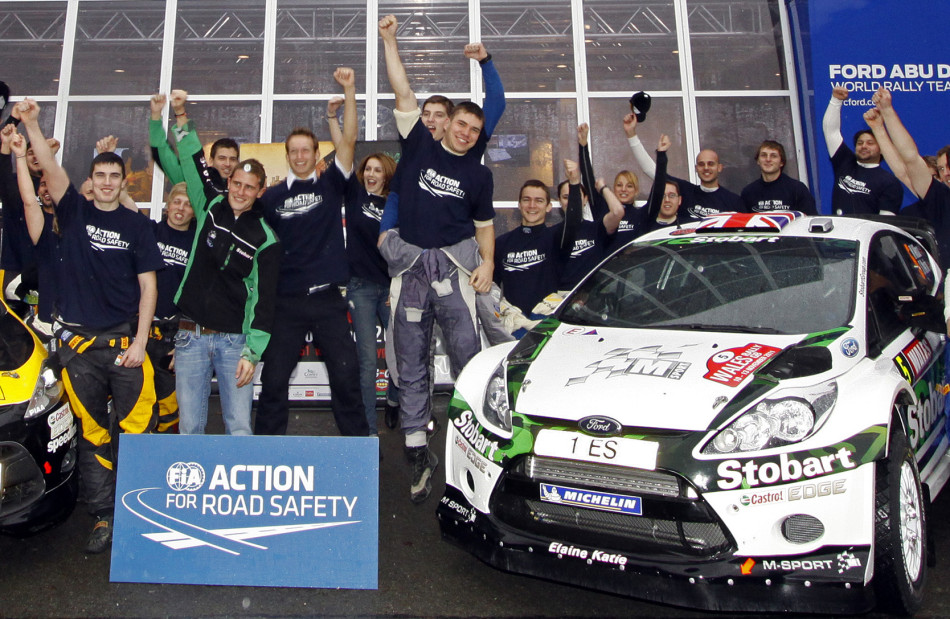 The 24-year old Englishman is lending his support to the Royal Society for the Prevention of Accidents (RoSPA) in Wales, while three of his younger fellow rally drivers are all taking part in activities to help raise awareness of the FIA's Action for Road Safety campaign which it is running in association with Michelin.
Wales Rally GB - the final and decisive round of the 2011 FIA World Rally Championship - RoSPA and Wilson are aiming to raise awareness to prevent needless accidents on Welsh roads involving young drivers aged between 18 and 24. This segment makes up only 11 per cent of people who hold a driving licence in Wales, however it was responsible for 22 per cent of all motorised vehicle accidents in 2010. What's more, 14 per cent of all drivers involved in accidents were young men aged between 18 and 24.
Commenting on his support for the campaign, Matthew Wilson said: "I was saddened to hear that such a big percentage of accidents in Wales involve young drivers, many of whom are the same age as me. I strongly believe that to be safe on the road all drivers must understand their limitations. They must build an astute knowledge of the demands of driving and also understand the capability of their vehicle. Much of this reflects the demands of being successful in motorsport - I have an inherent respect for my car and maintain focus at all times in order to keep myself and my co-driver safe."
Up and coming rally stars Craig Breen, Egon Kaur and Kevin Abbring are also committed to driving the safety message.
Twenty-one year-old Irishman Breen, who is currently second overall in the WRC Academy Cup, is an ambassador for Motorsport Ireland's road safety activities and also supports the 'Keep the Race in its Place' campaign.
Breen said: "I love driving. In or out of competition, I love it, but I also recognise that there's a time and a place for everything and it's more than possible to have fun and drive safely. When I get out on the stages in a rally car it's full attack, but equally I would never dream of letting that cross over to my driving off the stages. Road safety measures are put in place to protect us and the risks we put ourselves at when we don't respect them are terrifying. The FIA Action for Road Safety campaign reminds us that when we take risks on open public roads we endanger ourselves and everyone else."
Fellow WRC Academy driver and leader of the Cup, Egon Kaur (Estonia), along with 22 year-old Kevin Abbring, both had the honour of being part of the 2011 FIA Institute Young Driver Excellence Academy and, in the final road safety workshop in October, both successfully qualified as 'Road Safety Trainers'. Talking about how he plans to use this qualification to further improve safety in his home country, Kaur said: "Road safety is so important. Motorsport events take place in the safest possible environment and new measures are continually being put into place to increase that safety. Unfortunately accidents still happen, but we need to – and do – always try to learn from them as we move forward. It's even more crucial to recognise possible threats to the public roads where safety measures are lower. I hope that as an ambassador for road safety I can help to get that message across, spreading the word at events and through campaigns to increase awareness."
Dutchman Abbring also won the 'Driver of the Academy' award for the inaugural FIA Institute Young Driver Excellence Academy. His ability on the track and his understanding of the safety elements impressed the FIA Institute throughout the year. He has already expressed his commitment to be an ambassador for the Institute, advocating the Academy-learned safety messages. He said: "Three thousand people die every day on the roads, 30% without any contact with other road users, due to a loss of control, which is bad and sad. Many people are unaware of the advantage of having ABS or ESC on board, or they use it in the wrong way. Increased knowledge and education on road safety would reduce the number of fatal accidents and many injuries, sometimes even avoiding an accident altogether. We all make mistakes, but if we give road users access to useful knowledge, we can do something about it! We can stop – or at least clearly reduce the danger on our roads. Due to the FIA Institute, we rally/race drivers compete in a very safe environment and we take safety very seriously, whether we're driving a lap around a circuit or home from the local supermarket!"
The FIA Action for Road Safety campaign sees the FIA's global family working together and drawing on its unique resources and reserves to unleash a wave of support to help reduce traffic related deaths and injuries worldwide.
The FIA Action for Road Safety supports the United Nations Decade of Action for Road Safety 2011-2020, an initiative that aims to stabilise and then reduce the number of deaths on the road. The goal is to save five million lives in 10 years and the FIA's campaign has already received support from across the motoring and motor sport spectrum.