This page contains archived information and may not display perfectly
Yazeed Al-Rajhi extends his FIA World Cup lead with comfortable Saudi Baja 2022 Hail victory
Saudi Arabia's Yazeed Al-Rajhi extended his Drivers' Championship lead over Czech rival Miroslav Zapletal to 10 points after confirming a start-to-finish victory at the Saudi Baja 2022-Hail, the seventh and penultimate round of the FIA World Cup for Cross-Country Bajas.
The Overdrive Racing Toyota Hilux driver teamed up with Germany's Dirk von Zitzewitz again and wins on each of the two challenging selective sections across the An Nafud desert to the west and northwest of the city of Hail enabled the Riyadh driver to build up a winning margin of 24mins 28sec. Second place for Czech Miroslav Zapletal (Ford F-150 Evo) and his Slovakian navigator Marek Sykora keeps them in the hunt for the title.
Al-Rajhi's co-driver Von Zitzewitz said: "As we expected it was not so easy. We were not sure how the desert would react with all this rain we have had. We took it quite easy in the first part. We did not want to risk anything stupid because we were lying in a good position. But, in the second part, we speeded up a little bit. There was some navigation involved and some soft dunes and nice climbs through a pass. It was quite challenging and many guys got trouble. Everything went well and Yazeed did a great drive. The Hilux worked well. It was a beautiful stage and we are very happy that we could win this race."
Fernando Alvarez and Xavier Panseri rounded off the podium places in a South Racing Can-Am Maverick X3 and that result earned the Spaniard the 2022 FIA T3 Drivers' Championship title and moved him up to outright third in the overall points' standings behind Al-Rajhi and Zapletal.
Alvarez said: "It's a dream come true for me to win a World Championship. The race almost didn't happen for me due to travel cancellations to get all the way from Argentina to Hail. But, in the end, it was a great race. Thanks to Xavi and the team for a great year and we still look forward to racing in Dubai to finish the championship."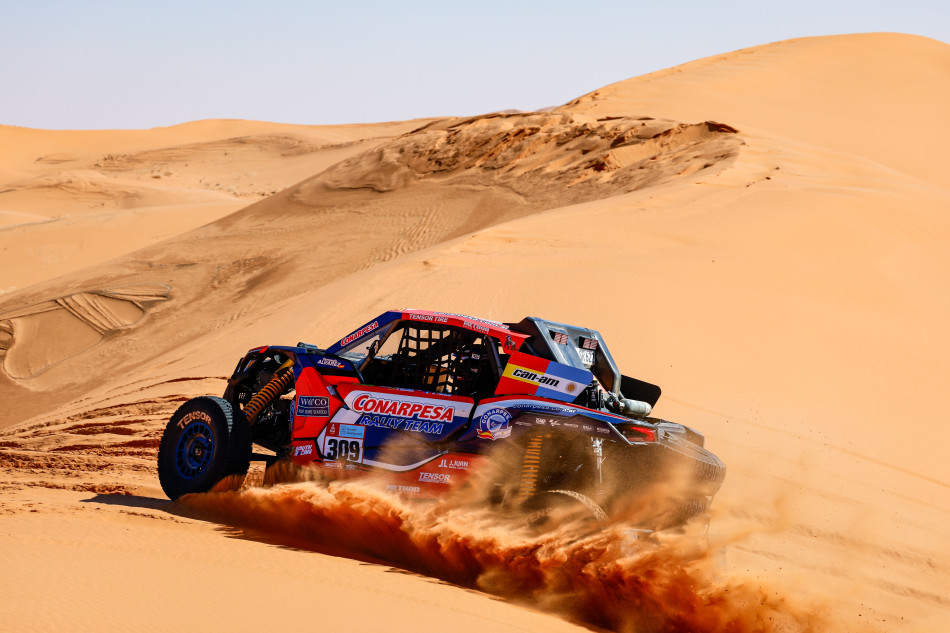 Brazilian driver Cristiano de Sousa Batista teamed up with Portugal's Fausto Mota and finished fourth overall and earned maximum FIA T4 points. South Racing Can-Am team mate Eduard Pons came home in sixth. The result means that de Sousa now holds fourth in the overall FIA World Cup Bajas Drivers' Championship and will go head-to-head with Meshari Al-Thefiri to decide the outcome of the FIA T4 series in Dubai next month. The duo are unofficially separated by just one point.
Al-Thefiri and Spanish co-driver Oriol Vidal suffered electrical issues on the first desert selective section and slipped to the foot of the general classification. South Racing colleague Kees Koolen had held second in T4 before the final stage but technical issues cost the Dutchman dearly as well and also ruined his slim chance of challenging Al-Thefiri and de Sousa Batista for the title.
Al-Thefiri said: "We had changed the engine but still suffered in the car with some electrical problem which forced the engine to shut down many times. We managed to restart but the problem worsened after the neutral section."
Dania Akeel came home in seventh overall and second of the registered FIA World Cup's T3 drivers to maintain a similar position in the T3 rankings, while Lithuanian's Egidijus Valeiša was eighth in a Can-Am and Mashael Al-Obaidan finished 10th.
The three-day event laid on by the Saudi Automobile and Motorcycle Federation (SAMF) also hosted the third and penultimate round of the FIA Middle East Cup for Cross-Country Bajas.
Aliyyah Koloc was able to enter the FIA category at the 11th hour and the Emirati female driver reached the finish in fifth overall with French co-driver Stéphane Duplé. That result earned the Buggyra Can-Am DV 21 driver crucial points towards the FIA Middle East Cup and enabled her to pull further clear of Saudi Arabia's Hamed Al-Harbi in both the Drivers' Championship and the FIA Middle East Cup's T3 series.
Al-Harbi had looked set to take points from Koloc until he hit technical trouble midway through the final 183.42km Farhaniyah selective section to the west of Hail. The Saudi eventually reached the finish in ninth overall with Ukrainian navigator Dmytro Tsyro.
Al-Harbi said: "Around 50km before the finish we broke the belt and it took a long time to remove it and we put a new belt on and we lost around 10 minutes. That's why we dropped down to ninth and second in Middle East."
Local Nissan Patrol driver Khaled Al-Feraihi teamed up with Frenchman Sébastien Delaunay and lost out on a potential fourth overall with broken steering on the final day. Delaunay explained: "We hit a big bump and we broke the steering. We finished the first part of the stage but we arrived at the neutralisation and it was too late. We make more than 50% of the stage and got the car into Parc Fermé, so we lose a lot of time and are not in a good position in the overall classification."
Italian female driver Camelia Liparoti finished 12th overall and collected valuable Middle East Cup points in her T4 Yamaha YXZ 1000 R. The San Marino driver now heads to Dubai aiming to win the T4 title. Four female drivers finished inside the top 12 for the first time on an FIA international Baja.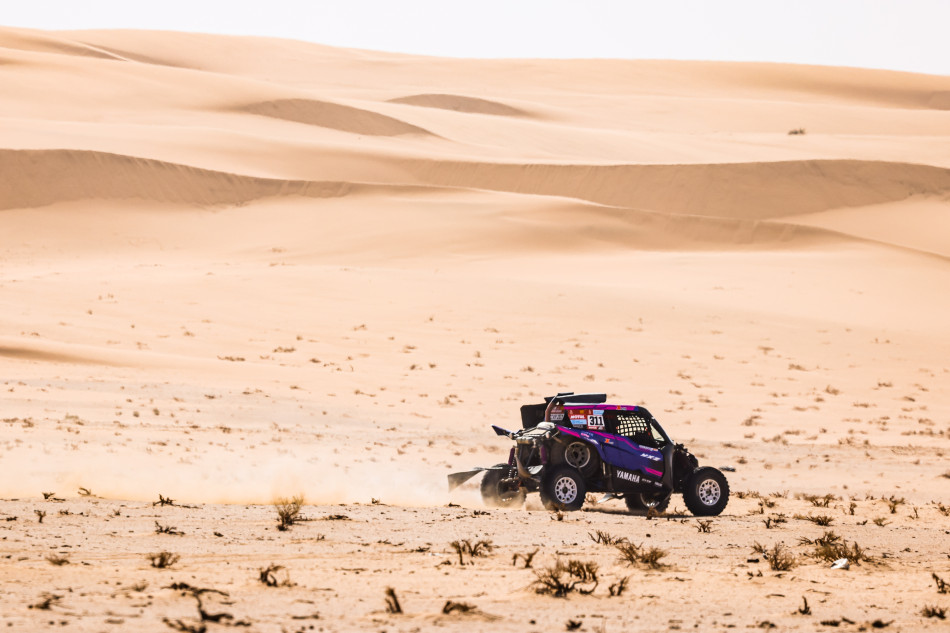 Qatar's Mohammed Al-Attiyah was partnered by Emirati co-driver Ali Mirza, but the South Racing Can-Am crew lost their chance of a good finish after an accident on leg one. Mirza said: "Unfortunately, after 10km, we had an accident and we broke the car.  We tried to overtake the driver (Camelia Liparoti) in front while descending a hill, but we landed on the front tyres and rolled over."
Local drivers Majed Al-Thunayyan and Yayha Ali Abdu were disqualified from the FIA event on the grounds that their Nissans failed stringent pre-event technical scrutineering, while Maha Al-Hameli (Can-Am) also dropped out of the FIA event and into a smaller national Baja.
Saudi Baja 2022-Hail– final result:
| | |
| --- | --- |
| 1. Yazeed Al-Rajhi (SAU)/Dirk von Zitzewitz (DEU) Toyota Hilux Overdrive | 4hr 18min 55sec |
| 2. Miroslav Zapletal (CZE)/Marek Sykora (SVK) Ford F150 Evo | 4hr 43min 23sec |
| 3. Fernando Alvarez (ESP)/Xavier Panseri (FRA) Can-Am Maverick X3 (T3) | 4hr 47min 55sec  |
| 4. Cristiano Batista (BRA)/Fausto Mota (PRT) Can-Am Maverick XRS Turbo RR (T4) | 4hr 56min 27sec |
| 5. Aliyyah Koloc (ARE)/Stéphane Duplé (FRA) Buggyra Can-Am DV21 (T3) | 4hr 59min 17sec |
| 6. Eduard Pons (ESP)/Mónica Plaza Vasquez (ESP) Can-Am Maverick XRS Turbo (T4) | 4hr 59min 29sec  |
| 7. Dania Akeel (SAU)/Sergio Lafuente (URY) Can-Am Maverick X3 (T3) | 5hr 03min 42sec |
| 8. Egidijus Valeiša (LTU)/ Mindaugas Varža (LTU) Can-Am Maverick XRS Turbo (T4) | 5hr 04min 00sec  |
| 9. Hamed Al-Harbi (SAU)/Dmytro Tsyro (UKR) Can-Am Maverick X3 (T3) | 5hr 10min 07sec |
| 10. Mashael Al-Obaidan (SAU)/Wouter Rosegaar (NLD) Can-Am Maverick X3 (T3) | 5hr 19min 32sec |
| 11. Saeed Al-Mouri (SAU)/Ata Al-Hmoud (JOR) Can-Am Maverick XRS Turbo (T4) | 5hr 24min 00sec |
| 12. Camelia Liparoti (ITA)/Taye Perry (DEU) Yamaha YXZ 1000R (T4) | 5hr 54min 36sec |
| 13. Kees Koolen (NLD)/Paolo Ceci (ITA South Racing Can-Am Maverick XRS Turbo (T4) | 6hr 00min 02sec |
| 14. Saleh Al-Saif (SAU)/Tariq Saleh Al-Rammah (SAU) Can-Am Maverick X3 (T3) | 17hr 04min 07sec |
| 15. Muneef Al-Shammeri (SAU)/Khalid Al-Bakr (SAU) Isuzu D-Max (T2) | 17hr 16min 50sec |
| 16. Mohammed Al-Attiyah (QAT)/Ali Mirza (ARE) Can-Am Maverick X3 (T3) | 30hr 57min 45sec |
| 17. Meshari Al-Thefiri (KWT)/Oriol Vidal (ESP) Can-Am Maverick XRS Turbo (T4) | 55hr 12min 06sec |