WTCR - Yann Ehrlacher storms to "best win" on the Nordschleife in WTCR
2020 WTCR Race of Germany - Race 2 report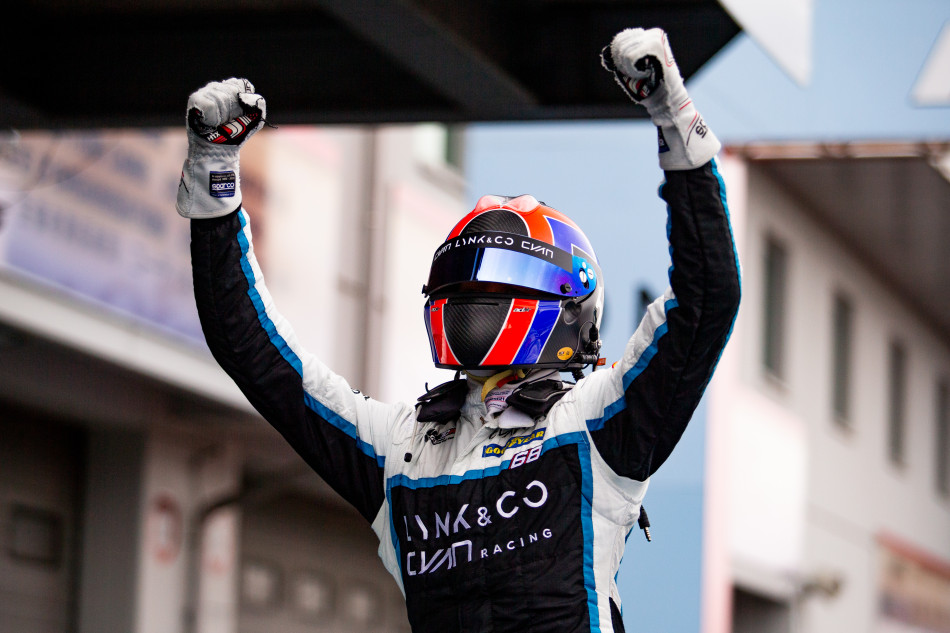 Yann Ehrlacher overtook DHL Pole Position starter Néstor Girolami to win Race 2 at WTCR Race of Germany as the Goodyear #FollowTheLeader extended his points advantage on a slippery Nürburgring Nordschleife.
The Cyan Racing ace slipstreamed his Lynk & Co 03 TCR ahead of Girolami's ALL-INKL.COM Münnich Motorsport Honda Civic Type R TCR on the long Döttinger Höhe straight at the end of the first lap of the legendary 25.378-kilometre track to score his second win of the 2020 WTCR – FIA World Touring Car Cup season.
"It's such an amazing feeling to win a race on the greatest track in the world," said an overjoyed Ehrlacher, 24, who also collected the TAG Heuer Best Lap Trophy. "I can't believe we won on the Nordschleife in those conditions. It's the best win of my career, absolutely insane. It's good for the team and for the drivers' championship."
Girolami, second in the points before the race, suffered a blow to his title hopes when he was penalised 30 seconds for a start procedure violation. The regulations allow for two reconnaissance laps and one pass through the pitlane prior to lining up on the grid. However, in error, Girolami completed three reconnaissance laps, passing through the pitlane twice.
Thed Björk completed a Cyan Racing one-two after passing Girolami on Döttinger Höhe on the second lap, with Attila Tassi inheriting the final podium position from his penalised ALL-INKL.COM Münnich Motorsport team-mate. Girolami was classified in P11 after his penalty was applied.
Behind Tassi, Mikel Azcona scored a brilliant fourth place in Zengő Motorsport's new CUPRA Leon Competición after passing Race 1 winner Esteban Guerrieri on the run to the finish.
Jean-Karl Vernay (Team Mulsanne Alfa Romeo Giulietta Veloce TCR by Romeo Ferraris) held off Yvan Muller's Lynk & Co to finish seventh and win the WTCR Trophy. Tom Coronel was eighth in his Comtoyou DHL Team Audi Sport Audi RS 3 LMS, despite having started fifth on the grid. The Dutchman lost ground when he slid into the gravel at Aremberg on lap one.
Tiago Monteiro placed ninth in his Honda as Santiago Urrutia's Lynk & Co completed the top 10 from the back of the grid, ahead of Girolami. Nathanaël Berthon was P12 in his Comtoyou DHL Team Audi Sport entry, in front of the CUPRAs of Bence Boldizs and Gábor Kismarty-Lechner.
WTCR Rookie Driver award contender Gilles Magnus, who is competing with the support of the Belgian federation's RACB National Team initiative crashed out on lap two in his Comtoyou Audi.