WTCR - Magnus wins as WTCR concludes with a thriller
FIA WTCR - Race of Saudi Arabia - Race 2 report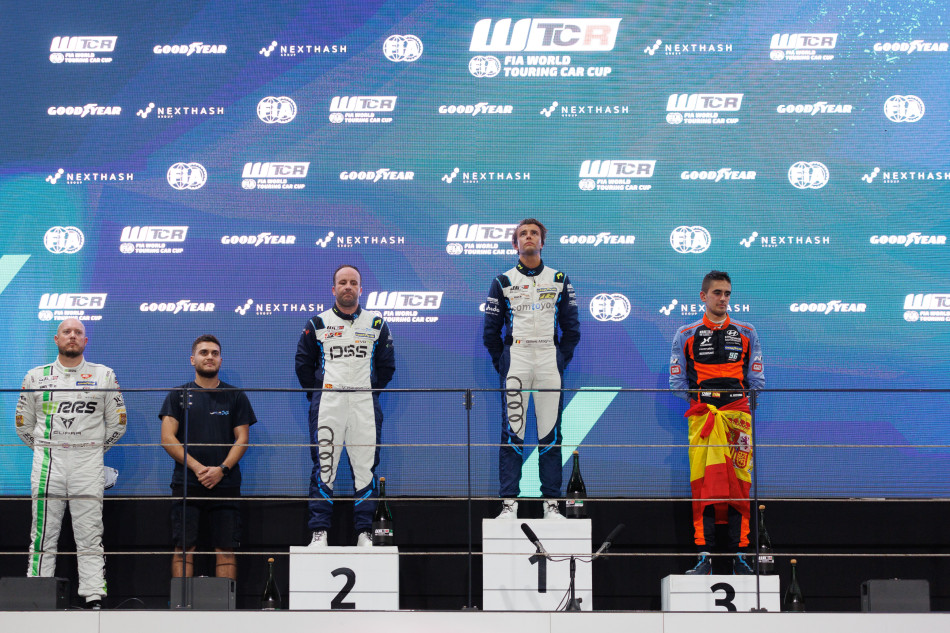 Gilles Magnus won the final WTCR – FIA World Touring Car Cup race of the current era after Attila Tassi, the early Race 2 leader in Saudi Arabia, was knocked out in a dramatic collision at Jeddah Corniche Circuit.
Tassi led from pole position in his LIQUI MOLY Team Engstler Honda Civic TCR. He survived a move from ALL-INKL.COM Münnich Motorsport's Esteban Guerrieri, who braked too late at Turn 1 on lap two and spun. Then the following lap Comtoyou Racing's Franco Girolami made a move on the inside of Nicky Catsburg's BRC Hyundai N Racing Team Elantra N TCR for second place – and wiped out both Tassi and Catsburg in one go.
That left Magnus with a clear lead, the Belgian scoring his third WTCR victory of the season in a race that finished under the Honda Civic Type R Limited Edition safety car following a collision between Nathanaël Berthon and Rob Huff. Berthon's retirement confirmed ALL-INKL.COM Münnich Motorsport's Néstor Girolami as runner-up in the points to new King of WTCR Mikel Azcona*.
"Man, did I need this," said a delighted Magnus. "For the team, for myself, for my confidence. We've been through tough times. Bahrain was tough. Even now here in Q3 I made a mistake which should not have happened. I was a little disappointed and this was exactly what I needed to end the season and to have some self-confidence for the upcoming  year."
Front row starter Viktor Davidovski dropped many places at the beginning, but the dramas ahead of him allowed the Comtoyou Racing wildcard to rise back to finish second, completing a team 1-2. "Impressive, I'm really impressed by Viktor and I'm really happy for him," said Magnus, who ended the previous round in Bahrain by taking out former team-mate Mehdi Bennani in a Race 2 collision. "I'd like to take this moment to thank Comtoyou for all they did in Bahrain," he said. "They didn't sleep all night and I felt so bad for these guys. Now I can give something back I'm really happy."
"This is an amazing weekend for me," said Davidovski, from North Macedonia. "Maybe I put too much pressure on myself at the start and I made a mistake. But after three laps I returned to my position and I was behind Magnus, and finished second. I am very happy. The feeling to take a podium in WTCR is fantastic."
Azcona also benefitted from the incidents ahead of him to complete his WTCR title year with another podium finish, in third place. "A very good way to finish the season," he said. "Honestly I didn't expect it after the first race result, but in front of me in the first two laps were many crashes and I was lucky. I got lucky, I took some positions because of that. But in the end you have to be there. So I'm very happy with his podium position and a fantastic season. Very good to finish like this on the podium."
Behind Azcona and his BRC Hyundai N Squadra Corse team-mate Norbert Michelisz, who finished fourth, Berthon chased Huff for almost the entire race, with Comtoyou DHL Team Audi Sport team-mate Tom Coronel riding shotgun behind him. Berthon tried everything to pass the Zengő Motorsport CUPRA Leon Competición as he chased points in his efforts to depose Néstor Girolami as WTCR runner-up, but Huff defended every move. Then on lap 18 the Audi went on the inside of the CUPRA at the final turn, but the two cars made contact and Berthon was left stranded with a broken right-front wheel. The clock was running down on the race and the season and it ran out before racing could resume.
Huff kept going to finish fifth and win the WTCR Trophy ahead of Coronel, with Dániel Nagy seventh for Zengő despite initially being left standing at the start. Néstor Girolami was eighth and secured second position in the points, ahead of Tiago Monteiro in ninth and local hero Ahmed Bin Khanen in P10. Guerrieri recovered from his lap two spin to be classified in P11.
*Subject to confirmation of the results by the FIA