This page contains archived information and may not display perfectly
WTCR - WTCR Race of Slovakia - Race 3 press conference transcript
Ma Qinghua, Norbert Michelisz, Kevin Ceccon and Néstor Girolami attended the Race 3 press conference at WTCR Race of Slovakia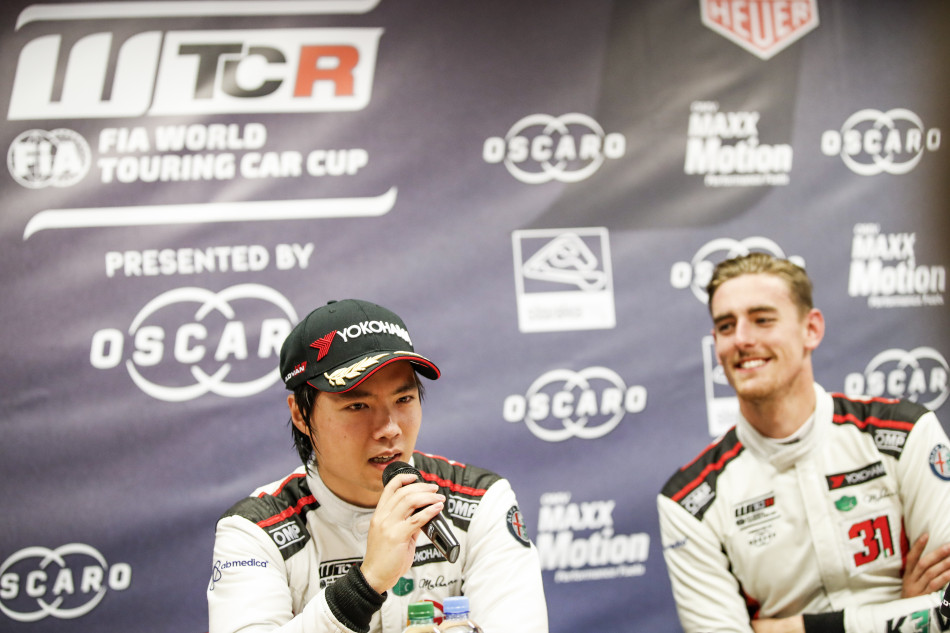 In attendance:
Ma Qinghua, Team Mulsanne, first position, Race 3
Norbert Michelisz, Hyundai N Squadra Corse, second position, Race 3
Kevin Ceccon, Team Mulsanne, third position, Race 3
Néstor Girolami, ALL-INKL.COM Münnich Motorsport, first position Race 2

Q:
Ma, your first WTCR / OSCARO victory and it all came from that great start. Tell us about it.

MQ:
Yeah, first of all I'm really, really happy. Thanks a lot to the team for their hard work. It was a difficult day for us, the weather was really demanding, changing which was never going to be easy, but in Race 3 it was a bit more stable. Anyway, the start of the race was again, I did a really fantastic start to get in front. I tried to find a gap, but in the race lap by lap it really is not easy because these guys are really fast and he [Michelisz] never gave up to try and catch me and try to make some trouble for me. There were lots of difficult moments, but in the end I made it. My team-mate I saw in the mirror and I was thinking 'come on, you need to push a bit more! In the end we made it and I won the race, so really happy and thanks again for Team Mulsanne.

Q:
You mentioned the pressure from Norbert Michelisz. What was that like and how did you keep him at behind you?

MQ:
At that moment I was just trying to be focused and not be disturbed by any emotion, because I know Norbi is one of the best fighters on our grid, for sure. He is really aggressive and consistent as well, so I'm really happy to be in this position, but also feel very hard in this position. But I made it and so when I crossed the finish line on my last lap I thought 'finally! We made it!'

Q:
Norbi, another near-miss for victory. But how good was your performance today with some really good points in Race 1 and Race 3.

NM:
Yes, I really wanted to win, but after the start you realise it was quite impossible even if I do the best start of my life to keep them behind. I don't know what they do to their car, but it's just fantastic the launch they are doing. I was P3, but then I saw Nicky struggling a bit. I don't know what happened to him. Then I got to P2 and I just went for it. Fortunately, I was able to close the gap to Ma and then he didn't do big mistakes. I tried to stay close and go side by side, but although I was a bit faster in the second part of the race it was never a possibility to overtake. So big congrats to him, to Kevin, to Nestor because they all did a fantastic race weekend. From my side, I didn't win a race but I finished twice on the podium. I guess it's important points for the championship which is the most important thing.

Q:
There was a time in that race where you couldn't get the victory, but you also had big pressure from Kevin. What was that like?

NM:
Yeah, that was the big problem, to be honest, because they did really good team work. I think without Kevin probably my chances would have been much higher to overtake Ma, but he always joined us. I started to fight with Ma and we lost some time, so Kevin joined in. Then I started to fight with Kevin and then Ma disappeared. We played this game two or three times. It was good fun. I really enjoyed fighting with this kind of racers, these kind of people, because they hard, they are tough but we always leave each other just the necessary room on track. I hope it was fun for them too.

Q:
Kevin, at this circuit last year you made your WTCR / OSCARO debut here, and now you are finishing on the podium twice. This must have been a fantastic weekend for you?

KC:
It's a good weekend. And Richard, I talked to you in Hungary when we spoke and you interviewed me and I told you that for me, Slovakia is going to be important because it is one year for myself in WTCR. I think it's been a good year. I scored two podiums in Suzuka, one win, and two podiums here so I'm growing well, I'm improving and I am learning. Because as I say last year here when we met the first time and when I did my first interview here I said it was going to be tough. I'd never driven a front-wheel-drive car, it will be my first time in touring cars, bumper to bumper. But today we proved, as Norbi said, it's a good show because we fight really hard. He was on the inside with two wheels on the grass, I was on the outside with two wheels on the marbles, at 200kph. As Norbi said, we just give each other the room we need – and no more! And in the same corner at the start I had a touch with Guerrieri at 200kph, and it's what people at home and in the grandstand like, and so I am really happy. I am also happy because we did amazing team work and I took some of the pressure of Ma Qinghua from Norbi. We are pushing each other to the limit every time, trying different set-ups as well and sharing information. It's a very good job. At the start of the season it was OK in Marrakech, we scored some points. In Hungary we struggled really a lot, but here we came back with an amazing weekend for both us and proved that the Giulietta TCR and the Team Mulsanne can be on the top wave with all the big teams.

Q:
You talk about racing at 200kph. Your mother was here today! What did she think?

KC:
It's good, I dedicated to her a podium and the second one to Michaela Cerruti, the operational manager at the team, who is a new mum. But I think my mum today lost 10 years of life because she is not used to that, and she's a normal person leading a normal life, and she has a son like me so it's a disaster for her… She cried, so I don't know whether she was happy or not!

Q:
And we come to you, Néstor. You had a brilliant second race. Just explain how it was for you

NG:
First I would like to congratulate Ma for his race victory and also Norbi and Kevin for their podiums. For us, it was a really good weekend, again. We knew this weekend would be complicated by the weight compensation, but we did a really good job in qualifying, which was the first good step of the weekend. But then you need to finish the race, and for me Race 1 was not good. I received a hit and my front left suspension was broken, and I had to retire from the race. The mechanics did a fantastic job to prepare me a car for Race 2, so we had a really good start and we took the first place for a couple of metres, but Rob [Huff] paid back really soon because he did a see-saw after T1. Really well done to him. And then I overtook him in T3 after a little mistake from Rob. He was little big wide. After that I saw Esteban in my mirrors and the team said keep the positions and try to score as many points as we can, this is how we work. It's a pretty good result for the team and also for Honda who have done an amazing job this year. It's been an amazing start of the season for me and for the team, so I'm really looking forward to Zandvoort.

Q:
Without wanting to take the smile off your face, Race 3 didn't quit go to plan…

NG:
Now I lead the championship everybody wants to hit me a little bit! I receive in T2 in Race 3 a hit from behind again and I was out of the track, going into the gravel. I was lucky because I could go back on to the track, but lost some positions. Then at the end I had some trouble with some electronical problems, so I was last again. Not so many points in Race 3, but overall it's a good result for us.