This page contains archived information and may not display perfectly
WTCR - WTCR Race of Slovakia - Race 1 press conference transcript
Frédéric Vervisch, Ma Qinghua and Norbert Michelisz attended the Race 1 press conference at WTCR Race of Slovakia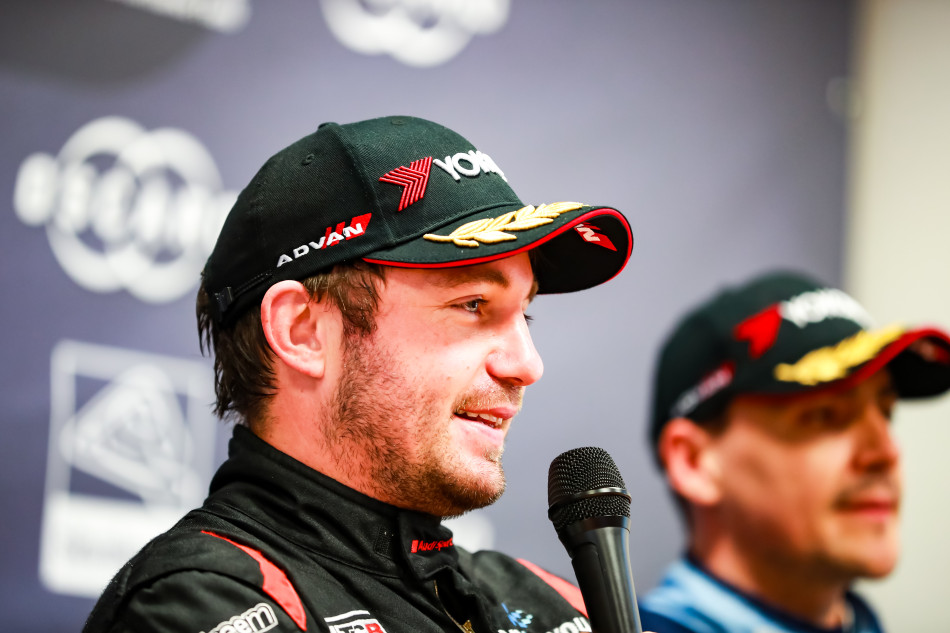 In attendance:
Frédéric Vervisch, Comtoyou Team Audi Sport, first position
Ma Qinghua, Team Mulsanne, second position
Norbert Michelisz, Hyundai N Squadra Corse, third position

Q:
Frédéric, your first victory of the season and your second in WTCR / OSCARO. What a performance. How to did you pass so many cars from ninth on the grid in that first lap?

FV:
I think it was down to the circumstances. It was quite dry, but there were still some wet patches and everybody was looking around. I think I was in a good spot, let's say. I was lucky because in Turn 3 I got hit from the back and was pushed wide, but didn't go off luckily. And then I seemed to have very good pace compared to the people around us, which I didn't expect. It was great. Then I had a fight with Ma and he was very, very fair. I was afraid that the Hyundais would eat us, but our pace looked a bit stronger than expected.

Q:
You mentioned that great battle with Ma. What did it feel like when you got that lead and how much pressure were you feeling in those closing laps?

FV:
Not so much, not like last year for example. I thought I could at least do the same lap times or go away. So it was just a matter of the circumstances not changing too much. I was not really praying for more rain in that race, that was the only danger. It was just about not going off and doing the laps, but once you are in the front you are very focused and don't think about anything other than doing your laps. The pressure was not huge at that point.

Q:
Before the season you talked about your title aspirations, but it hasn't been the best of starts to 2019 for you. Does this make up for that?

FV:
Yeah, I was disappointed after qually two on Friday. I said something like OK, it will be difficult to be a championship contender. But now you win from P9, which you don't expect. This is a championship where so many things can happen, so we need to keep pushing. Maybe if you are a bit lucky let's see what we can do.

Q:
Ma, you joined WTCR / OSCARO towards the end of last year, but this is your first full season and now you are on the podium after a tricky start to your campaign. Just explain your transformation in form since Barcelona testing to this podium finish.

MQ:
First of all, thanks to the team and their hard work. For us it was really difficult when we arrived in Barcelona. This was my first time to touch my race car this year, so the time was really tight. With such time we didn't have the chance to try many things, so there are still quite a lot we don't now on the technical side of the car. Every race in the first two events we were testing a little bit and trying something. It was really hard because in a race weekend you take the risks and you need to fight at the same time, so it's not easy. Anyway, things we good today and also on Friday in qualifying when we got a really positive result. More than that I'm really happy to find a good direction to improve the car and also myself, to be in the right window. We had a really good qualifying on Friday and today I made a mega start to be in the front, then the situation was really difficult because for me the track is really unknown, so I tried to push but not too crazy. In the end I think we did a really good race and I finished second. This is the first podium for our team this season and I am really happy. We still have two races to go this afternoon, so we need to keep our heads down. Thanks again to the team.

Q:
Norbi, you were on the front row of the grid, then this white car came charging through the middle of you and Nicky Catsburg. What were you thinking at that point?

NM:
To be honest, before the start I thought it was going to be tricky. I think we were a bit unlucky with having damp circuit compared to the guys on the other side, so I expected a close fight in Turn 1. After Ma overtook me and Nicky as well I tried to be conservative in taking the inside line and then just wait and see what happens. I managed to be P2, but then in braking for Turn 3 I received a hit from behind and went sideways and this allowed Fred to overtake me on the outside. Overall, finishing P3 is not the end of the world. We have two races in the afternoon, so a good chance to win at least one race this weekend.

Q:
From what you learnt in the conditions today, which of course could change later, what can you do in that final race when you will start from the front row?

NM:
OK, if you are in front you are hoping for constant conditions. To be honest, for me if it is dry or wet it doesn't make a big difference. Just what we had today, when it was damp, makes it quite tricky. If I can wish for something it's not to have these in-between conditions for the afternoon, just dry or wet.