WTCR - WTCR Race of Germany Race 2 virtual press conference
WTCR - 2020 WTCR Race of Germany - Post Race 2 press conference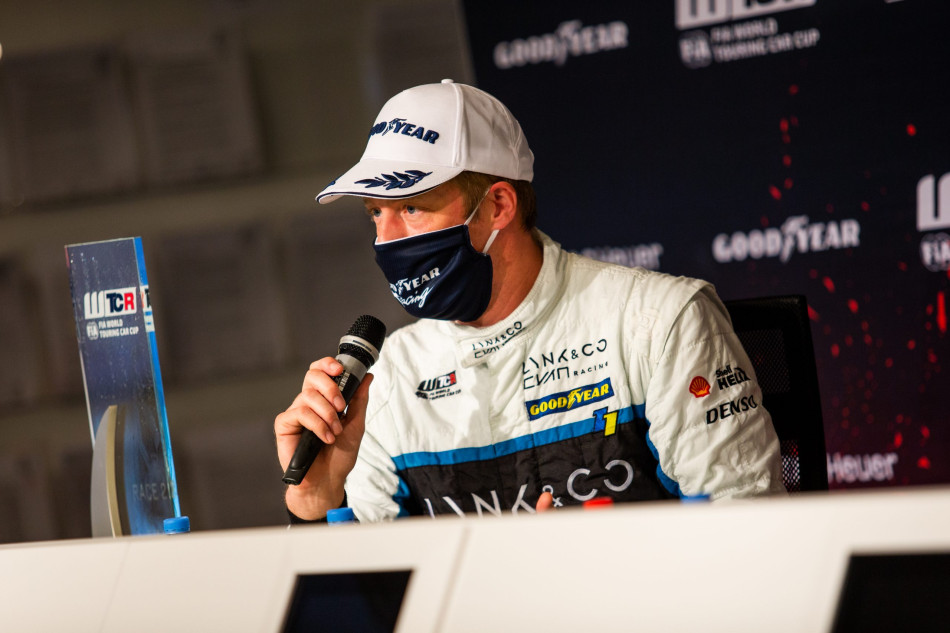 In attendance:
Yann Ehrlacher, Cyan Racing Lynk & Co, first position
Thed Björk, Cyan Performance Lynk & Co, second position
Attila Tassi, ALL-INKL.DE Münnich Motorsport, third position
Jean-Karl Vernay, Team Mulsanne, WTCR Trophy winner

Q:
Yann, you just said "that was the lap of my career". Talk us through it.

YE:
Hello everyone and well done to the gents with me on the podium. Definitely it was a really good race for us. The start was not bad even if it was behind the safety car. I was a bit cautious in the first few corners and the first part of the Nordschleife because the conditions were changing quite quickly on this long track, then I just prepared my move on Bebu at the end of lap one. And on lap two I pushed like hell to make a big lap and definitely that was one of the craziest laps of my career. Then on lap three I was just managing the gap, and here we are leading the championship and winning this race, which is one of the craziest I have ever done, so I'm really happy about that.

Q:
Just how tough were those conditions out there?

YE:
Honestly, the feeling we had out there was absolutely insane, not even comparable to something we have on other tracks. It's like you are driving on the edge if you make a 30cm mistake on your line or you are off on your braking. The conditions are changing corner after corner, drier, wetter and so on. It's absolutely insane.

Q:
Thed, P2 for you and well deserved after an intense battle with Attila Tassi and a nice overtake of 'Bebu'.

TB:
Yes, it was a very good race for me. As Yann said, we can even be thankful it was not storming even worse with a lot more rain on the track, but still no mistakes because it is so slippery if you just miss the line. It's a big challenge and for me it was a fantastic race. Attila was fighting hard and he didn't want to let me go. I think some of my experience maybe [helped], but I'm now teaching him some of my tricks so it's not going to end well later! But it was a clear and good fight. Bebu too was a clear fight, although I was wondering why he was weaving all over the track. This doesn't feel OK, I don't know if it is OK but I don't like that. But otherwise a good fight and I'm really happy and pleased for the team. It was a very good start for us. But then in Slovakia it's another game, but I think it was very nice to take the points.

Q:
The Lynk & Cos are certainly looking very strong this season. How do you feel they will fair at the Slovakia Ring which is a very different circuit to here?

TB:
Like you saw last year, the Slovakia Ring was probably the hardest circuit for us on the calendar and I think it's going to be that as well. We have been there practising but still, it's a hard circuit for us, so let's see what we can do when we get there. But I feel with Yann and the team we are working well together. Let's hope we can be faster than before.

Q:
Attika, that was a good race for you and you were also able to capitalise on the mistake made by team-mate Néstor Girolami. Talk us through the race from your perspective.

AT:
We started the race behind the safety car, which I don't know whether I prefer or not. Anyway on the first GP circuit lap I was hard defending from Thed because I knew the Lynk & Co was certainly very fast, especially in the wet. Then on the next lap I made a stupid mistake and went off line into Turn 1, so I locked the front and he could cut under me, so that was job done for him unfortunately. After that I still tried to put a bit of pressure on him, but as soon as we went on to the Nordschleife he made a bit of a gap at every corner. I was pushing at the maximum obviously, then I heard Néstor had a penalty which I don't know still why. After that obviously if I knew he has a penalty behind me there was a big gap, I was not pushing him into a mistake so in my last lap I was cautious, really going for the optimum performance and not make any mistakes.

Q:
Yesterday, the team obviously worked hard to get that car back on track for Race 2.

AT:
Yeah, yesterday was a tough day, we lost a lot of points and what happened was not our mistake. It's a shame but this podium is good compensation. Two podiums in two race weekends compared to last year is a big improvement, a big step. I'm happy with this obviously, I'm not happy that in both weekends one of the races I lost many valuable points. Maybe at the end it will count. But I keep my head down and try to focus on my job to improve as much as I can.

Q:
Jean-Karl, our WTCR Trophy winner. You started at the back of the grid with a new engine yesterday so it's nice to see you here. It looks like you had some nice battles with Yvan Muller. There were a few around you, weren't there?

JKV:
Yeah, I'm happy to be here again. Of course, I want next time to be here because I won a race or I'm on the podium. But I think it was a good improvement. Obviously we are a little structure compared to the other teams and our programme was really last minute so we are discovering each other every day. But I think we did good. What I want to bring to Alfa Romeo is a little bit of consistency compared to what they did last year when they could be great and then disappear for a few weekends. I think the beginning of the season has been quite OK. On the dry I was super-quick and super-happy about the car, discovering wet conditions. The race was quite tricky, I was defending a lot from Yann's uncle and it was quite tough because they definitely have a really awesome car and the car is absolutely fantastic. I had to be at 250% to keep Yvan behind me. But it was good, I really enjoyed it and we scored good points. I think my target is to be between P5 and P10 in the championship, and if we can continue you like this… For sure I am waiting a lot for the Slovakia Ring and the other races. The first two races were difficult for us, I'm not super happy with I'm very proud of Romeo Ferraris, of the job we did this weekend and let's keep pushing.

Q:
How do you feel the car will fair at the Slovakia Ring?

JKV:
Obviously last year they were super-quick. We have to wait for the compensation weight for the other brands, but I'm definitely looking forward to doing better than what we did in the first two events. I'm very motivated to do a good season and like I said, the most important thing is consistency if you want to be up here somewhere in the championship.