WTCR - WTCR Race of Belgium - Race 1 virtual press conference
WTCR - 2020 WTCR Race of Belgium - Post Race 1 press conference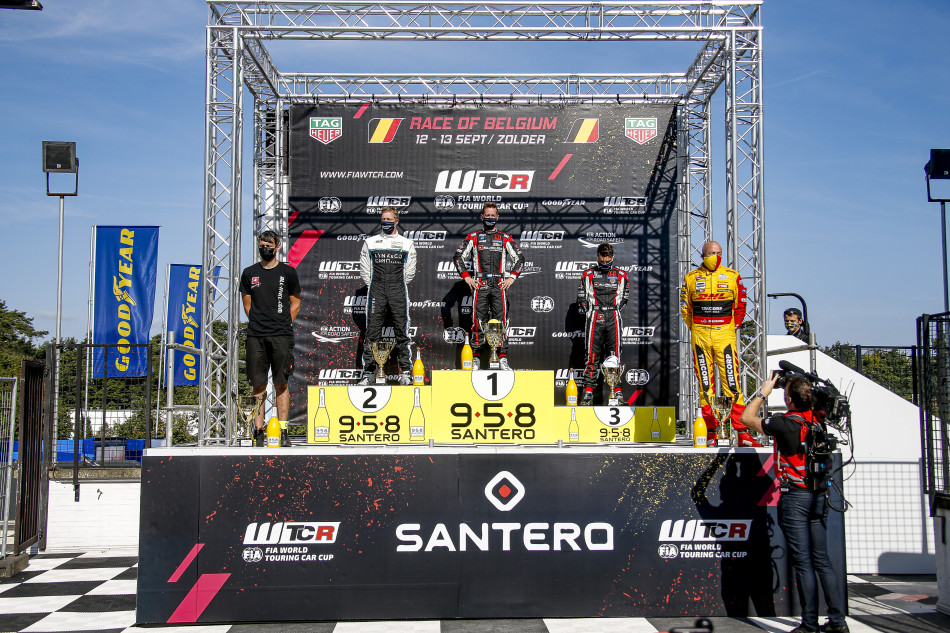 In attendance:
Néstor Girolami, ALL-INKL.COM Münnich Motorsport, first position
Thed Björk, Cyan Performance, second position
Attila Tassi, ALL-INKL.DE Münnich Motorsport, third position
Tom Coronel, Comtoyou DHL Team Audi Sport, WTCR Trophy winner
Gilles Magnus, Comtoyou Racing, FIA Rookie Award winner

Q:
Néstor, what a great start for you. Talk us though it.

NG:
First of all I'd like to congratulate Attila for his first podium. Well done, mate. Also, congratulations Thed, all my team who did a fantastic job. We knew the start was the key of the race because he at Zolder it is really difficult to overtake, so we practised in the pre-season. I was confident every time I practised the start during the weekend and I knew that after the start I had to avoid mistakes. I made a gap, then suddenly I picked up some oil in the last corner. Suddenly I was very wide, Thed was cutting the difference, he was there, but anyway I think we had the pace to make the gap. We were very solid and I think we did everything well this weekend. We scored points and a victory for Honda, so I am so happy. Also let me congratulate and dedicate this victory to Oliver who had a family issue yesterday and had to go home, so I want to dedicate this to him and all his family.

Q:
You did a great job of avoiding mistakes and you appeared not to have any problems. However, we did hear from two of your team-mates Esteban Guerrieri and Tiago Monteiro that they had water temperature issues resulting in blow ups and an end to their race. Did you have any issues and how aware of the situation were you in the car?

NG:
Nobody told me, thank God, because I was so focused on avoiding mistakes and to go smoothly, driving and keeping the pace. But you know when you are in the front you have fresh air so maybe this is the reason I didn't have any water or oil temperature [problems]. Also, here at Zolder we have a big hit in the chicane if you jump it so maybe the radiator can be broken, so we don't know, we have to check.

Q:
The Nürburgring is the next race and you must feel fairly confident. What about the Goodyear tyres?

NG:
Actually, the tyres had a very good pace, we didn't have any problems. We practised long runs in the pre-season and also here in Zolder. It's helpful that now the temperature is colder, so from now on we have very low temperatures and this helps the tyres a lot, so I don't expect any issue at the Nürburgring. But driving on the Nordschleife is a really changing track so I'm looking forward to going there. Last year was like knife fighting: a little on the limit and over! So this year we'd like a nice one but a little bit less, I would say! We have to be aware the guys in the Lynk & Cos were really strong on this track and at the Nürburgring we have to make an improvement if we want to fight for the pole.

Q:
Thed, what a start that was for you!

TB:
Yes, it felt really good. I know that I am usually really reactive and fast in the start and the car felt very good. We have also been practising starts, so we know we can do it. And it was the key to get past the Alfa of Vernay and Bebo, I have to congratulate him for a fantastic start and from that he controlled the race. The only exciting moment was when he slid on the oil, but otherwise he did a fantastic job with no mistakes and just kept pushing. I got a report about your team-mates, so they said just try to push and see what happens with Bebo's car. I was hoping all the time that he would get into trouble. That's selfish, but it's always like this! But I'm really happy to be here, fantastically happy to be on the podium for Lynk & Co and our Cyan team. It's very nice to be here. Congratulations Attila for your first podium. He tried to psyche me out a little bit flashing his lights but it has never worked on us old guys! You can keep working!

Q:
At one point we heard you on the radio referring to 'no oil'. Were you referring to in the car or on the track?

TB:
First I got the information that there was a lot of oil on the track, so I took it very easy and I lost some space to Néstor, and then I reported there is no oil on the track. My engineer said it must be something else that got reported so I started to try to catch up a little bit. Then I had no reports of oil when we went into the last corner and then there was oil! So it was a little bit busy on that point.

Q:
We heard Santiago and Yann were struggling with vibrations in the car, but you didn't have that?

TB:
No, but I think Bebo was on to something because if you hit the big kerbs quite hard you probably will get vibrations, but I didn't get any information from the team and my car was OK.

Q:
So are you feeling positive for the Nürburgring?

TB:
Yeah, definitely. I love to drive on the Nürburgring, I feel very positive, I've been there many times and it's a lot of fun. It's very challenging but I really look forward to go there.

Q:
Attila, congratulations on your first podium in WTCR.

AT:
Thank you, last year I had an opportunity to win a race in Vila Real, but unfortunately I had bad luck there. But to start the season like this with an ALL-INKL one-three I think is very good, especially from my side. I was not expecting to start the season's first race on the podium. Thed said I tried to flash him a little bit sometimes to make a mistake, we discussed that. But they are more experienced than me! It was a very good fight, sometimes I got close, but not enough. We had some brake performance issues, definitely when I was closer I was losing brake performance so I had to then back off a little bit.

Q:
How were the tyres for you?

AT:
I was trying to take care of the tyres from the beginning, but I had lots of understeer. For sure we can change the car for Race 2 because this balance I'm not 100% happy with. But the car felt amazing, all good, except for the little issues.

Q:
Do you think that with the weather probably getting hotter this afternoon they will react to that?

AT:
Yeah, we have to take everything together to work out a good direction with the car and look at the temperatures.

Q:
You were close to a podium at the Nürburgring last year, resulting in a P4. How do you think the Honda is going to fare there for you?

AT:
I'm really looking forward to driving the Nürburgring, last year was the first time for me. I really liked it and before it was a dream to race on it in real life. I'm really positive, we had a test there in the summer. We have to be very careful also with the Audi and the Lynk & Co because they are very fast on the short circuits with higher speeds. So on the Nordschleife it may be a bigger difference, but we will push as hard as we can to get the best out of the car.

Q:
Tommy, it is a delight to see you sitting there with a trophy. You must be rather pleased with that.

TC:
It feels good. I can see we are in competition with the car and the team. The last three or four laps I was trying slightly to tease Tassi a little bit. I saw that everybody was saving the brakes in the beginning because it is always quite hard on the brakes here and nobody knew what was going to happen after seven or eight laps. Finally we saw that this was the case, so I was asking the team how long the race would last. He said just three or four laps, so I said OK, I try to push now. I was teasing two times here in the chicane. If you are on the inside, you are then on the outside for the next one and I would never have made it. It would have been one of those stupid everything or nothing moves. I'm happy with P4, a good start to the season, that's for sure.

Q:
How aware were you of the problems the Hondas and the Lynk&Cos were having during the race?

TC:
I was aware of everything because when I was driving over the hill I saw in my rear-view mirror big smoke and I could see it was Esteban. Then the team was telling me be careful, it could be slippery. Then I saw Tiago at the end of the straight and we nearly outbraked ourselves at the chicane because we made a big mistake. They told us but still you are trying to catch the guys in front. I pushed it a little bit, but I could see Tassi was looking at me all the time because on the straights I was trying to move to the side to catch the cold air for the brakes and he was moving in my direction on purpose to tease me of course, not to get the cold air. Until now technically set-up wise and with the team everything feels really strong.

Q:
Gilles, what a pleasure to have you with us. What a great start for you.

GM:
I am happy to have finished the race and to have driven a safe race because there is still Race 2 and there is not a lot of preparation between the two. So I didn't take any risks. I had a little fuel pump issue at the end and lost a position due to that, but overall I think I can be happy about my debut. Now let's see in Race 2. We have a good starting position, so let's push.

Q:
What did you learn about the way the drivers drove around you at this level?

GM:
I think everyone was quite safe because we all keep in mind Race 2, so the aggression was quite OK, I expected it to be worse. But still I was too safe at the start and lost a few positions. I could have been a little more aggressive and will be next time.