This page contains archived information and may not display perfectly
WTCR - WTCR China Race 3 press conference transcript
Yvan Muller, Yann Ehrlacher, Gabriele Tarquini, Norbert Michelisz and Ma Qinghua attended the Race 3 press conference at WTCR Race of China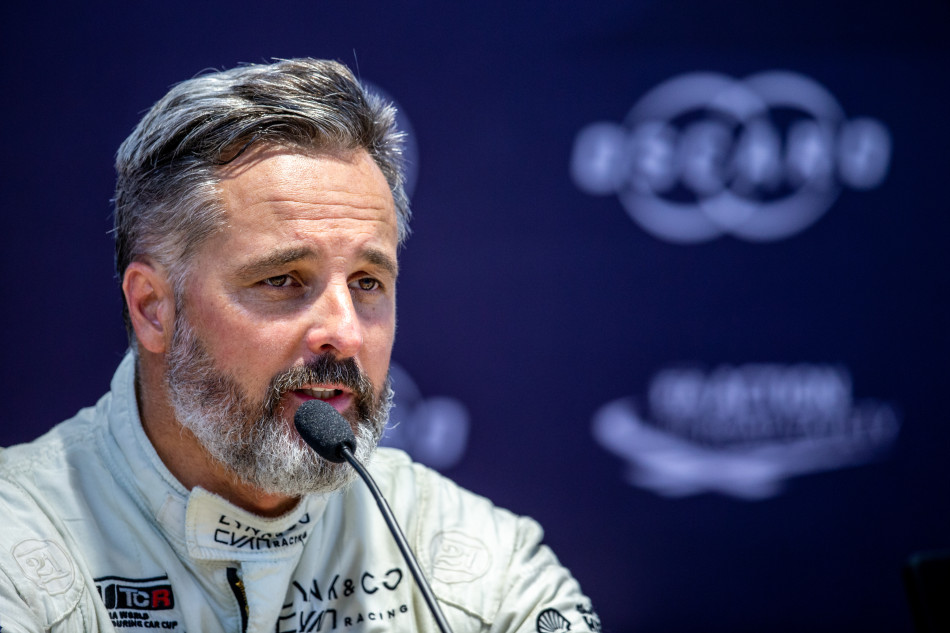 In attendance:
Yvan Muller, Cyan Racing Lynk & Co, first position, Race 3
Yann Ehrlacher, Cyan Racing Lynk & Co, second position, Race 3
Gabriele Tarquini, BRC Hyundai N Squadra Corse, third position, Race 3
Norbert Michelisz, BRC Hyundai N Squadra Corse, first position, Race 2
Ma Qinghua, Team Mulsanne

Q:
Yvan, two race victories for you this weekend at Lynk & Co's home track. Satisfaction must be a very big understatement.

YM:
I was already very satisfied yesterday with the pole and the victory. That was already enough to give me enough pleasure. This morning we were able to confirm the pole position, that was another satisfaction. Then Race 2, I was pleased to be P7 and my friends helped me to reach the podium, so that was another satisfaction! And then best was Race 3 with victory and with Yann and Gebriele. It's probably the oldest podium of the year. A fantastic weekend, of course.

Q:
In terms of the #RoadToMalaysia title race, it's looking strong for you as well.

YM:
Yeah, but we are still far away and there are a lot of points [to be won]. As this weekend shows, even if you are 80 points [down] it is not far away enough and we saw that last year. There's no point to think of the championship. Before this weekend I was here to help Thed. Now the situation will change probably and let's see if it stays like that to the end. Anything can happen.

Q:
Norbert, you won an action-packed Race 2. Just explain what happened and the incident with Andy Priaulx.

NM:
To be honest, it was a very tough race. I was really looking for the race win. It was not easy because Andy was defending quite hard. But in the end thanks to the work we've done from yesterday to today the car was quite good and I was really happy to finish at the front. Congrats to Yvan and Yann, congrats to Lynk & Co, thanks to Gabriele and to all my team because I think this weekend was also for us an important step because you can see that you had drivers getting very unlucky and then you had drivers scoring a lot of points, and like Yvan said it's all about being consistent. I was a bit disappointed because of Race 3 but in the end things like this happen.

Q:
What did happen in Race 3?

NM:
I received a small tap from behind which sent me sideways and I ended up in the guardrail on the exit of T8 and my rear-left upright was broken, so my race was finished there unfortunately.

Q:
I know you said after Race 2 you weren't interested in looking at the #RoadToMalayisa points table, but you are leading it now. You must be looking at it now.

NM:
Yes, but I don't want to be looking at it. There are nine races to go and it doesn't matter who leads now. Also as Yvan said, you can score 60 or 70 points quite easily if things are coming your way, and I do not consider drivers who are fifth, sixth or even seventh to be out of contention. Of course, if you can choose you always choose to be at the front, but everybody has to consider that. There is a long way to go.

Q:
Gabriele, a double podium this weekend and two very intense races. How was it from your perspective?

GT:
It was a fantastic race weekend for me personally because I scored two podiums and I ended a long break to come back on to the podium. Congrats to Yvan and Lynk & Co, but to be honest, I'm not too happy with the pace of my car because by coincidence Lynk & Co received something here at their home race. We officially asked the FIA for some explanation and the explanation is not clear to us because they answered that they put the engine on the dyno, they received a new one. I can see actually in the second race the car is uncatchable on acceleration so they are quite strong on the straight, and this has made me really unhappy. It's not clear enough.

Q:
Yann, until Portugal a couple of months ago you and Yvan had never stood on the podium together and now it has happened again. That must be great for the family, but you couldn't quite beat your uncle. Just explain your race.

YE:
Yes, of course we did P2 and P3 in Vila Real and today it is even better with a win and P2. We locked up already the front row in qualifying and that's a good part family-wise for sure, but the main thing is it's a Lynk & Co car that scored this front row and all the podiums and points Yvan did. Honestly, we feel we are quite supported by the Chinese people so it is a reward for them to score all this success.

Q:
Ma Qinghua, that was a weekend where the results didn't work out as you expected after a fantastic podium yesterday. Just explain qualifying and what went wrong for you.

MQ:
First of all, I want to give a really big thanks to the team because they did a really hard job last night to set up y car very late and make it really perfect today. Again, more Italian magic between Race 2 and Race 3. I don't know how they managed it, but they managed to repair my car. Half my car was already gone in Race 2 and they repaired it and I raced in Race 3. It's really amazing and I want to thank all the guys at Romeo Ferrari. Today was not my day. I had a really good car but in the qualifying I was really disappointed, but the steward made the decision fairly. Race 2 was crazy and Race 3… I don't know, I made my overtaking, but this is not really a nice thing to defend when the car overtaking you does something like this and crash you into each other. He really hit me really hard. I don't want to say too much for the moment because it is under investigation at the moment and I'm sure the stewards from the FIA will give me a fair judgement. But anyway, this is a hard race and a hard weekend for everyone. Congratulations to the Lynk & Co and Hyundai teams, they have done a really good job and they deserve it. I hope they enjoy tonight! And thanks too to all the people who came to this race.

YM:
I would like to take this opportunity to congratulate Ma for his fair play and I would like to come back, because even if it is not the place I can't shut up after what Gabriele said because that victory and the results of this weekend is deserved by us because of our work. It is not a question of regulations or anything. I just invite you to look at the speed trap. The Hyundai was 7kph faster all weekend. So what did we gain? If you want to win, I'll let you win.