This page contains archived information and may not display perfectly
WTCR - Race of Spain Race press conference
WTCR - 2021 Race of Spain - Gabriele Tarquini, Frédéric Vervisch, Thed Björk and Gilles Magnus attended the post-Race press conference at WTCR Race of Spain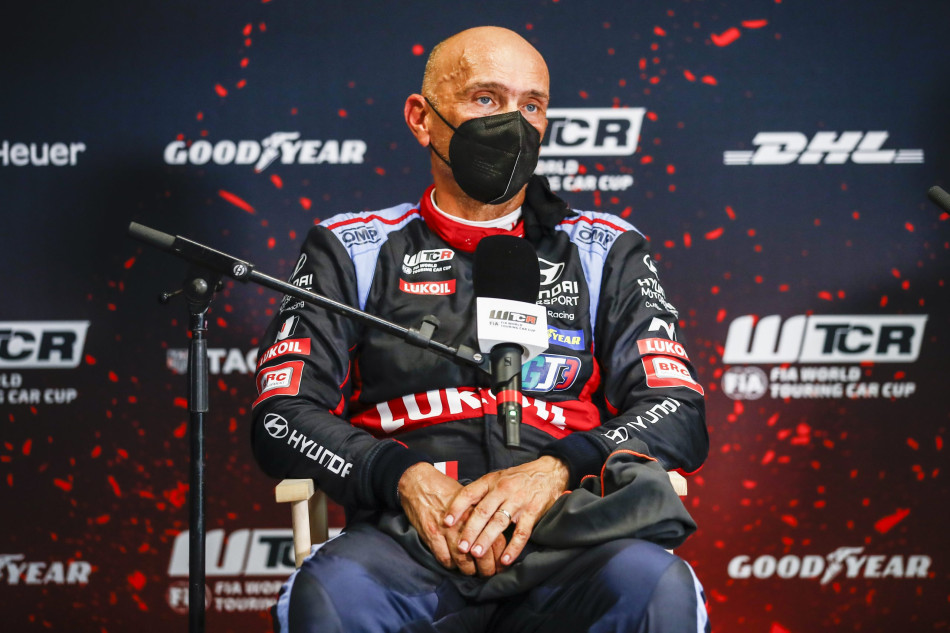 In attendance:
Gabriele Tarquini (BRC Hyundai N LUKOIL Squadra Corse), first position, Race 1
Frédéric Vervisch (Comtoyou Team Audi Sport), first position, Race 2
Thed Björk (Cyan Performance Lynk & Co), second position, Race 2
Gilles Magnus (Comtoyou Team Audi Sport), third position, Race 2

Q:
Gabriele, a good, clean start and race for you in Race 1, but you had pressure from Mikel Azcona, didn't you?

GT:
Yeah. The key of the win was the start. I know that following another car, especially here, is quite hard so as soon as I reached the first corner I was alone so I could turn and push as hard as possible on the first three or four laps. Fortunately I built a small gap and after that it was quite an easy race to control the gap.

Q:
And a nice Race 2 with some battles down the line

GT:
Yeah, it was a harder race. I wanted to stay out of trouble. I overtook a guy at the start because Azcona stalled and I gained a position and then on the first lap I can have position with Yann. Then Tom [Coronel] made a mistake at corner five and I can have another position. So starting 10th and finishing sixth is probably the best I can expect.

Q:
Norbi [Michelisz] didn't finish and we heard grumblings on the radio from Jean-Karl Vernay about vibrations. Do you know what the problems were and were you concerned for your own car?

GT:
No, I think he touched something. I don't know, but he was very slow on the fast corners. The splitter was completely broken and that destroyed his tyre. Probably it was a touch. I don't know if he touched tyres or another car.

Q:
And an important question: are you going to win this evening or allow England to win?

GT:
It's a good start of the Sunday. We have Wembley and Wimbledon, because an Italian is fighting with Djokovic in Wimbledon and the Italian football team I think can score the win in the European Championships. I support them.

Q:
We'll see… Let's move on to Race 2 and congratulations Frédéric, the key was to get off the line and keep out of mischief with his Lordship to your right… and you did so. Well done.

FV:
Thank you very much. I have to thank our team, the brand Audi, the new car that Gilles proved as well. Congrats to him and to Thed. I'm extremely happy to convert a pole position. From the outside it looks all easy, but I can tell you there was again a lot of tension to have the good start. You have nobody in front of you, so it's always a bit different. But the start was mega and Thed was quite fast. He told me he had one opportunity, maybe there was another one where he could really try something. But I think after a couple of laps I just had a small gap and I was hoping that Gilles would put some pressure on him and probably he did, I'm not sure. Anyway, the gap was there, so I was not happy with the safety car! The restart was actually bad, but it was at the end good because it was strange, I think there was a lot of pick-up that I didn't notice and I think everybody was surprised.

TB:
Very bad grip.

FV:
Yes. Anyway, we brought it home. I was surprised by our race pace because it was a big struggle for me throughout the whole season and for us in general. But yes, we did it, I'm very happy and thanks again to my team. They deserve it.

Q:
Thed, we know you didn't have the pace the Audis were showing all weekend, so it looked like it was foot to the floor through the whole thing.

TB:
Yeah, it was. Congratulations, good work. I know how it feels to bounce back from bad weekends from the beginning. Same for me. It feels so good to sit here and score a second position, and after the first race I thought because Fred overtook me I was not in good fighting [shape]. I have to fix this for the second race, so we did a lot of changes, even on the grid after the warm-up lap. I was sitting there at the start and I had a good opportunity, then my next thought was yeah, but if Fred does a good start… It will be clean anyway and that's what you did, so good job. Then I followed and I had a lot of pressure, but like you said it was like this all the race, so it was not easy but super-fun.

Q:
Gilles, I expected you to give Thed a harder race. How was it from your perspective?

GM:
Yeah. First of all, big congrats to Fred, I'm really happy for him and the team. It was really tough because in race one we had some issues with the air temperature and some things that didn't allow us to get close. So I knew this issue was there, mainly on my car and it wasn't something we could solve. So every time I was getting close I had some issues. In the end I decided it was better to leave a little gap at certain points, not to be attacked by the Hyundai behind me because they have a good straight-line speed and once he attacks me there is nothing I can do any more. So I decided this is the best thing to do and at some point when Thed made a little mistake I might have had an opportunity, maybe I had to take it harder. Anyway, that's how it is. We all know Thed is very experienced and he doesn't make a lot of mistakes. I was waiting for that, but it didn't really happen.

TB:
I was very disappointed I did that mistake!

GM:
But the pace was really good and I could keep up with these two guys and in the dirty air it's not that easy. So I'm a little disappointed I couldn't attack him and then try anything, but overall I'm really happy, with the victory for Fred first of all and my third place. Two Audis on the podium is a really positive thing after the hard time we've had. Let's try and keep this momentum, for sure it won't be easy, but let's try it at least and let's keep pushing.

Q:
And who do you think is going to win tonight.

GM:
Good question. I think Italy.

Q:
What?

GM:
I'm sorry guys, but I…

Q:
Two for Italy? Fine… Thed, England or Italy?

[silence]

England or Italy, Thed?

TB:
England.

Q:
Good boy.

TB:
But I had to say that…

Q:
Yes you did. Fred, England or Italy?

FV:
I think England, they are under quite some pressure from the Queen and everything, so they have to win otherwise it's a disaster!
ENDS