This page contains archived information and may not display perfectly
WTCR - Race of Spain Race 3 virtual press conference
2020 WTCR Race of Spain - Race 3 virtual press conference transcript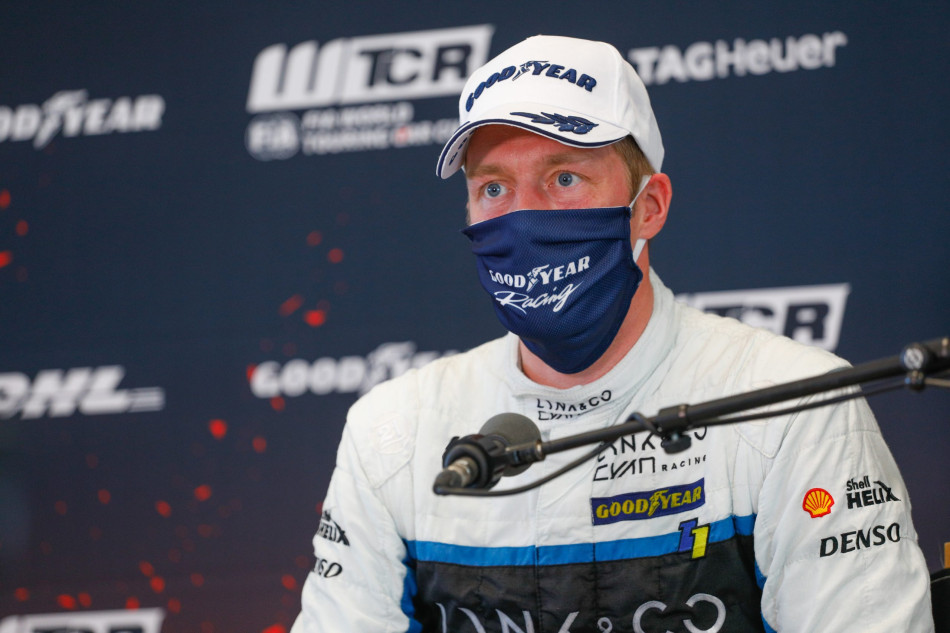 Thed Björk,  Santiago Urrutia, Gabriele Tarquini and Mikel Azcona attended the Race 3 virtual press conference at WTCR Race of Spain. A transcript follows

Press Conference Room, MotorLand Aragón, November 1, 2020

In attendance:
Thed Björk, Cyan Performance Lynk & Co, first position
Santiago Urrutia, Cyan Performance Lynk & Co, second position
Gabriele Tarquini, BRC Hyundai N LUKOIL Squadra Corse, third position
Mikel Azcona, Zengő Motorsport, Race 2 winner

LISTEN TO THE AUDIO/WATCH THE VIDEO:
https://www.dropbox.com/sh/lt5xcbkio7kjnrx/AAD66p0uH9cImAZBwjRzd0NHa?dl=0

Q:
Thed, that start was just brilliant, But Gilles didn't make it easy for you

TB:
At the start it's so important to get out first into the free air because it changes your race instead of fighting from behind. So for me it was perfect, that was my goal. Even if it wasn't easy, I thought there was no way that anybody else was going to be on the right of me on the exit of Turn 1. It was the perfect start. He could then follow me for the first three laps and after the safety car, and then I pulled away as Santi started to fight a little bit with him, then it was good for me. The only thing was Santi was chasing me so hard at the end, I was trying to push as hard as I could.

Q:
It's lucky you two are good buddies! Anybody else…

TB:
Anybody else, he would have been diving on the inside.

Q:
The Lynk & Co seems to fair well around here, whereas the Audis dropped off after about lap seven.

TB:
For me, it felt really good. But everyone knows when you are in front it is a little bit easier. It was a little bit harder for Santi to overtake and then still have the speed. But when we are in the pack fighting it's very hard, as it is for everybody else. I think for us, me and Santi, we did a really good weekend, and we are really happy with that.

Q:
We were aware of Yann and Yvan struggling with their cars. How aware were you of that and did you have any concerns?

TB:
In this race, not at all. They didn't tell me anything about their car and I was just focusing on my performance, and I also had a lot of vibrations but I didn't tell them because I just drove!

Q:
You also got a black and white flag for track limits, which has come up endlessly this weekend. What is it that is so hard about this circuit?

TB:
When you come to a race and the temperature goes up, and you are pushing the tyres to the limit… in qualifying when you do a flying lap your tyres are fresh so it is easier to position yourself on the track. But as they wear in the race and if you are allowed you take advantage of the track that is existing and everybody did that, from the beginning. So when I got the track limits warning I had to really step back in the end so I don't do it again. But I think we had a really great show on TV, fighting like this. The track allows this, it's built like this. If you put tyres everywhere you would not get the same race and you would just be following everybody. Yes, that can be good for track limits but also this is the way of racing. They have to decide, if we come back here in two weeks. For me, I think it's good, leave it free.

Q:
Santi, a hat-trick of podiums for you. It's turned out to be a great track for you.

SU:
Yeah, I'm happy for my team. I drive for Cyan and Lynk & Co and it's been quite a good weekend for us. For myself, obviously it was a really good weekend. We probably expected to have Yann and Yvan a bit more in front but you know, sometimes racing it goes like this. He still scored so many points for the championship while Esteban [Guerrieri] is at the back, so I think now he will come to the last race and it is going to be very, very tight. We have to be very intelligent, we have to make a strategy. But Thed deserved the win today. I wanted to win, that's why I pushed so hard to win, but Thed was good too and deserved the win, so I just sit behind him at the end. I'm very happy about another one-two for Lynk & Co this year.

Q:
Gabriele, what a great race for you. You said you were going to fight this weekend and we could almost see the smoke coming out of your ears…

GT:
My third race was definitely my best one, but in the first two I had a problem on the car. In the first race I survived on the first lap and even if I was sixth and I was thinking overtaking is always very difficult, I had the pace. The pace was very good and I tried to attack and did some good manoeuvres and I overtake I think four cars. But unfortunately for me the race was too short. The two guys in front were far away.

Q:
It's been a tough weekend for Hyundai, so it's been nice to claw back some points for the team, hasn't it?

GT:
Yeah, definitely not a very good weekend for Hyundai. We are very light, the car is there, but we didn't win any races. This is not a very good weekend for Hyundai. I am part of the problem because in qualifying we didn't work very very good. We had some small troubles but myself, I didn't drive very well in qualifying, so it cost me some positions. But racing is like this, sometimes good, sometimes bad.

Q:
Mikel, this turned out to be a good weekend for you on your home circuit after that win in Race 2. How are you feeling now?

MA:
I'm feeling good, very happy. When you have a victory in WTCR, in a world championship, you always feel good. So in the second race we had a victory, a good race for us. Like I said, to win here in Spain in my home it's a bit shit because we don't have the people, the family and the friends. But anyway I had all the support from social media and it's been incredible – incredible weekend for us, incredible day and incredible second race. But yes, I'm very happy.

Q:
It's been five years since the team last won and Zoltán Zengő was so delighted, wasn't he?

MA:
Yes, like I said before, it's the first victory for Zengő Motorsport after five years so it's the best for my team. It's been a hard year for us from the beginning, but I am happy to be with Zengő Motorsport and to grow up together with the mechanics. I am very happy for them. At the same time, I am helping my team-mates, so we are going together as a team. Maybe next year we can be one step higher than this year. Victory is amazing.

Q:
MotorLand Aragón has provided us with three really good races this weekend. This muse feel really good for you and you must feel pretty confident about coming back in two weeks' time.

MA:
Yeah, I think it's a good idea to finish the championship here in MotorLand Aragón, my home track. It's been good for us and I hope for the last weekend we will get not a lot of weight. We have to look to the weather because it looks like here in two weeks it's going to be raining, which I love. I love bad conditions and it's better for us. I really want to be here in two weeks, so let's see what happens. At the moment I feel very strong and in two weeks we can push a bit more, we've had a lot of information from this weekend and that's very good for the team, for the CUPRA, because then we can develop the car a little bit more. I hope in two weeks we can battle for more victories.