This page contains archived information and may not display perfectly
WTCR - Race of Spain Race 1 virtual press conference
2020 WTCR Race of Spain - Race 1 virtual press conference transcript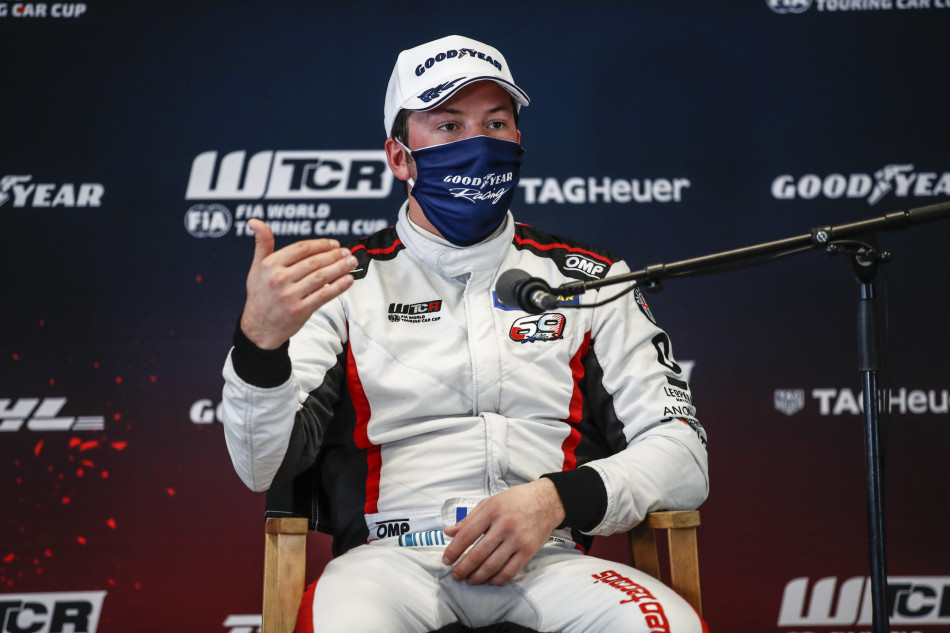 Jean-Karl Vernay, Santiago Urrutia and Gilles Magnus attended the Race 1 virtual press conference at WTCR Race of Spain. A transcript follows.

Press Conference Room, MotorLand Aragón, November 1, 2020

In attendance:
Jean-Karl Vernay, Team Mulsanne, first position
Santiago Urrutia, Cyan Performance Lynk & Co, second position
Gilles Magnus, Comtoyou Racing, third position

LISTEN TO THE AUDIO/WATCH THE VIDEO:
https://www.dropbox.com/sh/lt5xcbkio7kjnrx/AAD66p0uH9cImAZBwjRzd0NHa?dl=0

RACE 1 REPORT:
https://www.fiawtcr.com/wtcr-race-1-flash-vernay-takes-first-win-for-team-mulsanne/

Q:
Jean-Karl, after a tough day yesterday this must feel a deserved win.

JKV:
I'm happy. You know, when I was in the car before the race I said 'you know what, if I'm on the podium and have to go to the press conference I'm not even going to talk because I'm so pissed about yesterday. That was maybe a stupid reaction. Now… for sure, yesterday was tough, tough to understand the inconsistency of the penalty. I always agree if I do something wrong to take it, but everybody has to take it. Anyway, let's think about the future and that's what I did. I was really focused this morning about what to do. Good start, a really good start and then, I won't say I had to control the race, but most of the job was done already. And Santi was very quick and I'm pretty sure he also wants a victory so he was pushing hard. But no big mistakes, trying to use the advantage of my car where I know I can make a gap and control the rest of the track. We can be happy and very proud of what we are doing, what we are achieving as a really small team. It's a good start to the day, now we have to finish it.

Q:
It's your first win since Macau 2018.

JKV:
Yes, it's been long, too long!

Q:
We noticed a lack of grip in that race due to the cold temperatures, but presumably that will change as the temperature rises. How was that for you?

JKV:
The first lap was a little bit tricky, especially the rear grip. For sure, it is going to be much better during the day. The consistency of the tyre level will be worse, that's for sure, and we are going to have to take care of the front tyres. I'm not starting up front for the next two races. For sure, when you are behind you are using the front tyres more and I'm just going to have to be smart, maybe smarter than the others if I want to come back. But we'll see. The level is absolutely fantastic here on the grid and nobody makes big mistakes, so it is not an easy job to come back. We have to be focused and try to do the best we can, depending on what's happening during the race.

Q:
Santi, it's great to have you back on the podium, you've had an up and down season.

SU:
Yes, I'm super-happy. Congrats to JK for the win. I've always been quite on the pace in qualifying, but never made it in the races, so I'm happy to be back on the podium. Obviously, it's just one race and we want Cyan to win, so it was good to take away a few points from Gilles because Audi are really quick and can come back. As JK said, I really wanted to win, I pushed hard from the beginning and then I gave up, he was quick on the last sector so I could not overtake him. But OK, I'm happy to be back, it was a good race coming from behind. As JK says, it's not easy, people don't make mistakes, so if you get it in the first few laps then you are going to be sitting there. Obviously now I will start P8 I think in the next race and then I have the chance to be in the front, where I start P3. I will push hard obviously to get the win, but the main thing is to get points for the team.

Q:
Gilles, you are provisionally our rookie champion. When you started the season I suppose you didn't expect to be raising this trophy.

GM:
Are you sure, because I did the calculations myself before the race. So, 100 per cent sure I'm the rookie champion?

Q:
Just don't say that!

GM:
If you are really sure then I am really happy, thanks for that! I trust you! We have so many races to go and this title, it's some pressure off my shoulders. It's already something we have and now let's do a good third race, we start on pole. Also in the second race we start 10th, but at this track there are opportunities to overtake. The level is really high and as Jean-Karl said, the guys don't make a lot of mistakes so it is difficult to pass. Let's try to make the best of it and take the maximum of points.

Q:
You've said you know what you have to put together now ahead of your pole position for Race 3. Can you enlighten us on what you feel you do need to do?

GM:
Yeah, I'm not going to tell you too much because there are too many people listening! I think I know what to do on the balance of the car, I felt which direction we have to go. I feel confident for Race 3. Also I was in these guys' slipstream, which doesn't help, it gives even more understeer. So we know which direction to go and that's a good thing for Race 3.