This page contains archived information and may not display perfectly
WTCR - Race of Macau - Race 1 Press Conference 
WTCR - Race of Macau - Race 1 Press Conference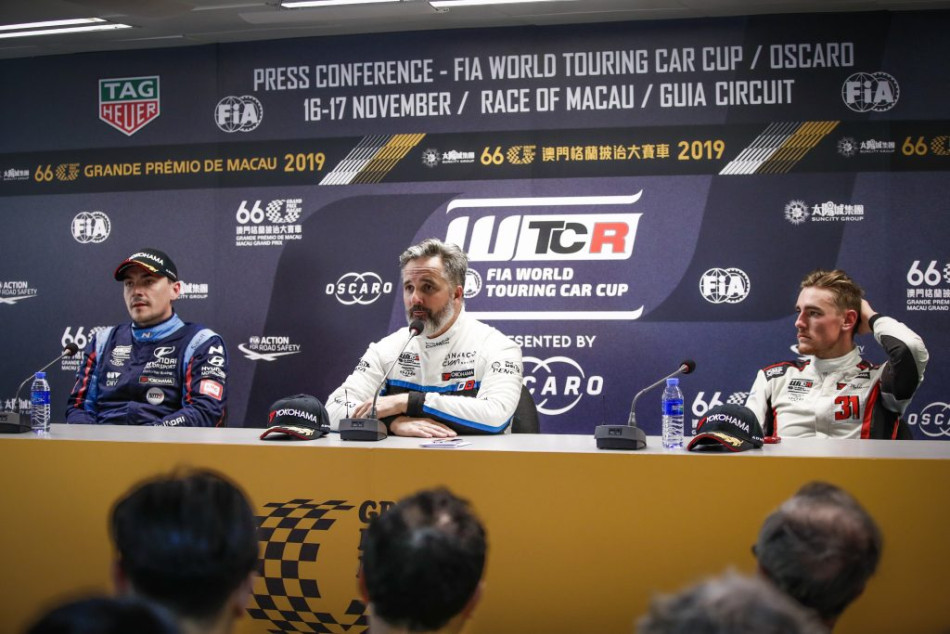 Yvan Muller, Norbert Michelisz and Kevin Ceccon attended the Race 1 press conference at WTCR Race of Macau. A transcript follows.
FIA WTCR Race of Macau
WTCR – FIA World Touring Car Cup presented by OSCARO 2019
Rounds 25, 26 and 27 of 30, Circuito da Guia, 14-17 November

Media Centre, Circuito da Guia, 16 November

In attendance:
Yvan Muller, Cyan Racing Lynk & Co, first position
Norbert Michelisz, BRC Hyundai N Squadra Corse, second position
Kevin Ceccon, Team Mulsanne, third position

Q:
Yvan, third win for you this season and a dominant win from the DHL Pole Position. Explain your race please.

YM:
Yeah, anything can happen at Macau and the most important thing is to qualify well, then do a good start and a good first lap. Then you have to manage to go fast but not do any mistake, especially with someone like Norbi on your back, which is fast and safe. I just kept the gap of what I needed to be the leader without taking too much risk, because on this track even when you don't take the risk you can crash.

Q:
Yvan, as the race was drawing to a close Norbi was right behind you. What was the pressure like?

YM:
There is always pressure. Even when you are on your own there is pressure at Macau, but especially when you have a fast boy like Norbi! Again there is two races in one race. One, you have to push hard and not make any mistakes, and then you have to keep the car behind you behind you! I think that lady is not interested in what we say… hey! Thank you.

Q:
Norbi, Yvan mentioned the pressure you put on him. But for you second place gives you an 18-point lead on the #RoadToMalaysia. How significant is that?

NM:
Yeah, first of all there are still five races to go. You saw that in Qualifying 2. We were a bit unlucky yesterday. I needed to take maximum points today. This is why I really tried hard, especially at the start to jump Yvan. But at the start, on the first lap and all the way he did a perfect job, so congrats to him. I really tried my best and he was quite strong in sector 2. I was stronger in the last and first sector so I was always closing the gap under braking for Turn 3, but then he had an advantage compared to me. Anyway, important points. I think tomorrow will be a difficult day for us. Like I said, if it's 18 points, 30 points or five points it doesn't really matter so much right now. For me the most important thing is to have two clean races tomorrow and grab some points.

Q:
Kevin, back on the podium after a really good drive. How as that possible?

KC:
It's been a good race because the team deserves this podium a lot. After Suzuka they were a bit down with the motivation because we grabbed a great podium starting from P7, then I got penalised. So I'm really happy for them because to put the Alfa Romeo Giulietta on the podium in Macau was something we were not expecting and I think it's a great result for everyone involved in this project.

Q:
Kevin, could you just summarise that final lap?

KC:
I was very close to Andy [Priaulx] at the hairpin and I tried to exit from the hairpin as close as I could to him. In the second last corner I exited really quick, I went to the outside and I didn't see Andy any more so I don't know what happened, honestly. I just tried to get as close as possible in the last corner to attack him because I could see I was much quicker in the last sector.
ENDS