This page contains archived information and may not display perfectly
WTCR - Race of Japan Race 3 press conference transcript
Johan Kristoffersson, Esteban Guerrieri, Kevin Ceccon, Norbert Michelisz and Ryuichiro Tomita attended the Race 3 press conference at WTCR JVCKENWOOD Race of Japan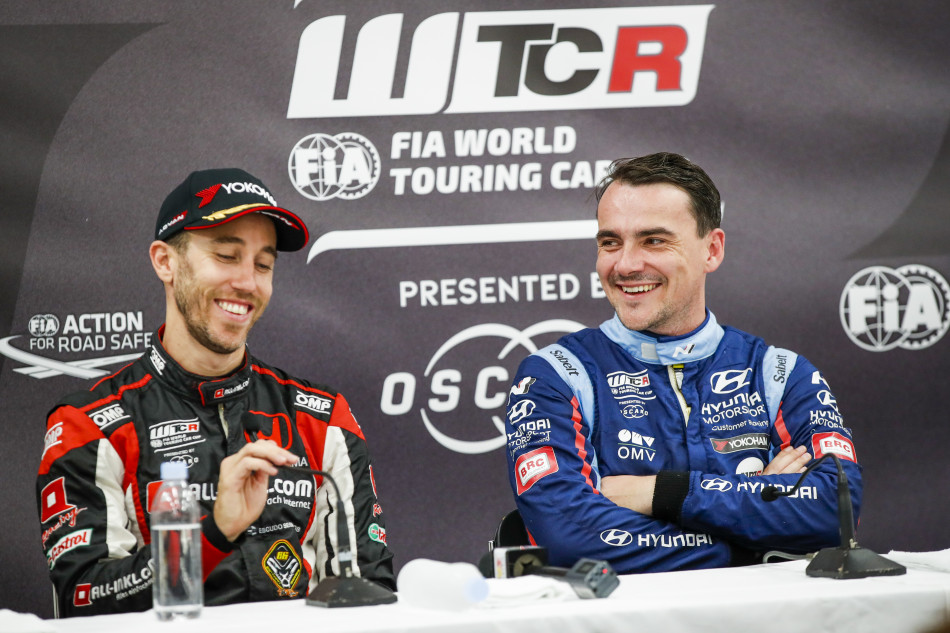 In attendance:
Johan Kristoffersson, SLR Volkswagen, first position, Race 3
Esteban Guerrieri, ALL-INKL.COM Münnich Motorsport, second position, Race 3
Kevin Ceccon, Team Mulsanne, third position, Race 3
Norbert Michelisz, BRC Hyundai N Squadra Corse, first position, Race 2
Ryuichiro Tomita, Audi Team Hitotsuyama

Q:
Johan, DHL Pole Position and Race 3 victory for you, your second in WTCR / OSCARO. Explain your race please.

JK:
It was quite a good race in terms of I had a very good car all the race through, but my take-off from the line was not the best so Tiago got me there, but I was able to get underneath him between T1 and T2. From there, the car was the best all weekend so I could just enjoy my driving and there was quite a nice gap behind me so I just took care of the car and the tyres throughout the whole race and we finished under the safety car. Most of all I was happy I was able to put myself in the position to fight for the victory today with a great move to put on slick tyres early in Q1 on Friday.

Q:
Having put in so much hard work to get that pole position, what goes through your mind when you lose the lead at the start? Is it a tough situation?

JK:
Yeah, for sure. I was just watching through the side window that Tiago got a better jump, so I thought maybe I could do something. Either you try to do it in the first two laps or the last two laps, and I managed to do it already after 400 metres, so I was happy with that.

Q:
Tiago is not here obviously, but he did say there was some contact between you two. What happened at that second corner?

JK:
Yeah, there was some contact. I touched him in the door, but it was a little love tap.

Q:
Now we move to Macau, another new circuit for you. What can we expect from you there?

JK:
Macau will be completely different to here. This is a very short track, so it's easy to learn. Macau is obviously very different and seems to be tricky, but I have the advantage of having Rob as a team-mate who is very fast there, so I'll try to take the advantage of that and see what I can do. But most of all I will try to learn for the future.

Q:
Norbert, it's been a tussle with the man next to you, Esteban, in terms of the title battle. You led, lost the lead, led again and lost it again. How are you feeling about that?

NM:
I'm quite positive to be honest because we struggled a bit in qualifying and to manage to get away with a race win is a nice feeling. I was in the points in all three races. If you are going for the championship you cannot expect to always have the best package, although I think we managed to get the most out of it. I think Esteban, Johan, Kevin, they all did a fantastic job. It's a level where sometimes you fight for hundreds [of a second] and I expect us to come back stronger in Macau, so I'm really looking forward to that race. It doesn't really matter who leads now. My only goal is to stay within striking distance. OK, if I had a choice I'd prefer to lead by this couple of points, but in the end I think it's a positive weekend for us.

Q:
It's a fourth victory for you this season, which is a good achievement.

NM:
Yeah, but last year up until one point I was having a very good qualifying average and towards the end of the season I was not able to fight for the championship. OK, winning four races is a nice feeling, but at the end of the season if I had the choice to win the championship or to win a lot of races of course I'd go for the championship. Winning races is a good feeling, but I guess winning a championship is a unique feeling. Don't misunderstand me: whenever you have the possibility you need to take the win because it's the biggest gap from P1 to P2, but you also need to be clever and manage your chances. In the end I'm happy with four race wins, I hope I can add one or two more until the end of the season, but for me the main target is to win the championship.

Q:
Esteban, a winner yesterday for Honda and a podium today. First of all, explain Race 2.

EG:
First of all congratulations to Johan and all the guys here. My Race 2 today was pretty bad. I would say horrible because we struggled quite a lot mostly in the second part of the race, so I was quite worried. But I'm very proud of this turnaround that we could do in a few minutes, understanding what was going on there changing completely the car behaviour. In Race 3 I was very quick, I could manage a good pace following the leaders and, in the end, overtaking Tiago as he let me by. Unfortunately, he is not here with us because of a silly mistake apparently. He deserved to be second, but it was very helpful of him for the championship which at this stage every little point helps. Overall, very happy. We scored a win, a podium and many points here in Japan, it couldn't be better.

Q:
And it's a great turnaround in your form after a tough time in China.

EG:
Yeah, in China we were competitive but we didn't have much luck. Here was the opposite, I would say because in Race 2 I was about to have a puncture, so I was lucky to finish. Sometimes you need this little bit of luck. China we didn't score at all and here I scored more than 50. The important thing is to stay there in the fight for the title and we are doing this so far. Now we are coming to Macau which is one of the most moments for me as a driver, so I'm looking forward to that.

Q:
Kevin, you said after Race 2 how badly you wanted a podium, but explain the circumstances in Race 3 because it was quite confusing.

KC:
I want to start by congratulating everyone here. It is good to be here, back on the podium. It was a strange feeling at the last corner. I saw Tiago going very slowly collecting rubber [on his tyres] and I was close to him waiting for the end of the race. Then he entered the pitlane, so I just overtook him. I mean, I just went to the start and finish line. I'm sorry for him because he's a great driver and last year he came back here after a huge accident and this year he is fighting for the win and the podium. I am sorry for him because we are in the Japan and it Is Honda's home country. He gave me this, but I want to remember I started P7 in this race. I got this as a present, but before that I overtook a lot of guys and it was a long race especially on a circuit like this where it is very difficult to overtake. After Race 2 I was a bit upset because I fight hard with an Italian legend Tarquini and it was not easy for me to go by. But in this race I am on the podium so I am happy for myself and the team.

Q:
Tomita-san, your first weekend in WTCR / OSCARO. Just explain Races 2 and 3 please.

RT:
A really tough weekend for me because we don't have experience of WTCR, but I really enjoyed Races 2 and 3. I think it is the strongest racing category in the world and there are some legendary drivers. But if I had a next chance I would hope for a good result. Thank you to everyone at WTCR and congratulations to all the podium drivers.

Q:
So, if you had the chance to do more races in WTCR / OSCARO, would you say yes?

RT:
I hope yes.

QUESTIONS FROM THE FLOOR:

Q (Ima Liana Binti Esa, TV3, Malaysia):
This question is for Esteban and Norbert, what do you expect for the last round in Malaysia.

EG:
I know it is the rainy season at that time. I also know it's always very hot and the rain can come and go. The track has a very nice layout, very wide, different types of corners and long straights. I think it's the perfect scenario to finish up the championship with very open wide possibilities for everybody to fight and take positions. Hopefully we can get there in the fight, which is looking quite likely. It's good that in racing you have surprises sometimes, with the weather mostly like happened on Friday here because you need to get everything right. All the skills of the drivers, mechanics and engineers and have a bit of smartness. It's a perfect way to finish in Malaysia.

NM:
Yeah, more or less the same. I expect a really tough rest of the season and especially in Malaysia if I am in a position to fight for the championship. It's not often that you get the chance and I'm really happy that I can fight with people like Esteban. We shared a team, I know him quite well. He's a tough opponent, (No, he's not a good guy! He's just pretending) but this is more or less what we are living for. I've worked quite hard to get to this level and obviously I'm really looking forward to the rest of the season because it is just the place and just the position every racing car driver wants to be in.

KC:
They always go to dinner together every night…

NM:
We share a room actually!

EG:
We've actually seen each other naked because we use to change when we were team-mates. Okay, we'll stop there before we go too far!
ENDS