This page contains archived information and may not display perfectly
WTCR - Race of Japan Race 1 press conference transcript
Esteban Guerrieri, Niels Langeveld, Tiago Monteiro, Ryuichiro Tomita attended the Race 1 press conference at WTCR JVCKENWOOD Race of Japan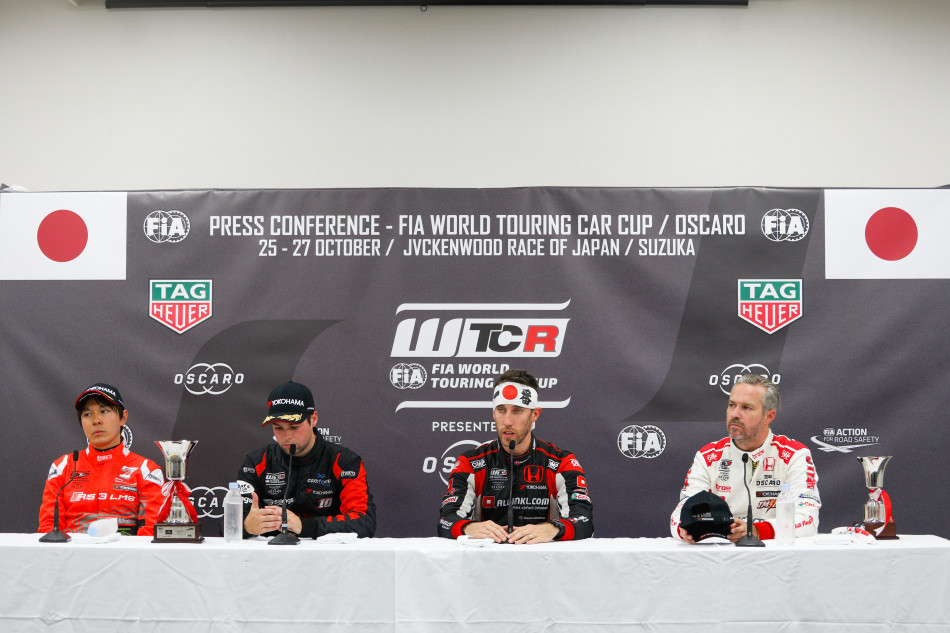 In attendance:
Esteban Guerrieri, ALL-INKL.COM Münnich Motorsport, first position
Niels Langeveld, Comtoyou Team Audi Sport, second position
Tiago Monteiro, KCMG, third position
Ryuichiro Tomita, Audi Team Hitotsuyama

Q:
Esteban, pole position, the race win and the WTCR / OSCARO lead. A very satisfying afternoon?

EG:
Pole position? He [Monteiro] was on pole position… I inherited it. Anyway, here's here and congratulations also to Langeveld after a very tough fight that we had. It was a very intense race. I knew at the start I had to do a good start, which I did actually. I expected the Audis to be quick on the straight, but not to arrive at the first corner side by side with me. Vervisch did a very risky move on the outside, I tried to defend going side by side into Turn 2 and we touched wheels, losing a bit of pace there. Langeveld came on the inside and we went side by side and there was no need for me to risk too much, so he moved to the front. Unfortunately for him he did a mistake on the second lap and again I got back in the lead. I knew I had the pace because the car felt very good on the infield, not so good on the straight, but I knew I could control the pace. It's a very important win, a very enjoyable one for many reasons, but mostly winning here in Japan is very special as a Honda driver sharing the podium with a very experienced and a very loved driver by Honda in Tiago. It's everything, you know, to win at Suzuka, a track full of history I used to watch races at as a kid. And for the championship it's very important, so I am very thankful.

Q:
There were two safety car periods. What were the restarts like? Were they intense?

EG:
Actually, there was one proper restart, the second one was just to finish the race. But that first restart, yeah, I had it planned quite early what I would do. This track is so short you think you have a lap before the restart then all of a sudden you are in the last corner. So, I just gave the gap and I tried to pull away with three or four corners to go, because that is my strong part. And I could make a big enough gap so Langeveld couldn't touch me back on the straight. So, everything worked perfectly. I was a bit afraid after the touch with Vervisch that may car would get a bit twisted, but that was not the case. The Honda Civic is a strong car as this proved and we won this race, so I'm really thankful.

Q:
Niels, right from free practice on Friday you have meant business here, but is there some frustration given that you led this race?

NL:
Yeah, for sure. But I don't have to forget where I come from this season. I've had many disappointments and I'm not so good in the standings, but I've had the potential all season. I've been a little bit unlucky and now to be here on the podium I'm thankful about that.  I'm really happy to be here and this is the first step to even higher achievements, I hope. It was a fantastic race, it was unfortunate about the small mistake and it's also about track knowledge. It was the first time I drove in dry conditions here, so it was not so bad from the start at all. I'm really happy with my second place and I hope more will come.

Q:
You mentioned after the race that Esports WTCR OSCARO, which you compete in, helped you in your preparations for Suzuka, where you were competing for the first time?

NL:
Yes, for sure. If you look to esports simulator racing is getting more real and I practise a lot on it. I do competitions with esports and it also helps with braking points here because when it is dry you suddenly have to rely on all the experience you have in the simulator racing. You are right, it helped.

Q:
Tiago, a significant venue for you because last year it was here that you came back from a terrible situation. Pole position for a while, but what were your feelings after the change of grid positions?

TM:
I'm not sure you want to hear that! First of all, well done to Esteban. As he said, it's fantastic to be here on the podium with him. He inherited this pole, but he did a great job and he did what he needed to do. So fantastic, well done. And well done to Niels for his first podium. In China we were not best friends, we had some contact and it was not very nice, but at the next race we are on the podium together and I am happy to share this with you, and Tomita-san well done as well. What happened in qualifying I'm still trying to understand the logic behind it. But it is the way it is decided I'm not really commenting on. Of course, I'm not happy with the decision, but once it is taken you have to go on with your job and do you job as best possible. So we started fourth and the car was good, to be honest, during the whole race. Esteban did a very good restart and surprised all of us, I lost a little bit the train and I was fighting with Thed throughout the race. A podium is a podium and of course I'll take it. The important thing is we had the pace in the wet and we seemed to be OK in the dry, probably not the fastest but we are still strong. This is the most important thing and we have a championship to win. Every point is important and if I can steal points from other competitors to help Esteban it's important as well. We have a certain goal until the end of the season and that's what we'll do.

Q:
When you came back a year ago from those horrible injuries did you expect to be here on the podium one year on?

TM:
Difficult to expect anything. Of course, when I came back I knew there was a lot missing. I was happy, it was a miracle to be back after what the doctors had been saying. But when I started here last year I wasn't on the pace really and I was still not 100 per cent. But it was an important step. It was done, I was back and I needed to work even more to come back to this championship with this car and these tyres. Everything is new, the level of the drivers, the team. So there was still a lot of work needed but it was the first important step. So a year later to be here on pole position and then the podium is really a nice story, to be honest, and I'm glad the second part of the season is going much better for us. We took a bit of time to get into a rhythm, but here we are now.

Q:
Tomita-san, tell us about your first experience of WTCR.

RT:
My first experience of WTCR [showed] it was really hard racing. For me it was not a happy or good race, but I learnt a lot and maybe tomorrow I hope will be happy for us and we will still be fighting.

Q:
We had a very wet qualifying but today was dry. How difficult was it to adapt?

RT:
Every driver was in the same thing and not only us. We are in TCR Japan, so we have some data so we fixed the set-up and it was not so difficult. We had a good car and I think tomorrow it will be easier to drive.
ENDS