WTCR - Race of Germany post-race virtual press conference
Tiago Monteiro, Jean-Karl Vernay, Luca Engstler and Néstor Girolami attended the post-race press conference at WTCR Race of Germany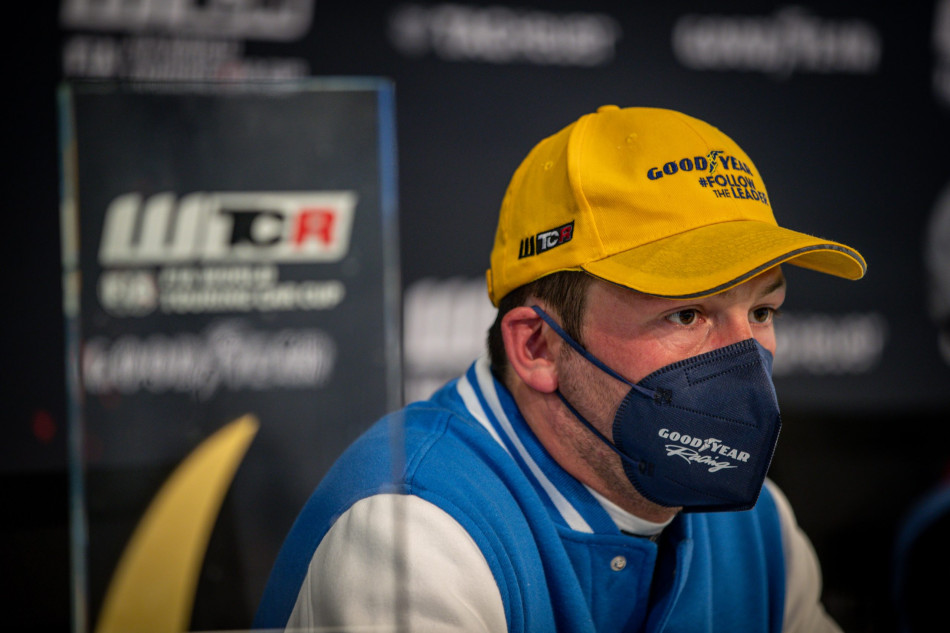 In attendance:
Tiago Monteiro (ALL-INKL.COM Münnich Motorsport), first position, Race 1
Jean-Karl Vernay (Engstler Hyundai N Liqui Moly Racing Team), first position, Race 2
Luca Engstler (Engstler Hyundai N Liqui Moly Racing Team), second position, Race 2
Néstor Girolami (ALL-INKL.COM Münnich Motorsport), third position, Race 2

LISTEN TO THE AUDIO/WATCH THE VIDEO:

https://www.youtube.com/watch?v=s5OaHMM9lW8

Q:
Tiago, that was a great Race 1. You managed to read the situation perfectly and finished on top.

TM:
Yes, thank you. It was definitely one of those great races when you try line everything in your head and everything goes to plan. It doesn't happen often, especially not here at the Nordschleife. But after a rough start when I lost a few positions, the pace was good and I was in a rhythm with the top four. So I kept on pushing, kept my cool and focus to try to position myself for the last lap. There was some contact in front of me, I took the opportunity to move to P2 right away and after that it was just a matter of following Yvan and then try something later on in the race. It was a good fight with him, he's a hard racer but a very fair racer, so I knew I could fight with him until the end. I took a lot of risks of course, but you're here and that's the moment you have to do it and go for it. The car was very good, I'm very happy with the team, Honda, ALL-INKL of course and JAS for all the updates we have done over the winter. Everyone in the team showed the performance in the car this weekend on the Nordschleife and it was great to start the season with a win. It was a very high-adrenaline moment today.

Q:
It rained a lot last night and we know it takes ages for this track to dry. It was misty this morning, the race was declared wet, however all of you took the gamble to go out with Goodyear slick tyres. How was the track, was it very tricky?

TM:
Especially in the hour before the race there were a lot of question marks. Everybody was trying to gamble and guess what could be. When you looked at how foggy it was, it was surely going to be very damp on the Nordschleife. In the end actually it dried out quite quickly. The first lap there were maybe one or two places with small damp spots, but in the end it dried very quickly so 100% slick tyres was the right choice. Of course it was a small gamble but that is The Green Hell.

Q:
Néstor, how do you feel starting from pole and finishing third?

NG:
Obviously it's not a good feeling. Starting from pole you want to defend pole position but unfortunately we did not have a good start, even in Race 1. I don't know, we have to look, because we did the same procedure as always but the engine [almost] stalled. But I'm happy for the victory for Tiago, congratulations to the guys, Jean-Karl and Luca, they did a very good start. I was very aggressive defending my position at the start, but I left him room to be fair. I felt it was aggressive but fair. And then when I was behind them I was really surprised about the pace because they were even faster than me yesterday in qualifying, so they found pace for today and I couldn't follow them. To be honest I was forcing my front tyres a lot during the first lap to try to follow them, but it didn't work. Then on the second and third lap I didn't want to destroy my front tyres so I tried to finish the race in that position. It was good because we scored a lot of points. With quallie we had 10 points there and now finishing ninth and third is a good position to start our season.

Q:
And from a team point of view it didn't help that Esteban Guerrieri couldn't start from the front.

NG:
Yeah, honestly, I don't know what happened with Esteban. They informed me in the lap going to the grid that he had some issue. I was focused on my start, it didn't work and I'm really unhappy because of that because normally we start very good. But it's motor sport. Sometimes you don't get everything right and we'll try in the next race to improve that side.

Q:
Am I right in saying you are not the only Girolami to start on pole at a TCR event this weekend? Your brother was on pole too?

NG:
Yeah, he was too fast I think! He did a pole position in TCR Italy. He's doing TCR Europe and some races in TCR Italy, so to have my brother with me also working together and in a Honda too, we share data, we share cameras, we try to help each other. I'm also following him in TCR Europe. It's his first season in TCR so I'm happy for him and also it was a great moment because I knew he was on pole after me, so it was a great feeling.

Q:
Luca, you are one of the heroes of this weekend. You were saying you don't have much experience of this track, but you were fast all through the weekend and fighting for victory right up to the last minute.

LE:
Yes, thank you. First of all, big thanks to the team, to Hyundai, giving us an amazing car this weekend. It was difficult here at the Nordschleife bringing everything together. I think today definitely was a gamble and we gambled in the right spot, we put everything on dry. But I think if there had been some rain drops we would definitely have been far back and we decided to put everything on the dry car. That's the reason why we were there. I was attacking from the first to the last lap, I wanted this victory and to be honest I was probably a bit too young and stupid in over-driving, but luckily it worked today and we are here with a one-two.

Q:
After what we have seen from you this weekend, what can we expect from you for the rest of the season?

LE:
It's difficult to say, we come to tracks I've never been before. I just want to keep working hard, I want to keep the momentum and I will focus now on the 24 Hours, our goal is to win this amazing race. I just enjoy being a driver preparing for races and I will keep doing that.

Q:
Jean-Karl, you had a lot of troubles with the car earlier in the weekend, and yet you managed to finish the race on top.

JKV:
First of all, congrats to Tiago, that's a perfect weekend for Skywalker [Management]*. And congrats to the other guys on the podium. The weekend started not the way we wanted. We've already talked about it, but the most important thing was scoring points in qualifying and both races. This morning we were struggling a little bit and we found out why, and in the race it was quite perfect. I just wanted to make some changes on the set-up this morning and it really worked. The key was to take a better start that Néstor and that is what we did. After I was really in qualifying mood, trying to push the first two laps to secure a gap and the car was handling amazing, I was driving at 150%. When you are feeling good you can take risks and it just comes naturally. I'm really happy with the way we worked with Team Engstler and my engineers, with all the guys from Hyundai. It was important also for Hyundai to get the first victory for the new Elantra TCR and it was good we took the responsibility to make it. With all the people from the board of Hyundai here it's a really positive weekend.

Q:
Now you are the Goodyear #Followtheleader so the pressure is on you.

JKV:
It's just the beginning, but that's my target. That's why I cannot really show how happy I am because it's just a long way and the target is to win the championship. But I'm already happy that we are leading. And finally I'm going to win my first prize for doing the best lap, I'm quite happy after five years winning a watch. That's great but we need to keep focused and if we keep doing the job we are doing right now all together we should not be far from the top ranking.

Q:
You had Luca breathing down your neck the whole race. What do you think of his performance?

JKV:
It's not a surprise, not everybody is surprised and I am not. I saw what he did and I've known him for a long time and know how fast he can be. Now he has experience, even if he is young, he has experience of TCR. So I'm not surprised which is why I'm really happy to be pairing with him because we are going to push each other, that is quite important. I've always wanted to have a super-fast team-mate because that's how you continue improving yourself and we're going to do good. It's a good mix to have Luca next to me and I'm quite sure we are going to come back with strong results for the team.