WTCR - Race of Czech Republic post-Qualifying virtual press conference
WTCR - 2021 WTCR Race of Czech Republic - Post-qualifying press conference transcript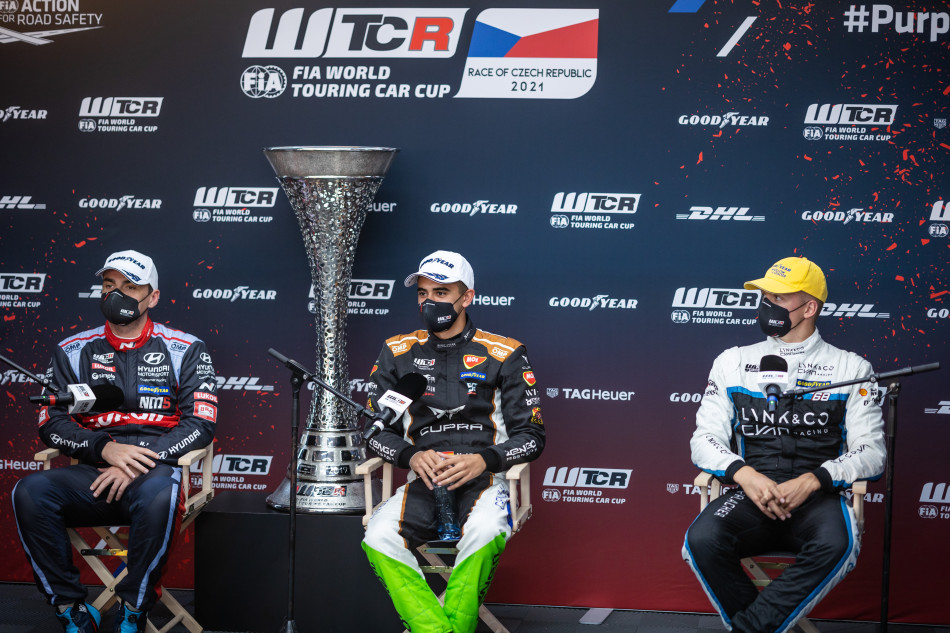 Mikel Azcona, Petr Fulín, Yann Ehrlacher and Norbert Michelisz attended the post-Qualifying virtual press conference at WTCR Race of Czech Republic. 

Press Conference Room, Autodrom Most, October 8, 2021

In attendance:
Petr Fulín (Full in Race Academy), pole position, Race 1
Mikel Azcona (Zengő Motorsport), pole position, Race 2
Norbert Michelisz (BRC Hyundai N LUKOIL Squadra Corse), second position
Yann Ehrlacher (Cyan Racing Lynk & Co), third position

Q:
Reverse-grid pole position for Race 1 at your home circuit. What a brilliant result that was.

PF:
Yeah, we are satisfied for sure. I don't know what I should tell you because yesterday my goal was to not be last and today was really good for us. Try to imagine walking to our country and looking at the other factory teams and drivers. I missed one year racing and in qualifying I lost 0.15s despite the fact we have some ballast because we're a wildcard. We have no experience with the Goodyear tyre, every session I had a problem to get temperature in the first chicane meaning the second lap was faster and probably our way how to do it was not so right. But anyway, the others had two years. I have to thank the guys because racing is not their job, and also my family and the sponsors. It means. During Q2 we had some strategy and the end was a disaster for me because Mikel and Yvan [Muller] overtook me, I was P10, and then there was also [Frédéric] Vervisch. But in the end we are really happy about the result.

Q:
Mikel, what a lap that was. You are a machine! Talk us through it

MA:
Thank you very much. Congratulations to Norbi and Yann and Petr. It was a really good lap, I have to say. I prepared myself very well and the car was working perfectly. The car allows basically meant I had to go really fast, really on the limit on this new track. It's very special because you can feel a differing level in different corners. It is very tricky for the driver to analysis, to understand everything what is on the floor. So I'm very happy, I was pushing really on the limit and the lap was great. I have to say thank you to my Zengő Motorsport team because they are doing a great job. We started the year really difficultly at the Nürburgring with so many issues, then the second race weekend it was really horrible. At the moment we are in the middle of the season and we are still battling for the title, which is impressive. I'm really happy, it is my first pole position in WTCR. I'm very happy and very proud. I need to use this opportunity on Sunday. I have to say also I'm very comfortable with the car because with 20kg more than the last race weekend we prepared the car perfectly and I feel much better than the last race weekend. It is really good and it make me really comfortable for going to the Sunday races.

Q:
You've had three podiums this season, more than anyone else so you are due a win. But going into that first chicane is going to be tough, isn't it?

MA:
Yes, of course, it's going to be tough always because we are in the highest championship level in the WTCR. Always it's difficult: Yann, Norbi, Esteban they are very good driver and we are on the same tenths. It's going to be difficult but starting from the pole is always better. I feel very good starting from the pole position and I think my pace is also really good. I did a long run in free practice and my pace was amazing. I'm looking forward to the Sunday races. I think it's going to be a good weekend.

Q:
So you have no option, you have to be back here on Sunday…

MA:
At the moment the plan is to be back here on Sunday, but let's see tomorrow. It depends on tomorrow…

Q:
Norbi, that was a mega lap, certainly compared to your team-mates who seem to be struggling this weekend. You are finding some exceptional pace today.

NM:
Yeah, but most of that is thanks to the team and the car to be honest. We tried to improve from FP1 to FP2, we managed to do that. And then we did another step with the balance. So if you have a car like I had today, I don't want to say it's easy but it makes life much easier for a racing car driver. Of course, you have to put the lap together which I fortunately managed to do and I'm very happy with P2, because for me honestly, I know the gap is quite close to Mikel but there was almost nothing left in my quallie lap. So I'm looking forward to the races on Sunday.

Q:
Where is it that Mikel has the edge? Is that just a weight situation?

NM:
Yeah, for sure weight is helping him. But like he said I'm sure he also did a fantastic lap, so it's not only the car. I feel that we are good in the slow parts, but we are struggling a bit compared to the others in the medium speed, sometimes the braking as well. I didn't really have the confidence in the first chicane, it's always a very strange feeling with the grip, so let's wait and see. The race will be a different story. Starting on the front row, I know pole is the preferred choice but starting even from P2 you have a clean path ahead. I think with a good start we can challenge Mikel.

Q:
Yann, you are eight points ahead of the others and your poor team-mate Santiago Urrutia seemed to have an unfortunate qualifying which puts you in good stead. Talk us through it from your point of view. You guys didn't seem to be on the pace in practice, then suddenly pulled it out of the bag in qualifying.

YE:
First of all, congratulations to Mikel and Norbi. It's a new track for the championship and it's always challenging to come on a new circuit like this having two free practices to set up the car. It's not easy to find a good compromise here. It's a difficult track – short, but difficult, and we can see that the times are really close between each other, so it will make the races really intense. From our side, we just tried to maximise everything in qualifying. Practice was there to set up and learn the track, and then in qualifying, run after run you start to get used a bit more to the track. My Q3 lap was good, almost nothing left even if it wasn't the perfect lap. But I'm quite pleased to be starting P3, having a good position for both races and a good opportunity to score good points.

Q:
Do you think you are going to keep that #FolloeTheLeader cap at the end of the weekend?

YE:
Hopefully, you know anything can happen. The first corner is quite tight and we all want the same thing, so it can make some mess and a situation we can't anticipate. I will focus on every element of my race car to optimise them and at the end of the weekend we will count the points and just see how it goes to keep that yellow cap.