This page contains archived information and may not display perfectly
WTCR - Race of China-Wuhan - Race 1 Press Conference
2018 WTCR Race of China-Wuhan - Race 1 press conference transcript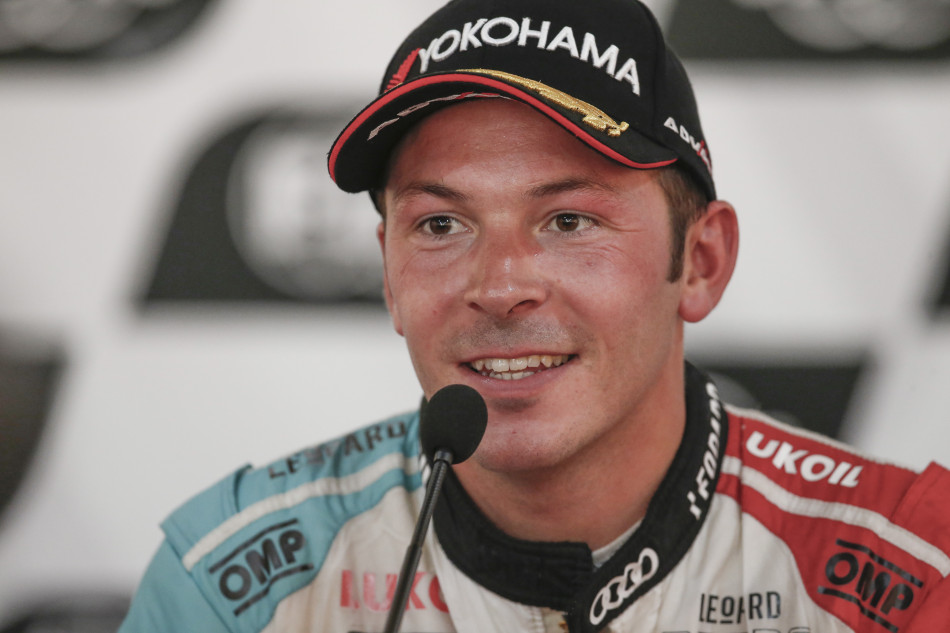 Media Centre, Wuhan International Street Circuit, 17h15, 6 October 2018
 
In attendance:
Jean-Karl Vernay, Audi Sport Leopard Lukoil Team, first position
Pepe Oriola, Team OSCARO by Campos Racing, second position
Gordon Shedden, Audi Sport Leopard Lukoil Team, third position
Ma Qing Hua, Boutsen Ginion Racing, leading local driver
 
Q:
Jean-Karl, victory from the DHL Pole Position. What a performance. Explain how that was possible.
 
JKV:
Well, a good car and a good team, and I was able to make a good lap in qualifying. I guess it started from there and I just had to manage a good start, making sure I would still lead after the first corner. And then just focus on my driving, being consistent, making no mistakes. The track is tricky during the race because if you have a lack of concentration there are so many marbles on the outside line you can go directly into the wall. So I just tried to keep focused until then end. The car was great, so that was a little bit easier for me. I was just trying to understand a few things I need to work on for qualifying tomorrow. I couldn't have hoped for a better result after the nightmare of last week and I'm really glad for the team, the guys. Now we have to make sure we are out front again, together with Gordon. It's a great team effort.
 
Q:
Pepe, another podium for you and a great drive. How was your race?
 
PO:
I'm really happy. As Jean-Karl said, after Ningbo which was really hard for us, we managed to come back. Yesterday was really good when I was fastest in first practice, but in qualifying today I struggled to put a lap together. But finally I did it on the last lap. In the race I was just following Jean-Karl and I was lucky Yann [Ehrlacher] was holding up Gordon for a while. He was much faster than me. They know the track better because they have been running in Formula 4 for two days before me. Today I just could not fight with them.
 
Q:
Gordon, as Pepe has suggested, you really had to fight for that podium. How good does it feel to finally be on the podium?
 
GS:
It feels fantastic, it feels like it has been a long time coming. It's been a tough season so far. Hopefully this means the cork in the bottle has popped and the results are more fruitful to the end of the season. It certainly feels like we have made a breakthrough with the car this week. We've made some changes which allowed me to drive the car rather than feeling like a passenger. It was fantastic to race with Yann, but I was very conscious he has a championship to fight for and any move had to be clean, had to decisive and without contact, and that worked out perfectly. To get a one-three, two drivers on the podium for Audi Sport and Leopard and Lukoil is epic. We've just got to do the same again tomorrow.
 
Q:
Congratulations. Ma Qing Hua, you were in the thick of the battle out there. It looked exciting on live TV.
 
MQH:
First of all, congratulations to all the three top drivers. Yes, for me it was a tough race today because I had to start from the back, but I think I did a good race and did a lot of overtaking, especially when I was following Thed Björk. My pace was good and I saw they were fighting together and I found a chance to make a move. I took many positions and in the general race pace, it was OK. For qualifying, we had some problem with the car and after we worked very hard to achieve the set-up. In the race we found something which is quite good and improved, so I showed the pace in the race. But still there is something we need to improve for tomorrow and hopefully have a better qualifying and race, thank you.
 
Q:
Back to you, Jean-Karl. We are just one race into a three-race weekend at the Wuhan festival. How do you keep your focus for tomorrow, what's the plan to reproduce that amazing form again?
 
JKV:
The same plan: try to make a good qualifying and try everything for pole, to score big points in both races. This is a good opportunity for us to come back a little bit in the championship to fight with the Hyundai guys. We will just try to do our best. This is our main target for tomorrow.