This page contains archived information and may not display perfectly
WTCR - Race of Aragon Race 3 virtual press conference transcript
WTCR - 2020 Race of Aragon - Race 3 virtual press conference transcript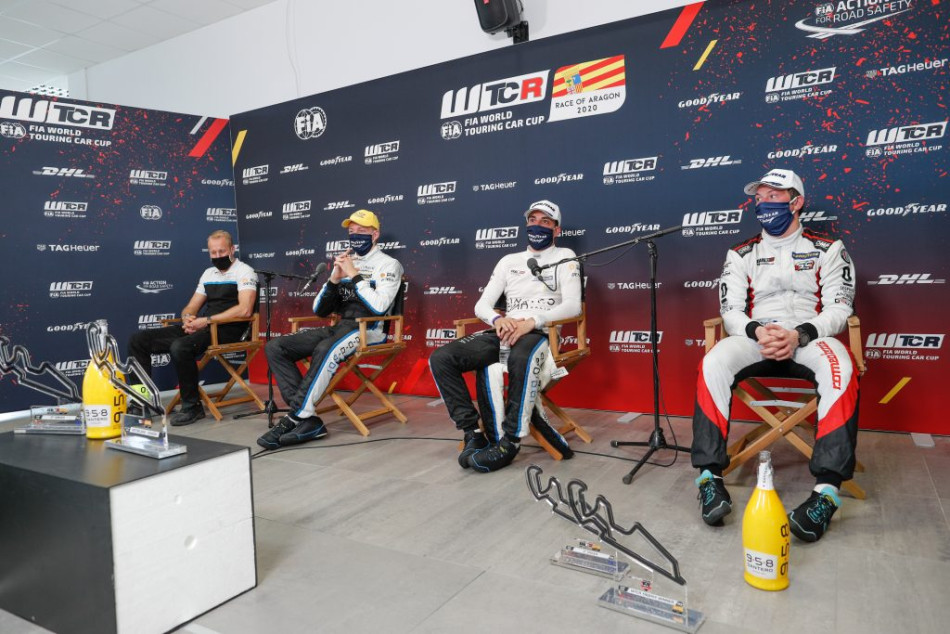 Santiago Urrutia, Yann Ehrlacher, Jean-Karl Vernay and Fredrik Wahlén attended the Race 3 virtual press conference at WTCR Race of Aragon. A transcript follows.
WTCR Race of Aragón, MotorLand Aragón, November 13-15
WTCR − FIA World Touring Car Cup, rounds 14, 15 and 16 of 16

Press Conference Room, MotorLand Aragón, November 15, 2020

In attendance:
Santiago Urrutia, Cyan Performance Lynk & Co, first position
Yann Ehrlacher, Cyan Racing Lynk & Co, second position
Jean-Karl Vernay, Team Mulsanne, third position
Fredrik Wahlén, Cyan Racing Lynk & Co representative
Q:
Santi, after your emotional DHL Pole Position yesterday, it was clear you really wanted this win today, didn't you?

SU:
Yeah, to be honest, to finish the season with a win is awesome. But I have to look back a little bit. I was in America with nothing when I received a call from the team. Then we had a test at Anderstorp and they decided finally to sign me, so I became a professional driver for the first time. They gave me the chance and believed in me, even if they didn't really know who I was. They trusted in my talent and we win the championship with Yann and we win the championship with Cyan, so it was not just a good year for me but for the whole team. First of all I have to say thank you to Cyan, without them I wouldn't be here taking this win today. And about today, all I can say is I got a good start, then I knew I had Yann behind and he was already champion. He was probably a little bit quicker than me, but he stayed behind me so thank you to Yann. For me this was a season to learn, to understand the championship. To race with the best drivers in the world is not easy, sometimes it is very hard, you need to be really 100% on every weekend if you want to fight and win races. This is just the first season I hope of many, now we go to Uruguay tomorrow to enjoy a bit of time and the summer holidays, and I hope I can come back next year to fight with my team for more.

Q:
Yvan Muller said at Zolder he had 100 per cent belief in you, which must mean a lot?

SU:
Yes, it does, coming from a four-time world champion. Everyone inside the team is a champion except me, so I hope next year they let me win! That was one of the reasons, when I joined Cyan, when I had a question I was asking a guy who has been a world champion. He's a really nice guy to work with. Also Yvan and Yann are very open and easy to work with. When I had problems or questions, I always went to them and said 'hey, what can I do or how should I do this?' And they always helped me. They really helped me in the pre-season to get up to speed and in the beginning I was quite OK. Then I had difficult weekends like in Slovakia and the Nürburgring and I probably made rookie mistakes that should not happen anymore. When I received that call from Cyan and I was in Italy waiting for that call, it meant a lot. When you are inside the championship you are just another driver, so you need to push and be 100% for yourself and for the team. I always say if a driver is 100 per cent he can help the team, if not he can't, even if the car is the best on the grid. So thank you to my team-mates. But I still have a long way to go and to learn. I will really focus in the pre-season to find all the tenths that I was missing from this year.

Q:
Yann, talk us through that race. What was the feeling of racing knowing you had already won the world title?

YE:
First of all, well done to the gents beside me, it was a really good race. When you've got the title and you go for the race you don't have any pressure of taking points, it's absolutely amazing – maybe the best race of my life because it was just about enjoying the moment, enjoying the fact that we won the title, both teams' and drivers'. It was max pleasure. But still I was in a position that I could reward my team-mates for their really good help during the whole season, so I was ready to do anything to help them as much as I could, to give them positions. Cyan Racing helped me a lot and my team-mates helped me a lot to get the trophy and without them it would not have been possible. So in this race if I could have helped them I would have done it with max pleasure. We finished P2, I was waiting for a call maybe to help Yvan grab some positions in the championship as well because it was really tight. So I am happy we did P1 and P2 in the championship, we did it in the races too. To get that and the teams' title is just amazing.

Q:
Jean-Karl, this is a little bit bitter-sweet of course because you won the WTCR Trophy, but you wanted to be higher up in the title battle.

JKV:
First of all, congratulations to Yann. Like I always said, I am very, very 'Frenchy' and for a Frenchman to win the title, it's well deserved and to lead from the beginning I think he did a fantastic job. I think he surprised maybe more drivers because he as super-consistent and he deserved it, so congratulations again to you and your family. For us, we had a good weekend again, a good qualifying although with a few mistakes in Q3. Then today the wrong choice of tyres in Race 1, like others. We did a fantastic Race 2 and Race 3, fantastic overtaking and starts and we lost the overall podium for nothing just because some guys are swapping positions all the time. Let's say that's understandable, but not very classy from them. To lose a podium like this is frustrating, it would be difficult to swallow. But it's like this. I think it is under investigation and I'm confident they will apply the rules like they always did to me. It's not finished and I hope to get a good surprise later today. Big thanks to my team, I think nobody would have believed what we have done this year. I've never been so determined and I grew up a lot. For me it was a fantastic experience to be in a little team with a lot more responsibility and I really loved it. So thanks to Romeo Ferraris, we did great and you are a very good team, be sure about that.

Q:
To be as consistent and so competitive is a credit to everyone involved.

JKV:
Like I said, I tested the car once before the championship and the car was good, so with my experience I have now, even if I'm not a touring car specialist, if I give more confidence to the team I was quite sure we would be able to do a good job. With that confidence and me doing a good job setting up the car with the guys, that was all. There's a lot of great people and we saw it again yesterday when they presented the PURE ETCR car. Honestly I was not thinking we were going to be able to fight for the overall podium, but we've been getting quicker and quicker and it's well deserved to all these guys. P4 for me is my best position in the championship. Like I said, I've learned a lot about myself and that is also important.

Q:
Fredrik, when we saw you at Zolder you were not 100 per cent confident of taking both the drivers' and teams' title. Talk us through what this season has been like for you.

FW:
To sit here and achieved the goal is fantastic. The goal was to win both championships and to do that is just fantastic. We believed from the start in the way we work together. As a team it is not only the driver, it's everyone from the ones driving the trucks to working on the cars. Everyone really wanted to put their hearts into this and do it as a big team, and to be able to achieve that and be here today to win both the championships feels absolutely fantastic. Coming here and seeing how many drivers could still win the trophy just shows how high a level this championship is and to be able to go away from here with both trophies is just an amazing feeling.

Q:
How proud are you of the gentleman sitting next to you?

FW:
I'm extremely proud. You see the yellow sticker on his front window and we've had this since the first race, and to see him under the pressure we have had through the year and just to be able to deliver, and also to deliver one race ahead of what is actually planned… I'm extremely proud of him.

Q:
It's something we notice that every single person in your team appears to be as important as each other and everyone seems to be at the top of their game, a really well-oiled machine. And you are so consistent.

FW:
Thank you! I don't really know how to respond to that. That is the goal. With everything going on in the world this year it has been a challenge and to be able to keep the group we have had and be so consistent through the year, even when we have a down [weekend] we pick each other up. We didn't have a perfect first race, we didn't have the right strategy, but everyone was just on it directly. Yesterday was the same when everything was shortened due to the fog delay, but we picked it up and made the best of it. That's constantly what we do: try to make the best of the situation we're in. I think that's why we are here today, the winner of both championships.

Q:
Yann, you were really emotional when you took that title. Just talk us through what it means to you, to know that your name is engraved on that trophy.

YE:
It means a lot. I was emotional because I was just remembering from where we started and when we started, which was quite close to now. I was remembering when I was a little child coming to see the races for Yvan with my mum and dad in WTCC, I knew almost all the paddock already. They knew me from when I was like this. And now I have been here, fighting and winning the title, it's a lot of emotion. My full life is about this and I say, every day since I started racing was dedicated to motorsport and every single energy I put was for motorsport. It's just a big reward that today motorsport gives to me. I'm just super-proud of what we did. To win a title like this there are a lot of things you have to put together. From being the car to the track to having a good set-up to make good races, to do every corner perfectly… A lot things can happen in 16 races, it's such a long way when you start the championship it feels the title is so, so far, and we were leading from the first quallie to the end. I'm just super-proud of that. I had no technical issues this year, from the first qualifying to now and that means a lot about what happens at the workshop in Sweden and what the guys are doing at the weekend. It's absolutely insane and hats off to this because everything is really well managed, and we showed that today and everyone saw it.
ENDS