WTCR - Race 3 Press Conference 
WTCR - 2019 Race of Morocco - Race 3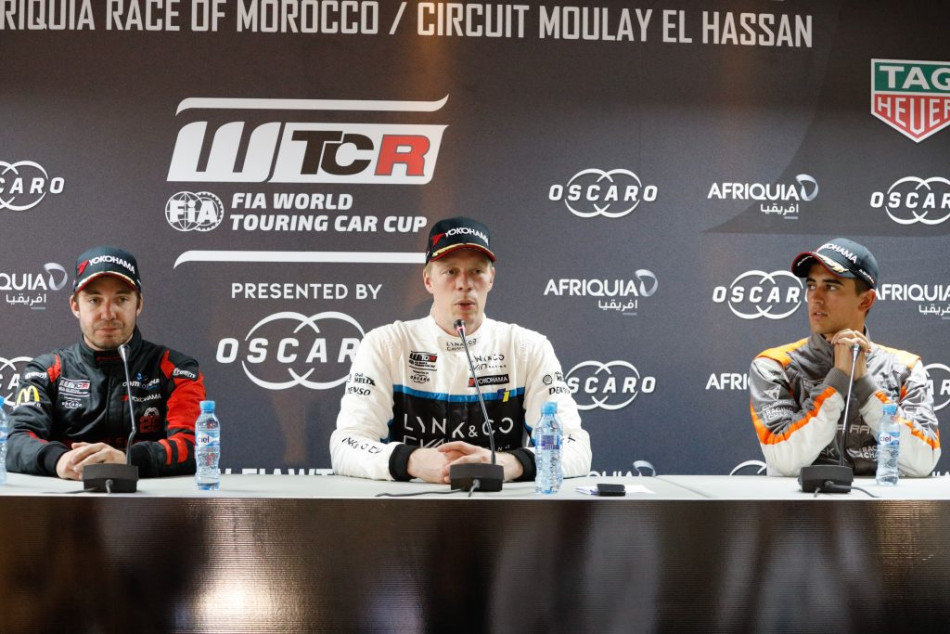 Thed Björk, Frédéric Vervisch, Mikel Azcona and Mehdi Bennani attended the Race 3 press conference at WTCR AFRIQUIA Race of Morocco. A transcript follows.
FIA WTCR AFRIQUIA Race of Morocco: Race 3 press conference, 7 April
WTCR – FIA World Touring Car Cup presented by OSCARO 2019
Rounds 1, 2 and 3 of 30, Circuit Moulay El Hassan, Marrakech, 5-7 April

Media Centre, Circuit Moulay El Hassan, Marrakech, 19h30, 7 April 2019

In attendance:
Thed Björk, Cyan Racing Lynk & Co, first position
Frédéric Vervisch, Comtoyou Team Audi Sport, second position
Mikel Azcona, PWR Racing
Mehdi Bennani, Sébastien Loeb Racing

Q:
Mehdi, it wasn't the weekend you wanted in terms of results, but you did win the TAG Heuer Best Lap Trophy thanks to your Race 3 pace. Just summarise your weekend.

MB:
It was very tough. We struggled a lot, all the Volkswagen drivers. We tried everything, we changed the set-up but nothing was going in the right way. It was not my best result in Marrakech. I wanted to thank the people because there is huge interest in my participation in WTCR. This year was not easy and we tried to manage to have a good race. Even to finish a race is never easy when we start from P20 or 21. We did our best, we were always pushing to the limit. For sure I wanted to be one of these three winners so congrats to them, I would dream to be in your place. I'm happy that the event was very nice and everybody was happy. Even the weather was good and I hope our turn is coming.

Q:
What do you need to do to the car in Hungary to become competitive?

MB:
We need to work. But I trust on Volkswagen Motorsport's power. The difference from this year to last is the support is bigger. But if we compare to last year we are struggling much more. But for sure I trust 100 per cent the team.

Q:
Thed, a historic day with a Chinese car brand winning an FIA event – a significant achievement. Could you explain the work and effort that has gone into this result?

TB:
There is a lot of work of course, everybody in our racing team work a lot. All our mechanics, they work not normal hours. They work really late. They are just pushing for us drivers to be able to drive. It is the same effort as the other teams, but we have put a lot of effort into developing this brand new car. I am very happy and a little bit surprised to be on the pace. We did not know over the winter where we were, but obviously it's indescribable to take a victory in the first weekend.

Q:
You had another blue car in front during that race: your team-mate Yvan Muller. What were you thinking when you saw he needed to come into the pits?

TB:
The problem was something happened with his car and I had exactly the same car as him. The team told me don't go on the kerbs, because we didn't know what had happened to his car. I really tried to take care of the car, all the bumps here are really aggressive. So I'm really happy I was able to keep Vervisch behind me and take the win.

Q:
The pressure on you, with Frédéric right behind you, must have been intense?

TB:
Yeah, it was. If I would have pushed harder maybe I would have broken my car. Going for the victory and not finishing was not an option, so I really tried to be at a level where I could win but not break the car. I had a fantastic start and that is obviously where we won the race, especially here in Marrakech.

Q:
Your celebrations on top of the roof of the car looked very special, waving the Chinese flag.

TB:
It's a brand new start with Lynk & Co, and I remember how much feeling we had with Volvo. Now it's a brand new marque, even though its Geely. I could share the joy with Lynk & Co people here in Marrakech, so they chose a really good event to come to. I'm really happy with that. It's almost like winning the championship, but we'll try to do that as well.

Q:
Frédéric, you had the DHL Pole Position, but didn't convert it quite as you would have wished. Talk us through the start and the first corner.

FV:
First of all, I'd like to congratulate Thed Björk for this great victory. And my young team-mate did a great job too. I didn't expect this pole position, this pace we had. I'm not many times overwhelmed, but I was kind of shocked – in a good way. I'm extremely happy because we recovered from a not so great day. From pole position here you win the race if you make a good start and you don't break down, which is difficult here with the brakes and so on. Before the start we had a steering problem. We tried to get a new steering wheel, but we ran out of time so I had to hope it worked and it didn't on the out lap. So I switched everything off, I had to slow down and everyone had to stay behind me and it was still rolling.

TB:
Yes, I was really wondering why it was such a slow out lap. Really slow.

FV:
Yeah, it was. Then suddenly it worked again, so I said 'okay, let's try'. But at the start I didn't have the normal things I should have and I didn't move at the start. I'm happy that we finished the race and second place is the best in the situation, and we have points. It's a long championship and we all know you need points to win the championship, so let's see from there.

Q:
The pressure was on you to maintain the car's performance to put pressure on Thed?

FV:
Yeah, I tried to put on some pressure, but of course I had to think about my own car as well. As you saw, JK [Jean-Karl Vernay] had a brake failure as well, Catsburg had a brake failure, so everyone had this issue. You cannot go 100 per cent, I had to cool down the car as much as possible and not lose too much pace, so that's a difficult exercise. I think we were lucky it was not so hot. I think last year it was much hotter. My primary concern was to finish the race.

Q:
Mikel, you are a young gun and you're here with a legend and an expert, your first weekend in WTCR / OSCARO and you are on the podium. What an achievement?

MA:
Yes, it's amazing. My first race in WTCR and my first podium. This thing, one week ago I could not have believed that and now I am here with these drivers. I am super-happy for that. Also a few months ago I didn't have anything closed for this year so it has all happened very fast. At the last moment we closed everything. Finally, now we are in WTCR and for this moment we worked very hard. This is an amazing opportunity for me to be here and I am super-happy for CUPRA Racing and PWR Racing. I can't believe it, my first weekend in WTCR and we are on the podium. It's amazing. The car was perfect all the weekend and I am super-happy.

Q:
When you arrived in Morocco on Tuesday you explained you had given up your day job to race in WTCR. Now it's your focus what can you achieve this year?

MA:
Yes, it was my first time in Morocco and at this track, a difficult street track. It's very difficult with the walls. After this weekend I am really strong, I feel really strong. At the next weekends at different tracks I am going to feel much better. We will see at the next race in Hungary what happens.
ENDS