WTCR - Pre-Event Virtual Press Conference Transcript
Media Centre, Nürburgring, June 3, 2021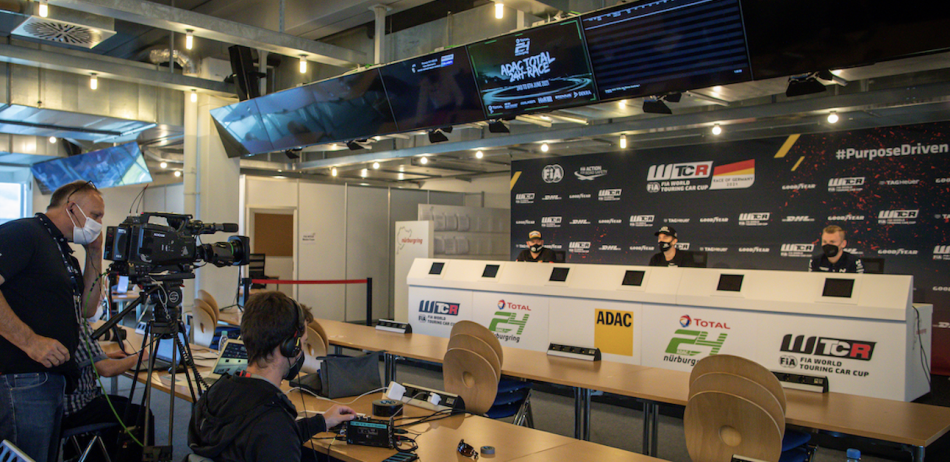 In attendance:
Group 1: 
Luca Engstler (Engstler Hyundai N Liqui Moly Racing Team)
Esteban Guerrieri (ALL-INKL.COM Münnich Motorsport)
Rob Huff (Zengő Motorsport)
Group 2:
Jessica Bäckman (Target Competition)
Yann Ehrlacher (Cyan Racing Lynk & Co)
Frédéric Vervisch (Comtoyou Team Audi Sport)
LISTEN TO THE AUDIO/WATCH THE VIDEO: 
Q:
You are the only driver on the grid, this is your home race, how are you feeling coming into the first rounds of the season?
LE:
Everything is okay, let's wait and see after today but for now I'm still feeling quite relaxed, I've prepared a lot over the winter, I feel very comfortable in the car and for now everything seems alright but you never know what the others did during the winter so let's see and check later.
Q:
You don't have much experience of this track, but this is one of the toughest tracks in the world so how are you approaching this weekend?
LE:
The approach of this weekend is not a lot different to the other weekends. We have to attack like hell to be on the top so it's the same to all the other tracks of course. It's a bit more challenging bringing all sectors together but that's what makes this track so unique.
Q:
We have nine drivers on the grid who are 25 and under at the start of the season and you are the youngest of all aged 21, what do you think of the mix of young guns and more experienced drivers?
LE:
It's quite cool. I followed WTCC when I was a kid, so I know Rob, I know Yvan, Gabriele. As a kid when I was in the grandstand following them, now I'm racing against them and of course it's an honour, it's cool but of course you try to fight with them and hopefully beat them.
Q:
Moving on to Esteban Guerrieri, the man who holds the record for the most WTCR wins with 10 victories. Esteban, we are talking about how difficult this track is, but you know what it takes to win here having won in the WTCR two times. So, are you ready to do it all again and win again? 
EG:
Yes, for sure, very excited to be back racing first of all. I miss racing, the competition. Obviously, I try to find competition somewhere else, apart from the race track in other sports and stuff, but obviously this is in another level, this is my job and it takes 100 per cent commitment. Even though I try to give commitment to everything, I am really happy to be here but mostly at this track to start the season. We are a bit opposite in the off-season so to start here is like a big, big challenge. But, at the same, time, it's what I want as a driver, big challenges, and to try obviously to not lose respect of this track. Even though, as you say, I've been very successful here, it can get you at any corner, at any moment, even now with this weather, which will be changing all the weekend. We will have to be really careful corner by corner because all of a sudden you can get to a braking point and it's wet when all of the track previously was completely dry, so all this makes us, as drivers, have to do this completely ourselves but I just try to keep the path of these previous good results here. It would be great to win but if it's not possible to win then I will try to score as much points as we can.
Q:
You've been really close to winning the title in the last few season but at the end you just missed out. So how are you using those experiences to approach this year, particularly mentally?
EG:
I think every situation is a new opportunity and whatever happens it's a good opportunity to learn and to get some more experience. In the end, to be honest, my goal when I start the season is to reach to the last event, to the last race with the chance of being world champion and I could achieve this in the last three years. Obviously, it didn't go my way and I was a bit gutted with that at that moment because my ultimate goal is to be a world champion but it's part of racing. There are many high-class competitors and they all deserve to be winning. So I just need to keep digging, keep pushing, keep learning and let's see if it comes the opportunity to be right there and I will go for this. That's the target and hopefully one day I can be world champion. 
Q:
Turning to Rob Huff, the 2012 FIA World Touring Car champion and back this year after missing out in 2020. You've got a lot of experience on this track but why do we call it the Green Hell?
RH:
Thank you for the welcome back, I'm pleased to be here. Year number 16 in this series for me so I've had a very fortunate career here and I'm even more lucky to have a chance to come back after a very successful year away last year. The Nürburgring is an amazing track, it's seen some of the best racing we've ever seen in World Touring Car racing over the years. It produces every year some of the most thrilling and exciting racing. It's one of the main circuits that really excites the drivers as well. We have a huge opportunity on the Döttinger Höhe to have huge slipstreams and we've seen some wonderful racing and wonderful overtaking over the years. But the circuit is hugely demanding, not only for the drivers but for the cars as well. It takes quite a different set-up to what we'd normally run for a front-wheel-drive touring car. It's going to be producing some great racing this weekend as well.
Q:
What can we expect here from your car?
RH:
I don't know! For me it's all completely new. I did half a day of testing in the car so I really have to call on my 17 years of experience to perform this weekend. But I'm feeling confident. It's not the newest car so we have quite a lot data from last year and obviously my team-mate [Mikel Azcona] has been driving the car from the very beginning with the development and everything. We're not overly-confident but on the whole we're pretty positive about what we've got ahead of us.
Q:
Turning to Jessica Bäckman, the WTCR's first female driver. You're making history this season, how do you feel about that?
JB:
It feels amazing, since this has been my goal for many years now. To be the first female driver feels like a dream come true and I am very happy to be here.
Q:
You tested the all-new Hyundai Elantra N TCR at Vallelunga last week. What can you tell us about the car?
JB:
It took some time before I got the first test in the car but the car feels good and I put some good laps together on the Vallelunga track so it's a bit different compared to this track but the car feels good and I feel confident for the weekend. 
Q:
You're also making history because also sharing a team with your brother Andreas, so that makes you the first all-sibling team in the WTCR. A lot of people would find it very difficult to share an office with their sibling but what is your relationship like with Andreas?
JB:
We are a bit different because we never fight, even when we were young, we were children who never fought and I think it's a good thing because we can learn from each other and help each other move forward. It's very good to have your brother with you through this. 
Q:
Moving on to Yann Ehrlacher, the King of WTCR after winning the title in 2020. How are you dealing with the pressure as the won defending the title?
YE:
First of all, a warm welcome to Jessica, it's really nice to have a female driver in WTCR and I hope it will encourage some more to come back in the next year and welcome back to you Fred as well. But there is no pressure, as I say the only pressure I have is in my tyres and that's it. I have nothing to defend. The title from last year is mine and now I have to open another book and create a new story of 2021. I will just work on myself, delivering the best work I can do and optimising my performance every weekend and then we will see how it goes.
Q:
You are the only driver here who could have used number 1, but you decided not to, you are keeping with number 68. Why that decision?
YE:
The number 68 is the number I use since I started my career, apart from a few exceptions. I was always with this number and I have been champion last year with this number and I feel more comfortable to keep 68. For sure it looks good to have number 1 for the full season on the car but my number is 68, it's the number of the region I am from in France and I stick to this.
Q:
Turning to Frédéric Vervisch, you are returning to the WTCR after a year away, how does it feel to be back?
FV:
From me as well, congrats to Jessica as our first female driver. That's great to you, Yann, I have to say congrats to you for your title. But I'm back and to be honest I didn't really follow it last year because I was really pushing hard to stay in the series but, unfortunately, it didn't work out. I was quite disappointed and it was my way of closing the chapter. I am really happy to be back, and it feels like starting all over because we have a new car, the team-mates are a bit different but the team is the same and this is a good point. I'm looking forward to it.
Q:
Audi has unleashed a second-generation of RS 3 LMS. How do you feel about the car and how do you think it's going to perform?
FV:
I will tell you after qualifying tomorrow! I don't know, we worked a lot but of course time is our enemy, let's say. We would have liked to have had more test days for sure but we're up for the challenge. It's a new worldwide product and this is the world premiere here so I'm proud to defend that for Audi, together with Comtoyou and my three team-mates. But it's a new car for sure, and for sure we'll have issues and we'll have difficult times but we have to react well and make it work.
QUESTIONS FORM THE FLOOR:
Stephen Brunsdon, TouringCarTimes (SWE) 
Q:
The off-season has been longer than normal so what have you been doing to stay sharp?
EG:
I like feeling the competition in a bit of everything. I play tennis, I was doing triathlons the other day. I like every kind of sport when I am competing but not only for the matter of winning or losing but to build this adrenalin, you know. I've been recharging the batteries with family and friends, doing normal stuff and that also puts me in a sharp position because I feel fully charged to start the season. Then obviously we have pre-season with the team and being together in the tests and so on is also a nice feeling.
Q:
You've always been open about the fact you want to win another world title, now you are prioritising WTCR, does this give you a better chance to win the WTCR title this year?
RH:
Of course, to be in with a chance to win it you have to be in the championship. It's a great opportunity for me. It's been a while since I won my world championship and I'd love to be able to repeat that and that's the only reason why I am here, to repeat that and to win again. That's what we're here for.
Q:
How have you and your brother been approaching this weekend and what do you hope to get out of your first WTCR weekend?
JB:
It's a hard question because I haven't driven in in this series yet, but I don't have the highest expectation on myself because I haven't driven so much here. I'm just going to do my best, have fun and see what happens.