WTCR: Magnus scores second win of 2022 in Vallelunga's Race 2
Gilles Magnus led all the way in Race 2 at WTCR Race of Italy to score his second win of the WTCR – FIA World Touring Car Cup season at Autodromo Vallelunga Piero Taruffi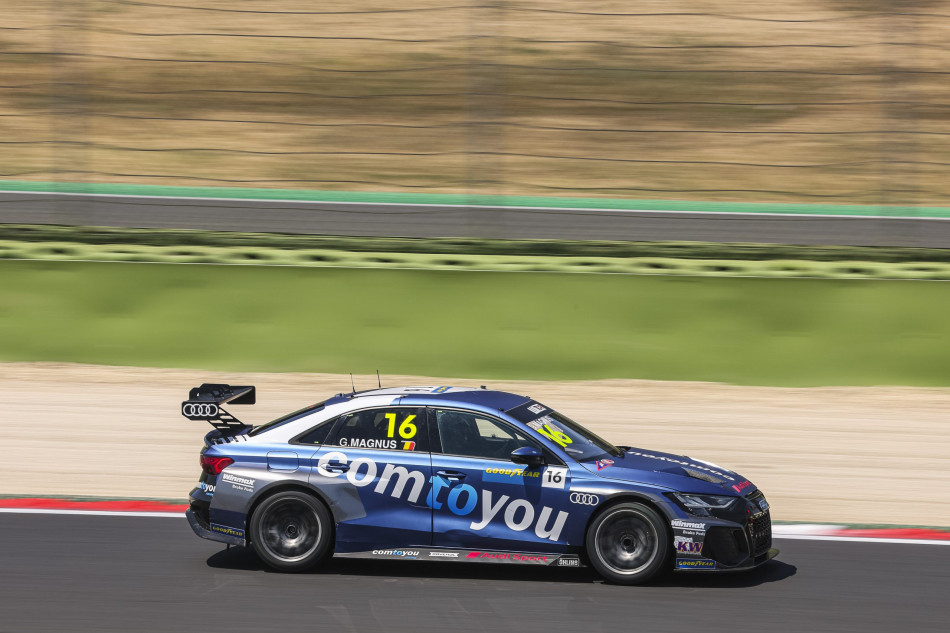 The Comtoyou Team Audi Sport driver followed up his third place in Race 1 with a perfect performance in sweltering conditions as Nathanaël Berthon finished second to make up for the podium he lost in Race 1.
Yann Ehrlacher and Santiago Urrutia should have started from the front row. But as in Race 1, the five Lynk & Cos withdrew to the pitlane at the end of the warm-up lap because of Cyan Racing's tyre safety concerns.
That left Magnus and team-mate Bennani effectively on the front row, and the two Audis stormed through the first three corners door to door. As Magnus claimed the lead into Turn 4, both Attila Tassi and Berthon took advantage of the fight to slip past Bennani.
Bennani's day got worse when he ran off the track on lap nine and was forced to pit. Meanwhile Tassi also hit trouble and headed for a stop, ruining his plan for a podium. That elevated Berthon to second place to secure an Audi 1-2, with Goodyear #Followtheleader Mikel Azcona claiming his second podium finish of the weekend in third.
"A good day for us," said a delighted Magnus. "A little bit of a special way to win, for sure I would have won otherwise as well! It was just about managing. I don't think anyone was on their limit because everyone was so scared. The last few laps I lost a lot of time but that was on purpose. I was managing my front left tyre. I could hear it screaming from the second lap on but it held until the end. I'm really happy for the team and congrats to Nat, I'm really happy to get a podium with him again. Let's celebrate that tonight."
"We've always been on top, and so far we've always had a mechanical failure like this morning," said Berthon, who lost third place to tyre damage in Race 1. "So stressful, this race. Gilles pulled away and this was team strategy, just in case. But wow, 1-2 for Audi. I think we deserve it."
"Incredible weekend, double podium, P2, P3," said a very happy Azcona. "I couldn't imagine this with all the problems we had. The guys gave me an amazing car to survive both races. With this high temperature it is always difficult and the car is in one piece, no punctures at all. I'm very happy, very proud. A good weekend and it's looking good for the championship."
Azcona's team-mate Norbert Michelisz took his second fourth place finish of the day in his BRC Hyundai N Squadra Corse Elantra N TCR, while Race 1 winner Néstor Girolami claimed fifth for ALL-INKL.COM Münnich Motorsport. His Honda team-mate Esteban Guerrieri had passed him early on, but the pair swapped eventually positions in the interests of Girolami's WTCR title hopes. Guerrieri was forced to pit late in the race, dropping from sixth to 10th.
Guerrieri's problem promoted Rob Huff to an excellent sixth in his Zengő Motorsport Cupra Leon Competición, with Tom Coronel's Audi finishing seventh. Tassi recovered from his pit visit to finish eighth, Bennani was ninth, with Tiago Monteiro completing the finishers in P11 behind Guerrieri.
The result leaves Azcona with a commanding 36-point lead over Girolami in the standings. Huff is now third, 52 points down on Azcona, with Urrutia and Ehrlacher slipping to fourth and fifth respectively.