This page contains archived information and may not display perfectly
WTCR - Japan pre-event press conference transcript
Esteban Guerrieri, Norbert Michelisz, Tiago Monteiro, Yvan Muller and Ryuichiro Tomita attended the pre-event press conference for WTCR JVCKENWOOD Race of Japan. A transcript follows.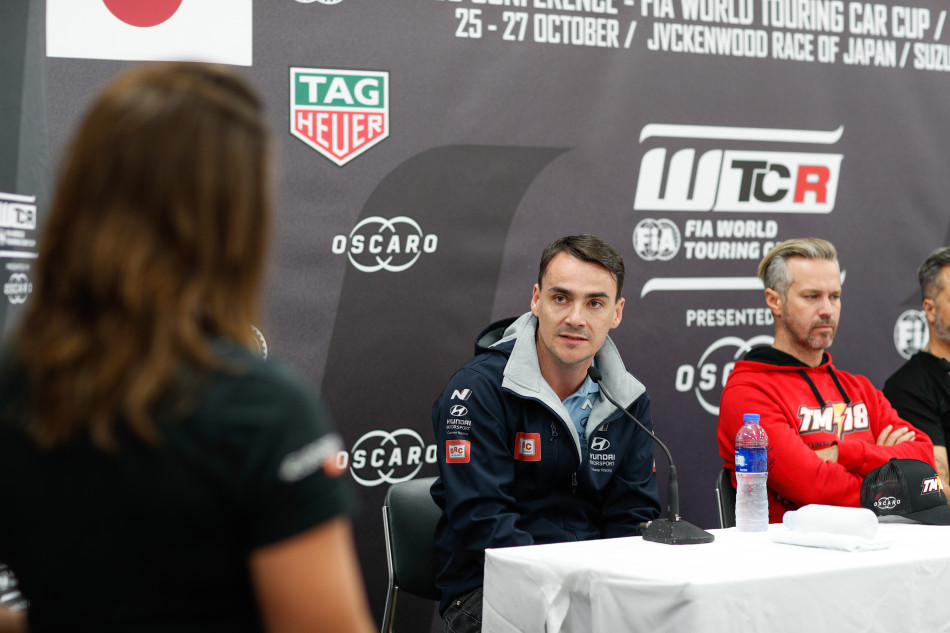 FIA WTCR JVCKENWOOD Race of Japan
WTCR – FIA World Touring Car Cup presented by OSCARO 2019
Rounds 22, 23 and 24 of 30, Suzuka Circuit, 25-27 October

Press Conference Room, Suzuka Circuit, 24 October

In attendance:
Esteban Guerrieri, ALL-INKL.COM Münnich Motorsport
Norbert Michelisz, BRC Hyundai N Squadra Corse
Tiago Monteiro, KCMG
Yvan Muller, Cyan Racing Lynk & Co
Ryuichiro Tomita, Audi Team Hitotsuyama

Q:
Up until the China weekend you were leading the standings but no score for the past six point-scoring opportunities. What are your thoughts coming into this weekend?

EG:
Yeah, try to revert that and try to make it a bit better this time. We kind of had a good potential in the last event but we couldn't maximise everything. Hopefully we can do good at Honda's home race, which is very important for all of us, scoring some good results and we see what we can do. The weather is looking quite tricky tomorrow for qualifying, it's all compacted in one day tomorrow the qualifying, it will be fun and of course the competition is very tight and one or two tenths will make the difference here at the this track so we have to be precise.

Q:
We saw last year you and Yvan having a very feisty battle on track. Are we going to have a repeat this year?

EG:
No, because this was on the long track and now we are on the short one! It was a bit of a misunderstanding in qualifying that time with Yvan. Things happen in racing, now it's another story and hopefully we don't have this kind of situation in qualifying. Having said that on this track, with 52 or 55 seconds if it's wet or a bit more maybe and 30 cars on track it will be really hard to find the gap. Also, with the spray it will be a complicated day tomorrow and you have to be alert to what's going on. To put one lap together is going to be tough but we try to find that.

Q:
Racing in Japan means a lot to you, that's where you got your official seat and it also reminds you of a certain Ayrton Senna?

EG:
I was never in Japan until I arrived here and signed for Honda so it was a very special welcome from this country. Then I found how the people are. They are realty kind and it's incredible how the culture of this country works because it's totally different from what I see before. It's very nice and I'm very proud to be part of Honda. In a way I feel at home in this country. Having said this, winning here and trying to do well for Honda… and my hero Ayrton Senna was a Honda ambassador and driver so it's a nice way to come here and have these memories. But it's important to replicate these on track as well.

Q:
Turning to Norbert Michelisz, Ningbo was a good weekend for you – you're now leading the standings?

NM:
It was okay! Honestly, we did expect Ningbo to be strong for us because you could see also last year the layout is suiting our car. In the end scoring big points and winning a race you can be satisfied. I'm a bit disappointed about Race 3 because I missed some points, but taking the championship lead is a nice feeling, winning a race is a nice feeling and in the end we can be happy with that.

Q:
You and Tom Coronel are the only WTCR drivers to have won on this circuit – tell us about the Suzuka Circuit East Course?

NM:
For me, although it's short, it's quite tricky. Like Esteban says, for me it's a circuit about the drivers. This is because the gaps will be very small. If it is a dry qualifying, if you put your lap together most probably you are alright. But if you make a mistake and you lose one tenth, you can be 12 places down the road. For me the main target is to be clean in my laps and finish inside the top 10 in both qualifying sessions. For me the target is to have the confidence in the car because you have a very difficult braking and turn-in on the first corner and then it's all about changing direction and keeping a clean line. For me on this circuit, over-driving costs you much more than having a confident safe approach.

Q:
So, do you have confidence in the car this weekend?

NM:
For sure, always. This season we showed on some circuits we are the reference car. The Hyundai is for me a very good all-round package. You could see when we won the championship last year, this year we are constantly improving and I'm quite confident for the rest of the season and also for this circuit. In the end the competition never sleeps. For sure I will not lean back because as you saw in Ningbo, Yvan was having a fantastic weekend. I'm expecting Esteban, Yvan, but also the other people to be strong and to be there. It's not only us but at least Thed [Björk] and Mikel [Azcona] are having a chance as well.

Q:
After 415 days fighting you had a very emotional comeback here last year. Tell us about that and how the last year has been for you?

TM:
It was here the comeback after a year and a half of recovery and hard work. It paid off and I'm glad I made all these efforts and didn't give up because, in the end, by tackling all the problems very soon, very early, making all the possible treatments… that's one of the key reasons for my recovery. I'm glad I did it and glad of course to be back. It was an emotional comeback here with all the fantastic welcome from my friends on the track and of course the fans and the whole motorsport family. Since then it's been quite an interesting rollercoaster. We're fighting in a very competitive environment with amazing drivers and amazing teams, everybody is very tight. We need to have everything perfect to have to have a perfect weekend because it can go very easily wrong. We've had a few of those, we've had some good results this year, especially in the twisty, technical tracks. But we've also had some very hard weekends. You have to deal with that and you have to improve from there. I think we've been improving all year long and try to be more consistent at the front. We've proved we can be at the front, we've won a race, but we're not consistent enough so we need to work on that and that's what we've been trying to do in the last few weeks and months. Here it's a very different track, very short. Qualifying will be even more important and tomorrow is a very big day with everything tomorrow, probably wet. It will be interesting, same for everybody so up to us to take the best out of it and try to do a good job out of it but overall, I'm pretty confident.

Q:
In Ningbo we saw you having a very big crash at Ningbo. What have been the aftereffects and how is the car?

TM:
Ningbo was pretty harsh for a lot of people. There was a lot of contacts, a lot of aggressivity, a lot of excitement from many people. That's the way maybe the track configuration was and the mood of the drivers at the time. The impact was pretty strong, but there was no physical effects on myself. There were some checks at the hospital but just precaution. I was very safe in the car and no issues there. On the other side my car was pretty damaged. I have a new chassis this weekend, the front-left was completely destroyed so I have a brand-new car. It was hard for the mechanics because they had a pretty rough night in China and they arrived here a little bit earlier in order to prepare everything. Everything looks good, they are an amazing group of people so it should be good tomorrow.

Q:
Turning to Yvan Muller, what a weekend Ningbo was for you and we've got a bit of a feeling of déjà vu heading into these last few rounds. Talk to us about Ningbo and this weekend, up to P3 in the standings?

YM:
Let's see if we are capable to do the same weekend of Ningbo but that will be probably tough here. But this circuit can suit our car because our car is a good car as well on every kind of circuit. The short circuit is maybe better for us with the power penalty we have is less a penalty. But anything can happen during the weekend. It will be tough with a short circuit, nearly 30 cars on maybe a 55-second lap, we don't know exactly. It could be covered by less than two seconds so it will be complicated in qualifying and the race in addition to that. But as Tiago said, it's the same for everyone so let's see what happens.

Q:
You are one point behind Esteban Guerrieri. A big a threat is he to you this weekend?

YM:
My experience from the past told me not to look after the points you know. I just do my job as best as I can and we will see at the end of the season where we are.

Q:
Welcome to the WTCR Ryuichiro Tomita, one of our Japanese wildcards. You were very late into the world of driving and racing, you only got your licence when you were 21, tell us about that and how you managed to get into the world of racing?

RT:
I really like racing for a long time but I don't have any chance for racing. But some chance came after getting the driving licence and after a while I get a chance in Japanese GT. Now I move to Audi Team Hitotsuyama in Super GT with the R8 LMS and I get a good experience for me.

Q:
Although you are best known for your GT driving you are now behind the wheel of a TCR car so what does it mean to you to be driving in WTCR at home?

RT:
The difference is big and tomorrow I will get my experience in Free Practice 1 and Free Practice 2. We have a good engineer in our team and I have to talk to him to discuss my driving and adjusting. I think we can do our best tomorrow.