This page contains archived information and may not display perfectly
WTCR - Heartbreak for Ma as Muller, Ehrlacher make it an all-Lynk & Co WTCR China front row
2019 Race of China - Qualifying 2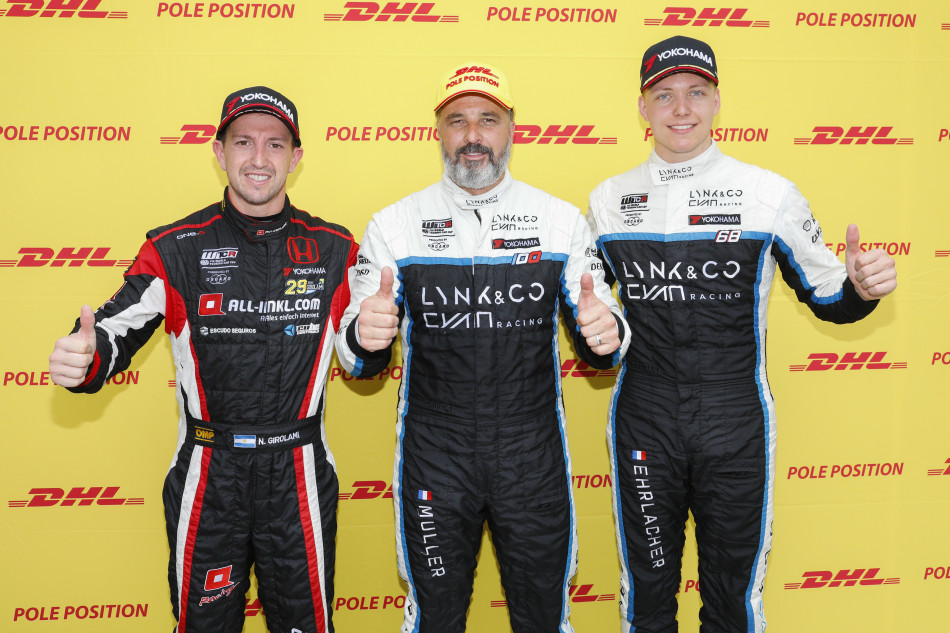 *Top 23 covered by less than one second as Muller breaks Ningbo lap record
*Ma says "drivers don't usually make such mistakes after Girolami baulks his pole bid *Girolami penalised for Ma clash but insists he has no idea" what happened
*Panis and Catsburg challenge for top spot in DHL Pole Position shootout
Yvan Muller and Yann Ehrlacher delivered a WTCR Race of China qualifying one-two for Lynk & Co at the Chinese car brand's home track following a dramatic session. But there was heartbreak for home hero Ma Qinghua in Ningbo.

Uncle and nephew were the last to run in the top-five Q3 shootout and with light rain causing an element of lottery over lap times, the pair were on the track at the right time for Muller to secure his second DHL Pole Position of the weekend and break the circuit's WTCR lap record.

"My lap in Q2 could have been good," said Muller, who was only fourth fastest before the shoot-out. "But it was too early and there was too much rain. But for Yann and I, it was a good choice to run last in Q3. I stayed in my car to hear what time he did. It would have been the first time I would have been happy to be beaten!"

Ehrlacher just fell short in his attempt to depose his uncle, but he was delighted to be second fastest. "I struggled a bit yesterday and was not confident," he said. "I stayed at the track until 1am, so to go from P15 to P2 is great. Now I must work more for the races." As for his uncle, he quipped: "Not bad for a 50-year-old!"

Trouble for Ceccon, hope for Ma in Q1
The 20-minute Q1 session was effectively truncated by a full course yellow flag period after Kevin Ceccon stopped his Team Mulsanne Alfa Romeo Giulietta Veloce TCR out on the circuit early on.

The Italian had an engine change after Race 1 thanks to a stone damaging a radiator. "We still have to check the car, obviously," he said. "It's frustrating but Suzuka will be better for sure, I promise you."

Meanwhile, light rain towards the end made conditions less than ideal and tough to predict. But the weather did not stop a number of late improvements to shake up the order.

Ma Qinghua set the pace with a time of 1m49.980s from Norbert Michelisz, Aurélien Panis, Thed Björk and Yvan Muller. Those to just make the top 12 and thus progress to Q2 included WTCR points leader Esteban Guerrieri and Gabriele Tarquini, the Italian only making the cut after Frédéric Vervisch's best time was disallowed for a track limits violation. Vervisch ended up in P15 behind Daniel Haglöf in P13 and Jean-Karl Vernay in P14.

Other notable names to miss out included Race 1 podium finisher Mikel Azcona in P16, Tiago Monteiro in P18 and Rob Huff in P20.

Drama as Girolami and Ma clash on track
The 10-minute Q2 session ended early because of a red flag in the final moments after Néstor Girolami failed to move out of the way of the faster Ma, which led to the Alfa driver to spin. That left the home-race hero annoyed and hugely disappointed in P12 just behind Andy Priaulx.

Girolami claimed his innocence over the incident, saying he had "no idea" what happened. Ma said: "The car felt much better than yesterday, so I was confident in my pace, but I don't know what happened with Girolami. Usually drivers don't make such mistakes in qualifying. I was flashing my lights from the beginning of the lap and I thought he should see me. I thought he would open the door, but he didn't. It really surprised me. I believe I could have been on pole position."

Afterwards, Girolami received a double punishment from race stewards: his fastest Q2 lap time was deleted after he was adjudged to have caused the red flag, while he was handed a five-place grid penalty for Race 2 for impeding another driver.

The five fastest drivers who graduated to the Q3 shootout were Panis, Nicky Catsburg, Girolami, Muller and Lynk & Co team-mate Yann Erhlacher. Guerrieri just missed out in sixth, from Tarquini, Augusto Farfus, Björk and Michelisz. The Hungarian's P10 position initially awarded him the DHL Pole Position for the reverse-grid Race 2, boosting his hopes of challenging for the WTCR / OSCARO points lead. However, following Girolami's penalty, Andy Priaulx moves from P11 to P10, handing him top spot instead of Michelisz, who will join him on the front row.

Panis starts first, Muller finishes first in Q3
The threat of rain led Panis to choose to run first in the one-at-a-time Q3 top five race for first on the grid. Sure enough, the lottery of the weather came into play as light rain returned during the Frenchman's run. He still managed a respectable time of 1m50.536s in his DHL-backed, Comtoyou-run CUPRA.

Catsburg was next to go, but the Dutchman didn't quite have enough to beat Panis's mark. He was slower by just 0.199s for BRC Hyundai N LUKOIL Racing Team.

Now Girolami took his turn, and the ALL-INKL.COM Münnich Motorsport driver was determined to make the most of his chance. He pipped Catsburg's benchmark to go faster by just 0.039s, admitting "we were lucky today" on his slow-down lap.

Muller was next up. The Race 1 winner was clearly faster than those who had run before and set a time comfortably quickest by 0.362s.

The last to go was Muller's nephew and Fellow Lynk & Co-powered driver Ehrlacher. He was faster than his uncle in the first sector, but couldn't maintain the pace in the final two sectors and ended up second, 0.282s down on the DHL Pole Position winner.