This page contains archived information and may not display perfectly
WTCR - Björk leads Urrutia for Cyan Lynk & Co one-two
2020 WTCR Race of Spain - Race 3 report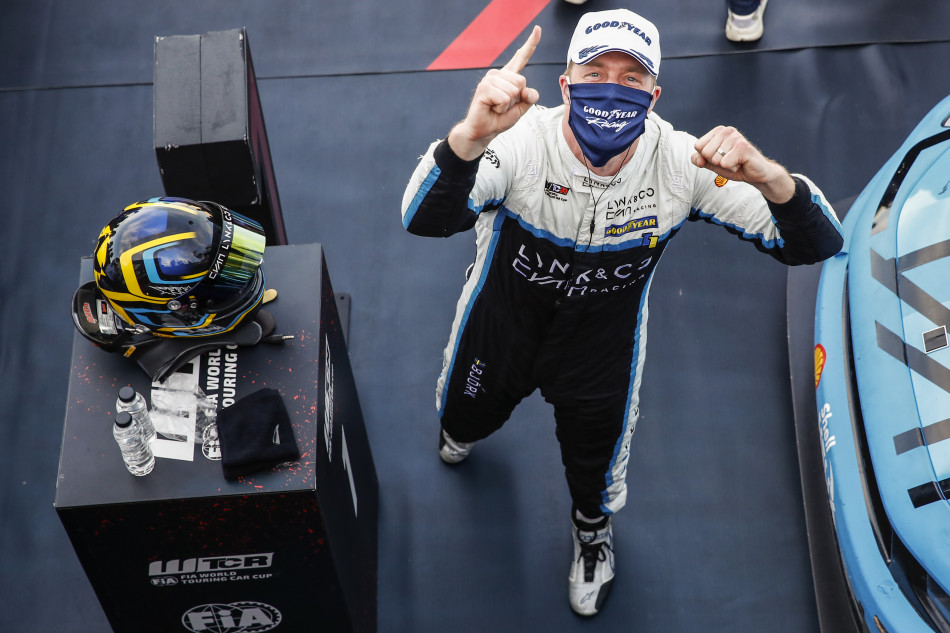 Thed Björk clinched his first WTCR – FIA World Touring Car Cup victory of 2020 as he led Santiago Urrutia for a Cyan Performance Lynk & Co one-two in Race 3 at WTCR Race of Spain.
Behind them, Gabriele Tarquini passed DHL Pole Position starter and WTCR Rookie Driver Gilles Magnus to claim third place, after a frenetic final encounter of the MotorLand Aragón weekend.
Björk made a strong start from the front row to lead into Turn 1 as Magnus was slow away from the DHL Pole Position, which allowed Urrutia to challenge him through the first turn. The pair made contact, with Urrutia eventually getting the better of the Comtoyou Racing Audi driver in a brilliant move through the Corkscrew on lap seven.
"At the start I wanted to fight because it's always easier if you are in front," said a delighted Björk. "I was never going to back down. I had some small issues, but they only cost me some time in on laps two and three, then it was OK. I had some track limits warnings, but Santi was a gentleman for not attacking me."
Urrutia followed Björk closely to the chequered flag for his third podium finish out of three races and his second runner-up finish at WTCR Race of Spain. "I'm super-happy," he said. "Thed deserved to win the race. I was hit by Magnus at Turn 1 and lost some time, but to score three podiums in one weekend, I couldn't ask for more."
Behind them, the action came thick and fast. On the first lap at the end of the long back straight, Luca Engstler lost control of his Engstler Hyundai N Liqui Moly Racing Team Hyundai i30 N TCR under braking and smacked into Néstor Girolami's ALL-INKL.COM Münnich Motorsport Honda Civic Type R TCR. Both were out of the race and the safety car was called upon. "He's broken the diff," said Girolami on the radio. "I don't know what he did. He tried to brake into me."
Racing resumed on lap four with Tarquini, running sixth from eighth on the grid, putting on a charge. He passed Race 1 winner Jean-Karl Vernay on lap five, then chased down Nathanaël Berthon's Comtoyou DHL Team Audi Sport entry. He passed the Frenchman on lap seven, then hunted down Magnus, securing his podium finish with a comfortable move on the back straight on lap 11.
Magnus lost a further place to Berthon on lap 12, the Audis finishing in fourth and fifth, ahead of Vernay. Race 2 winner Mikel Azcona finished a strong weekend on home soil with sixth place in his Zengő Motorsport CUPRA Leon Competición.
Josh Files put in another strong performance on his WTCR debut weekend for Engstler Hyundai N Liqui Moly Racing Team, rising from P17 on the grid to finish eighth, ahead of Tom Coronel's Audi and Esteban Guerrieri, who took his second consecutive P10 for ALL-INKL.COM Münnich Motorsport.
Guerrieri passed his WTCR title rival Yann Ehrlacher, who eventually finished in P12 after losing another place to wildcard Nicolas Baert. "I had an issue with the boost and we lost big today," said the downcast Frenchman. "I drove my butt off but it didn't pay off for me today."
But the Goodyear #FollowTheLeader still holds a handy 27-point advantage over Guerrieri with one race weekend to go. Cyan Racing team-mate Yvan Muller was also struggling for power and slipped down the order to P14, allowing Vernay to move back ahead of him in the points for third.
Bence Boldizs did well to score a point in P15 after appearing to be out of luck once again in his Zengő Motorsport CUPRA Leon Competición after suffering an electrical issue on his way to the grid.
King of WTCR Norbert Michelisz was classified P16 despite being forced to pit with a lost valve core from one of his Goodyear tyres, while Attila Tassi retired on lap seven with a heavily smoking Honda.