This page contains archived information and may not display perfectly
WTCR - Azcona wins Sochi thriller, Ehrlacher 2021 king of WTCR **
FIA WTCR - 2021 WTCR Race of Russia - Race 1 report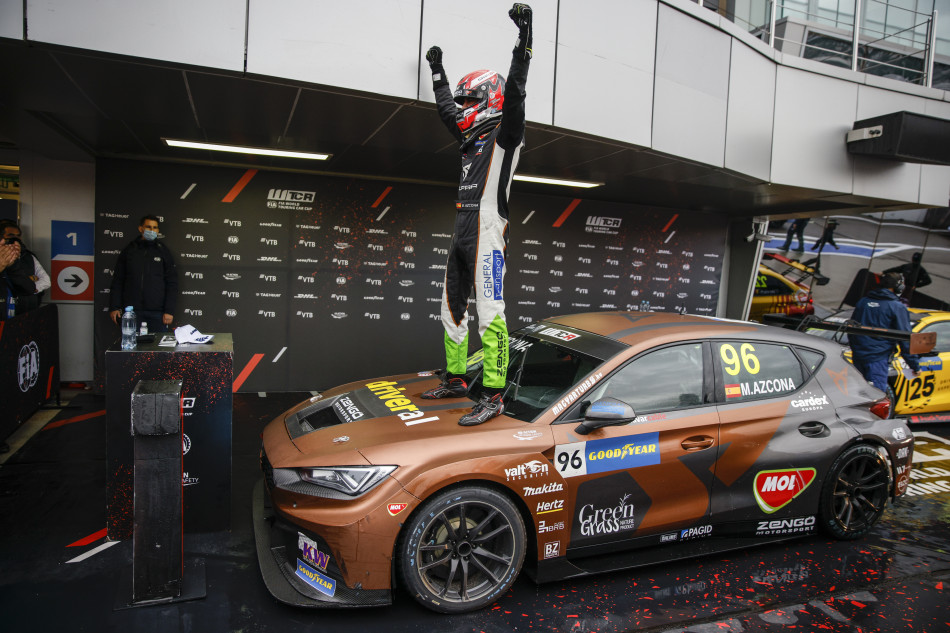 Mikel Azcona passed Jean-Karl Vernay on the final lap to win a thrilling Race 1 at WTCR VTB Race of Russia as Yann Ehrlacher became the 2021 King of WTCR with a safe sixth place at a slippery Sochi Autodrom.
Azcona came from eighth on the grid to claim a fabulous victory in his Zengő Motorsport CUPRA Leon Competición, as Ehrlacher kept out of trouble to secure his second consecutive WTCR crown.
Tough conditions contributed to a frenetic opening race as Frédéric Vervisch gave everything to keep the points battle alive in his Comtoyou Team Audi Sport Audi RS 3 LMS. But third place for the Belgian wasn't enough to stop Ehrlacher provisionally clinching his title.
"This feels so good," said the 25-year-old on the radio after taking the chequered flag. "We are world champions! Twice! Yes! Come on!"
Vernay looked set for victory after his own fantastic performance. The Engstler Hyundai N Liqui Moly Racing Team driver made a superb start from the second row to squeeze between both Audis on the front row ahead of Turn 1, only for pole position starter Gilles Magnus to drag back past on the long run to Turn 2 to secure the lead.
Behind the top two Esteban Guerrieri was challenging Vervisch for third place when he lost control at Turn 4 and crashed heavily into a barrier in his ALL-INKL.COM Münnich Motorsport Honda Civic Type R TCR. "I'm sorry guys," said the Argentinian on the team radio. "I hit the blue paint."
Ehrlacher reported on his view of the start from his car. "It was absolute chaos," he said. "I couldn't see anything. The main thing is Esteban is OK. It was a big one, I saw it live."
Following the intervention by the Honda Civic Type R Limited Edition safety car, racing resumed on lap four and Vernay was immediately on the attack, getting a run on Magnus on the inside of the long Turn 3 to take the lead. Magnus then found himself under attack from Rob Huff and Azcona in their CUPRAs. Azcona passed his team-mate on the fifth lap as Vernay reported his windscreen wipers weren't working. The following time around Azcona demoted Magnus to third and set after Vervisch who was now running second to Vernay.
But Magnus wasn't finished and on lap seven hit back at the Cupras, triggering a further shuffle of the order. Now Huff was third from Azcona, with Magnus still biting at their heels.
Meanwhile up front Vervisch was pressing Vernay for the lead – but suddenly the Belgian had Huff to deal with. The pair clashed door to door, which sadly caused damage to Huff's CUPRA who was forced to retire to the pits. The order was now Vernay, Azcona, Vervisch and Magnus as the race moved towards the closing stages.
On the final lap, Azcona got a run on Vernay across the start/finish and made his decisive move on the brakes into Turn 2 to take the lead and a memorable victory. Behind Vernay, Vervisch at least finished on the podium in third ahead of Comtoyou team-mate Magnus. Nathanaël Berthon made it a trio of Audis in the top five after a relatively quiet race, with Ehrlacher keeping clear of any problems to finish sixth and secure the vital points he needed in his Cyan Racing Lynk & Co.
Attila Tassi (Honda) passed Yvan Muller for seventh, with the other Lynk & Cos of Santiago Urrutia and Thed Björk rounding out the top 10. The other points scorers were Néstor Girolami (Honda) in P11, ahead of Norbert Michelisz (Hyundai), Luca Engstler (Hyundai), Gabriele Tarquini – in his penultimate race before retirement – and Jordi Gene (CUPRA) in P15.
The season-closing Race 2 at WTCR VTB Race of Russia will start at 14h15 local time.
**Subject to confirmation of the results by the FIA