WTCR - 2021 Race of France - post-race virtual press conference
FIA WTCR - 2021 WTCR Race of France - Post-race virtual press conference transcript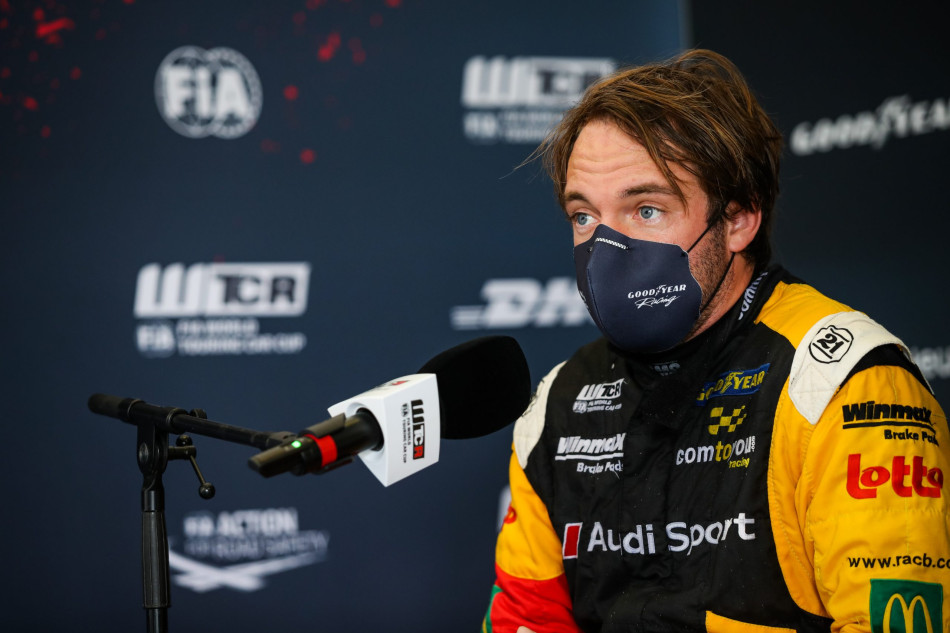 Frédéric Vervisch, Jean-Karl Vernay, Yvan Muller ande Santiago Urrutia attended the post-race virtual press conference at WTCR Race of France 

In attendance:
Frédéric Vervisch (Comtoyou Team Audi Sport), first position, Race 1
Jean-Karl Vernay (Engstler Hyundai N Luqui Moly Racing Team), first position, Race 2
Yvan Muller (Cyan Racing Lynk & Co), second position, Race 2
Santiago Urrutia (Cyan Performance Lynk & Co), third position, Race 2

Q:
Jean-Karl, what a brilliant start. You capitalised on a slightly poorer start from Yvan and made a very quick getaway.

JKV:
Yeah, was a good day overall. A lot of points. Since Nürburgring we didn't score as many points as this weekend, so it's pretty good. Really consistent, good performance and yeah, we saw the Lynk & Cos were struggling in Race 1 at the start so we said OK. That was the only occasion, let's say, to have a shot at Yvan and it happened. Definitely really happy and I really tried to push the first few laps to make a gap. The car was reacting really well and then it was just a question of taking care of the car and front tyres, making no mistakes because as soon as you have a lack of concentration you can go a little bit wide and make mistakes or have punctures. It was a long race, especially with the safety car on the last lap. You never know what can happen when the safety car comes in. Overall it was a good race.

Q:
It certainly made up for what was a really difficult Hungary and Most for you.

JKV:
Yeah. Well, Hungary definitely we made a mistake. And Most, overall the weekend was pretty good, we just had an issue on the car. We broke the anti-rollbar and the guys tried to do everything they could on the grid, but we were put in the car just too late and we were penalised for that. So we lost eight points. It's a lot. But it's like this, and now we are looking forward to the last two events and we'll see. But at least we are back in the fight.

Q:
You most certainly are. You've jumped up to P2, just 16 points behind Yann Ehrlacher. Your thoughts on Adria?

JKV:
Well it's maybe more my home race than here! It's closer to my house. We'll see. It's difficult to have an idea really. We were testing during the winter. A very slow track. We'll see if there is an opportunity to overtake. Qualifying for sure will be really important and now there is two events. Everybody will be pushing hard and we'll see.

Q:
Presumably you have to make a quick getaway now for PURE ETCR…

JKV:
It's quite important today because I can still fight for the title. Something needs to happen to Mattias to be honest, but with Azcona who is P3 and I'm P2 it's quite close so we definitely have to do a good race and we want to win Battle 4. I've won only once so I definitely want to win another one.

Q:
Yvan, talk us through that race from your perspective.

YM:
I think everything was over after Turn 1. My start was not good enough. Unfortunately we know we have a weak point on that and we have to work on that for the future. JK was already in front of me at Turn 1, so that was over. I tried for two laps and then I said OK, take your gap, keep the fresh air and drive like this. But of course I'm disappointed because I lost the victory, especially after a nice pole yesterday. But on the same point if you look at where I was after Race 1 I can be pleased to be on the podium. Well done to my boys because they did a super job. Without them we couldn't be on the grid in Race 2.

Q:
Great to have you, Thed and Santi on the podium this weekend for valuable points for the team.

YM:
Yeah, absolutely. I didn't see the result of the championship at the moment, but for the manufacturers' which is the main target for Lynk & Co it looks pretty good and that is the main thing.

Q:
Fred, talk us through your brilliant Race 1 and how you have jumped up to fourth in the standings, just 29 points down on Yann Ehrlacher.

FV:
Obviously it was a victory, so that's great. We had a great starting point on pole position, but I don't know how it was for Yvan but it's not so easy. My start was not great, Thed had a better start but I could stay in front which was the key point. Then it's quite hard to overtake clean. Our car was good enough to stay in front, we made a big gap after the restart from the safety car and then we could keep more or less the same gap. So great work from the team. But we should be that fast because we are the lightest car on the grid. Then for Race 2, again it was a very good race from my point of view. Started P10, could finish P4. Our car seemed strong, especially our weak point is the front tyres at the end of the race, but we seemed quite good there. So very happy with the result and hopefully we can be a bit quicker in qualifying which is really important and then we can say.

Q:
Santi, that was entertaining. You capitalised on the difficulties Norbi Michelisz was having to get yourself on the podium. Congratulations.

SU:
Thank you, yes. It was a difficult weekend to be honest. We struggled with the start in Race 1, I think we lost a lot of points and in Race 2 we lost the win with Yvan, so I think we need to work a little bit. Looking at the teams' championship after Race 2 we got a lot of points, so that's really god for Cyan and Lynk & Co. There are still four races to go so we need to maximise the mistakes we have done the past weekend and everything is very tight right now. There's no room to make another mistake, so for myself I'm happy to be back on the podium in P3, so thank you to Cyan and Lynk & Co, they gave me an awesome car today, it was so good to drive. We have to focus on the next one and keep going?

Q:
Your thoughts on Adria?

SU:
On Adria we will need to work and keep going. As I say, it's very tight. I believe in my team, we have been doing a really good job and I hope we can get even better. As I said, the field is very tight, the world title is very competitive. I'm happy to be on the podium, we collect the points which is the main thing for the team and I'm happy. Now we need to move forward and keep working.

YM:
Just one thing. As we are on the podium it is a good opportunity to say happy birthday to Lynk & Co because they have their fifth anniversary this year. Happy birthday to Lynk & Co!
 
ENDS