WTCR - 2021 Race of France - Post-Qualifying press conference
FIA WTCR - 2021 WTCR Race of France - Post-qualifying press conference transcript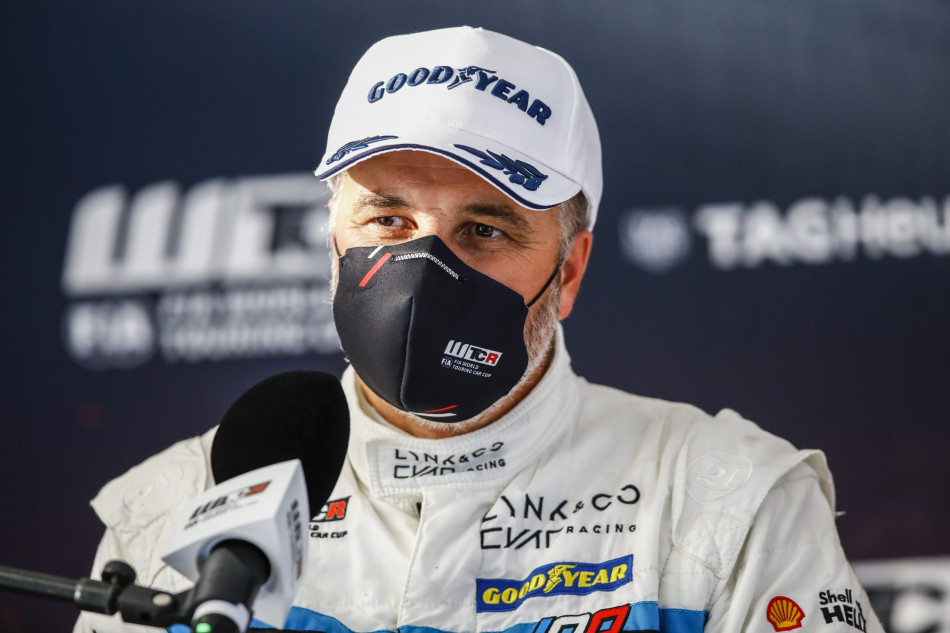 In attendance:
Yvan Muller (Cyan Racing Lynk & Co), first position
Jean-Karl Vernay (Engstler Hyundai N Luqui Moly Racing Team), second position
Norbert Michelisz (BRC Hyundai N LUKOIL Squadra Corse), third position

Q:
Jean-Karl, very nicely done, you were foot the floor. Talk us through it.

JKV:
Yeah, it's a good day, you know? Since this morning I've had a good feeling. I think we worked pretty well all together, all the Hyundai drivers to set up a really good car. From Q1 the car was excellent. The tyre degredation is also quite huge for the rear tyres for us, so that was kind of the key of the qualifying just making sure we save some good tyres for Q3, which is what we did. Yvan just beat us, he did a better job and that's all. Of course, I'm a little bit frustrated not to be on pole as we are in France and I think we had the potential. We did a good lap time in Q2, just in Q3 I didn't feel the same grip as before and we just missed some tenths and that's pole. But I think we can be proud of our performance. I'm also happy we're P2 and P3 for Hyundai with Norbi. Now let's score some good points tomorrow, we definitely need to if we want to be back for the fight for the titles. So yeah, it's a good day for now.

Q:
Just how tough is it this weekend switching between WTCR and PURE ETCR?

JKV:
It's getting better. Motorland Aragon was the first event with both series, it was a little bit tricky but now I'm used to it. I definitely enjoy it. Like I said, I just love being in these two series, I'm having a lot of fun in these two cars. It's kind of different, I have a lot of fun driving in ETCR, in WTCR the challenge is just so difficult. Both are really exciting.

Q:
Gonzalo Forbes of AUTOhebdo has asked a question. 'You showed great pace through qualifying, but not quite enough to beat Yvan. What was it he had and where can you catch him in the race?'

JKV:
We'll see tomorrow. We'll see first in Race 1, try to analyse the start if there is some possibility. Like I said, the most important thing is to score big points. We could have done pole, we didn't, so now if we need to be satisfied with P2 tomorrow we will. Of course if there is some opportunity we will try to go for the win. I mean we are in France, at least there are two French drivers and there's a good chance to have the Marseillaise on the podium, but the work is not finished.

Q:
Norbi, nicely done to be third. It's good to be here in the Q3 fight again.

NM:
Yeah, the target to be honest was to be here. If you are in Q3 the target then is always to get pole, but I'm not sure we could have done this because the lap of Yvan was very impressive. So I had of course a small, small margin but not enough to be on pole today. But anyway, happy for the team and congrats to Yvan because it was a very nice effort. And in the end starting from P3 I still have all the possibilities, even to get a race win tomorrow. So in the end I'm confident with our long-run pace. Of course the races won't be easy because it's a particular circuit. But in the end I'm happy with what happened today, happy with the points we scored and very happy with the baseline we set for tomorrow.

Q:
Just how beneficial is it to have Jean-Karl beside you and how much of a disadvantage is it for Yvan to be on his own?

NM:
If you had the choice you always want to start on pole position. In the end we have some tools, but if Yvan has a good start it's a very limited possibility to play a game behind him and to take advantage. He has the experience how to go for this, I'm not really looking forward to any kind of things related to this. In the end it's beneficial, but also we need to take care not to take each other out because in the end you can see Turn 1 and Turn 2 and also Turn 3 is very tight. Even though you are careful you can be caught up in a mess.That's something we need to avoid tomorrow. That's the main target and then to exploit what we have during the race. Like I said I'm quite confident with what we have, so let's try to take advantage of that.

Q:
Yvan, very nicely done, first pole position in a while and where better to do it than here in France?

YM:
For sure, if there was only one pole position to do during the season it would be this one. So it's nice. Initially at the beginning of the year that race was not planned, we should be in Asia at this moment, because of all the complications we are here and it's a good thing. Of course very pleased with the pole position and very pleased with the pace and the team work we all did. We deserve it.

Q:
Gonzalo Forbes of AUTOhebdo once again. 'You are on pole in front of your fans, but you have two Hyundais right behind you. How tough, now you have seen their pace, will it be to keep them behind you?'

YM:
First, the good news is they are behind me, so that's already a good point. And then I have to do a good start. If I do a good start it will be a second good point and then if I can stay out for the race at the front then I would not say it would be done, but it can be. So let's see, let's see. Many things can happen still, at the moment I will just enjoy the pole position for another half an hour and then I will work on the set-up of the car for tomorrow.

Q:
And you have to get through Race 1 as well.

YM:
Yes, for Race 1 will start in P10, so it is important to save the car to be safe for Race 2, which can be complicated with the first corner, the chicane, anything can happen there. We saw last week in Most what happened, so I just hope everybody will stay calm and clever. But there is always one who is disconnecting! So I hope it is not too strong.