This page contains archived information and may not display perfectly
WTCC - Who Will Master The Joker In Portugal ?
WTCC - 2017 Race of Portugal - Preview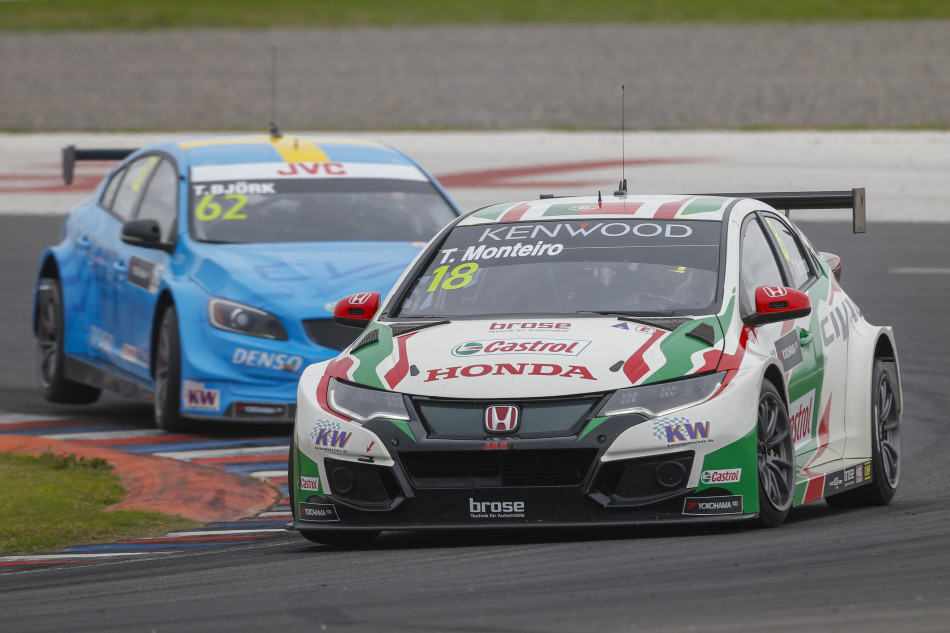 RACE PREVIEW: FIA WTCC Race of Portugal, 23-25 June 2017
FIA World Touring Car Championship 2017, Rounds 9 and 10 of 20
*Alternative lap provides added drama on the challenging streets of Vila Real
*Home hero Monteiro bids for more Portuguese pride at history-making event
*World title battle finely balanced with 31 points separating top seven drivers
World championship circuit racing history will be made on the streets of Vila Real next week (25 June) when 'joker' laps are added to the challenge facing drivers at FIA WTCC Race of Portugal.
Designed to further spice up the on-track action on the demanding round-the-houses layout where overtaking isn't always possible, the FIA World Rallycross-style concept will require drivers to take an alternative route in both the Opening Race and Main Race broadcast live around the world.
Vila Real's 'joker' lap route is located at the final corner, Turn 26, with the full approval of the FIA Safety Department and local authorities*. While the right/left flick through a roundabout will still be used in normal racing conditions, the alternative route will effectively take drivers the other way onto the roundabout and through a tighter left/right sequence before they re-join the start/finish straight. The alternative route is expected to take an additional two seconds, which will hand pursuing drivers ample opportunity to overtake, and place a focus on tram strategy. However, the 'joker' lap cannot be taken until the third lap of either race, while drivers will be able to practice the new route during Free Practice 1 and 2 on 24 June.
The 'joker' lap location will be highlighted by special branding to make it visible and understandable on TV. A graphic will give viewers instant notification when the lap has been taken, while fans following live timing will be able to determine the 'joker' status of each driver.
Honda factory driver Tiago Monteiro, chasing a second consecutive home victory to follow his hugely popular triumph 12 months ago, said: "It's great to try new ideas, new options to spice up the show. When you are in pole position you don't really want the 'joker' lap because you don't want to lose your lead. But if you are not on pole position then there is a new opportunity to overtake."
Nicky Catsburg, two points ahead of Monteiro in the battle to become world champion in his works Volvo S60 Polestar, added: "The 'joker' lap opens up plenty of opportunities to overtake or to be sure you are not to be overtaken, which is really cool. It brings an extra element of strategy and it's something we really have to think about long and hard how to utilise it. We've seen in rallycross it can be interesting and nice to watch as well so I'm looking forward to it."
*The 'joker' lap route remains subject to a final FIA track inspection on 21 June.
WEEKEND HIGHLIGHTS
*While the 'joker' lap's world premiere will take centre stage the world title battle is finely balanced with seven drivers covered by 31 points, such is the wide-open nature of the 2017 season. Nicky Catsburg rules the rankings on 127 points, two ahead of Tiago Monteiro with Catsburg's Polestar Cyan Racing team-mate Thed Björk next up on 119 points. Tom Chilton is fourth for on 106 points, Rob Huff fifth on 102, Mehdi Bennani sixth on 101 and Norbert Michelisz seventh on 97.
*There's also a close fight for WTCC Trophy glory brewing as several independent racers battle for top honours. After eight races, ALL-INKL.COM Münnich Motorsport's Rob Huff is one point and five points respectively ahead of Sébastien Loeb Racing pair Tom Chilton and Mehdi Bennani.
*Having shared the track with their WTCC counterparts at the Nürburgring Nordschleife last time out, the FIA European Touring Car Cup racers will revert to topping the support bill in Vila Real. Christjohannes Schreiber heads Petr Fulín by a single score at the halfway point of the season.
*Four Portuguese drivers will be in action across the WTCC and ETCC grids: Tiago Monteiro and championship rookie Manuel Fernandes will be on WTCC duty with Fábio Mota and newcomer José Rodrigues going for gold in the ETCC.
*The legendary Vila Real race weekend begins with several promotional activities on Friday (23 June), including an open-top bus tour of the track by WTCC drivers, an autograph session, open-air press conference, an audience with the Mayor of Vila Real, Rui Santos, plus a huge street party to celebrate the Festa de São João.
WHAT'S NEW FOR 2017
*Factory teams from Honda and Volvo Polestar go up against leading privateer entrants.
*Revamped and compact calendar (10 events only to reduce costs) features return to iconic venues Monza and Macau, a new track in China, plus a mid-July date for WTCC Race of Argentina.
*More points are on offer to the top 10 in the Main Race as follows: 1=30 points; 2=23; 3=19; 4=16; 5=13; 6=10; 7=7; 8=4; 9=2; 10=1).
*WTCC MAC3, the Tour de France-inspired time trial, continues with two more points for winning.
*FIA World Rallycross-style 'joker' lap set for world premiere at WTCC Race of Portugal.
*Renewed social media push with several innovations coming during the season.
*Use of 360-degree camera to give viewer the impression they are in-car with the driver.
LATEST DRIVER NEWS
*Manuel Fernandes will make his WTCC debut in a third RC Motorsport entry, partnering two drivers also new to the championship this season, Yann Ehrlacher and Kevin Gleason.
*ALL-INKL.COM Münnich Motorsport's Rob Huff has yet to win in the WTCC in 2017 but the former world champion knows what it takes to shine on the streets having claimed 10 urban circuit victories during his WTCC career. Thankfully, a hefty crash in a TCR race at the Salzburgring in Austria earlier this month hasn't knocked the Briton off his stride.
*Argentine racers and close friends Néstor Girolami and Esteban Guerrieri are the only drivers on the grid with 'joker' lap experience following their exploits in their domestic Súper TC2000 series, which introduced the alternative route concept in 2015.
*Guerrieri will head to Vila Real a winner after he triumphed in the second of two recent Súper TC2000 races at Termas de Río Hondo, venue of next month's WTCC Race of Argentina no less.
*Vila Real first-timers include Honda's Japanese racer Ryo Michigami, Yann Ehrlacher, Kevin Gleason, Esteban Guerrieri and Aurélien Panis, the son of 1996 Monaco Grand Prix Olivier Panis, who commentates on Eurosport France's WTCC coverage.
*Family advice will be key for Yann Ehrlacher, the nephew of four-time WTCC champ Yvan Muller, now a development driver at Cyan Racing, the team behind Volvo Polestar's factory WTCC bid.
*Néstor Girolami is desperate for an upturn in fortune on his return to Vila Real after a year away. The Polestar Cyan Racing driver made his debut at the track in 2015, finishing what was then a WTCC career-high eighth in the second race of the weekend.
*Tom Coronel will be determined to make up for the 'win that got away' in Marrakech at the start of the season by repeating his Vila Real victory of 12 months ago. Coronel was leading WTCC Race of Morocco in his DHL-supported Chevrolet when a brake issue dropped him back.
*Zengő Motorsport's Dániel Nagy will celebrate one year in the WTCC in Vila Real. The Portuguese track was the scene of the Hungarian teenager's long-awaited debut back in June 2016.
*Following a double score at WTCC Race of Germany last time out, OSCARO-backed John Filippi will be hoping for more consistency at the Nürburgring Nordschleife of the South as Vila Real is affectionately known.
FERNANDES MAKES IT DOIS FOR PORTUGAL IN THE WTCC 
Manuel Fernandes will go from European Touring Car Cup winner to WTCC rookie when he contests his home round of the FIA World Touring Car Championship next week. Fernandes won the inaugural ETCC Race of Vila Real on the challenging street track in the northern Portugal city where he lives last June, but will step up to the big brother WTCC in a third RC Motorsport entry. He will partner fellow rookies Yann Ehrlacher and Kevin Gleason in RC Motorsport's exciting line-up, which expands to a three-car operation for the first time. And his inclusion on the expanded WTCC grid means local fans will have two Portuguese drivers to support this year with Tiago Monteiro, the 2016 WTCC Race of Portugal winner, heading the charge for the factory Honda team as he bids to wrestle back the championship lead.
MONTEIRO'S HONDA LIGHTER FOR HOME WTCC RACE
Hopes of another home win for Tiago Monteiro in the FIA World Touring Car Championship have received a lift with confirmation that the Honda Civic will be 30 kilograms lighter than the Volvo S60 Polestar as driven by his chief title rival Nicky Catsburg. While Catsburg's factory Swedish machine will run with the maximum 80 kilograms of compensation weight at WTCC Race of Portugal, Monteiro's works Honda will carry 50 kilograms, which could prove decisive on the challenging – and undulating – street track. Designed to equalise car performance in the WTCC using a time-based calculation following the races in Hungary and Germany, the compensation weights have been adjusted for WTCC Race of Portugal as follows:
Chevrolet RML Cruze TC1: 20kg (-10kg)
Citroën C-Elysée WTCC: 80kg (no change)
Honda Civic WTCC: 50kg (-20kg)
LADA Vesta WTCC: 0kg (no change)
Volvo S60 Polestar: 80kg (no change)
ONLINE STARS READY FOR ESPORTS WTCC ACTION
The eSports WTCC multiplayer championship is back online this weekend (18 June) with top drivers from around the world in action at a virtual Portimão. Frenchman Thomas Petitjean dominated pre-qualifying at the one-time WTCC venue in Portugal's Algarve region, ending up 0.2s faster than Juan Manuel Gomez, Nikodem Wisniewski and Tanguy Pedrazzoli, as Honda Civics locked-out the top four places. Klaus Schulze proved the Citroën C-Elysée should not be underestimated on race night with the fifth quickest teams as eSports WTCC title leader Alexander Dornieden ended up sixth, four places ahead of his closest championship rival, the Volvo driver Jan Stange. Dutchman Frank van Roon was the top newcomer in P20. The Portimão event will mark the first time competitors in the inaugural eSports WTCC multiplayer championship will run in 2017 livery. James Kirk and Robert Wiesenmüller will expertly lead you through two hours of thrilling virtual racing action with live coverage on Facebook and YouTube from 19h00 CET on Sunday. For more information on eSports WTCC go to this link. Meanwhile, the World Touring Car Championship drivers will be embarking on an eSports WTCC time attack challenge from 17h45-18h45 local time on Saturday 24 June.
THEY SAID WHAT?
Nicky Catsburg (Polestar Cyan Racing): "Vila Real is extremely difficult and people who deny that are wrong in my opinion. A street circuit simply doesn't allow as many mistakes as a normal circuit does. If you go off at Vila Real and touch the wall your weekend can be over so you need to stay completely focused. That makes it a lot of fun but it's also a very stressful and also extreme: in 2015 I took out Tiago at the start, then in the middle of the race I took out Sébastien Loeb then at the end of the race I took out myself, all by accident of course."
Tiago Monteiro (Castrol Honda World Touring Car Team): "It's the most crazy week ever, you have so much demand as you can imagine. Not only the media and promotional commitments, but you have your partners, the fans and then there are all the motorsport commitments and demands. It all takes time and energy but that's why we do the job we do because we love it. On the Monday and Tuesday there will be a number of PR commitments, on Wednesday afternoon I drive to the track, which is one hour from my home and stay in Vila Real for the rest of the week when the real business starts. I cannot hide that there is a huge pressure but I put this on myself, naturally."
Manuel Fernandes (RC Motorsport): "I'm really excited. I missed the opportunity to do this race two years ago but I knew inside that one day if I had another chance to participate I wouldn't let it go. This is the opportunity to do one thing that I love in a no-pressure environment. My preparation will be on the racing weekend only but it's my city, a track that I know very well and with no need to get any results. It's important I enjoy this as much as possible."
WHAT HAPPENED IN 2016?
Tiago Monteiro got his faltering season firmly back on track with an emotional home win. The erstwhile title leader had been on the back foot following exclusion in Morocco and a spectacular crash in Germany. But it all came good for the Honda ace on the challenging streets of Vila Real. Despite the race-long attentions of Citroën's Yvan Muller, Monteiro, who started from the DHL pole, did not crack under pressure to win the Main Race from Muller and Honda team-mate Norbert Michelisz. In the Opening Race, privateer driver Tom Coronel scored his second victory of 2016 for ROAL Motorsport with Tom Chilton making it two independent WTCC Trophy drivers in the top two. Nicky Catsburg completed the podium for LADA as Sébastien Loeb Racing put the WTCC Teams' Trophy beyond doubt thanks to Chilton and Mehdi Bennani's strong performances. Rob Huff extended the Honda celebrations by winning the TAG Heuer Best Lap Trophy, the Briton setting a new lap record with a 1m58.385s best in the Main Race. Thed Björk, partnered at Polestar Cyan Racing by Robert Dahlgren for the first time, scored points in both races. World champion José María López bagged two fifths to maintain his push for a third crown.
TRACK GUIDE IN 100 WORDS
A circuit oozing history and intrigue, racing has been held on the hillside roads of Vila Real since 1931, when Gaspar Sameiro and Ercilio Barbosa conquered the original 7.150-kilometre course in a Ford Model A. Safety and financial factors meant races were held on an irregular basis until the WTCC's arrival in 2015 provided stability and Vila Real's first world championship-level race meeting. The 4.785-kilometre layout now used is a challenging blend of turns, climbs and descents. While a handful of chicanes were installed for safety reasons, the spectacle remains unaltered with speeds nearing 240kph on the final downhill section.
TRACK ESSENTIALS
Name: Circuito Internacional de Vila Real
Location: Av. Carvalho Araújo 7, 5000-651 Vila Real
Website: www.civr.pt
Length: 4.785 kilometres
Opening Race distance: 11 laps (52.635km)
Main Race distance: 13 laps (62.205km)
Lap record (qualifying): Tiago Monteiro (Honda Civic WTCC), 1m56.633s (147.6kph), 25/06/16
Lap record (race): Rob Huff (Honda Civic WTCC), 1m58.385s (145.5kph), 26/06/16
WTCC appearances: 2 (WTCC Race of Portugal also took place at Estoril, Portimão and Porto)
Time zone: GMT +2 hours
Sunrise/sunset: 05h57/21h08 (25 June)
Average temperature: 13-23°C (June)
Nearest airport: Porto (101 kilometres)
PREVIOUS WINNERS
2016: Opening Race: Tom Coronel (Chevrolet Cruze); Main Race: Tiago Monteiro (Honda Civic)
2015: Race 1: José María López (Citroën C-Elysée); Race 2: Ma Qing Hua (Citroën C-Elysée)
2013: R1: Yvan Muller (Chevrolet Cruze); R2: James Nash (Chevrolet Cruze)
2012: R1: Yvan Muller (Chevrolet Cruze); R2: Alain Menu (Chevrolet Cruze)
2011: R1: Alain Menu (Chevrolet Cruze); R2: Rob Huff (Chevrolet Cruze)
2010: R1: Tiago Monteiro (SEAT León); R2: Gabriele Tarquini (SEAT León)
2009: R1: Gabriele Tarquini (SEAT León); R2: Augusto Farfus (BMW 320)
2008: R1: Rickard Rydell (SEAT León); R2: Tiago Monteiro (SEAT León)
2007: R1: Alain Menu (Chevrolet Lancetti); R2: Augusto Farfus (BMW 320)
FIVE FACTS
1: Vila Real played host to F3 single-seaters in the 1960s before sportscar racing came to the fore. Chris Craft and David Piper won a six-hour event in 1969 driving a Porsche 908.
2: During the 1980s touring car racing thrived at the circuit before a fatal accident in 1991 forced the authorities to intervene due safety concerns. Racing resumed on a shortened layout in 2007, with a revival meeting attended by Stirling Moss, who competed at Vila Real in period.
3: The name Vila Real (Royal Town) comes from King Denis of Portugal founding it in 1289.
4: Although Portuguese WTCC star Tiago Monteiro was born in nearby Porto, he had never raced at Vila Real prior to 2015 but has likened the track to a Macau/Nürburgring Nordschleife cross.
5: Monteiro's Main Race win in 2016 helped him to a career-high third in the final WTCC table.
MEDIA INFORMATION
National Press Officer: Rodrigo Sa, rodrigo.sa@cm-vilareal.pt, +351961260165
Media Accreditation Centre location: Teatro de Vila Real, Alameda de Grasse, 5000-703 Vila Real. Accredited media must show their letter of confirmation to the security personnel in order to gain access to the parking area, noting the following GPS coordinates: Latitude 41.29882, Longitude: -7.733900. Opening times: 09h00-19h00, Friday 23 June; 07h00-18h00, Saturday 24 June; 08h00-12h00, Sunday 25 June. Please note: to obtain a photo tabard, accredited photographers must attend one of three safety briefings held in the Media Centre as follows: 10h00, Friday 23 June; 07h45, Saturday 24 June; 08h45, Sunday 25 June. Media Centre location: Teatro de Vila Real, Alameda de Grasse, 5000-703 Vila Real. Media Centre opening times: 09h00-19h00, Friday 23 June; 07h00-20h00, Saturday 24 June; 08h00-until the last journalist leaves, Sunday 25 June.
MEDIA DIARY
Friday 23 June: 15h45-16h25: Autograph session/pre-event press conference (Praça da Municipio) Saturday 24 June: 18h05 (approx.): Post-qualifying/WTCC MAC3 press conference (Media Centre) Sunday 25 June: 13h55-14h35: Autograph session (Shopping mall adjacent to support race paddock); 17h05: Opening Race podium; 18h20: Main Race podium; 18h30 (approx.): Post-race press conference (Media Centre).
TRACK DIARY
Saturday 24 June: 09h30-10h15: Free Practice 1; 12h00-12h45: Free Practice 2; 15h30-16h00: Qualifying Q1; 16h05-16h20: Qualifying Q2; 16h25 (pit lane opens for first car): Qualifying Q3; 16h45-17h00: WTCC MAC3 Sunday 25 June: 16h30-17h00: Opening Race (11 laps); 17h45-18h15: Main Race (13 laps).
Timings/activities above provisional and subject to change. Additional activities may be arranged.
ONLINE MEDIA CENTRE
The new online Media Centre is a one-stop-shop for media professionals covering the WTCC. The site contains a press release archive, downloadable press kit, event guides, Q&As, high-resolution rights-free images, driver profiles, statistics, results, track maps, logos, accreditation details and much more. Visit http://media.fiawtcc.com for details.
ENTRY LIST
| | | | |
| --- | --- | --- | --- |
| # | Team | Driver (Nationality) | Car |
| 3 | Sébastien Loeb Racing | Tom Chilton (GBR) T | Citroën C-Elysée WTCC  |
| 5 | Castrol Honda World Touring Car Team | Norbert Michelisz (HUN) | Honda Civic WTCC |
| 8 | Zengő Motorsport | Aurélien Panis (FRA) T | Honda Civic WTCC |
| 9 | ROAL Motorsport | Tom Coronel (NLD) T | Chevrolet RML Cruze TC1 |
| 12 | ALL-INKL.COM Münnich Motorsport | Rob Huff (GBR) T | Citroën C-Elysée WTCC  |
| 18 | Castrol Honda World Touring Car Team | Tiago Monteiro (PRT) | Honda Civic WTCC |
| 22 | RC Motorsport | Manuel Fernandes (PRT) T | LADA Vesta WTCC |
| 24 | RC Motorsport | Kevin Gleason (USA) T | LADA Vesta WTCC |
| 25 | Sébastien Loeb Racing | Mehdi Bennani (MAR) T | Citroën C-Elysée WTCC  |
| 27 | Sébastien Loeb Racing | John Filippi (FRA) T | Citroën C-Elysée WTCC  |
| 34 | Honda Racing Team JAS | Ryo Michigami (JPN) | Honda Civic WTCC |
| 61 | Polestar Cyan Racing | Néstor Girolami (ARG) | Volvo S60 Polestar |
| 62 | Polestar Cyan Racing | Thed Björk (SWE) | Volvo S60 Polestar |
| 63 | Polestar Cyan Racing | Nicky Catsburg (NLD) | Volvo S60 Polestar |
| 68 | RC Motorsport | Yann Ehrlacher (FRA) T | LADA Vesta WTCC |
| 86 | Campos Racing | Esteban Guerrieri (ARG) T | Chevrolet RML Cruze TC1 |
| 99 | Zengő Motorsport | Dániel Nagy (HUN) T | Honda Civic WTCC |
(T = Indicates WTCC Trophy contender)
PROVISIONAL STANDINGS AND STATISTICS
Drivers (after 8/20): 1 Catsburg 127; 2 Monteiro 125; 3 Björk 119; 4 Chilton 106; 5 Huff 102; etc.
Manufacturers (after 8/20): 1 Volvo Polestar 404; 2 Honda 364
WTCC Trophy (after 8/20): 1 Huff 60; 2 Chilton 59; 3 Bennani 55; 4 Guerrieri 47; 5 Coronel 35; etc.
WTCC Teams (after 8/20): 1 SLR 74; 2 Münnich 54; 3 Campos 51; 4 Roal 43; 5 RC 33; etc.
All-time race wins (top 5): Y Muller 48; López 29; Huff 28; Menu 23; Tarquini 22
All-time pole positions (top 5): Y Muller 29; López 21; Tarquini 17; Menu 15; Huff 12; Farfus 11
All-time fastest laps (top 5): Y Muller 38; López 29; Huff 28; Tarquini 24; Menu 20
All-time laps led (top 5): Y Muller 571; Huff 345; López 301; Menu 297; Tarquini 295